McLaren 570S Spider 2018
2018 McLaren 570S Spider first drive review: Baseline dream machine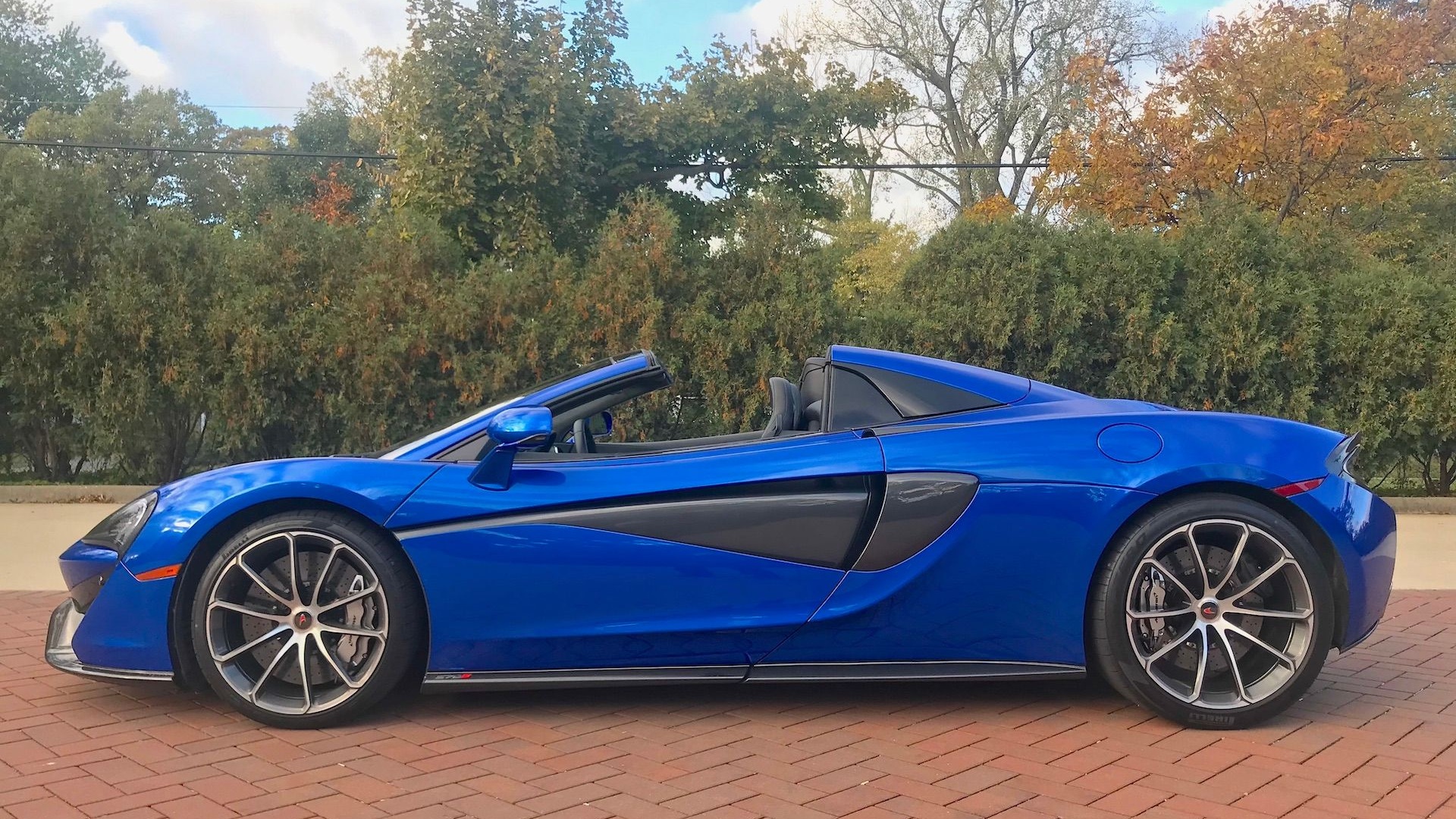 2018 McLaren 570S Spider first drive review: Baseline dream machine
In Hales Corners, Wisconsin, last Saturday night a 14-year-old boy named Sam reached over and pushed down on his mom's knee to get the family's Chrysler Town & Country moving. Her foot went to the floor, the Chrysler Pentastar V-6 perked up, and the van accelerated at a modest clip. "Meh, it's just not the same," Sam said.
As a McLaren, that is.
Minutes earlier, I had taken Sam for a ride in a 2018 McLaren 570S Spider. I accelerated at a brisk pace onto the freeway, drove at a whopping 30 mph in a couple roundabouts, and kicked the tail out in a corner. It was fairly tame stuff for a car of the 570S's capability but really cool for a 14-year-old boy. Sorry, mom.
Sam's ride was my attempt to find a way to enjoy this convertible sports car on a cold Midwestern day. While I would usually take a beast like this to the Autobahn Country Club for a few laps around the track, McLaren forbids any track days except for those it runs. The convertible body style would have been great a couple weeks ago when it was 81 degrees, but the temperature had since fallen into the 30s and 40s, so top-down driving wasn't in the cards.
2019 McLaren 570S Spider
2019 McLaren 570S Spider
2019 McLaren 570S Spider
McLaren was offering me cake, but insisting I only nibble at the corners.
Still, when life hands you a McLaren, you have to enjoy it, so I figured I'd share it with others and try my best to make up a good drive route in an area notorious for straight suburban stop-and-go roads.
Base isn't so base.
The 570S is McLaren's "base" car. It's part of the brand's Sports Series, which is aimed more at grand touring than ultimate performance. Still, the structure is a carbon fiber tub that ensures the coupe and Spider share the same level of structural rigidity. A 562-horsepower 3.8-liter twin-turbocharged V-8 sits behind the driver, and it pushes the car to a top speed of 204 mph.
That's a supercar design and those are supercar numbers, even though McLaren refers to the 570S as a sports car.
The differences from the coupe are relatively minor. The power-operated hardtop opens and closes at the touch of a button in 15 seconds at speeds up to 25 mph. A small power rear window acts as a wind deflector and a noise enhancer for the midship-mounted engine. The power top adds 110 pounds to the total weight, which comes in at 3,314 pounds. McLaren also extends the rear spoiler a half inch higher to make up for the change in body shape versus the coupe. The top speed is the same, but if you're nuts enough to run all-out with the top down, V-max drops to a mere 196 mph.
While the coupe starts at $192,500, the Spider runs $210,500. Both include the $2,500 destination charge. The car I enjoyed for 72 glorious hours had $4,320 worth of Vega Blue paint, soft-close doors ($760), the Sport Trim interior ($3,110) that includes a mix of Alcantara and leather with contrast stitching, lightweight forged 19-inch wheels ($3,260) with a diamond-cut finish ($1,880), painted brake calipers ($1,110), a Bowers & Wilkins audio system ($2,280), a nose lift system ($1,560), a lithium-ion battery charger ($230), and an MSO Defined Titanium SuperSports exhaust system ($5,460). All those goodies brought the total to $235,270.
Making a day of it
On a chilly Saturday I had lunch with a buddy at the best rib joint in town, then took him for a quick ride. After folding himself into the opening left by the dihedral passenger door, he commented that with so little room inside, there isn't much luxury. He then reconsidered and said, "I suppose just owning this car is the luxury."
On a clear freeway onramp I kicked the throttle down to let the twin-turbo V-8 unleash its fury, only to be thwarted by the 42-degree temperature. The Pirelli P Zero Corsa tires reacted poorly to the 42-cold. As they scrambled for traction and made the rear end dance I had to ease off the throttle or risk spinning out. Still, after a brief pause for the turbos to spool up, the car took off with gusto—too much for its tires—and its seven-speed dual-clutch transmission ripped seamlessly through its gears. Had the temperature been even 10 degrees warmer, the 0-60 mph time would have shot by in just 3.1 seconds.
I dropped him off, then set off on my customized drive route. I've probably made the drive from Chicago to Milwaukee a thousand times, but always on I-94. This time, I figured I'd stick close to Lake Michigan and follow Sheridan Road as far as it would go.
2019 McLaren 570S Spider
2019 McLaren 570S Spider
2019 McLaren 570S Spider
It's an appropriate route for this car, snaking its way through the most affluent Chicago north shore suburbs. Think where the Ferrari was parked in "Ferris Bueller's Day Off" because that's literally where it was parked. Sheridan Road also curves left and right in various sections, which is a rarity around here.
The curves let me get a taste for the handling, which is almost supernaturally flat, even with the suspension in the Normal mode. Complemented by sharp, direct steering, and a high, firm brake pedal, the 570S benefits from the bones needed for the track capability of the brand's even more capable cars.
Sport and Track modes are also available, but the ride tightens up to much that I left it in Normal and did my best to avoid larger potholes. Those I hit did their best to shake loose my fillings.
I'd love to tell you what handling is like on the track at the limit, but that would be having my cake and eating it too. Driving up through the beautiful suburbs of Wilmette, Winnetka, Highland Park, and Lake Bluff, the 570S seemed right at home. A car like this could be parked in any of these U-shaped driveways, along with a Range Rover or Escalade.
At suburban speeds in Normal mode, the twin-turbo 3.8-liter V-8 was a buzzy companion, but it never felt high-strung and didn't demand to be flogged. In fact, it was a bit too docile for a supercar. I preferred to hit the Active button, then turn the powertrain mode switch to Sport to bring the engine forward, and I used Track when I planned to lay into the throttle. In those modes, the transmission holds onto gears longer, and turbo lag isn't as noticeable. While full-throttle acceleration is thrilling, I found a big difference between the 562 horses of the 570s and the 710 mercurial ponies of the 720S. The 720S, which sits at the top of the lineup in the brand's Super Series, provides jet-like propulsion.
2019 McLaren 570S Spider
The route eventually gave way to less-influential towns of Waukegan, North Chicago, and post-industrial war zones like Racine and Kenosha, where the car stood as stark relief, then joined up with I-94.
My route provided far better scenery than I get on a strictly freeway drive. It passed by a couple of Frank Lloyd Wright houses on Chicago's north shore, took me to the Wright-designed SC Johnson headquarters in Racine, and kissed Lake Michigan at one point once I crossed the border into Wisconsin. It also turned an hour-and-20-minute drive into a three-hour tour. I'd complain in a Prius. Not in a McLaren.
Everywhere I went people appreciated the car. They gave me the thumbs up. Asked to take pictures of it, and told me it's beautiful.
2019 McLaren 570S Spider
Sam especially appreciated the car. I spoke to him on Monday after a day at school. He told his friends he got to ride in a McLaren but couldn't remember what model it was. He also said the seats were comfy, the interior design was clean, the car sat really low to the ground, and he liked the fact that he could feel the heat coming off the engine after I shut off the car. He finished by saying, "Thank you. That was fun."
Maybe I didn't get to experience the McLaren 570S in ideal conditions, but Sam will never forget it.
McLaren
McLaren 570S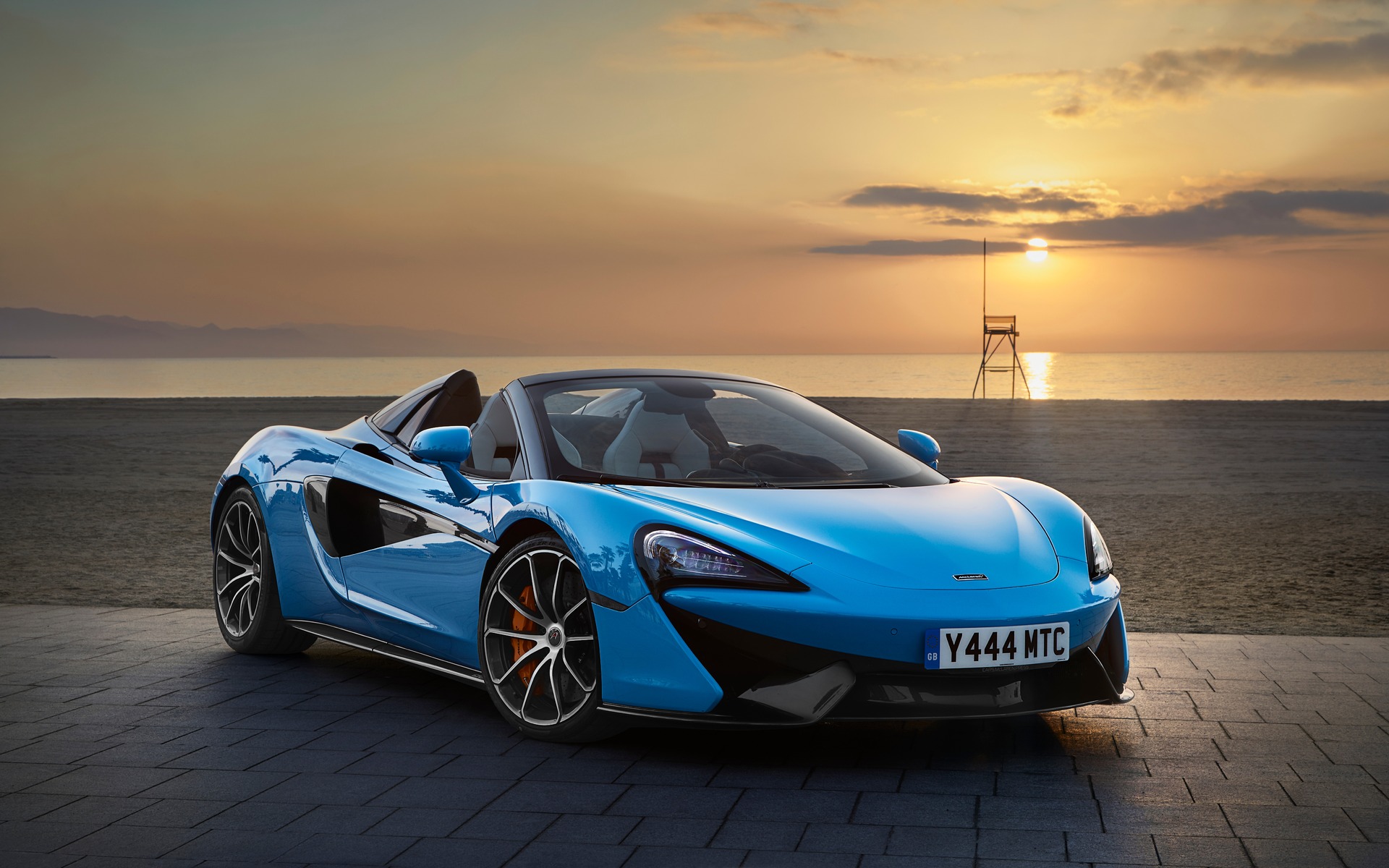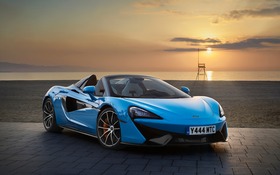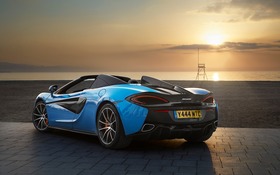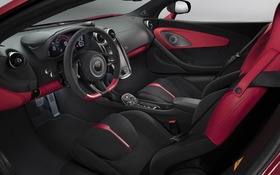 McLaren 570S
Pricing
MSRP
CA$247,500
Fees
CA$7,500
Gas guzzler tax
CA$0
Monthly payments
CA$4,659/month
Powertrain
Engine
3.8 l V8
Power
562 hp @ 7,500 rpm (419 kW)
Torque
443 lb·ft @ 5,000 – 6,500 rpm (601 N·m)
Induction
Turbocharged
Fuel type
Premium
Transmission
7-speed automatic
Drivetrain
RWD
Vehicle type / Category
Vehicle type
Roadster
Category
Sports Car over $100,000
Assembly
Woking, GB
Generation
1
Fuel efficiency / Autonomy
City
17.2 L/100km
Highway
7.4 L/100km
Combined
12.8 L/100km
Autonomy
562 km
CO₂ emissions
299 g/km
Equipment
Infotainment
Apple CarPlay compatible
not available
Android Auto compatible
not available
Steering / Suspension / Brakes / Tires
Steering
rack and pinion with assist
Turning diameter
12 m (40′)
Front suspension
independent, double wishbones
Rear suspension
independent, double wishbones
Front brakes
Disc
Rear brakes
Disc
Front tires
P225/35R19
Rear tires
P285/35R20
Safety
Seat belts
2
Dimensions / Weight
Length
4,530 mm (178″)
Width
2,045 mm (81″)
Height
1,202 mm (47″)
Wheelbase
2,670 mm (105″)
Front track
1,673 mm (66″)
Rear track
1,618 mm (64″)
Weight
1,503 kg (3,314 lb)
Capacities
Passengers
2
Trunk
150 l (5 cu ft)
Fuel tank
72 l (16 gal)
Towing capacity
N/A
Performance
Power to weight ratio
278.0 W/kg
0-100 km/h
3.2 s (manufacturer)
80-120 km/h
N/A
Top speed
328 km/h (204 mph) (manufacturer)
Braking distance
32 m
Warranty
Base warranty
3 years/unlimited
Powertrain warranty
3 years/unlimited
The Car Guide rating
Fuel economy
4/10
Reliability
N/A
Safety
7/10
Infotainment
7/10
Driving
9/10
Overall
9/10
Average
83%(view ratings)
Tell us about your car.
The Car Guide is the benchmark of excellence for the Canadian automotive landscape. It offers news, reviews, and exclusive videos, as well as all of the important details concerning new and used vehicles.
New vehicles

New cars
New SUVs
New pickups
Used vehicles

Used cars
Used SUVs
Used trucks
Features and Tips

Comparative Tests
First Drives
Top 10
News

Auto Shows
New Models
Electric
Mobile
Terms of use
Privacy policy
Media kit
Contact us
Jobs openings
Copyright © 1995-2020 LC Média, All Rights Reserved
McLaren 570S Spider 2018 Review
This British supercar delivers effortless pace, intuitive handling and surprisingly comfortable open-top touring
To say the 570S fits in the 'entry' series of the McLaren range seems peculiar given its $379,000 asking price – even more so when you consider the $435,750 list price (plus on-road costs) of the 570S Spider tested here. But this is supercar territory, a rarefied and esoteric arena graced by only the finest of scalpel-sharp, powerful machines. In the company of such exclusive metal – or carbon-fibre, as the case may be – the McLaren 570S Spider is perhaps the ultimate paradigm of the breed, combining effortless pace with intuitive handling and surprisingly practicality.
Along came a Spider
The 570S Spider joined the McLaren Sport Series range late last year, giving prospective supercar buyers an open-air option to the 570S coupe – and one with very few compromises.
Here is a car that's as agile, fast and stylish as its fixed-roof sibling; the only real compromise comes from a $56,750 price premium.
Like the coupe, the 570S Spider focussed heavily on day-to-day liveability and driveability, upping luggage space (150 litres front, 52 litres rear) and interior storage to 'useful' levels. Well… useful for a supercar, that is.
The luxe teardrop-shaped cabin remains as personalisable as the coupe's with upholstery, headlining and trim garnishes galore joining 35 exterior paint colours, 10 alloy wheel options, seven brake-caliper colour choices, 11 optional feature packages, and a 1280-Watt Bowers & Wilkins 12-speaker premium audio system (fitted).
Standard cabin equipment includes manually-adjustable sport seats, hand-stitched leather trim, an electrochromatic rear-view mirror, dual-zone climate control and a heated rear window.
Infotainment and connectivity extends to a 7.0-inch portrait-oriented IRIS touch-screen display hosting AM/FM/DAB radio, Bluetooth audio and telephony, USB interface, reversing camera, sat-nav and 240-Watt four-speaker sound.
The 570S Spider draws much of its styling from the McLaren P1 hypercar, including the all-LED slimline head and tail-lights, open mesh rear valance for engine cooling, flying buttresses, visible engine compartment and 'floating' diffuser.
As tested, the 'Muriwai White' 2018 McLaren 570S Spider features a range of carbon-fibre styling elements, heated and electrically-adjustable seats, yellow seatbelts and brake callipers, volumetric alarm and nose-lift kit for a total list price of $537,310 (plus on-road costs).
Adding lightness
Contrary to popular perception, convertible versions of high-end supercars are usually heavier than their hard-top siblings.
Apart from structural reinforcements, the additional struts and bracing required to support the opening the roof leaves behind often adds sizeable amounts of weight to these carefully crafted machines, resulting in gentler acceleration times, compromised handling and slower top speeds.
But not the McLaren 570S Spider. Constructed of carbon-fibre technology borne of McLaren's experience in Formula 1 – making it a claimed 20 times stronger than an equivalent steel body – there's next-to-no additional stiffening.
The extremely rigid structure provides almost all the strength required to relieve the cavity created for the Spider's retractable two-piece aluminium hard-top.
In all, the 1359kg dry weight of the 570S Spider is only 46kg heavier than its coupe counterpart; convertible versions of rivals like the Audi R8, Lamborghini Huracan and Porsche 911 add 228kg, 183kg and 166kg respectively to their donor's chassis.
McLaren's Carbon Monocell II frame also serves to support the 570S Spider's trademark dihedral doors which, as well as being stylish, are crafted to guide air over the radiators cooling the all-aluminium 3.8-litre V8, its twin turbochargers and the seven-speed Graziano Trasmissioni 'seamless shift' dual-clutch tranny.
Feather-light to open, the Spider's striking soft-close doors make ingress and egress of the two-seat cockpit an almost effortless exercise, and add to the feeling of exclusivity that a supercar should impart.
A numbers game
As crucial to the supercar ownership experience as the exclusivity, craftsmanship and technology associated with the McLaren name are the astonishing performance and acceleration times laid bare in the brochure.
According to McLaren, the 570S Spider accelerates to 200km/h as quickly (9.6sec) as most mainstream passenger cars hit 100km/h, and breaks triple digits in a physics-defying 3.2sec – as per the coupe – with the aid of launch control.
At full noise the rear/mid-mounted M838TE V8 cranks 419kW (at 7500rpm) and 600Nm (over 5000-6500rpm) to swing the needle past 328km/h with the roof in place, or 315km/h top-down.
McLaren says the 0-400m dash takes just 11.0sec.
Like many of its ilk, the McLaren's twin-turbo bent-eight never really needs to brush its 8500rpm redline; the insurgence of torque available some 2000rpm earlier more than adequate for traction-challenging starts.
More Research
2018 McLaren 570S Pricing & Specs
Read more McLaren 570S news & reviews
The 570S Spider sends drive to the rear wheels via sticky 285/35-series 20-inch Pirelli P Zero Corsa tyres, and steering and stopping duties are tasked to 225/35-series 19-inch rubber of the same variety.
Perhaps as impressive as the acceleration on offer in the 570S Spider is its deceleration. Mammoth six-piston callipers grasp mega 395mm carbon-ceramic rotors up front with four-pot clamps arresting similarly gargantuan 390mm graphite discs in the rear.
McLaren Brake Steer (or torque vectoring by brake) helps the open differential and adaptive dampers keep the nose in line through corners, the entire package aiding a claimed stopping distance of 32m from 100km/h or 133m from 200km/h.
McLaren continues to offer electro-hydraulically assisted steering in the 570S. Although it's light, it is transparent enough in its feedback to engage the driver when push comes to shove.
It's not as talkative as some in this class, but does a great job of eliminating the front-end's tendency to track and wander over creases in the asphalt, a mannerism many wide-wheeled supercars suffer from.
A liveable supercar?
It takes 11 days to hand-assemble a McLaren 570S Spider from its myriad parts – and that level of dedication is clearly evident in the quality of finish and materials on offer.
Whether it's the bodywork and paint, the upholstery and trim, or even the attention to detail paid to the inside of its various storage compartments, the standard of workmanship is pretty hard to refute.
It's also pretty hard to argue with the tenacity of grip from the chassis. Although the 570S doesn't offer the interlinked Pro Active Chassis Control hydraulic damper system of the Super Series and Ultimate Series McLarens (remember, this is a Sport Series McLaren), its conventional anti-roll bars and three-mode adaptive dampers provide an outstanding ride/handling compromise which – importantly – is adjustable independently from the driveline via the Active Dynamics panel.
Depending on the road, track or simply your mood, the switchable H (Handling) and P (Performance) dials allow three discernibly different modes: Normal, Sport or Track.
The 570S Spider moves from comfortable and quite reserved in its response to throttle inputs – with clean, easy shifts to match – to sharp and eagerly responsive. Full manual mode and stability control off are available at the touch of a button.
Interestingly, despite of a notable change in damping, the ride remains quite comfort focussed. In fact, the only real detractor to the feel behind the wheel comes from the offset pedal box.
The inboard skew of the brake and throttle – owing in no small part to the ingress of the wheel well – makes stop-start driving a chore, and can impinge the accuracy of right-foot braking. The brake pedal stroke itself is also rather brusque, and takes a little muscle to activate effectively.
The only other criticisms stem from an instrument panel that never properly dims – attenuation of contrast is a poor substitute for a dulled screen at night – and a light but nonetheless present buffeting of wind across the top of the head restraints at highway speeds (sans roof, obviously).
Some passengers also felt the exhaust lacked soul at middling speeds, but I think it suits the 'well-engineered' premise of the McLaren brand – and sounds terrific when the taps are fully opened.
The verdict
I've said it before and I'll say it again: it really is difficult to review a supercar without descending into hyperbole.
But when you consider the effortless pace, intuitive handling and surprisingly comfortable open-top touring the McLaren 570S Spider offers, it can be hard to not get carried away.
No, it isn't perfect, as we've pointed out; but it is so fantastically capable and strikingly styled that you tend to forgive its trivialities.
For me, the 570S Spider ranks right up there (or perhaps even higher than) the very best of its contemporaries.
If you happen to find yourself with a lazy $537,310 kicking around, I'd strongly recommend a test drive.
How much does a 2018 McLaren 570S Spider cost?
Price: $435,750 (plus on-road costs), $537,310 (as tested, plus ORCs)
Engine: 3.8-litre eight-cylinder twin-turbo-petrol
Output: 419kW/600Nm
Transmission: Seven-speed dual-clutch
Fuel: 10.7L/100km (ADR Combined)
CO2: 249g/km (ADR Combined)
Safety rating: N/A
2018 McLaren 570S Spider Review: Go On, Take Your Top Off
Share on Facebook
Share on Twitter
Share on LinkedIn
Share on Flipboard
Share on Reddit
Share on WhatsApp
Send to email
With no compromise over the 570S Coupe, McLaren makes a heck of a case for going topless.
While I'm not usually the guy who chooses convertible over coupe, it's hard to argue against the McLaren 570S Spider. That's especially true today, soaking in the sun along California's Highway 1, tracing the coast from Pacific Palisades up to Malibu. Never mind how good the warm rays feel on my cheeks, or how the salty air tingles as it hits the skin inside my nose. With absolutely no performance or utility lost in the transition from Coupe to Spider, going topless only works to enhance the already brilliant 570S experience.
One of the best-driving cars on the road today. And I don't say that lightly. Every facet of McLaren driving comes together in an intoxicating nature – the company's supercars have a character all their own. Everything from the incredibly precise, nicely weighted steering, to how amicable the suspension is to different types of road surfaces. There are noticeable differences between the Normal, Sport, and Track settings of the chassis control. You can comfortably drive the 570S in crazy Los Angeles traffic or hang the tail out on a track, and in every scenario, the 570S rewards the driver with tons of communication through the steering and chassis, huge levels of grip, and a truly involving experience that inspires confidence from behind the wheel.
Same bragging rights. Despite a weight penalty of about 100 pounds, the Spider's performance figures are the same as the Coupe's. Both cars share 0-60 times of 3.1 seconds and 204-mph top ends, though it's worth mentioning the Spider only achieves that v-max with the top up (you'll manage just 196 mph with the top down). The Spider has a slightly redesigned rear spoiler to account for the differences in aerodynamics, and McLaren says the Spider is just as rigid as the Coupe – feels that way from behind the wheel, too. Removing the roof doesn't affect anything when the car's structural stiffness is the product of a monocoque carbon fiber tub.
No roof? No problem. Don't forget, there's a 3.8-liter biturbo V8 situated behind the cockpit, and with the roof lowered, there's a wealth of aural delight within earshot. The engine roars and growls, the turbos offering a perfect accompaniment of wooshes and whistles. You should always have the roof open, as far as I'm concerned. Even at highway speeds, air is directed over the top of the cockpit, so it's never blustery or in your face. There's a light breeze, the sound of a tremendous V8, and endless headroom and sunshine. Perfect.
Looks just as good. Maybe even better. I don't know if it's the Curacao Blue paint, or the instant glamour of a convertible photographed in Southern California, but I totally prefer the look of the 570S Spider over the Coupe. The fixed buttress design out back is really wonderful to behold, and overall, it doesn't look like the car's design was compromised just to give the benefit of a Spider experience. The Audi R8 Coupe and Spyder take noticeably different shapes, but with the 570S, you're getting the same lines and same expression, regardless of body style.
What's behind me? You sit low in the 570S, and while there's a commanding view of the road ahead, from other angles, visibility is compromised. Those fixed buttresses make for a huge blind spot over your shoulder. Adjust your mirrors correctly and this isn't a huge problem. But you'll still want to merge with extra caution.
Full screen wash-out. This is a small nitpick, but one that's super annoying. The angle of the touchscreen infotainment system means it's not shaded from direct sunlight. And with small text and dark colors for the graphics, it's often difficult to read the screen while driving with the top down. Thank goodness for redundant data in the digital instrument panel. On a sunny day, the center screen is pretty much useless.
Competitors
Photos: Drew Phillips / McLaren USA
2018 McLaren 570S Spider
2018 McLaren 570S Spider Review
by John Tallodi
The Sports Series offers an entry point into McLaren ownership and in the United States has up until recently comprised of the hardtop 570GT and 570S models. Those wanting wind-in hair motoring can now also look at the 570S Spider, a new entrant it offers the hard-edged thrills of the 570S with a powered removable hardtop section.
2018 McLaren 570S Spider Models
What's it like inside?
The 570S shares its interior with the 570S and offers a minimalistic cockpit design and a pair of ergonomically designed sport seats. Those wanting more lateral support can chose from more aggressively bolstered options. The upward opening dihedral doors remain and make it a bit easier to slide into the low seats.
The center of the dashboard is dominated by a vertically mounted touchscreen and the general fit and finish and switchgear quality is as one would expect of a McLaren.
The materials that the cockpit, doors and seats are covered in are all up to the customer and include a mix of leather, Alcantara and carbon fiber in numerous colors.
You will have to fly light though as there is not much space for carry-on luggage other than for a pair of sunglasses and your wallet. The front trunk is tiny too so checked baggage too will be limited to a squishy bag or two.
How does it drive?
With a very stiff carbon-fiber based chassis, the 570S Spider needed no additional reinforcement and the slight increase in weight is down to the power mechanism for the removable roof. Driving dynamics remain razor sharp and the 570S Spider carves up a mountain road with the same exuberance as the coupe. The standard Carbon-ceramic brakes provide fade-free stopping power but are a little devoid of feel compared to the setup in competitors like the Ferrari 488.
The steering feel though is great and whether you are blasting along at maximum attack or just cruising down a country lane, the 570S Spider offers a level of feedback that is increasingly rare in today's digital supercars.
The removable roof section takes 15-seconds to retract and adds another dimension to the driving experience, at sub-highway speeds the exhaust noise is more noticeable in the cabin too.
The ride remains firm in most settings but only really rough road surfaces upset the cars composure and while the 570GT offers a softer setup the sportier S is no hard-as-nails racer either.
What about the performance?
The 570S Spider comes equipped with the same 3.8-liter twin-turbo V8 that is found in the rest of the 570 Sports Series cars. This means 570 horsepower and 443 lb-ft of torque. The 7-speed dual-clutch transmission and rear-wheel drive layout reman too and according to McLaren the 0-60mph time is still a very rapid 3.1-seconds. The 204mph top speed remains identical to the coupe though as long as the roof is kept in place.
There is no doubting the 570S Spiders' performance credentials as it lunges towards the horizon, however the revs do need to be kept up to extract the best from the engine.
What are my options?
The 570S Spider comes in one trim level that covers all the basics and then some. A few of the more notable standard features include LED lighting all-round, 7-inch touchscreen with navigation and smartphone integration, Bluetooth audio streaming, a rearview camera and Wi-Fi tethering are also part of the base package.
Staggered 19-inch front and 20-inch rear alloy wheels as well as Carbon-ceramic brakes and adaptive suspension aid performance levels and an available sports exhaust, 12-speaker audio system, nose lift system and soft-close doors are a few of the many options to choose from.
There are a large range of interior and exterior customization options as well as a couple of carbon-fiber packages and for a truly bespoke feel, the MSO (McLaren Special Operations) division will paint and trim your 570S in just about any color and fabric you desire.
The Verdict
The McLaren 570S Spider may be a junior supercar but don't let that fool you in thinking it is anything but extremely rapid. The addition of the powered roof has little noticeable effect on the 570S' dynamic capabilities and the many available options allow for real customizability.
2018 McLaren 570S Spider
For The Exhilaration
McLaren Rancho Mirage Price
MSRP: Call for Price
Smooth. Effortless. Powerful. The perfect excuse for an electrifying getaway. With just one look at its iconic dihedral doors, you know the 2018 McLaren 570S Spyder is the convertible you go to when you seek extreme performance, dynamic excellence, and superior excitement. As part of the McLaren Sport Series, it shares the supercar DNA that has brought in more than five decades of racetrack success to the open road. And although the McLaren 570S Spyder carries the same carbon fibre MonoCell II chassis and 3.8-litre twin-turbocharged V8 engine as the GT and Coupé, its retractable hardtop roof ads an extra layer of emotion that can only be experienced with a McLaren. So what are you waiting for? You have found the formula to make your weekends sweeter and a little bit longer.
All roads lead you to the 2018 McLaren 570S Spyder. And at McLaren Rancho Mirage, our team of professionals is ready to answer any questions you might have about specs, getting a lease or price when you stop by our dealership. You can also set up an appointment with our sales department by calling 760-764-4013 «> 760-764-4013 . Order your 2018 McLaren 570S Spyder in Rancho Mirage, CA today. Although we are located in Rancho Mirage, we have clients from all over the nation, including cities like Los Angeles, Beverly Hills, and Newport Beach, CA. Wherever you're from, we'll make you feel right at home at McLaren Rancho Mirage.
EXPLORE FEATURES
Smart. Stunning.
McLaren's iconic dihedral doors are featured on the 2018 McLaren 570S Spyder. Beyond its stunning design, these doors were made to guide air into the side intakes to feed the radiators.
Everything for a Reason
McLaren's design philosophy is «Everything for a reason» and the 2018 McLaren 570S Spyder's interior was built around you. Covered with exceptional hand-stitched leather and satin-chrome highlights, it features «floating» center console. It has available settings controlled by a tap and sweep like navigation and climate control. You'll also find other features like voice activation and an optional rear-view camera.
Signature Performance
The 2018 McLaren 570S Spider, as part of the Sport Series, shares its carbon fibre construction with Formula 1. This means that unlike most convertibles, it needs no extra stiffening of the chassis because with its boundless rigidity and strength, it maintains strong performance and the signature McLaren refinement.
Welcome the Wind
Welcome the wind with a touch of a button on your 2018 McLaren 570S Spider. Its retractable hardtop folds seamlessly as you drive, up to 25 mph. It is also stronger and more resilient than the conventional soft-top structure.
Beyond Bespoke
McLaren lets you make your 2018 570S Spider completely unique which is why they have a large range of customization options. These options include extra equipment, performance, aesthetic upgrades, and can go as far as bespoke modifications from the McLaren Special Operations (MSO) division.
McLaren Rancho Mirage
Sales
WATCH THE 2018 MCLAREN 570S IN ACTION
Available Inventory
(0 — 0 of 0 Vehicles)
There are no vehicles that match your search criteria currently available online; however, there may be one available in-store. Please fill out the contact form below to express your interest and an experienced sales manager will get back to you.
Disclaimer
May not represent actual vehicle. (Options, colors, trim and body style may vary)
Text me this from McLaren Rancho Mirage so I can look at it on the go!
Search New Vehicles Nearby
Type in a zip code, or share your location to find vehicles near you.
*MSRP: Starting price represents the manufacturer's suggested retail price (MSRP) for the base model trim. See «Trims» options for MSRP of model shown. The MSRP does not include destination and handling charges, taxes, title, license, options, and dealer charges. Actual prices are set by the dealer and may vary. **All MPG figures are EPA estimates. Actual mileage will vary among options, driving conditions, driving habits, and the vehicle's condition.
While we make every effort to ensure the data listed here is correct, there may be instances where some of the factory rebates, incentives, options or vehicle features may be listed incorrectly as we get data from multiple data sources. PLEASE MAKE SURE to confirm the details of this vehicle (such as what factory rebates you may or may not qualify for) with the dealer to ensure its accuracy. Dealer cannot be held liable for data that is listed incorrectly.
2018 MCLAREN 570S SPYDER RANCHO MIRAGE CA
Are you looking for the new 2018 McLaren 570S Spyder in Rancho Mirage CA? Here at McLaren Rancho Mirage, we not only have the latest McLaren model you are looking for, we are known for our award-winning Rancho Mirage McLaren service department that will help your McLaren stay in optimum conditions.
McLaren Rancho Mirage can also help you customize your 2018 McLaren 570S Spyder right down to the trim, exterior color and interior.
Regardless of what brings you in, we are sure you'll be impressed by our facilities here at McLaren Rancho Mirage. And although we are in Rancho Mirage, we have McLaren clients from other cities including Los Angeles, Beverly Hills, and Newport Beach, CA. We look forward to working with you!
2018 McLaren 570S Spider
Downsized, and now opened up, for your pleasure.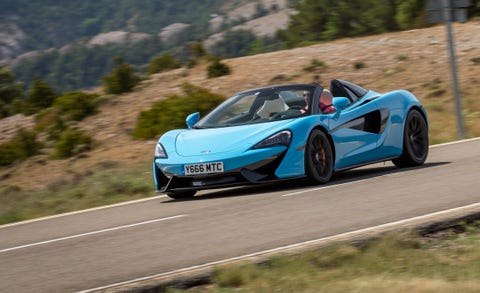 The subtle feedback of tugs and twitches coming through the steering wheel with every pavement undulation and nuanced change in road surface are vivid enough that an astute passenger will notice the wheel's wriggling. This is not standard-issue carmaking (or even supercar-making) these days. But McLaren is going countercultural by prioritizing driver involvement, even at sub-racetrack speeds, something regularly sacrificed across the industry due to ever-increasing horsepower, performance, and weight. While even McLaren succumbs to the siren song of the stopwatch on more expensive wares such as the 720S, the focus on feedback on its lower-priced Sports Series line of cars—a trio of $200,000 two-seaters that consists of the 570S coupe, the slightly more practical 570GT, and this new two-piece-hardtop convertible 570S Spider—makes them the McLarens to buy.
No Lumps
The pursuit of driving character is why McLaren refuses to take its electric-assist lumps like everyone else, continuing to use hydraulically assisted power steering. Also spec'd in the name of feel are surprisingly modest tire sizes, including 225-millimeter-section-width rubber in front, 10 millimeters narrower than what a Honda Civic Si wears. These restrained tire selections certainly benefit ride quality, too, which is very reasonable by supercar standards. It's not like these cars can't deliver impressive numbers, though. We expect the 570S Spider—powered by McLaren's familiar twin-turbocharged, flat-plane-crank V-8 that was designed with the English engineering firm Ricardo, screams to 8200 rpm, and makes 562 horsepower—to dash to 60 mph in 3.0 seconds and to return quarter-mile times in the high-10-second range. The last 570S coupe we tested managed 1.05 g on the skidpad, so this droptop version won't be a slouch there, either. And, with the top up, the Spider will reach the same claimed 204-mph top speed as the coupe, a point of pride for the aerodynamics team.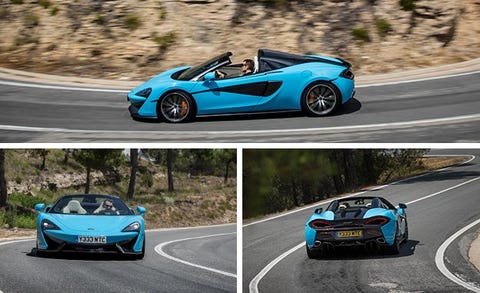 It's perhaps not a huge surprise that the dynamic exuberance of the coupe carries over pretty much unchanged to the Spider, as the folding-hardtop mechanism adds a claimed 101 pounds. And, indeed, the Spider feels coupelike in its solidity, despite receiving no additional bracing to its carbon-fiber structure. We were hard-pressed to feel a meaningful difference in structural rigidity with the top in either position. The coupe and convertible are so similar that the suspension hardware remains identical, with only slight Spider-specific software tweaks to the programming for the adaptive dampers.
Exhaust Screams, as Do Bystanders
Befitting a supercar, the 570S's extroverted looks turn heads as well as anything, and perhaps better in the sharply contrasting two-tone color schemes of the cars we exercised on sinewy mountain roads outside of Barcelona. Numerous times, young children—the most honest of all critics—were so overwhelmed by the Spider's presence that they simply yelled, possibly involuntarily, "Mama!" as we rolled by. Even with the car out of sight, folks are drawn to the properly cantankerous, tack-spitting grumble of the 570's twin-turbo V-8 when it's first started.
All of the cars we drove were fitted with the $4090 sport exhaust, which, besides louder conventional pipes, adds a sound-enhancing resonator tube to channel noise between the exhaust and the cavity where the top stows. A similar resonator on the intake side is standard, and the intensity of each is controlled by a butterfly valve. The two resonators, plus flaps in the exhaust, make meaningful differences in the V-8's roar among the three driver-selectable powertrain modes. Even with the exhaust at its loudest, though, with the top down, wind noise takes over above 70 mph or so. To better hear the 3.8-liter V-8 at high speeds, either find a tunnel—we blasted through more than a few on our route, where the violent shriek sounds as if it's attempting to inflict structural damage—or keep the top up and lower only the independently controlled rear window. This is actually a pleasant cruising option, where some outside air still wafts into the cabin but without permitting irritating wind buffeting.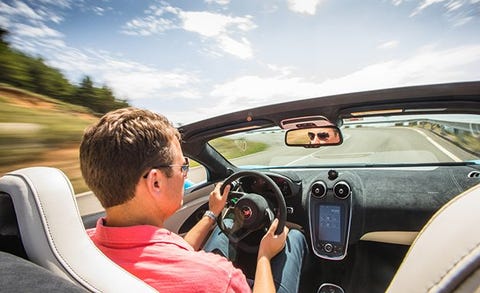 The two-piece folding hardtop stows at the touch of a switch in 15 seconds and at speeds of up to 25 mph. In an uncommon trick, the stowage spot for the roof can be used for additional top-up cargo capacity, the shallow but wide area accessed by raising the tonneau cover via buttons on the bottom edge of the doors. This location seems inconvenient but is actually an easy reach once the dihedral doors are swung skyward.
The standard seats aren't bolstered particularly aggressively—much snugger "racing" seats are available in two levels of constriction for those who like a firm embrace—and provide a comfortable perch for working the superb dual-clutch automatic. The gearbox's modes range from smooth to swift, and manual shifting is handled by a single paddle that snakes behind the steering wheel and pops out on both sides so either half can deliver up- or downshifts depending on whether the input is a pull or a push. We preferred manual mode for aggressive driving, as you can easily keep the engine near its 5000-rpm torque peak to ward off the sniffs of turbo lag at lower engine speeds. Other than rather thick A-pillars—by our measurements, those of the Acura NSX and the Porsche 911 are significantly slimmer—the view out the front is textbook mid-engine-car spectacular, the hood quickly falling away and leaving it to the rushing road to provide the visuals.
Mute Brake Pedal
Supercars usually aren't without ergonomic foibles, and the Spider has a few, including the awkward seat controls located at the front inner edge of the bottom cushion, where they can't easily be seen. In addition, the 7.0-inch vertically oriented touchscreen isn't terribly vibrant to begin with, and it easily washes out in direct sunlight.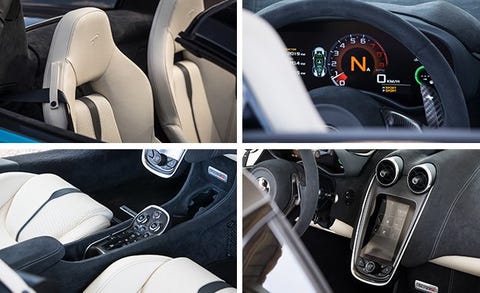 We didn't expect the lack of brake-pedal feel with the standard carbon-ceramic brakes, and it's the only area where car-to-driver communication is lacking. It's not about stopping power, of which there is plenty, but there's a too-long zone of initial pedal stroke where nothing happens, which can make navigating stop-and-go traffic more difficult than it should be. Once the pads are firmly in contact with the rotors, the pedal gets hard and doesn't budge much farther, making modulation more about force than travel. We didn't drive any cars equipped with the no-cost iron rotors, which may be better behaved.
McLaren is coming off a monumental sales year in 2016, during which its sales almost exactly doubled, to 3286. The 570S Spider—expected to be its best-seller—certainly will help nudge that number closer to the company's goal of about 4500 units per year (with no SUVs, thank you very much, says McLaren). At $211,300 to start, the Spider's price is roughly 10 percent higher than the coupe's, but depending on paint, trim, and feature options, it's basically a wash, with as-equipped prices for coupe, GT, and convertible widely overlapping.
It takes 11 days for the 370-person build team at McLaren's Woking, England, factory to turn a collection of parts into this organic, analog, and very much alive supercar. It's a spectacular achievement, just like the car itself.
Specifications
VEHICLE TYPE: mid-engine, rear-wheel-drive, 2-passenger, 2-door convertible
BASE PRICE: $211,300
ENGINE TYPE: twin-turbocharged and intercooled DOHC 32-valve V-8, aluminum block and heads, port fuel injection
Displacement: 232 cu in, 3799 cc
Power: 562 hp @ 7500 rpm
Torque: 443 lb-ft @ 5000 rpm
TRANSMISSION: 7-speed dual-clutch automatic with manual shifting mode
DIMENSIONS:
Wheelbase: 105.1 in
Length: 178.3 in
Width: 76.0 in Height: 47.3 in
Passenger Volume: 49 cu ft
Cargo volume, top up/down: 7/5 cu ft
Curb weight (C/D est): 3300 lb
PERFORMANCE (C/D EST):
Zero to 60 mph: 3.0 sec
Zero to 100 mph: 6.2 sec
Standing ¼-mile: 10.8 sec
Top speed: 204 mph
FUEL ECONOMY (C/D EST):
EPA combined/city/highway: 19/16/23 mpg
McLaren 570S Spider Price, Specs, Photos & Review
McLaren 570S Spider Price
With the worst of winter behind us, now is the perfect time to find a new McLaren 570S Spider for sale. Each example represents the epitome of composite chassis and twin-turbo technology. Taking this into consideration McLaren 570S price starts at only $208,800. It is a bargain not only for the performance but also for the folding hardtop that is a work of art. Many low-mileage examples can be found between 170, 000 and 199,000 depending on options. This makes them very affordable for an all-carbon twin-turbo convertible.
McLaren 570S Spider Review
While it might not be the most powerful car in their lineup, how much horsepower does one truly need? For a proper McLaren 570S Spider review, find a winding road beside the ocean. Put the top down and let it warm up. The McLaren 570S Spider horsepower and torque are at your command, so shift it manually to learn the sweet spots on the tach. The MonoCell II chassis is an order of magnitude stronger than your car, so get ready for a comfortable and predictable ride.
McLaren 570S Races to 212 mph on the Autobahn
While the active hydraulics of the Super Series makes for amazing cornering, they will never convey when you have reached the limit. That is why the McLaren 570S Spider uses a conventional double-wishbone setup. It is lighter and more predictable than Super Series cars while sacrificing ride quality by a small degree. Many buyers prefer it due to the relatively inexpensive maintenance compared to other models.
McLaren 570S Spider Specs
Price: $208,800
Engine: 3.8-liter Twin-Turbo V8
Transmission: 7-speed dual-clutch
Horsepower: 570 hp
Torque: 442 lb-ft
0-60: 3.1 seconds
1/4 Mile: 10.33 @ 134 mph
Top Speed: 204 mph
Weight: 3,303 lbs
McLaren 570S Spider Engine
Given the compact size of the McLaren 570S Spider engine, it is noteworthy for making 570 horsepower from only 3.8 liters. The accessories are shaft-driven for long life and no belts to break. It is known internally as the M838T E, as an evolution of their first V8. Over 30% of the internals were revised for long life and less internal friction. At full boost, it sends 442 lb-ft of torque to the transmission, more than enough for this carbon fiber convertible
McLaren 570S Spider Transmission
It might be small and light, but the McLaren 570S Spider transmission is state-of-the-art. Developed in cooperation with Graziano, it is a 7-speed dual-clutch sequential. It offers seamless & smooth shifts in automatic mode, while the paddles turn it into race mode. True genius is pre-selecting the next gear. So while you are in 3rd, 4th gear is already spinning on the opposite clutch. This allows for the fastest shifts of any production car.
McLaren 570S Spider Interior
Early McLarens had massive door sills to climb over. This made entry and exit a pain for those unaccustomed to sports cars. This was solved with the McLaren 570S Spider interior. Built for more comfort than its predecessors, the stronger chassis allowed for a lower sill. Only the best leather will do, and it is double-stitched by hand.
Instead of an armrest, the driving controls divide the seats. While pleasing to look at, making a change to the aerodynamics or stability systems takes your eyes off the road. On the other hand, the infotainment screen is within easy and with a logical layout. Don't opt for the base audio, as the Bowers & Wilkins system is reference quality.
McLaren 570S Spider Brakes
With great speed comes a need for potent stopping power. That's why the McLaren 570S Spider Brakes are among the largest to ever leave England. Because McLaren uses open differentials, the brakes have several roles. All corners have carbon-ceramic rotors measuring 15.5″ front and 15″ rear. If you want to save the expensive originals, many aftermarket suppliers offer cast iron rotors at a fraction of the factory's cost.
McLaren 570S Spider Standout Features
As the first McLaren to feature the MonoCell II chassis, the 570S Spider was years in the making. It has sired a fleet of faster & newer offspring thanks to its solid foundations. Another benefit is a great safety rating and over 23 mpg on the highway.
With 19 gallons of fuel onboard, you will have a great weekend cruiser without having to stop as often. Tires measure 225/35/19 front and 285/35/20 on the rear. While not overly wide, they are perfectly staggered for proper cornering. Finally, the best feature is the car's dual nature. It can be as plush as a feather bed, or as mean as an ax murderer. It is all at your command. Click the link below to find your new McLaren 570S Spider for sale.
2018 McLaren 570S Spider review: A crowd favorite

"Holy (expletive-that-shouldn't-be-coming-out-of-a-12-year-old's mouth)! That costs more than my dad's house!"
Yes, the kids like the 2018 McLaren 570S Spider. If I didn't know before Halloween night, I definitely knew after. And that was just one roving group of youngsters. I also got comments from adults: "I don't want any candy; I just wanted to see the car." Cops on Woodward Ave. pulled up next to me, gave a thumbs up, whooped the sirens and then revved the engine like they wanted to race. I just smiled and did not engage in their shenanigans.
Everybody wants a piece of this thing. Like I said before, for about the same price, you can get a Porsche 911 Turbo or a McLaren 570. If you want to blend in, get the Turbo; if not, get the 570.
I'll admit I was a little concerned about the massive Pirelli P Zero Corsa tires combined with the 35-degree temps in Michigan that week, but the (relatively) lightweight 570S took the freezing pavement in stride — or in ride, as the case may be. The only time I got a little sideways was this morning in the sheeting rain on slick, shiny blacktop.
The Execution
It's hard to call the 3.8-liter, twin-turbocharged V8 in this car a monster. It doesn't overwhelm your senses with vibration and noise. It just feels like a precision piece of hardware that doesn't do any more than asked — or any less. With your foot 20 percent into the throttle, it cruises away from most cars at a stoplight. Push it down 50 percent of the way and it starts to makes things disappear in the rearview. Once you get to 100 percent, just hold on. It sounds great, exotic, loud, all of those things, but the one thing it doesn't sound like is music, like a Ferrari does. It's just a straight, middle C, plasticky roar that reminds me of the current turbocharged F1 engines.
The paddles shifters for the seven-speed dual-clutch are made from unfinished carbon fiber and beg the fingers to do the shifting. The three different modes for the powertrain — normal, sport and track — all have different shift characteristics, similar to the 675LT we drove a few years ago. Normal is deceptively smooth, sport makes a little more noise and track gives a full kick in the back. After day one, I kept it in track powertrain mode and normal handling mode. Each is adjustable independently.
The Alcantara-wrapped steering wheel takes less effort than you might expect, but the ratio is quick, and it gets quicker as the modes get more intense. It's electronically boosted, yet it still sends a little feedback from the road, which is always nice. That and the power make the car feel lighter than its 3,300-pound curb weight; on the brakes, not so much.
Bringing all that velocity back to zero takes a lot more literal effort than getting it up to triple-digit speeds. The pedal is stiff, and the first 2 inches of compression don't really do anything, which is kind of scary. Once you do get bite, you still have to push a little harder than is comfortable, but I think that's still better than them being too sensitive or too easy to push. Obviously the carbon ceramic discs were unfadeable on the street. Unfortunately, I didn't get any track time in our limited stint with McLaren's Sports Series car.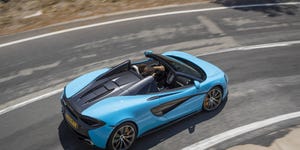 I'm still not sure about this gray color; McLaren calls it blade silver. I mean, this car is going to stick out no matter the hue, but I think I like the wilder stuff better — gimme orange, blue, or even green. Regardless of color, one look and you can tell this 570 is something serious. Everyone on the road sure knew. I love all of the scallops and air wedges, but I commented last time I drove one that I thought they might pick up road debris, and this time, they did. I was trailing a pickup truck on the highway and saw a Subway wrapper flying around. It went under the car in front, which was the last time I saw it, until I got home and it was plastered across one of the front air intakes. Not cool, though I don't really see a way to avoid it.
I do have some complaints, which I kept a list of during my drive only because the looks, powertrain and suspension are so close to perfect that there's not much else to think about.
The footwell area is way too narrow. I've been having a little sciatic-type pain in my leg and keeping it angled toward the center of the car with my ankle cocked didn't help. Also, the nose lift doesn't work when going in reverse or when there's a message on the screen like "passenger not belted." That's a problem because I needed to raise it enter my driveway, I want it slammed while parked overnight, and then I needed to raise it back up to get out. You'll have to do that first, before you go in reverse.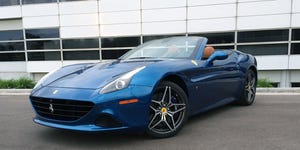 The infotainment system is a little convoluted. It takes some time to get used to. The central button takes you back to the home screen, but there is a lot of delay sometimes. I also found it damn near impossible to cancel route guidance after I accidentally initialized it. It also doesn't jive with polarized sunglasses, so keep that in mind. None of the exotics has a "good" infotainment system, so this isn't too far from the competition, but damn — Kia can do a great one, why can't McLaren? I do love that the radio stays on during startup, so when you plug in your phone as you sit down, it starts playing through the speakers and doesn't have to cut off during ignition. Finally, the seat adjustments are on the inside of the seats, next to where the tunnel would be. You can't see them, you just have to jab until you find the right one. I can't remember which manufacturer has the same type of thing, but the layout comes up on the screen once you start messing with them, so at least you can see the layout. Add that, McLaren.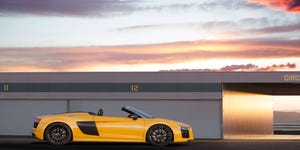 The Takeaway
People go nuts over this car, more so than the Ferrari California T, more so than the Audi R8 — cops, kids, adults, whatever. For $200,000-ish, you can get a 911 Turbo Cabriolet, the aforementioned California T, the R8 Spyder or this. The 570S and the California T are the rear-wheel-drive choices, but none offer a manual transmission. Sorry "standard" fans.
A rear-driver would be my choice, and since the California T is more of cruising grand tourer, this 570S Spider is probably it for me. However, if I had $200K, I wouldn't buy a convertible, I'd get a $145,000 Porsche 911 GT3 instead. A few options could bring that into the $170K range for sure, and I'd feel like I got my money's worth. On second thought, scratch that — you'll get your money's worth with any of these cars, and you'll be very happy doing so. As long as you don't mind being gawked at, talked to and race-challenged.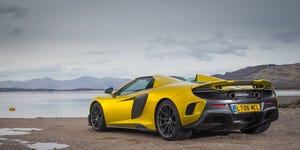 OPTIONS: Luxury pack with almond white and carbon black ($6,800); carbon-fiber interior upgrade ($6,680); 10-spoke lightweight wheels ($5,140); sport exhaust ($4,090); carbon-fiber pack 1 ($3,930); by McLaren design interior ($3,110); exterior special paint — blade silver ($1,740); vehicle lift ($1,560); ceramic brakes ($1,110); car cover ($560); battery charger ($230)
Vehicle Model Information
BASE PRICE: $208,800
POWERTRAIN: 3.8-liter turbocharged V8, RWD, seven-speed dual-clutch
OUTPUT: 562 hp @ 7,500 rpm; 443 lb-ft @ 5,000-6,500 rpm
CURB WEIGHT: 3,302.5 pounds
0-60 MPH: 3.1 seconds
FUEL ECONOMY: 16/23/19
PROS: It's a conversation starter, with everyone
CONS: Brake feel, narrow pedalbox, wonky infotainment