Scion iM 2016
2016 Scion IM
Find Car
The 2016 Scion iM is a totally new compact five-door hatchback, the latest contender in a field that includes the Ford Focus, Mazda 3 and Volkswagen Golf.
Its drivetrain is shared with the Toyota Corolla, a 1.8-liter engine making 137-hp and 126 lb-ft of torque. A 6-speed manual transmission is available, but most models will be equipped with a 7-step continuously variable transmission with manual control and sport mode.
Scion iM comes well equipped and is clearly sporty, with 17-inch wheels and 225-width tires, wide for a subcompact. It handles better than a Corolla, with front MacPherson struts, rear double wishbones, healthy stabilizer bars, and four-wheel disc brakes.
It's fuel efficient, EPA rated at 30/37 mpg City/Highway with the CVT.
Rearview camera, electronic stability control, hill start assist, and driver knee airbag are standard. Hill Start Assist keeps the car from rolling backward for two seconds. It's important with a manual transmission, but redundant and not needed with a CVT. The Scion iM market includes young families, so it comes with LATCH connectors for child seats in the rear, and a first aid kit.
Scion dealers offer many stand-alone options, from roof racks and pet carriers to lowered springs and a TRD (Toyota Racing Development) air intake system for more horsepower from better breathing.
Model Lineup
Scion iM ($18,460) comes with the manual transmission or CVT ($19,200) and is well equipped, with a 4.2-inch color TFT multi-information display, Bluetooth, USB and auxiliary port. Also power-folding heated mirrors, dual-zone climate control, cruise control, keyless entry, and six-speaker Pioneer sound system. Navigation is available.
Exterior
It's not easy to pull off making a hatchback look like it's moving, but the Scion iM succeeds. Its nose thrusts, its tailgate slopes, its wide 17-inch tires give it presence, and black grille says it's serious.
It cuts a fine form, like the departed Toyota Matrix, much enjoyed in its time.
Interior
The front sport seats are well bolstered, but the upholstery looks and feels fairly cheap, shiny in the sun and not rugged. The driver's seat is height adjustable, while the rear seat is short on headroom. There's not a lot of cargo room in back when the rear seatbacks are up, but they're 60/40 and fold flat.
The dashboard is covered in fashionable piano black plastic that smudges with fingers. There's a lot of upscale soft-touch trim. Swooping lines embrace round vents and a simple instrument layout, with a 7-inch monitor.
The acoustic windshield and silencing in the floor reduce wind and road noise, but it's still constant.
Driving Impressions
The Scion iM is not as quick as some of its rivals. The 137-hp 1.8-liter engine is not enough to move its 3000 pounds with much authority.
The CVT with seven steps is better than the 6-speed manual for spirited driving. The throws in the 6-speed manual are long and imprecise, and clutch travel is long. The CVT gets the most out of the meager power. Even if you don't shift the CVT manually, its sport mode keeps revs up.
The ride can feel unrefined at times, and over the bumps it's almost jittery.
The handling is sporty, with its struts in front, wishbones in rear, and wide tires. It can be driven with verve, something that can't be said of many cars this size. But the electric power steering is oddly numb, and doesn't transmit much road feel so it's hard to find the limit of tossability.
Final Word
Compared to the all-new Scion iA sedan, which is precise and eager (built by Mazda for Scion), the all-new Scion iM falls short. You still get a lot of function and style for the money, but the lame power, choppy ride and cheap upholstery are disappointing.
Driving impressions by The Car Connection. Sam Moses contributed to this report.
2016 Scion iM Review
The Scion iM is a zippy, Euro- style compact, but it didn't blow our doors off
When Toyota created its Scion brand 15 years ago as a way to reach out to millennials, it sold two urban-minded small hatchbacks. Both vehicles played off the brand's value of reliable but basic transportation, wrapped in minimalist exteriors that could be personalized to the buyer's whim. But fun to drive, they were not. After almost a decade without updating its core hatchbacks, Scion is trying a ­different recipe. For those who crave Euro-styled economy-car practicality with a whiff of nimble handling, the iM is calling you. (Read the complete Scion iM road test.)
The youth-targeted 2016 Scion iM hatchback looks cool, swallows a fair amount of bulky cargo, and is zippy on corners. But this derivative of the utilitarian Toyota Corolla is also saddled with an underwhelming four-cylinder engine that delivers lackluster acceleration. Its 0-to-60-mph time of 10 seconds is 1.5 ticks slower than the ­Mazda3's. It left us wishing for the 20 or 30 more horsepower offered by competitors.
The driving experience isn't helped by a continuously variable transmission—which uses belts and pulleys rather than gears—that attempts to mimic a regular automatic with artificial "shift" points. When asking for more power, you get more engine noise than forward thrust. One would expect great fuel economy as a trade-off. However, its 31 mpg overall is merely respectable and hardly a standout in this class.
But don't write off the 2016 Scion iM just yet.
Handling is a strong point. Though the American-­market Corolla has a solid-axle rear suspension—it won't win any slalom contests—the iM boasts an independent double-wishbone setup normally seen in race cars. When done right, that more elegant system can provide a crisp response to steering inputs and can result in a settled ride, especially over bumpy curves.
In the iM's case, the car turns in with alacrity and stays unflappable. But ride comfort isn't stellar, with road jolts that intrude noticeably. The car is unsettled on uneven pavement.
And though hatchback versatility gives you the ability to haul bulky stuff through a wide opening and a folding rear seat, the suspension's architecture and mounting points intrude on the cargo area. And because the iM's wheelbase is 4 inches shorter than the Corolla's, don't expect as much rear-seat room for passengers as in the Toyota.
HIGHS: Agility, fuel economy, hatchback versatility, well-equipped for price
LOWS: Acceleration, engine noise, rear seat, rear visibility, lacks common options
POWERTRAIN: 137-hp, 1.8-liter 4-cylinder engine; continuously variable transmission; front-wheel drive
FUEL: 31 mpg
PRICE: $19,255-$19,995
The 2016 Scion iM's cabin exhibits a youthful ambience, with patterned black-and-white seat fabric and stitches in visible spots. But the rest of the décor is rather basic. Bolstered front seats lack a lumbar-support adjustment. Getting in and out of the low-slung seats can be an effort for some. The steering wheel has limited telescoping range, which compromises an ideal driving position.
For its relatively affordable price, the 2016 Scion iM comes nicely equipped with standard automatic climate control, connectivity features such as Bluetooth and voice commands, and a rearview camera. But options are limited. For instance, a sunroof is not available, nor are any advanced electronic safety features such as blind-spot warning or rear cross-traffic alert.
As for infotainment, the touch-screen interface lacks a tuning knob for audio, and it suffers from small buttons. Certain phones had Bluetooth connection difficulties, and streaming audio often error-coded back to the phone's first song. That's great if you like Aaliyah, but you can get sick of resetting the system.
Ultimately, the 2016 Scion iM makes for a stylish and versatile first car or urban runabout. Being a Toyota, it's likely to be reliable and keep owners headache-free. Though it might be a fun corner-carver, don't expect straight-line thrills when you step on the gas.
2016 Scion iM First Test Review
Practicality with a Hint of European Flair
See all 98 photos
Once forbidden fruit, the Toyota Auris will be available Stateside starting in September as the 2016 Scion iM, and it's exactly what a Corolla hatchback should be: efficient, practical, and roomy. The iM fills the void once occupied by the Matrix hatchback but with a touch of Euro-chic flair, making it a little more interesting to drive and look at than current and previous compact Toyotas.
The iM is powered by a 1.8-liter I-4 also found in the Toyota Corolla Eco, rated here at 137 hp and 126 lb-ft of torque. The CVT in our test car proved reasonably responsive, but activating Sport mode leads to simulated gear changes with seven preset CVT ratios and more lively throttle response. However, no matter what driving mode you're in, the iM is not quick in a straight line.
See all 98 photos
At the track, the Scion iM's lack of power became more apparent as our CVT-equipped hatch did the 0-60 mph sprint in 9.9 seconds and on to a 17.6-second quarter mile at 80.5 mph. Although the iM's track-tested acceleration is on par with competitors such as the Nissan Sentra and the Scion's sedan sibling, the Toyota Corolla, it's significantly slower to 60 than sportier automatic-transmission entries such as the Ford Focus (8.4 seconds) and Mazda3 i (8.2 seconds). On the figure-eight course, our iM—which had installed $399 TRD lowering springs—pulled an average of 0.59 g and completed the course in 28.3 seconds. Again, numbers on par with the Toyota Corolla but off the pace of more sporting options and all five hatches in our Big Test comparison of 2014-2015 hatchbacks. The iM's lateral acceleration was 0.85 g, which would have been a midpack performance in that comparison. Stopping from 60 took 125 feet, longer than all of the comparison hatchbacks but about even with a Sentra sedan we tested.
See all 98 photos
The iM's four-wheel independent suspension gives it better handling than the Corolla and keeps it stable through twisty roads, allowing for some semi-enthusiastic driving. In terms of outright handling and agility, the Ford Focus and Mazda3 will leave the iM behind because of its nearly nonexistent steering feel even in Sport mode, making it less fun to pilot down your favorite twisty road.
Ride comfort, on the other hand, is surprisingly good. The independent suspension setup soaks up bumps and rough patches nicely and keeps road imperfections from shaking occupants' innards to bits. Compared with its rivals, the iM splits the difference between comfort and sportiness but leans more toward the former, making it a viable commuter car. In addition, the cabin, which has plenty of insulation from exterior and powertrain noises, is a pleasant place to spend time.
The EPA fuel economy rating for the CVT-equipped 2016 iM is expected to be 28/37 mpg city/highway, on par with the rest of the compact class. In Real MPG testing, we were able to achieve 28.2/37.9 R-MPG, or better than every car in our Big Test of hatchbacks except the Ford Focus, which was good for 28/40 R-MPG. The iM's 14-gallon fuel capacity is larger than most of its competitors, so it shouldn't require frequent stops to fill up.
See all 98 photos
Standard features on every 2016 Scion iM include a 4.2-inch TFT display, heated power-folding side mirrors, LED daytime running lights and taillights, a rearview camera, 17-inch alloys, and a six-speaker Pioneer audio system that sounds great for its class. The 7-inch touchscreen's graphics were clear, but it isn't the most modern unit out there. The available $900 dealer-installed navigation system is responsive and user-friendly, and it's worth the extra charge. Controls for the infotainment system are relatively easy but could use some dedicated controls for navigation and entertainment rather than lumping everything together in the media button. Interior build quality is good for the class; the iM has plenty of soft-touch plastics throughout the cabin. Hard plastics are present in places that aren't touch points, such as the lower part of the dash and doors.
The iM has generous passenger space, with plenty of head- and legroom up front and in the back, even for tall adults. The front seats in particular have generous side bolstering and good back support, even for mildly enthusiastic driving. In a pinch, a fifth passenger can fit in the rear center position, and the lack of a central hump in the second row means more legroom for occupants in the back. An expansive windshield and nicely sized side windows provide good visibility and keep the cabin from feeling claustrophobic. Rear visibility suffers, however, because of the small rear window and rear-seat headrests that block the driver's view out the back.
See all 98 photos
Behind the 2016 iM's split-folding rear seats is 20.8 cubic feet of cargo space, a tad more than in the Mazda3 hatch but less than in the Volkswagen Golf and Ford Focus hatch. With the second row up, a large check-in roller bag will easily fit, but one of the rear seatbacks need to be folded to accommodate more cargo.
Starting at $19,255 with a six-speed manual transmission and $19,995 for the CVT, the iM is priced to deliver maximum bang for your buck. The hatch is more interesting to drive than a Nissan Sentra or Hyundai Elantra, but the iM falls short of the sportier choices in the compact and compact hatch segments. Think of it as a value-oriented member of the Toyota Corolla family but with a hatch, a better ride, more standard equipment, and slightly improved driving dynamics.
Used 2016 Scion iM
Overview
Reviews
Cars For Sale
Photos
Specs & Features
Safety
Styles
If you seek a well-equipped, fun-to-drive, value-intensive 5-door hatchback in a versatile-yet-stylish package, the 2016 Scion iM comes highly recommended.
Buyers in the market for a premium small hatchback loaded with upscale accouterments like a power driver's seat, leather, heated seats, passive entry with push-button start, and a moonroof should consider the Ford Focus, Mazda3 or Volkswagen Golf.
What's New for 2016
Based almost entirely on the European Toyota Auris, the 2016 Scion iM is a brand-new nameplate in the U.S. marketplace.
2016 Scion Im Expert Review
The 2016 Scion iM ushers in a new era of maturity for Toyota's youth-oriented brand. While still embracing such corporate cornerstones as evocative design and vehicle customization, the iM's real reason for being involves value and practicality. Whereas generously equipped versions of rival hatchbacks like the Ford Focus, Kia Forte5 and Mazda3 tend to hover around the $23,000 mark, the mono-spec Scion iM offers an attractive feature set along with upstanding residual values for under $20,000. Add to that a surprisingly high level of driving engagement and up to 37 mpg on the highway, and it wouldn't be a stretch to label the 2016 Scion iM as one of the best values among compact cars.
Although 137 horsepower doesn't sound like the stuff dreams are made of, what the Scion iM lacks in raw acceleration it makes up for in handling and ride compliance. Toss it into a corner, and the iM is eager to play. When playtime is over, drivers are greeted with a ride that's supple and more cossetted than rivals like the Kia Rio5 and Hyundai Elantra GT. The chassis and adjoining suspension components earn extra brownie points for keeping much of the outside world where it belongs: outside. This reasonably hushed cabin also enabled us to appreciate the standard audio system's impressively punchy lows and crisp highs, something that can't be said for its Hyundai and Kia challengers.
MONO-SPEC PACKAGING
Though not exactly a tangible feature, the iM's mono-spec ordering structure takes much of the guesswork and confusion out of the purchasing process. Better yet, this one-size-fits-all packaging means you'll never pay for features you don't want.
STANDARD PIONEER AUDIO SYSTEM
A feature often overlooked in the realm of compact cars is audio quality. Despite its traditional 6-speaker arrangement, the iM's sound system delivers an unexpectedly high degree of tonal accuracy and spectral balance.
Boasting an edgy-yet-tasteful layout, the iM's cockpit emphasizes functionality. The audio and climate controls are about as straightforward as they come, while symmetrical armrests and an adjustable steering column yield an appropriately neutral driving position. Power seats are not available, but the 6-way front buckets leave nothing to be desired in comfort or lateral support. And while rear legroom can't measure up to rivals like the Mazda3, Kia Rio5 and Volkswagen Golf on paper, the iM's rear quarters feel plenty roomy in the outboard seating positions. Space behind the rear seat stands at 20.8 cubic feet, topping the Mazda3 and Rio5.
Design-wise, the Scion iM keenly embraces the tuxedo T-shirt philosophy: It wants to be formal, but it's also here to party. A sweptback roofline, aggressive lower body panels, and LED running lights and taillights suggest all the makings of a hot hatch, while projector-beam headlights and a versatile liftback speak to the iM's practical side. For those who desire some additional show without the go, Scion offers a host of dealer-installed accessories like TRD lowering springs, carbon-fiber window trim and body graphics.
Every Scion iM comes with dual-zone climate control, eight airbags, automatic headlight control, 17-inch alloys, LED running lights and taillights, a nifty 4.2-inch driver information display, a rearview camera, and a 6-speaker Pioneer audio system with Bluetooth and a USB port. Moonroof lovers, you're out of luck. By the same token, all this upmarket hatchbackery at an entry-level price means some corners were cut. These shortcomings include a hard center armrest, lackluster headliner materials, and sun visors that don't slide to block the sun.
The iM's mono-spec packaging structure means that aside from the transmission and exterior color, your options are limited to a navigation system (+$900) and the dealer-installed accessories outlined above. Speaking of the former, smartphone users might express a preference for Pioneer's aftermarket NEX 4100 head unit, which offers Apple CarPlay and Android Auto, superior music streaming capability, and a factory look for about $200 less.
The Scion iM is powered by Toyota's 1.8-liter, 4-cylinder engine with Valvematic continuously variable-valve timing, which is also used in the Corolla. Developing 137 horsepower and 126 lb-ft of torque, it can be paired with a standard 6-speed manual or optional continuously variable automatic transmission (CVT) featuring a 7-speed simulated sequential-shift mode. Beyond altering shift points, there's a sport setting that also quickens throttle response and adds weighting to the electric power steering. Combined fuel economy averages rank in the low-30-mpg range and, as you might have guessed, all Scion iM's run on regular gasoline.
1.8-liter inline-4
137 horsepower @ 6,100 rpm
126 lb-ft of torque @ 4,000 rpm
EPA city/highway fuel economy: 27/36 mpg (manual), 28/37 mpg (automatic)
Scion iM 2016
Written by: Stephen Spyropoulos
Photography by: Stephen Spyropoulos
Buying your first car is a significant milestone in your life, one that you will never forget. After passing your G2 license exam, gearheads that are lucky enough are often graced with a hand-me-down family vehicle, a used car off Kijiji, or maybe even a set of keys to a brand spanking new Honda Civic, Toyota Corolla, or any other entry-level vehicle. And now there's a newcomer to that segment, the brand new Scion iM.
When Scion announced the arrival of the iM model to North American shores I could not help but notice that the car looked strangely familiar, like a friend you haven't seen since the third grade. You knew his or her face, but you could never put a name to it. So I pulled out the Toyota yearbook and began searching. Lo and behold, the truth was revealed. The Scion iM is a Toyota Auris in disguise! The exterior shell, inner workings, and chassis all came from its Corolla-derived Japanese hatchback counterpart. No wonder.
This design has been around since 2012 and staying true to Toyota fashion, it shares the same 1.8-litre 2ZR-FAE engine that has been around since 2009. There is a reason why Toyota builds some of the most reliable products on the market, and that's because they've been refining the same platforms for years on end. Not that it's a bad thing but I couldn't help but wonder, would this car be ready to compete in 2016 or would it feel a bit long in the tooth?
The Scion iM comes from the side of Toyota that we are not accustomed to seeing. The iM's ripped-straight-out-of-Japan styling brings back memories of to the Scion xB when it first hit the market by storm in 2004. But instead of the xB's controversial boxy look and appeal, the iM poses as a conventional hatchback with a factory body kit, a lowered suspension, a polarizing paint job, cool looking wheels, and an interior that looks like it had a bout with an aftermarket tuner shop. This car was clearly developed during the import-tuner craze of The Fast and Furious days, "iM ready for Importfest!"
Yet, I wonder why Toyota did not choose to use a more potent powerplant in the iM. Mated with a 4-cylinder 1.8-litre motor that delivers 137 hp and 126 lb-ft of torque, it takes a lengthy 8.6 seconds to get from 0 to 100 km/h. The power, or the lack of it, was perhaps the most prevalent and disappointing feature of this car. While at low speeds I had to give props for the Scion's go-kart-like handling, rapid turn-ins, and peppy throttle response, the lack of oomph kept creeping back into reality.
However, fuel economy was ace thanks to the iM's small engine, Eco Mode, and feathery 1,334 kg curb weight. Over the week I managed an average of 8.3 L/100km – not bad!
There are two transmission options available, a 6-speed manual and a Continuously Variable Transmission ($825), the latter of which was equipped on our tester. Take our advice and skip the CVT. The manual will supplement the otherwise innocuous driving experience with a few doses of driver engagement.
Due to the lowered suspension the car feels quite harsh over rough terrain. As we have seen in other Scions like the FR-S, handling is sporty and captivating, the chassis is brilliant, but as an overall package, it leaves much to be desired. Untapped potential? Perhaps. But there's certainly no harm in a little extra power.
I liked the simplicity inside the iM: few buttons and a minimalistic design. While it did feel like the infotainment system could have used a few more knobs, the system was decent and includes USB, auxiliary, and Bluetooth capability. The seats were comfortable, though a bit snug in legroom and cargo space.
The Scion iM is entering the most competitive era of hot hatchbacks since the 80s and if it doesn't come out swinging, it will drown in the competition. As tested, our Barcelona Red iM hangs around $21,990. At this quite attractive price point, I can understand that some sacrifices had to be made, but I feel like a more powerful engine matched with a sportier setup would attract the younger audience that Scion is aiming at.
While the force isn't particularly strong with the iM, it does have potential. Scion has given customers a blank canvas and like the FR-S, the iM may need a helping hand from aftermarket enthusiasts. Considering the target age and the current incentives for school graduates, the iM makes for an excellent first car. It is very simple to drive and does not have the power to scare the daylights out of any rookie buyers. Though I'd have a hard time recommending the iM, it does make its case with Toyota's renowned history of quality and reliability.
Photo Gallery:
Specifications:
ећ‹еЏ· Model:В 2016 Scion iM
йЎЏи‰І Paint Type: Barcelona Red Metallic
е» ж–№е»єи­°е"®еѓ№ Base Price:В $21,165
試車售價 Price as Tested: $21,990
и»ёи·ќВ Wheelbase(mm):В 2,600
й•·й—Љ Length/Width/Height (mm):В 4,330 / 1,760 / 1,405
и»Љй‡Ќ Curb weight (kg): 1,335
еј•ж"Ћ Engine:В 1.8L 4-cylinder
最大馬力 Horsepower: 137 hp @ 6,100 rpm
最高扭力 Torque: 126 lb-ft @ 4,000 rpm
жіўз®± Transmission:В CVT ($825)
ж"єдЅ€ Engine & Drive Configuration:В Front engine, FWD
е‰Ќж‡ё Suspension-Front:В MacPherson strut
еѕЊж‡ёВ Suspension-Rear:В Double wishbone
жІ№иЂ— Fuel Consumption ( City / Highway / Combined ) L/100km: 8.3 / 6.3 / 7.4
жІ№иЂ— Observed Fuel Consumption (L/100km): 8.3
ијЄиѓЋе°єзўј Tires:В P225/45R17
Scion iM ( 2016 )
Scion iM
If the badge on the all-new 2016 Scion iM stood for «instant message,» the message to young buyers would be that they can now get a fun-to-drive, high-style, high-content, high-MPG rated hatchback for a whole lot less than they'd expect. The all-new Scion iM arrives in dealerships on Sept. 1, 2015, with an MSRP of $18,460. In true Scion practice, that's for a mono-spec model equipped like an upgrade model from competitors.
The Scion iM hatchback joins the all-new 2016 Scion iA sedan for a one-two punch in the subcompact and compact segments.
The all-new 2016 Scion iM is the answer for young buyers looking for a sporty hatchback, but who still need to pay for things like rent, food, school loans and weekend fun with friends. Its bodylines are ripped. The cabin is roomy, refined, versatile and high-tech-equipped. The 1.8-liter DOHC Valvematic engine is eager to rev and very easy on gas. The chassis, with sophisticated double-wishbone rear suspension and standard 17-inch alloy wheels, is ready to smooth out urban bumps and tame adventurous curves. For more hands-on driving fun, a six-speed stick shift is also available.
For safety, the 2016 Scion iM comes with eight standard airbags, including a driver's knee airbag and a front passenger seat cushion airbag.
Design: The Meaning of iM
In the name, the «i» stands for individual. Intriguing. Easy on the customer's income. For the M, think modern, multi-faceted and magnetic. The iM could be a first new car, but don't call it «entry level.» It will easily compare to hatches that start in the same price neighborhood but then demand a higher tax bracket when you add in needed upgrade options.
2016 Scion iM
The Scion iM shows a familiar face, with a hexagon lower grille, sharp-eyed headlights and side bezels with honeycomb mesh pattern seen also on the brand's FR-S sports car. That aerodynamic expression carries into the profile, which conveys dynamic movement from the lower front to the rear. It's like a «swoosh line» rendered in steel.
Detailing on the Scion iM belies the affordable pricing. The piano black grille treatment, standard sporty body aero kit, LED daytime running lights and taillights leave an unmistakable signature. Also true to the Scion way, the color selection gives the design tremendous visual pop: Blizzard Pearl, Classic Silver Metallic, Black Sand Pearl, Barcelona Red Metallic, Spring Green Metallic and Electric Storm Blue.
One Spec: Fun
Gas prices come down. Gas prices go back up. Young buyers like to avoid pain at the pump no matter what. The 2016 Scion iM offers a sweet spot of performance and efficiency, with Scion estimating a 37-MPG highway fuel economy rating. Then comes the fun side. The 137 hp 1.8-liter 4-cylinder engine uses Valvematic continuously variable valve timing (lift and phasing) technology to offer a broad torque curve, so the iM feels responsive in all situations.
For driving purists, the Scion iM has a standard 6-speed stick shift that's a slick shift, making for an engaging and active driving experience. Got hills? The Scion iM comes standard with Hill Start Assist, which helps prevent roll-back when you're pulling away from a stop sign or traffic light on an incline.
The optional automatic is also perfectly suited to the 1.8-liter engine. It's an intelligent Continuously Variable Transmission that's been sport-tuned for driving pleasure. That's why it's called the CVTi-S. Not all CVTs operate as responsively as the CVTi-S in the Scion iM. This one's got both a Sport mode as well as manual shifting capability with seven stepped shift points.
In Sport mode, the CVTi-S alters shift points and also provides a livelier feel through the electric power steering programming and accelerator responsiveness. G AI-SHIFT logic detects lateral G force during cornering and maintains engine speed by restricting unnecessary shift changes.
Using the console shifter, the driver can make fast, sequential shifts through the transmission's seven predefined steps, accompanied by the familiar sense of positive shift engagement. The 4.2-inch TFT multi-information display within the instrument cluster displays M mode activity, including the «gear» position, and other vehicle information.
It's Got the Moves
In the Scion iM, instant gratification behind the wheel will turn to long-term love down the road. Driving enthusiasts know well the value of a high-strength body structure and a sophisticated four-wheel independent suspension. Based on the tC sports coupe platform, the 2016 Scion iM checks those boxes by using ample high-strength steel and special reinforcements in the structure. And it goes further, making the rear suspension the double-wishbone type, a design offering the added benefit of not impinging on cargo room.
Add in standard 17-inch alloy wheels with fat 225/45R17 tires, and the Scion iM delivers a tight, taut road feel and a compliant ride quality. The Electronic Power Steering (EPS) system makes low-speed maneuvering a breeze and provides good feel and less assistance at highway speeds. It also helps boost fuel efficiency, because the system consumes power only when assist is needed.
Premium Interior without the Premium Price
Inside, it will be love at first seating in the standard bolstered front sport seats. They fit the body like a glove and also integrate a Whiplash Injury Lessen (WIL) structure for occupant protection.
High quality materials abound throughout the Scion iM cabin, where the layered dashboard design combines sports car-inspired instrument panel styling with easy to reach, easy to use controls. With ideas borrowed from the luxury car realm, the Scion iM keeps noise outside with an acoustic layer windshield, foam-type insulation and floor silencer sheets.
The Scion iM's premium feel on the road is matched by a lengthy roster of premium amenities — all included as standard with the brand's famous mono-spec strategy. Start with versatility, which comes from the 60/40 fold-down rear seats and standard cargo cover. A roomy glove box and console box are augmented by numerous front door pockets and storage bins throughout.
As a Scion, the iM naturally comes with high-grade standard multi-media system. The 6-speaker Pioneer sound system will play from a variety of sources, including iPods, of course, and other devices. You control it all through an easy to use 7-inch Pioneer Display Audio unit that also includes standard HD Radio and Aha. It's through that screen that you view the standard rear view backup camera.
Real leather wraps the steering wheel, an unexpected detail in this price class. The sporty wheel puts fingertip switches for audio, multi-info display and hands-free phone calls via Bluetooth at your fingertips. The 4.2-inch color TFT multi-information display (Scion's first) between the main instrument gauges provides displays for the car's audio system and other functions.
The Scion iM keeps the value surprises coming. All cars in this segment come with air conditioning; the Scion iM steps up a class with dual-zone automatic A/C control. And on cold mornings, the color-keyed heated power-folding exterior mirrors (yes, standard power-folding mirrors) get fog or frost cleared up in a hurry. Auto on/off headlamps are another convenience inherited from a higher segment.
Build It Your Way
One could buy the Scion iM, choose the color and be perfectly happy with the result. For those who see the car as a blank canvas, Scion offers a full range of dealer-installed accessories. A sampling includes:
Navigation upgrade kit, body graphics, cargo area enhancements, interior light kit, all-weather floor mats and more. A roof rack system expands versatility. The Scion iM will also offer a line of TRD (Toyota Racing Development) performance accessories, including an air intake system, anti-roll bar, lowering springs and more.
Scion drivers love their pets, and so does Scion. The iM will offer a range of cabin enhancements to take the stress out of carrying furry friends. Available through dealers, pet-friendly accessories include a dog harness with tether, door guards, seat pet barrier and even a grass pad, which discourages your doggie from standing on center console.
A number of Scion dealers have inaugurated Pure Process Plus, which allows customers to research a car through Scion.com, find it at a dealership, apply for credit and secure a price, all without leaving the couch. Scion will continue working with dealers and Toyota Financial Services to fine-tune the process and plans to significantly expand its reach in 2015.
Limited Warranty
Like all Scion models, the 2016 iM is covered by a three-year/36,000-mile limited warranty and five-year/60,000-mile powertrain warranty. It also comes with Scion Service Boost, a complimentary plan covering normal factory-scheduled maintenance for two years or 25,000 miles, whichever comes first, and two years of 24-hour roadside assistance.
2016 Scion iM
Overview
The Good
Overall value
Decent cabin materials
Ride comfort
CVT operation
Gas mileage
The Bad
Handling
Acceleration
Sloppy manual transmission
Snug backseat
No forward-collision, blind spot warning systems
Usability of multimedia system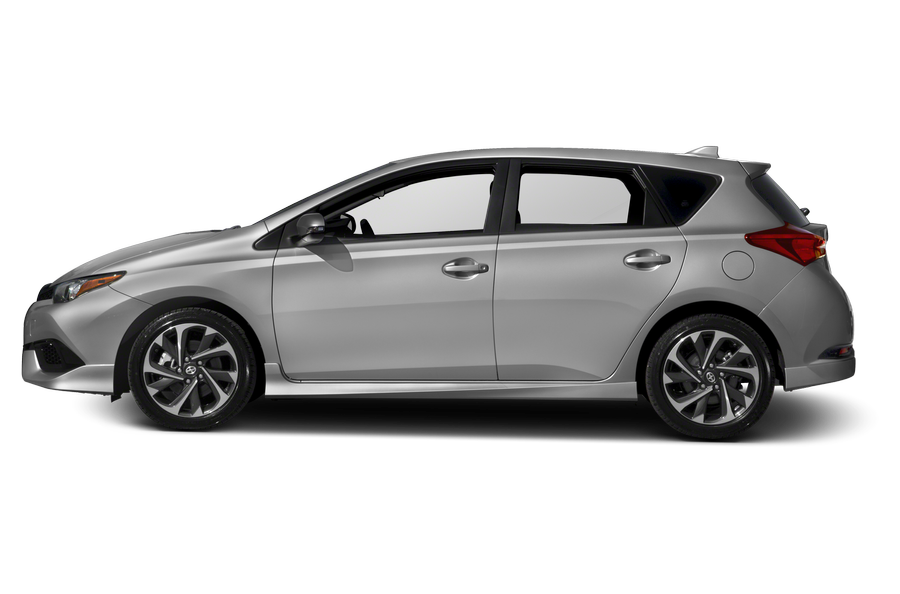 What to Know
We're looking for the best deals on a Scion near you…
Are you looking for more listings?
Please enter a valid 5-digit ZIP code.
Sign up for listing notifications
Please enter your complete email address.
Thanks For Signing Up!
We have received your information, so keep an eye out for emails from Cars.com.
See all local inventory
2016 Scion iM Review
from the Cars.com expert editorial team
From the 2015 New York International Auto Show, Cars.com's Kelsey Mays takes a look at the 2016 Scion iM.
The all-new Scion iM checks a lot of boxes for a low price, but driving fun isn't one of them.
That may come as a surprise to anyone who's seen the iM, a five-door hatchback whose aggressive bodywork recalls the compact-tuner body-type zeitgeist of the 1990s and 2000s. Still, though the styling writes checks the driving experience can't cash, the iM is otherwise a lot of car for its sub-$20,000 price. That, plus Scion's reputation for value and reliability, could attract a lot of shoppers who care little for acceleration or handling.
Typical of most Scions (such as the FR-S), the iM is a single-spec car with a lot of standard features, few factory options and a number of optional dealer accessories. It shares its front-wheel-drive underpinnings with the tC sports coupe and comes with a manual or automatic transmission. We tested both.
The all-new Scion iM checks a lot of boxes for a low price, but driving fun isn't one of them.
That may come as a surprise to anyone who's seen the iM, a five-door hatchback whose aggressive bodywork recalls the compact-tuner body-type zeitgeist of the 1990s and 2000s. Still, though the styling writes checks the driving experience can't cash, the iM is otherwise a lot of car for its sub-$20,000 price. That, plus Scion's reputation for value and reliability, could attract a lot of shoppers who care little for acceleration or handling.
Typical of most Scions (such as the FR-S), the iM is a single-spec car with a lot of standard features, few factory options and a number of optional dealer accessories. It shares its front-wheel-drive underpinnings with the tC sports coupe and comes with a manual or automatic transmission. We tested both.
I'm not sold, but Cars.com editors have mixed opinions overall. Styling is subjective; if you like it, read on.
How It Drives
The Scion iM's sole powertrain — a 1.8-liter four-cylinder shared with the Toyota Corolla — provides modest overall power, but the optional continuously variable automatic transmission puts on a mighty effort to simulate a conventional stepped-gear transmission. CVTs' gearless setup gives rise to a nonlinear "rubber band" sensation between the gas pedal and actual acceleration, and the iM feels as nonlinear as the rest of them under normal use. With more gas, though, it produces a gratifying stepped feel, including a decent (if contrived) kickdown sensation on the highway. It's a slow, noisy climb to 70 mph, but it feels like a traditional automatic, and that counts for something.
Still, fun-to-drive rival hatchbacks like the Mazda3 and Volkswagen Golf are quicker. They're also more fun to throw around. The Scion iM wallows into corners; the steering is a soupy mix of relaxed motions and vague feedback, and the tires lose traction quickly. The nose tracks curves well enough, but the iM feels both lethargic and ponderous throughout the process.
The available six-speed manual does little to rescue the Corolla-like driving experience. With sloppy throws and an awkwardly long clutch takeup, it's an uninspired unit — and it hurts the iM's EPA-estimated fuel economy (the manual is rated 31 mpg combined versus the CVT's competitive 32 mpg). Skip it in favor of the more technological CVT (Which Toyota calls the CVTi-S).
Ride quality is soft but generic. For all the fuss Scion makes over the iM's independent double-wishbone rear suspension — a theoretical advantage over the semi-independent rear ends common in this class — the iM doesn't deliver the supposed advantage of better ride control. It's a reasonably comfortable hatchback, given the P225/45R17 tires don't have a lot of sidewall to absorb bumps, but it can get clumsy at times.
Interior
For a $20,000 car, cabin quality is competitive with other compacts. There's generous padding where it counts, including the upper doors and a padded section where the driver's knee touches the center tunnel. The dashboard has a ribbon of faux-leather stitching that evokes the real stuff far better than the molded stitching along too many Toyota dashboards. The upscale piano-black climate switches are light years beyond the clumsy plastic knobs in the Scion tC and Toyota Yaris. Cheap-looking silvery plastic, something Toyota used to cram everywhere, is sparse.
Dual-zone automatic climate control is standard (a rarity at this price range), as are a leather-wrapped steering wheel, heated power-folding mirrors, automatic headlights and the usual power conveniences you'd expect in a compact car. Typical of Scion, the iM forgoes any significant factory options, including a lot of the luxury features you can get elsewhere in this class: If you want heated or power-adjustable seats, leather upholstery, keyless access or even a moonroof, look elsewhere.
Backseat headroom is good, but the three-position bench is otherwise snug — a result of limited legroom, a low seating position and short bottom cushions. Cabin materials are more basic in back, but that's a drop-off most compacts exhibit.
Cargo & Storage
Cargo space behind the rear seats is 20.8 cubic feet. That's a little short of comparable compact hatchbacks. The seats fold down in a 60/40 split for plenty more room, enough to easily fit some golf clubs and bags of groceries.
Ergonomics & Electronics
Typical of Scion, the iM's stereo fits into a dashboard cutout. That makes it easier to swap for an aftermarket unit, but it looks as inelegant as any stereo from the 1990s or 2000s. The head unit, a 7-inch Pioneer touch-screen that you can upgrade with multi-information navigation for another $900, is a usability mess. The on-screen buttons are small, and the physical controls next to them are even smaller. The volume knob is miniscule, and the tuning knob is missing entirely.
The stereo does, however, have a lot of features. HD radio, Bluetooth phone and audio streaming, USB and auxiliary ports, and Aha internet radio integration are all standard.
Safety
The Scion iM hadn't been crash-tested as of publication. Standard features include eight airbags and a backup camera, but the iM lacks forward collision, lane departure or blind spot warning systems. Click here to see a full list of standard safety features, or here to see our Car Seat Check, which revealed some major space limitations while trying to fit a rear-facing infant seat.
Value in Its Class
Including destination, the Scion iM base starts at $19,255 with a manual transmission or $19,995 with an automatic. That reflects a fairly complete package of standard convenience features with only a handful of available dealer-installed accessories. Given the generous features, plus Scion's two-year free maintenance, the iM has enough value to deserve attention from anyone shopping a modestly equipped variant of the Hyundai Elantra GT, Ford Focus, Mazda3 or Kia Soul.
I'm not sure that makes the Scion iM the most appealing Scion, however. Scion recently introduced another car, the iA subcompact sedan, that's based on the next-generation Mazda2. It has quicker reflexes, comparable seat-of-the-pants acceleration, better gas mileage and more safety features than the iM — and it starts around $16,500. If you're looking at an iM, be sure to check out the iA while you're at it. At the end of the day, the biggest reason not to buy an Scion iM might come from inside Scion's own showroom.
2016 Scion iM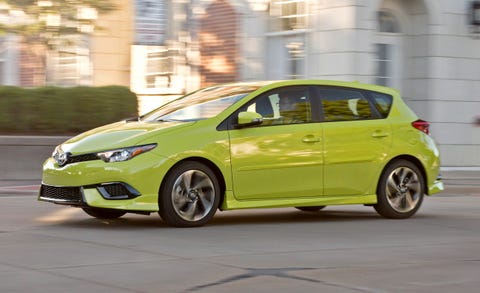 It's a curious turn for To­yota's so-called "test labo­ra­tory division," this new model. The iM eschews the overtly Japanese weirdness that established the Scion brand and made the original 2004–2007 xB the most successful of Toyota's JDM product-line raids. This conventional four-door hatchback with its factory-supplied body kit and metallic-chartreuse paint seems like something Toyota developed during the import-tuner craze and only found parked in a garage in Torrance, California, after the company began planning its move to Texas.
The $19,255 iM joins the stalwart tC, the boffo FR-S, and the new iA (a rebadged Mazda 2 sedan) in filling out Scion's four-car lineup for 2016. They're all cheap, small, and hard to sell, a sober referendum on the youthful image Scion was designed to exploit. It's easy to wonder why they're not just sold as Toyotas.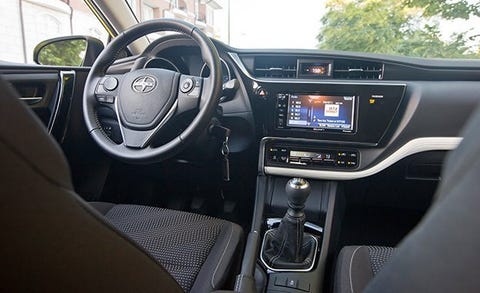 Elsewhere on the globe, the iM is a To­yota. It's the Auris in Europe and Japan, and in some markets it's a Corolla hatchback. In the U.S., it shares a platform and engine with the Corolla, though the iM uses a control-arm rear suspension that's more sophisticated than the Corolla's torsion beam. That's where the good news ends, because the 1.8-liter four-cylinder they share makes just 137 horsepower and 126 pound-feet of torque here, three horses less than in the Corolla LE Eco.
It took us 8.6 seconds to reach 60 mph in the iM, more than a second slower than the 160-hp Ford Focus, and the Focus isn't even the quickest hatchback in its class. The Volkswagen Golf goes from zero to 60 mph in 6.8 seconds, its turbocharged 1.8-liter producing 170 horsepower and 184 pound-feet of torque and making the iM's naturally aspirated engine seem as dated as mailing that Fast and the Furious DVD back to Netflix.
The iM comes with a standard six-speed manual, though a CVT is also available. The relatively long and imprecise throws of the shifter and the transmission's three overdrive ratios make it more of a commuter-grade experience, but at least self-shifting ups the iM's engagement level. It's a shame that the steering and brakes are so numb, because the iM's firm ride and planted body seem to indicate untapped chassis potential. Then again, understeer is what you get when you drive the iM to its low 0.80-g roadholding limit, likely let down by its all-season tires.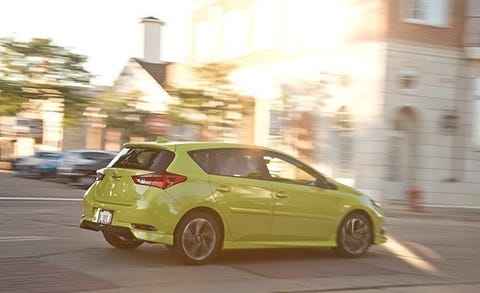 A bigger letdown comes inside the iM. A high beltline makes the cockpit feel tight, and the dashboard's clifflike verticality would be more at home in a crossover. The infotainment system could use a few more buttons. Cargo space trails the Focus's and the Golf's, not because they're that much larger than the iM, but because both competitors are wider and taller. Scion uses coarse fabric on the door trim and elsewhere in the iM, which looks shabby and can't possibly wear well. And the plastics are plainly retrograde compared with class leaders such as the Mazda 3 and Golf.
Indeed, the iM enters a hatchback pack that is more competitive than at any time since its 1980s heyday. Those heady times brought us such cash-intensive marketing experiments as General Motors' Geo brand, a dumping ground for the same sorts of cars Scion is trying to sell. For the record, GM finally gave up in 1997 and replaced the Geo badges with Chevy ones.
Specifications
VEHICLE TYPE: front-engine, front-wheel-drive, 5-passenger, 4-door hatchback
PRICE AS TESTED: $19,255 (base price: $19,255)
ENGINE TYPE: DOHC 16-valve inline-4, aluminum block and head, port fuel injection
Displacement: 110 cu in, 1798 cc
Power: 137 hp @ 6100 rpm
Torque: 126 lb-ft @ 4000 rpm
TRANSMISSION: 6-speed manual
DIMENSIONS:
Wheelbase: 102.4 in
Length: 170.5 in
Width: 69.3 in Height: 55.3 in
Passenger volume: 90 cu ft
Cargo volume: 21 cu ft
Curb weight: 3003 lb
C/D TEST RESULTS:
Zero to 60 mph: 8.6 sec
Zero to 100 mph: 26.9 sec
Zero to 110 mph: 35.3 sec
Rolling start, 5-60 mph: 9.3 sec
Top gear, 30-50 mph: 14.1 sec
Top gear, 50-70 mph: 15.3 sec
Standing ¼-mile: 16.8 sec @ 84 mph
Top speed (gov limited): 112 mph
Braking, 70-0 mph: 176 ft
Roadholding, 300-ft-dia skidpad: 0.80 g
FUEL ECONOMY:
EPA city/highway driving: 27/36 mpg
C/D observed: 27 mpg
TEST NOTES: The iM hits the top of second gear at 59.8 mph, requiring two shifts and making the zero-to-60 run that much slower.
2016 Scion iM
small car / 4-door hatchback
Crashworthiness
Crash avoidance & mitigation
Some ratings use a scale of Poor to Good. Others range from Basic to Superior.
Moderate overlap front
Side
Moderate overlap front
Rating applies to 2016 models
Tested vehicle: 2016 Scion iM 4-door hatchback
The Scion iM was introduced in the 2016 model year and shares the basic platform of the Toyota Corolla. Moderate overlap frontal ratings are assigned by the Institute based on a test conducted by Toyota as part of frontal crash test verification.
The Scion iM was renamed the Toyota Corolla iM beginning with the 2017 model year as Toyota discontinued the Scion nameplate.
Measures of occupant compartment intrusion on driver side
Test ID
VTF1517
Footwell intrusion
Footrest (cm)
1
Left (cm)
1
Center (cm)
4
Right (cm)
3
Brake pedal (cm)
5
Instrument panel rearward movement
Left (cm)
-2
Right (cm)
-2
Steering column movement
Upward (cm)
-3
Rearward (cm)
-4
A-pillar rearward movement (cm)
1
Driver injury measures
Test ID
VTF1517
Head
HIC-15
190
Peak gs at hard contact
no contact
Neck
Tension (kN)
1.3
Extension bending moment (Nm)
29
Maximum Nij
0.29
Chest maximum compression (mm)
30
Legs
Femur force — left (kN)
1.0
Femur force — right (kN)
1.5
Knee displacement — left (mm)
1
Knee displacement — right (mm)
1
Maximum tibia index — left
0.40
Maximum tibia index — right
0.40
Tibia axial force — left (kN)
2.5
Tibia axial force — right (kN)
2.7
Foot acceleration (g)
Left
67
Right
47
Rating applies to 2016 models
Tested vehicle: 2016 Scion iM 4-door hatchback
The Scion iM was introduced in the 2016 model year and shares the basic platform of the Toyota Corolla. Side ratings are assigned by the Institute based on a test conducted by Toyota as part of side crash test verification.
The Scion iM was renamed the Toyota Corolla iM beginning with the 2017 model year as Toyota discontinued the Scion nameplate.
Measures of occupant compartment intrusion on driver side
Test ID
VTS1516
B-pillar to longitudinal centerline of driver's seat (cm)
-16.0
Negative numbers indicate the amount by which the crush stopped short of the seat centerline.
Driver injury measures
Test ID
VTS1516
Head HIC-15
283
Neck
Tension (kN)
0.6
Compression (kN)
0.1
Shoulder
Lateral deflection (mm)
35
Lateral force (kN)
1.5
Torso
Maximum deflection (mm)
24
Average deflection (mm)
21
Maximum deflection rate (m/s)
5.14
Maximum viscous criterion (m/s)
0.15
Pelvis
Iliac force (kN)
1.6
Acetabulum force (kN)
1.6
Combined force (kN)
3.1
Left femur
L-M force (kN)
1.0
L-M moment (Nm)
158
A-P moment (Nm)
41
Passenger injury measures
Test ID
VTS1516
Head HIC-15
126
Neck
Tension (kN)
0.2
Compression (kN)
0.8
Shoulder
Lateral deflection (mm)
42
Lateral force (kN)
1.3
Torso
Maximum deflection (mm)
33
Average deflection (mm)
24
Maximum deflection rate (m/s)
4.32
Maximum viscous criterion (m/s)
0.36
Pelvis
Iliac force (kN)
0.8
Acetabulum force (kN)
1.6
Combined force (kN)
2.4
Left femur
L-M force (kN)
0.6
L-M moment (Nm)
39
A-P moment (Nm)
-31
End of main content
Broadcast-standard video, remote interviews and media info
An educational resource for students and teachers
Current and past issues of our newsletter
The Insurance Institute for Highway Safety (IIHS) is an independent, nonprofit scientific and educational organization dedicated to reducing the losses — deaths, injuries and property damage — from motor vehicle crashes.
The Highway Loss Data Institute (HLDI) shares and supports this mission through scientific studies of insurance data representing the human and economic losses resulting from the ownership and operation of different types of vehicles and by publishing insurance loss results by vehicle make and model.
©1996- , Insurance Institute for Highway Safety, Highway Loss Data Institute, 501(c)(3) organizations | Copyright information and privacy policy