BMW M340i xDrive Sedan 2020
BMW M340i xDrive 2020 Review
The BMW 3 Series but even better: welcome the BMW M340i xDrive
What is the BMW M340i xDrive all about?
The seventh-generation BMW 3 Series showed a triumphant return to form for BMW, so much so that it won our 2019 carsales Car of the Year.
The BMW M340i xDrive takes that winning formula one step further, delivering more power, more pomp and an engine note that warms the heart. The M340i xDrive is one of five models in the 3 Series line-up and it's where the heart is at, if you ask me.
Stepping up from the entry-level 2.0-litre turbo-petrol engine, the M340i xDrive features a 3.0-litre, six-cylinder turbo-petrol engine that is paired to an eight-speed automatic transmission delivering an energetic 285kW and 500Nm, second only to the BMW M3 (331kW/550Nm) in the 3 Series portfolio.
How much does the BMW M340i xDrive cost?
The BMW M340i xDrive will set you back $99,900 (plus ORCs) and that's before you succumb (you will) to BMWs range of options – such as is the case in our test vehicle.
It features the Visibility Package ($3900), Technology Package ($900) and aluminium mesh effect interior trim ($300).
BMW Australia offers (and stands by) a three-year/unlimited-kilometre warranty and service intervals are subject to BMW's condition based service program.
Why should/shouldn't I buy the BMW M340i xDrive?
If you crave BMWs six-cylinder engine, this is where you may well land – pushing $40k over the entry level 320i, the M340i xDrive is next level. The M340i will make the dash from 0-100k/h in 4.4sec, using its eight-speed auto and on demand all-wheel-drive grip to get it there with pure ease.
Gearshifts are excellent, whatever drive mode you've selected. In Sport Plus, the shift is seriously quick. And I'm not going to lie, I spent most of my week in Sport Plus mode.
The pace and sense of urgency, and a nice exhaust note… I could not resist. That's no crime I hear you say. No, it's not. But an average fuel consumption of 18.0L/100km. I do wonder how long it would take for that novelty to wear off. The claimed combined fuel consumption is 7.7L/100km.
Ergonomics, interior fit and finish, and the sense of ceremony behind the wheel, are exactly what you'd expect of a prestige sports sedan; and it's another win for the new 3 Series.
I think it looks divine – and I love the grille design. Many didn't.
When is the BMW M340i xDrive available in Australia?
The 2020 BMW M340i is on sale now and it sits at the top of the 3 Series offering – M3 aside.
If the $99,900 (plus ORCs) is hard to justify, maybe the recently announced M Pure models are more your thing. Less gear, fewer dollars.
More Research
2020 BMW 3 Series Pricing & Specs
Read what BMW 3 Series owners think
Read more BMW 3 Series news & reviews
Who will the BMW M340i xDrive appeal to?
I'm thinking the BMW M340i xDrive will appeal to anyone who either can't financially stretch to or (maybe) is in waiting for a BMW M3. It's a close imitation of BMW's favourite M car and I think it pulls it off very convincingly.
I did say close, however. You won't get the corner-hugging time-of-your-life dynamism that the M3 brings, nor the street cred to go with. But, you'll have some spare cash to treat yourself in other ways (shoes perhaps).
This four-door, five seater is also best suited to four occupants, with the middle second-row seating position pretty compromised where leg room is concerned. You'll find two ISOFIX seating positions and three top-tether anchors, seat back storage nets, a centre arm rest with two cupholders and dedicated climate control.
Notwithstanding these additions, the M340i is still not the first car that leaps to mind for the modern family needs. The 480-litre boot with 40:20:40 spit fold seats is a nod to versatility where there's not a great amount to speak of. It'll also tow 1800kg (braked).
Where does the BMW M340i xDrive fit?
The BMW M340i sits in the medium sedan (priced over $70k) segment and it's here that BMWs original bread-and-butter vehicle (now SUVs all day, every day) goes head-to-head with the segment's top-selling Mercedes-Benz C-Class range as well as Audi's A4 and A5 – not to mention the Volvo S60, Alfa Romeo Giulia and Jaguar XE.
There's great variety in the world of medium sedans – cars and price tags.
The refreshed BMW 3 Series range arrived in Australia late last year, so the months ahead will be a fair indication of whether BMWs latest 3 Series can win back some medium sedan loyalty.
So, what do we think of the BMW M340i xDrive?
The BMW M340i xDrive is a meaningful sports sedan that strikes a great balance between everyday dynamism and ballistic Bavarian, the latter being reserved for BMWs M3.
I'm a great fan of what BMW has achieved in its new 3 Series range and the M340i xDrive variant is close to perfect. I was quite taken with this car, which can cause you to forget about the strong competition mentioned above.
If you love BMWs, however, is there really any competition to speak of?
How much does the 2020 BMW M340i xDrive cost?
Price: $99,900 (plus on-road costs)
Engine: 3.0-litre six-cylinder turbo-petrol
Output: 275kW/500Nm
Transmission: Eight-speed automatic
Fuel: 7.0L/100km (ADR Combined)
CO2: 160g/km (ADR Combined)
Safety Rating: Five-star EuroNCAP (2019)
Седан BMW M340i xDrive: самая быстрая «трешка» серии G20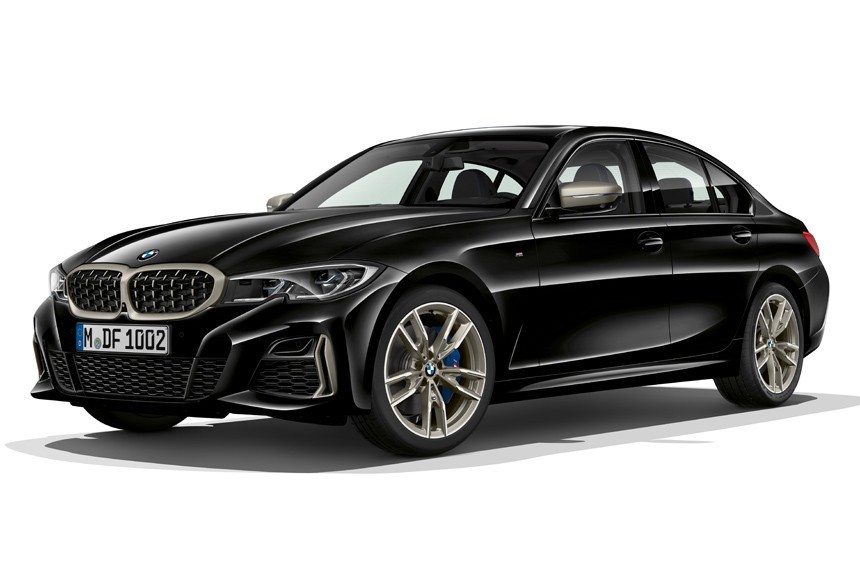 Новый седан BMW третьей серии (поколение G20) был представлен на автосалоне в Париже, но, помимо многочисленных турбочетверок, стартовая гамма включала только один шестицилиндровый мотор — трехлитровый дизель мощностью 265 л.с. для версии 330d. Бензиновая модификация M340i была обещана в недалеком будущем. Которое, как выяснилось, наступит на автосалоне в Лос-Анджелесе: в BMW поделились информацией о новом полноприводном седане.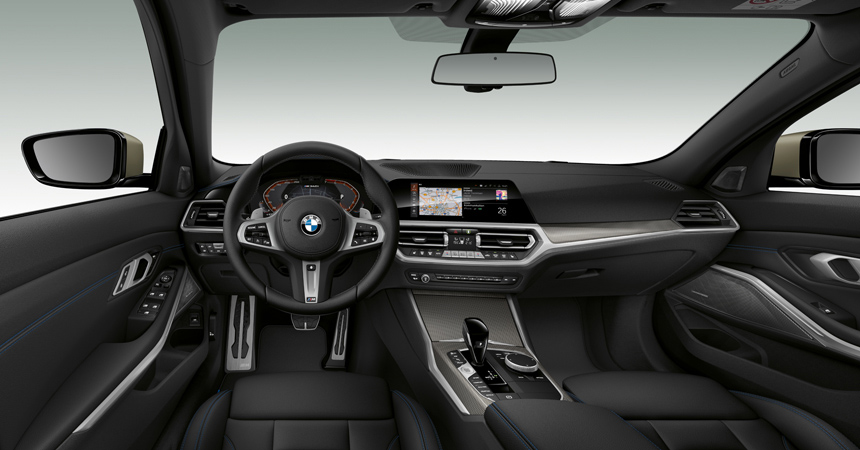 Пока «заряженная» модификация BMW M3 находится в стадии разработки, новый седан BMW M340i xDrive станет самой быстрой «трешкой» новой генерации. Причем по динамике он посоперничает и с уходящей «эмкой». Благодаря увеличенному до 350 бар давлению впрыска и новой программе управления трехлитровая рядная «шестерка» В58 прибавила сразу 48 л.с. и 50 Нм: отдача увеличилась до 374 л.с. и 500 Нм. Прибавьте к этому восьмиступенчатый «автомат» с пересмотренными передаточными числами — и вот результат: до 100 км/ч полноприводный седан разгоняется за 4,4 с. Это на полсекунды меньше, чем у прежней «триста сороковой» с приводом на обе оси и «автоматом», и всего на 0,3 с медленнее, чем у BMW M3 с преселективным «роботом».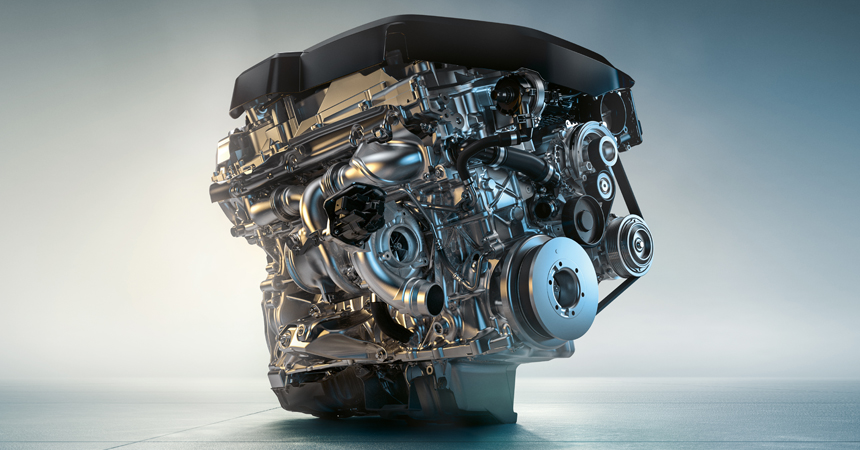 Но это еще не все. По сравнению с младшими «трешками» у нового седана BMW M340i заниженная на 10 мм подвеска с оптимизированной эластокинематикой, увеличенная колея и измененные углы установки колес. Ход педали акселератора уменьшен, а «в базе» есть рулевой редуктор с изменяемым передаточным отношением, электронноуправляемая блокировка заднего дифференциала и launch control. Наконец, новые М-тормоза на передней оси теперь с четырьмя поршнями, фиксированной скобой и синими суппортами, а стандартные колеса разноразмерные: 225/45 R18 спереди и 255/40 R18 сзади.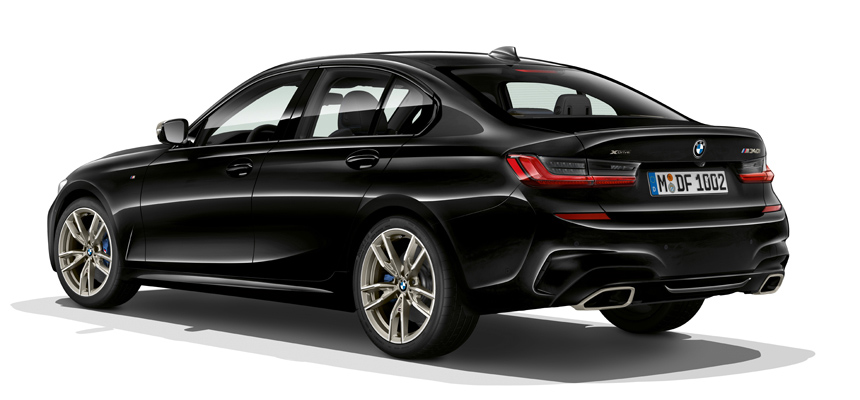 Внешне же M340i тоже не спутаешь с «гражданскими» седанами. Вертикальные планки в фирменных «ноздрях» превратились в пунктиры, бамперы обрели более агрессивные формы, патрубки новой выхлопной системы не круглые, а трапецеидальные, а громче всех об исключительности машины кричит «цериево-серая» окантовка радиаторной решетки.
Компания пока хранит молчание о ценах, нет информации и о динамике заднеприводной версии, которая также есть в планах. По-видимому, полная информация будет рассекречена в Лос-Анджелесе в конце ноября. Хотя дата выхода версии BMW M340i на рынок уже оглашена: и в США, и в Европе прием заказов начнется в июле 2019 года. Тогда же можно ожидать машины и в России.
Review: 2020 BMW M340i xDrive — A Preview of the New M3
Last year, the BMW 3-series received a complete refresh that brought back the fun-to-drive nature of older generations. In 2020, the I6 is back.
Performance
Engine – The base engine for this 7th generation 3-series is a turbocharged 4-cylinder that produces 255hp and 295 lb-ft of torque. A very healthy dose of power but if you're wanting for more, the M340i produces 382 hp and 369 lb-ft of torque from the 3.0L turbocharged inline-6. This engine has a lot of character. It makes all the right noises, it has virtually no turbo lag, power and torque is plentiful throughout the rpm range, and it's even decent on gas. There is nothing bad to say about this 3.0L inline-6 engine because it's a very good all-round engine. It has just enough power to keep the M340i interesting for a long time but also enough to get you into trouble if you're not careful. Even with the addition of xDrive AWD, most of the power goes to the back wheels and the traction control system in Sport+ mode does allow for some wheel slip.
But when you're being civilized and driving the car to and from work, the engine can return up to 11.4 L/100km (20.6 mpg) in a city according to EnerGuide. The numbers improve if you're on a highway to 8.3 L/100km (28.3 mpg).
Transmission – Like many other current BMW vehicles, the 2020 M340i is equipped with an 8-speed automatic transmission. Just like the engine, the 8-speed automatic has no faults. It shifts smoothly under normal driving conditions and shifts quickly when the car is in the Sport+ mode. It's also a pretty clever transmission as it uses the navigation system and adaptive cruise control sensors to determine when to change gears. For example, when approaching a slower moving vehicle on a highway, it could downshift and use engine braking rather than applying brakes to slow down.
Braking – The BMW M340i comes equipped with 4-piston fixed calipers and 348mm diameter front brake discs. They provide excellent stopping performance with a confidence inspiring brake pedal feel. Very little effort is required in daily driving situations to stop the car as the brakes have a very good initial bite and stopping force. Under more spirited drives, the brake pedal travel remains fairly consistent even when things get hot behind the wheels.
Handling – Going around corners is what made BMW cars famous and the envy of others. The new G20 generation has brought back the enjoyment of driving around a twisty mountain or canyon road. The steering is precise and unbelievably quick. The front end darts to wherever you turn the wheel like a mosquito. As mentioned before, in Sport+ mode the traction control and stability control systems do allow for some rear wheel slip making the car feel playful but not completely out of your control. The M340i feels like the rightful successor to the legendary E46 M3 from the early 2000's.
Comfort
Ride Comfort – This being a sports sedan, the ride is firmer than in other sedans. M sport suspension is standard but this demo vehicle came equipped with the optional Adaptive M Suspension. Depending on which drive mode the car is in, the shocks adjust stiffness to provide sporty driving or a comfortable drive. In Comfort mode, the ride is more than acceptable for city driving or long road trips on highways. In the stiffer Sport setting, you can still drive on city streets without getting "beat up" by the ride but you may want to play Minesweeper with bigger potholes.
Interior Space – Front occupants have plenty of space even when they are 6'4" like myself. The front seats provide a wide range of adjustability including thigh support. Rear occupant space is a bit more limited in the usual places, leg and head room. But for a small class of sedan, it's an adequate amount for teenagers or smaller adults. Trunk space is very good for this class of sedan.
Noise, Vibration, & Harshness – When in Comfort mode, the cabin of the BMW M340i is well insulated from outside wind, road, and engine noises. Even with this demo vehicle's snow tires, tire noise is not overly intrusive. You're aware of it but it won't get annoying over longer trips.
When in Sport mode, the exhaust makes some interesting and exciting noises. Below 3,000 rpms there isn't much to listen to but above that number, the Inline-6 starts to sound more like it's BMW M4 big brother. Let off the throttle and the engine makes a few pops and bangs, not to the same extent as the M4 but just enough to keep the overall driving experience exciting.
Odds and Ends
Gadgets – The 2020 BMW M340i xDrive is well equipped and can be further equipped with a lot of gadgets and gizmos. The more traditional features like navigation, heated seats, heads-up display etc. are all there or can be equipped. But things like Back-up Assistant where the car remembers how you parked and can then back out of a tight spot automatically without any steering input from you is a new feature. Gesture control is also a neat new feature where the car recognizes certain hand gestures to control radio volume or skip track among others. It is also available with something called Extended Traffic Jam Assistant which is just a fancy name for semi-autonomous driving. Basically the system will take over driving at speeds up to 60 km/h without having to have your hands on the steering wheel.
The infotainment system does have a steep learning curve. When first using it, it can be daunting to some but after a few minutes of playing around with it and pushing every button, it becomes less convoluted. The screen resolution is among the best in the business. It is crystal clear, sharp, and vibrant. It can be controlled via the touchscreen or the rotary dial by the arm rest and gear selector.
Exterior Design – The overall design of this 7th generation of 3-series is more mature than previous generations. The M340 builds up on it with larger air intakes in the front bumper but it doesn't look like it's overdone. The kidney grilles are properly proportioned to the rest of the front fascia and feature active shutters which close at highway speeds for improved aerodynamics. Around back, the tail lights remind me a bit of Lexus tail lights with the "L shaped" brake lights and the dual exhaust pipes have a more rectangular design as opposed to the circular pipes of the 330i. Overall the 2020 3-series is a good looking car that doesn't scream "look at me" like certain BMW models of the past.
Interior Design – The design of the cabin is what one would expect from a modern day BMW. It looks like it belongs in the current century without it being too over the top. The instrument cluster is fully digital but it's not as customizable as Audi's virtual cockpit which in my opinion defeats the purpose of a full digital display. To the right is the infotainment screen with smartphone-like resolution. Below it are physical buttons and knobs for the climate and stereo and further down the center console are the drive mode buttons, parking sensor button and the engine start/stop button.
The interior materials look and feel as they should in a premium vehicle and the "Cognac Vernasca Leather" has a nice contrast to the "Tanzanite Blue" exterior paint. There is also an ambient lighting system with multiple colours to choose from but don't expect it to be as dramatic as the one found in current Mercedes-Benz models.
Overall this review has been overly positive of the new 2020 BMW M340i xDrive and that's because it genuinely is one of the best all-round sport sedans to come from the Bavarian brand. Unfortunately there is a price to pay for all this goodness and it is a $72,200 CAD ($66,975 USD) hit to your wallet for this, as equipped, 3-series. The base MSRP for the M340i is $61,850 CAD ($56,000 USD) which is still more expensive than the starting price for the Audi S4 or Mercedes-Benz C43 AMG 4Matic. But is it worth the extra money? I think it is because for the first time in a long while, the "Ultimate Driving Machine" is back.
BMW M340i 2019: самый мощный седан БМВ 3-серии
В обзоре BMW M340i xDrive 2019-2020 года – фото, цена, комплектации и технические характеристики баварской «трешки» БМВ М340 ай
Новая модель БМВ 3-серии 2018-2019 седана BMW M340i, оснащаемого шестицилиндровым 376-сильным бензиновым мотором BMW M TwinPower Turbo, стала самой мощной версией в семействе БМВ 3-серии G20. разумеется, до выхода на рынок ультимативного BMW M3 в новом кузове. Модель готова отметиться мировой премьерой на подиуме Los Angeles Auto Show 2018 года. Цена нового седана BMW M340i, к сожалению, пока не озвучена производителем и станет известна ближе к началу продаж новинки в Европе, России и Америке в начале июля 2019 года.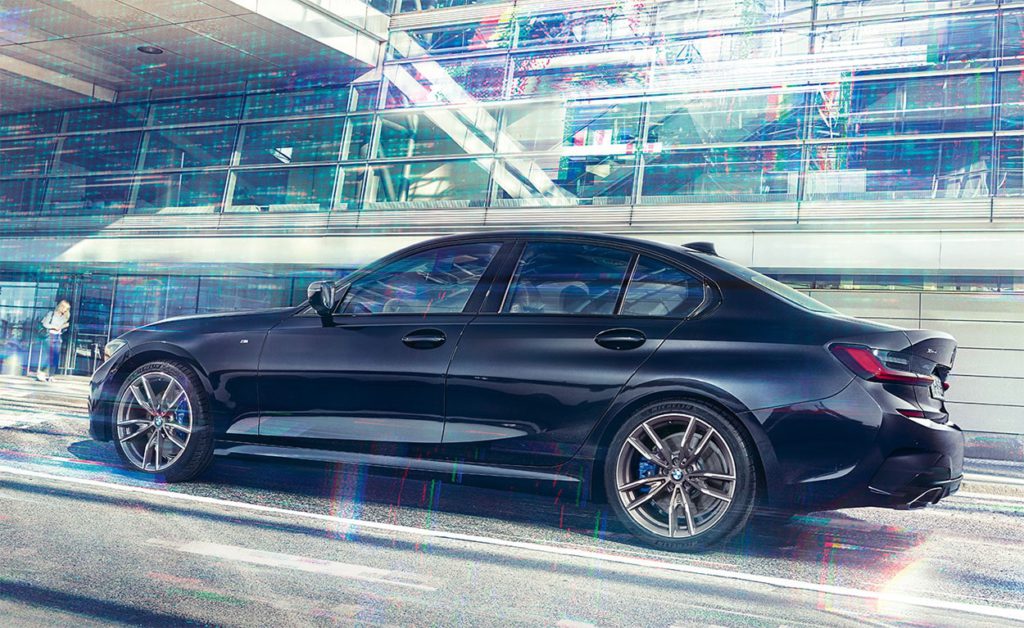 Характеристики
Новый спортивный седан BMW M340i xDrive отличается от своих простых братьев по семейству БМВ 3-серии не только наличием мощного двигателем, но и с присутствием в качестве стандартного оборудования интеллектуального полного привода xDrive, 8 АКПП Steptronic, дифференциала M Sport с электронным управлением, подвески M Sport, более мощных тормозов с увеличенным размером тормозных дисков и, понятным делом, более харизматичной внешностью и шикарным салоном. А начнем наш рассказ о новинки с 6-цилиндрового турбированного бензинового мотора.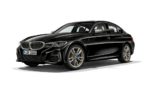 Под капотом BMW M340i xDrive установлена 3,0-литровая «шестерка» BMW M TwinPower Turbo (374 лс 500 Нм), передающая тягу всем колесам через 8 АКПП. Мощный двигатель, быстрая автоматическая коробка передач и интеллектуальная система полного привода обеспечивают новый седан ураганной динамикой разгона от 0 до 100 кмч всего за 4,4 сек, максимальная скорость традиционно для моделей БМВ ограничена на уровне 250 кмч. По данным производителя мотор в комбинированном режиме движения довольствуется всего 7,5 литрами топлива.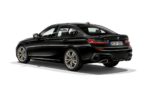 Турбированный двигатель по нормам выхлопа отработанных газов укладывается в новый строгие нормы стандарта Euro 6d-TEMP. При этом выхлопная система оснащается фильтрами твердых частиц и специальным клапаном, обеспечивающим неповторимый и характерный звук.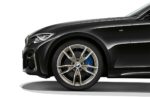 В техническом арсенале нового седана BMW M340i xDrive также присутствуют спортивная 8-ступенчатая автоматическая коробка передач Steptronic с высокой динамикой смены передач (в случае необходимости водитель может самостоятельно менять передачи с помощью подрулевых лепестков), интеллектуальный полный привод xDrive, обеспечивающий правильное распределение ломовой тяги двигателя на все колеса, задний дифференциал M Sport с электронным управлением, стандартная подвеска M Sport или опционная подвеска Adaptive M с электронно управляемыми амортизаторами, передние тормозные механизмы с 4 суппортами и 348 мм дисками, задние тормозные механизмы с однопоршневыми суппортами и 345 мм дисками, рулевое управление с изменяемым передаточным числом.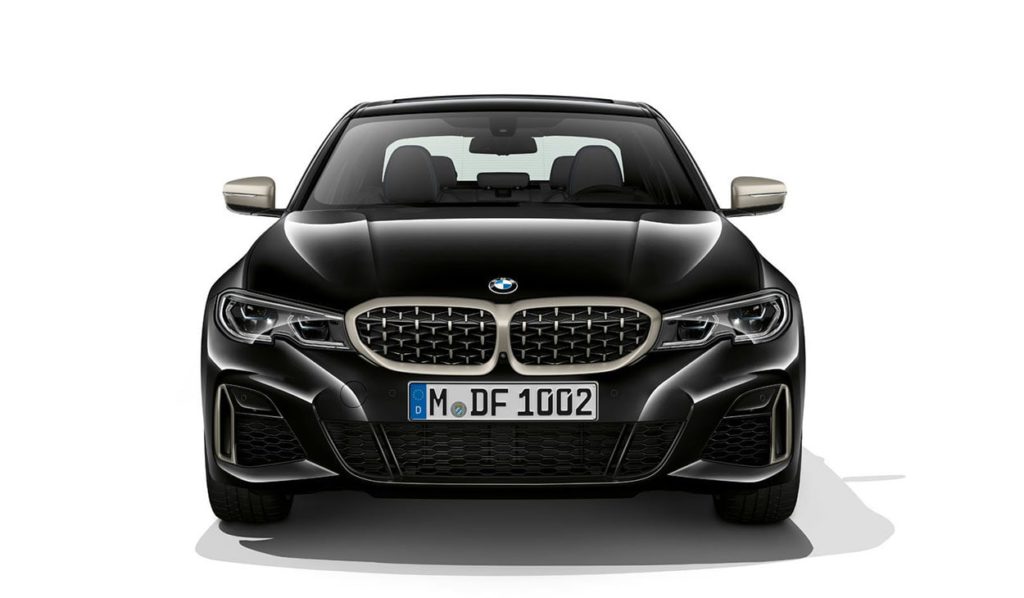 Дизайн внешности
Уникальные детали экстерьера кузова спортивного седана BMW M340i xDrive придают автомобилю грозный и харизматичный вид. Кузов новинки щеголяет оригинальной отделкой фальшрадиаторной решетки (стильная сетка), мощным бампером с характерной пластикой и аэродинамическим фартуком, оригинальными накладками на порогах и корпусах зеркал заднего вида, суппортами тормозов ярко синего цвета, шикарными 18-дюймовыми легкосплавными колесными дисками, спойлером на крышке багажника, мощным задним бампером с трапециями насадок выхлопных труб и даже шилдиками на корме, окрашенными эмалью «металлик» Cerium Grey.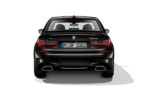 Спортивный седан стандартно комплектуется 18-дюймовыми дисками с разноразмерной резиной – спереди установлены шины 225/45 R18, а сзади 255/40 R18. В качестве опции предлагаются более крупные 19-дюймовые колесные диски BMW Individual.
Салон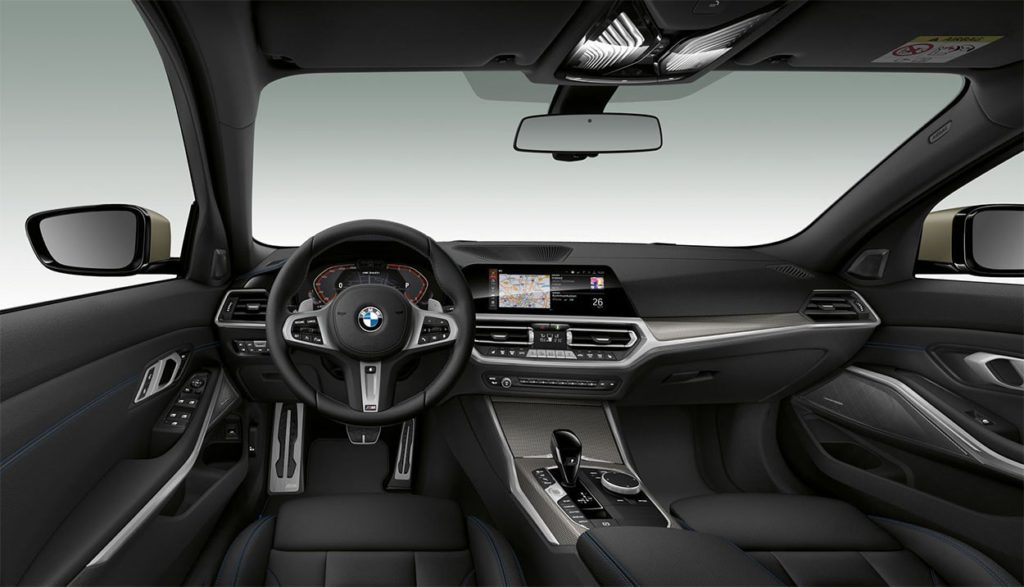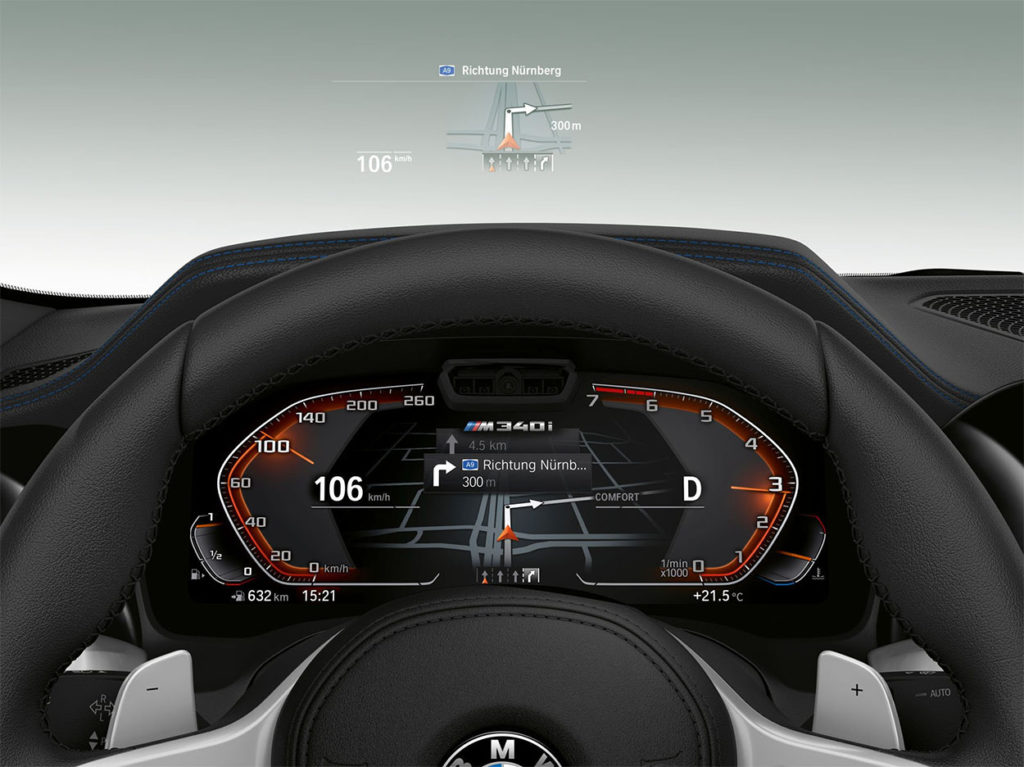 Салон мощного, динамичного и быстрого седана BMW M340i в целом является практически точной копией салонов обычных «трешек» БМВ, но отличия, понятным делом, присутствуют. «Автографы» с именем модели украшают центр виртуальной панели приборов и пороги передних дверей. Присутствуют спортивные кресла с M-специфической обивкой (комбинация искусственной кожи Sensatec и Alcantara) и М-рулевое колесо с подрулевыми лепестками для смены передач из алюминия.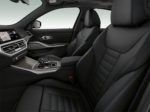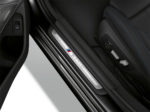 Остается лишь добавить, что новый баварский седан BMW M340i xDrive будет конкурировать с Audi S4 и Mercedes-AMG C 43 4Matic, набирающими первую сотню за 4,7 сек.
BMW M340i xDrive 2019 — заряженный седан нового поколения
Мощный представитель нового поколения BMW 3-Series будет представлен живьем через пару недель на выставке в Лос-Анджелесе. Однако, уже сейчас баварский производитель начал опускать завесу тайны с автомобиля.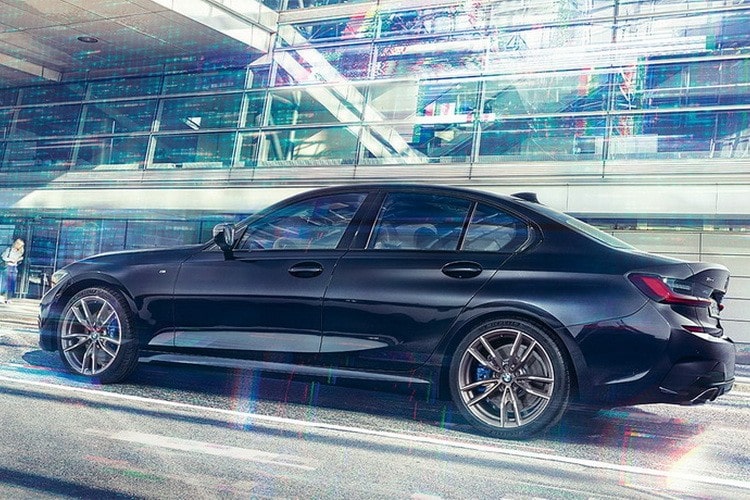 Под капотом седана расположился мощный битурбированный двигатель, доработка дизайна сделана с упором на спортивность и динамику. Уже сейчас мы имеем всю необходимую информацию о машине, но её стоимость сохраняется в тайне. Тем не менее, с высокой долей вероятности модель появится на российском рынке летом следующего года.
Стоит отметить, что BMW постепенно показывает новую генерацию «тройки», даже после выхода модификации M345i фанатам останется повод для ожидания. Многие с нетерпением ждут информации о самом мощном представителе линейки, а именно M3. Тем не менее, и М340i имеет массу отличительных черт.
Автомобиль оснастили комплексом продвинутого оборудования, улучшенной системой полного привода, модернизированной подвеской, другой тормозной системой и визуальными новшествами. Наибольшее внимание привлекает к себе новый силовой агрегат, который ранее не использовался на моделях баварской компании.
Внешний вид
В целом узнаваемость 3-Series в «заряженной» комплектации сохранилась, но дизайнеры внесли множество доработок по периметру кузова с целью придания ему более динамичного и брутального внешнего вида. В передней части разместилась новая решетка радиатора, выполненная в виде сетки.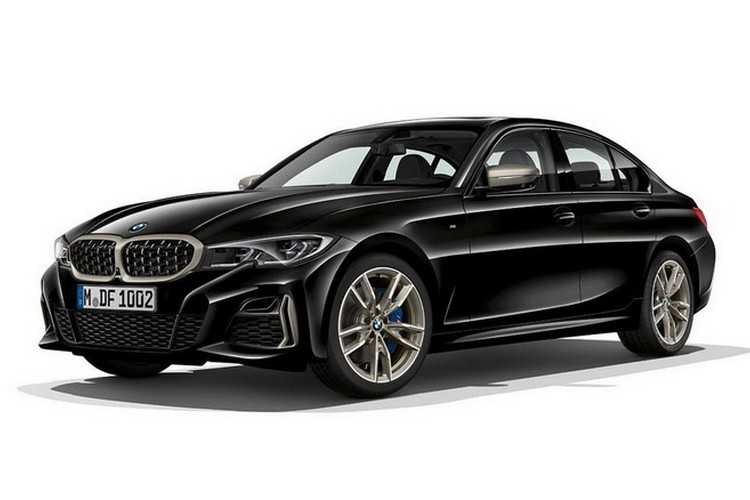 Бампер получил другую конструкцию и дополнен аэродинамическими элементами. На порогах и боковых зеркалах появились фирменные вставки, тормозные суппорта выкрашены в яркие цвета. Сбоку особое внимание привлекают литые колесные диски диаметром 18 дюймов. За дополнительную плату на заводе установят диски с особым дизайном и размером 19 дюймов.
Крышка багажника седана оснащена спойлером, бампер стал более массивным и содержит в себе два крупных патрубка выхлопной системы в форме трапеции. Сзади появились уникальные обозначения комплектации, выкрашенные в серый металлик.
Интерьер
Как и предполагалось, серьезных изменений в салоне BMW M340i xDrive 2019 модельного года по сравнению с обычной модификацией ждать не стоит. Общее исполнение интерьера сохранилось, но изменения присутствуют. На цифровой приборной панели появилась специальная графика с отображением названия модели.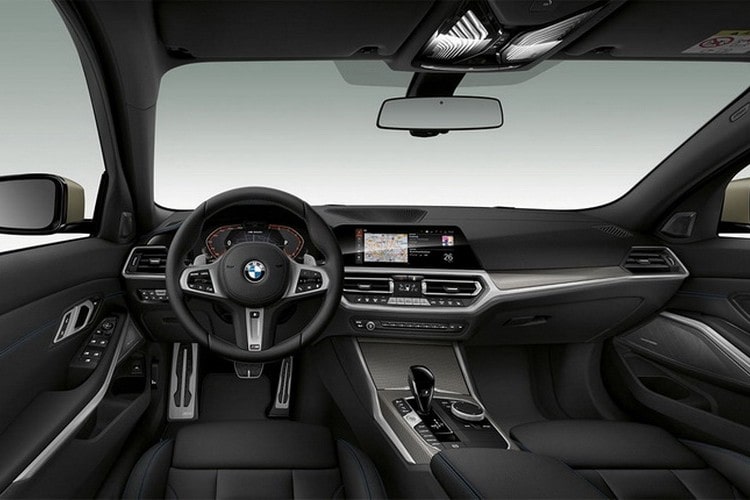 Дополнительные вставки установлены на порогах дверей. Производитель установил спортивные сидения с обшивкой из комбинации двух видов кожи. Руль выполнен в традиционном М-дизайне и оснащен алюминиевыми лепестками переключения передач.
В салоне мы видим достаточно богатое оснащение, включающее в себя:
Мультимедийную систему с 10-дюймовым сенсорным экраном;
Электрорегулировка передних сидений;
Мультифункциональный руль;
Запуск двигателя с кнопки;
Раздельный климат-контроль и другое.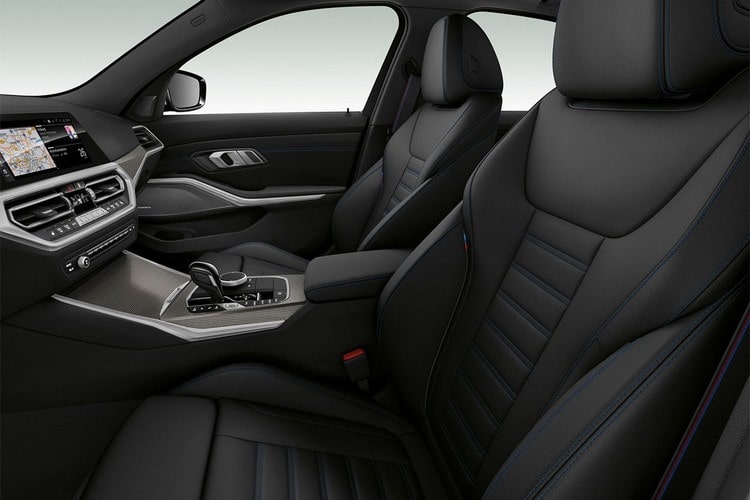 На звание семейного автомобиля новая «тройка» точно не претендует, на втором ряду кресел по-прежнему мало места для взрослых людей. Объем багажника также не порадует любителей возить крупногабаритные грузы.
Технические данные
Под капотом спортивного седана расположится битурбированный 3,0-литровый шестицилиндровый двигатель, выдающий мощность в 374 лошадиные силы и 500 Нм крутящего момента.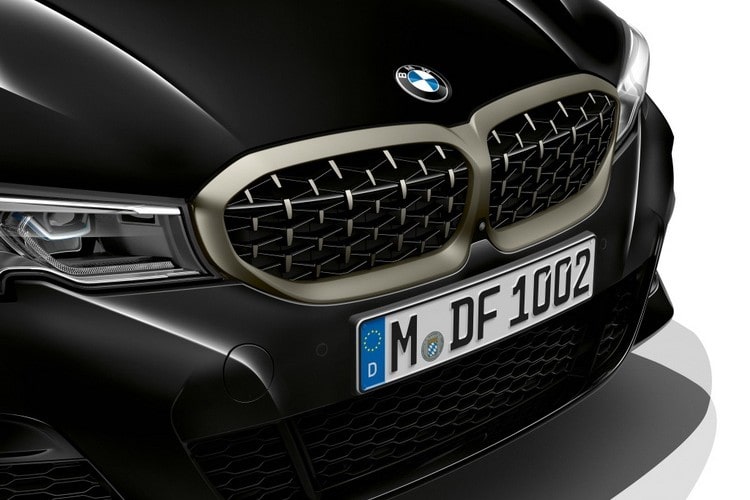 В паре с ним работает восьмиступенчатая автоматическая коробка передач. За счет продвинутой системы полного привода, правильно настроенной трансмиссии и мощного двигателя автомобиль разгоняется с места до первой «сотни» всего за 4,4 секунды. Максимальную скорость ограничили электронно на отметке в 250 км/ч.
Стоит отметить экономичность силовой установки. По официальной информации, расход бензина на 100 километров пути в смешанном цикле составляет 7,5 литров. Безусловно, этот показатель достигается только в испытательных условиях, сильно отличающихся от реальных.
Важно, что баварским инженерам удалось сладить с суровыми европейскими экологическими нормами. При этом, компания смогла сохранить хорошее звучание выхлопной системы за счет наличия системы клапанов.
Стоит сказать несколько слов и о восьмиступенчатой автоматической коробке передач. Специалисты компании называют её «спортивной» за счет быстрого переключения скоростей. У водителя имеется возможность включить ручной режим и переключать диапазоны самостоятельно при помощи лепестков за рулем.
Фирменная система полного привода распределяет тягу в зависимости от данных, получаемых с колес. При необходимости переднюю ось можно отключить, что особенно понравится любителям управляемого заноса.
В стандартной версии «БМВ М340 Ай ИксДрайв» 2019 года устанавливается подвеска M Sport, а за дополнительную плату можно установить адаптивное шасси. В последнем случае владелец получает амортизаторы с изменяемой жесткостью.
По сравнению со стандартной версией модели, M340i получил усиленную тормозную систему и улучшенное рулевое управление.
Фото нового BMW M340i xDrive:
2020 BMW M340i xDrive: Drivers and Passengers Might Not Agree on How to Enjoy It
With 382 horsepower and all-wheel drive, the M340i xDrive turns the world into your personal proving ground.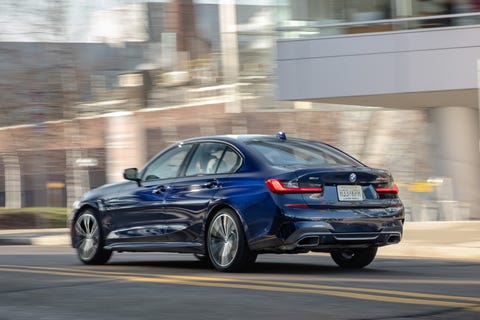 As automotive journalists, our friends and families are often unwilling victims of our vehicle evaluations. Cloverleafs at highway interchanges elicit cries of, «Not again. Please, Dave. No!» as they scramble to secure their loose belongings before the lateral g-forces hit. Roundabouts are an extension of our proving grounds, the perfect location to flick the wheel to test body motions. Don't even think about taking a sip of that designer coffee; an approaching stop sign could mean a test of anti-lock brakes. But nothing generates more eye rolling than the gut punch of a launch-control start.
HIGHS: Turbocharged inline-six is never caught sleeping, transmission tuning is sporty when you want it to be and invisible when you want to cruise, traction and launch-control acceleration will dry-gulch you.
Starting at $56,995, the 2020 BMW M340i xDrive looks like a regular 3-series to the untrained eye, but the M in front of the 3 means it gets the same hardware as the rear-drive model, including the M Sport brakes and a limited-slip rear differential. Visually, there is not much difference. It's unlikely anyone will notice that it sits 0.3 inch taller. If it weren't for the badge on the trunk lid, the all-wheel-drive system may also go undetected. However, that changes when Sport mode is activated, the shifter slides into S mode, and the traction mode switches to Sport.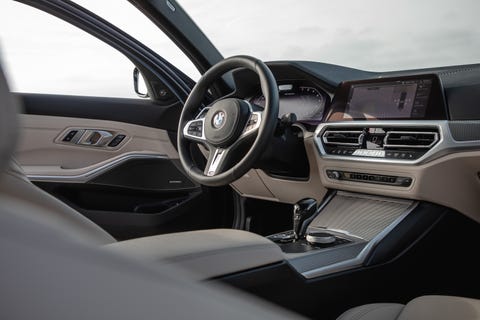 Those are the keys to unlocking launch control. So, apply the brakes and pin the throttle to the floor, and the 382-hp turbocharged 3.0-liter inline-six builds boost as the torque converter of the eight-speed automatic lets the engine rev to around 3000 rpm. Releasing the brake sends the engine's full power coursing through the all-wheel-drive system, which shuffles torque to all four wheels. The car squats and rockets away. Upshifts, which are smooth and unobtrusive in normal driving, snap off like M-80s.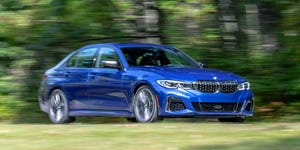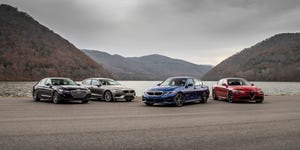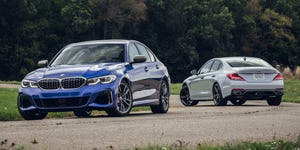 A seemingly endless winter and the recent stay-at-home orders have closed our actual proving grounds, so we've been unable to perform instrumented testing. We'll have to go by BMW's claim that the all-wheel drive shaves 0.3 second from the rear-wheel drive's sprint to 60 mph. Our test of the rear-drive M340i resulted in a 3.8-second run to 60 mph, so if BMW's word holds true, a 3.5-second zero-to-60 time awaits. That number would align it with the next rung of performance sedans. Once life returns to normal, we'll promise to get this sleeper sedan back to find out just how quick it is.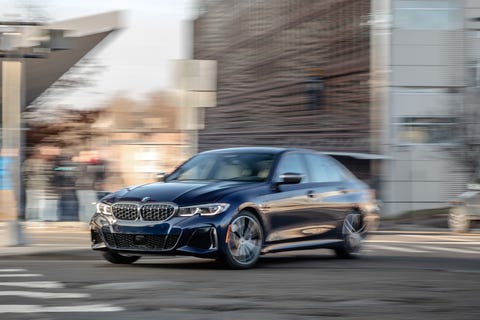 LOWS: Ride is arthritic in any setting, steering remains numb, passengers might not want to ride with you.
The world has become our proving ground. So, why limit launch-control starts to asphalt? Perhaps there's some morning dew on a grassy field that recently exposed itself for the first time since December. This 3-series will grip it and rip it. Maybe your parents have a security camera facing a gravel road out in rural America. The M340i's all-wheel-drive system will put on a show for them.
Subjectively, the xDrive specific and optional adaptive dampers ($700) feel slightly tauter than the rear-drive's dampers, so the ride quality is a touch harsh, even in the Comfort setting. We should, however, note that our test car came shod with winter rubber, and we didn't swap into summer rubber like we would have done for proper testing. On relatively low-grip winter tires, it becomes obvious that the xDrive system favors the rear. As additional traction is needed, torque is sent to the front axle. This setup allows plenty of tail-happy slides; the front tires keep the rears in check to prevent over-rotating the rear end. The steering is quick enough to catch any overenthusiastic slides, but BMW's once-sparkling steering feel remains lost to the computer.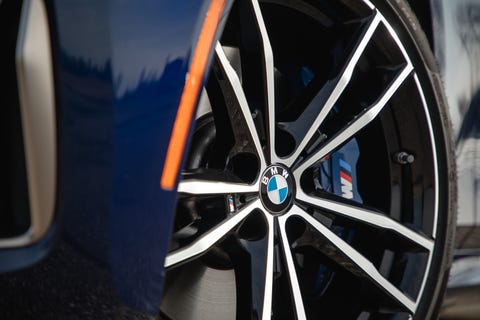 From the EPA's standpoint, there's no fuel-economy penalty for ponying up the additional $2000 for all-wheel drive. The 25 mpg combined, 22 mpg city, and 30 mpg highway ratings are identical to the rear-drive model. The M340i xDrive overachieved on our 75-mph highway fuel-economy test by averaging 33 mpg, three better than the EPA's rating. We have yet to test a rear-drive M340i on our highway loop.
Shoppers with little interest in aggressive launch-control starts but with winter driving needs will find peace of mind in the additional traction that makes pulling away from a stop easy. That said, putting winter tires on either a rear-driver or an all-wheel-drive M340i improves braking, handling, and acceleration. We just made it through winter in our rear-drive long-term BMW M340i equipped with snow shoes. We'd love to know if the edge that BMW claims for the M340i's acceleration is true, but even without being able to corroborate their numbers, we can say that the all-wheel-drive system is a hoot. However, both drivetrains offer the potential to thrill a fun-seeking driver while eliciting plenty of eye rolls and groans from passengers.
Specifications
Specifications
2020 BMW M340i xDrive
VEHICLE TYPE
front-engine, all-wheel-drive, 5-passenger, 4-door sedan
PRICE AS TESTED
$69,320 (base price: $56,995)
ENGINE TYPE
turbocharged and intercooled DOHC 24-valve inline-6, aluminum block and head, direct fuel injection
Displacement
183 in 3 , 2998 cm 3
Power
382 hp @ 6500 rpm
Torque
369 lb-ft @ 1800 rpm
TRANSMISSION
8-speed automatic
DIMENSIONS
Wheelbase: 112.2 in
Length: 185.7 in
Width: 71.9 in
Height: 56.7 in
Passenger volume: 95 ft 3
Trunk volume: 17 ft 3
Curb weight (C/D est): 3950 lb
PERFORMANCE (C/D EST)
60 mph: 3.5 sec
100 mph: 8.9 sec
¼-mile: 11.9 sec
Top speed: 155 mph
C/D FUEL ECONOMY
75-mph highway driving: 33 mpg
Highway range: 510 miles
EPA FUEL ECONOMY (C/D EST)
Combined/city/highway: 25/22/30 mpg
BMW 3 Series поколения 7, седан, 3.0 AT (387 л.с.), M340i xDrive M Special
Обновлено 23 октября
Trade-in, выгода 60 000 p
Показать все комплектации
Новые автомобили BMW 3 Series в наличии
BMW 3 серия, седан, 318i SE
2020, 2.0 AT (156 л.с.), бензин, задний привод, Котельники
от 42 750 i /мес
BMW 3 серия, седан, 320i xDrive M Sport Pure
2020, 2.0 AT (184 л.с.), бензин, полный привод, Москва
от 42 750 i /мес
BMW 3 серия, седан, 318d Sport Line
2020, 2.0 AT (150 л.с.), дизельное топливо, задний привод, Москва
от 42 750 i /мес
BMW 3 серия, седан, 320i xDrive M Sport Pure
2020, 2.0 AT (184 л.с.), бензин, полный привод, Москва
от 42 750 i /мес
BMW 3 серия, седан, 320i Sport Line
2020, 2.0 AT (184 л.с.), бензин, задний привод, Москва
от 42 750 i /мес
BMW 3 серия, седан, 320i xDrive M Sport Pure
2020, 2.0 AT (184 л.с.), бензин, полный привод, Москва
от 42 750 i /мес
BMW 3 серия, седан, 320i xDrive M Sport Pure
2020, 2.0 AT (184 л.с.), бензин, полный привод, Москва
от 42 750 i /мес
BMW 3 серия, седан, 320i xDrive M Sport Pure
2020, 2.0 AT (184 л.с.), бензин, полный привод, Москва
от 42 750 i /мес
BMW 3 серия, седан, 318i SE
2020, 2.0 AT (156 л.с.), бензин, задний привод
от 42 750 i /мес
BMW 3 серия, седан, 320i xDrive M Sport Pure
2020, 2.0 AT (184 л.с.), бензин, полный привод
от 42 750 i /мес
BMW 3 серия, седан, 318d Sport Line
2020, 2.0 AT (150 л.с.), дизельное топливо, задний привод
от 42 750 i /мес
BMW 3 серия, седан, 320i xDrive M Sport Pure
2020, 2.0 AT (184 л.с.), бензин, полный привод
от 42 750 i /мес
BMW 3 серия, седан, 320i Sport Line
2020, 2.0 AT (184 л.с.), бензин, задний привод
от 42 750 i /мес
BMW 3 серия, седан, 320i xDrive M Sport Pure
2020, 2.0 AT (184 л.с.), бензин, полный привод
от 42 750 i /мес
BMW 3 серия, седан, 320i xDrive M Sport Pure
2020, 2.0 AT (184 л.с.), бензин, полный привод
от 42 750 i /мес
BMW 3 серия, седан, 320i xDrive M Sport Pure
2020, 2.0 AT (184 л.с.), бензин, полный привод
от 42 750 i /мес
BMW 3 серия, седан, 318i SE
2020, 2.0 AT (156 л.с.), бензин, задний привод
2020, 2.0 AT (156 л.с.), бензин, задний привод
от 42 750 i /мес
BMW 3 серия, седан, 320i xDrive M Sport Pure
2020, 2.0 AT (184 л.с.), бензин, полный привод
2020, 2.0 AT (184 л.с.), бензин, полный привод
от 42 750 i /мес
BMW 3 серия, седан, 318d Sport Line
2020, 2.0 AT (150 л.с.), дизельное топливо, задний привод
2020, 2.0 AT (150 л.с.), дизельное топливо, задний привод
от 42 750 i /мес
BMW 3 серия, седан, 320i xDrive M Sport Pure
2020, 2.0 AT (184 л.с.), бензин, полный привод
2020, 2.0 AT (184 л.с.), бензин, полный привод
от 42 750 i /мес
BMW 3 серия, седан, 320i Sport Line
2020, 2.0 AT (184 л.с.), бензин, задний привод
2020, 2.0 AT (184 л.с.), бензин, задний привод
от 42 750 i /мес
BMW 3 серия, седан, 320i xDrive M Sport Pure
2020, 2.0 AT (184 л.с.), бензин, полный привод
2020, 2.0 AT (184 л.с.), бензин, полный привод
от 42 750 i /мес
BMW 3 серия, седан, 320i xDrive M Sport Pure
2020, 2.0 AT (184 л.с.), бензин, полный привод
2020, 2.0 AT (184 л.с.), бензин, полный привод
от 42 750 i /мес
BMW 3 серия, седан, 320i xDrive M Sport Pure
2020, 2.0 AT (184 л.с.), бензин, полный привод
2020, 2.0 AT (184 л.с.), бензин, полный привод
от 42 750 i /мес
Публикации
Итоги рынка в октябре: какие модели покинули рынок?
Китайский Changan повысил цены на 3 модели
Как выросли цены на популярные модели сегмента С?
Сергей Целиков: Hyundai Tucson — в чём секрет успеха?
Сергей Целиков: Skoda Karoq – скромный отличник
Тест-Драйв 7D: KIA Sorento
ТОП-5 доступных «классических» универсалов российского рынка
10 моделей SUV с ценой до 1 миллиона рублей
«Классические» хэтчбеки российского рынка стоимостью до 1 миллиона рублей
Стали известны цены на Haval H5
«Автомир» показал схему дистанционной продажи автомобилей
«KIA Центр АГАЛАТ» запустил услугу онлайн-бронирования автомобилей
Продолжая работу с cena-auto.ru, вы подтверждаете использование сайтом cookies вашего браузера с целью улучшить предложения и сервис на основе ваших предпочтений и интересов Понятно
О проекте
Реклама
Контакты
Пользовательское соглашение
Обработка персональных данных
Обратная связь
Дисклеймер
Мобильная версия сайта
Мы в Яндекс.Дзен
© 2017-2020. ЦЕНА АВТО. Все права защищены
При полном или частичном копировании материалов, гиперссылка на cena-auto.ru обязательна
Москва
Санкт-Петербург
Севастополь
Великий Новгород
Владимир
Волгоград
Вологда
Воронеж
В
Казань
Калининград
Калуга
Кемерово
Киров
Кострома
Краснодар
Курск
К
Нижний Новгород
Новокузнецк
Новосибирск
Н
Пенза
Пермь
Псков
Пятигорск
П
Самара
Саратов
Смоленск
Сочи
С
Тверь
Тольятти
Томск
Тула
Тюмень
Т
Выбор марки
Выбор модели
Выбор комплектаций
Cadillac
Changan
Chevrolet
Citroen
C
LADA
Land Rover
Lexus
Lifan
L
Mazda
Mercedes-Benz
MINI
Mitsubishi
M
Авторизуйтесь, чтобы добавить свой автомобиль и иметь возможность запрашивать персональные предложения у дилеров и бронировать автомобили в наличии, а также пользоваться онлайн-сервисом Оценка авто до 20 раз в сутки
Авторизуйтесь, чтобы иметь возможность делать клиентам персональные предложения, договариваться о сделке и её условиях с клиентом без посредников, а также пользоваться онлайн-сервисом Оценка авто чаще. Узнайте актуальную рыночную стоимость автомобиля с пробегом всего за 1 минуту
Reader Review: 2020 BMW M340i xDrive
Sport sedan ticks all the boxes — handling, horsepower and space — for Calgarian father of two
As some automakers focus on SUV production to leave the world of the sedan behind them, others are more committed to the four-door vehicle than ever. Case in point, BMW.
They've just launched their seventh-generation 3 Series with the 2020 M340i sedan and the car brings a great deal more to the driving experience. BMW accomplished this by increasing overall chassis rigidity, and the company focused on reducing weight while lowering the centre of gravity. BMW claims the 3 Series now has perfect 50/50 front and rear weight distribution.
They also fitted the M340i with a new 3.0-litre inline six-cylinder engine with an aluminum crankcase and cylinder head topped off with a twin-scroll turbocharger. Power is transferred through an eight-speed Steptronic automatic transmission equipped with paddle shifters.
In other markets, BMW sells a rear-wheel drive only M340i, but in Canada, the only version available is the all-wheel drive equipped M340i xDrive.
Calgarian Dan Stoffman enjoys driving. His first car was a 1985 Chevy Celebrity, given to him by his grandfather. That was followed by a 1988 Toyota Camry, given to him by his father. The first vehicle he bought for himself was a 2005 Mazda3, equipped with a standard transmission and a dynamic suspension package. While he could fit his growing family – wife, two kids and three dogs – in the Mazda, in 2015 he opted for a "more grown-up car" and bought a BMW 435i Gran Coupe.
"My top three purchasing considerations are performance – I like vehicle dynamics and horsepower," Stoffman explains, and continues, "Also, it has to be big enough for family, and it needs to be all-wheel drive equipped. I do have a fourth consideration; I've always preferred sedans over SUVs."
When he was planning to replace the Mazda, he says he'd never wanted a BMW.
"I was concerned about reliability," he says. "But I'd heard they'd dramatically improved their reliability and went to look at the BMWs. I'd driven a number of different test vehicles, and the BMW had much more of an exhilarating drive, and it hit all my checkpoints."
Dan at the wheel.
How did he feel about the M340i xDrive, equipped with the $8,300 Premium Excellence Package, $600 adaptive M suspension and the $1,450 Tanzanite Blue II metallic paint? All in, the car cost $72,200, not including freight, PDI or other taxes.
"I think the exterior lines are phenomenally striking," Stoffman says. "It's a sexy car, with the overall rake it's a classic BMW shape. I like the rear wheel fender flares and the way they tie in; it's a muscular looking car.
"I was, however, a little disappointed in the kidney grille and the shape of the headlights. It's not as classic and it's gone a little Japanese in the front end for me, but you do get used to it."
When he got inside the car, Stoffman says everything fell into place and it didn't take him long to get comfortable in the power adjustable and heated driver's seat. The interior was finished in BMW's Cognac Vernasca leather, and the Premium Excellence Package adds oak grain open-pored wood trim.
"I was very impressed by the technology," he says. "It was a fully digital dash, and the dials are well laid out and are easy to use. The cockpit is ergonomically made for the driver, and it's really nice."
After pushing the engine start button, Stoffman says he was thrilled to hear the exhaust note.
"This car is tuned," he says, and adds, "After getting it on the road, I was grinning from ear to ear," admits Dan Soffman With the eight-speed transmission, this is a tight machine; the suspension holds the car nicely, the brakes are firm and it handles like it's on rails."
Even when placed in Sport or Sport Plus mode, a setting that stiffens up the suspension, Stoffman says the M340i xDrive still felt smooth and luxurious.
"And the customization of the driving experience is seemingly infinite," Stoffman adds. "The Sport mode now allows for an individualized and customized setting for each dynamic driving input (steering, engine, transmission and suspension). The instrument cluster has multiple digital gauges and panels to enjoy, like a G-force meter, horsepower and torque gauge, or simply the media, which shows images of album covers on your instrument cluster."
"After getting it on the road, I was grinning from ear to ear," admits Dan Stoffman
Although the trunk opening was narrow, Stoffman was able to fit his son's large rolling hockey bag, a youth's hockey stick, two backpacks and a briefcase into the space. In terms of overall utility, he says the car offers plenty of room for the driver and front and rear seat passengers.
"It's like a high-powered Swiss Army knife," Stoffman adds, "It's just very capable of doing many different tasks – you could commute daily, you could take it to the track, or you could take it on a night on the town.
"I priced it out, and BMW has added more horsepower and more technology, and it's the same price as what I paid four years ago for my 435i. I'd definitely recommend the car."
DRIVER'S JOURNAL
Day 1
Was pleased to see a dark blue, carbon black metallic BMW waiting in the driveway. The integrated spoiler and ground effects are seamless to the body styling, but you can tell they are purposeful. The suspension, steering, and overall engine and transmission tuning are tight, even in 'comfort' mode. The one finicky thing I discovered is the proximity key unlock – as you approach the vehicle, it automatically unlocks itself. Problem is that, when you choose to lock it, it will unlock again if you don't hurry up and give your car some alone time.
Day 2
Installed the child full back booster in the back seat. Lots of room to get to the latch system. The kids loved hearing the roar of the engine as it fired to life. All about the normal commute in stop and go rush hour traffic. The drive home was similar, but there were a few spots where I could open up the engine. It gave me the opportunity to try out the Sport and Sport Plus modes, as well as set up the Individual drive mode. There is a considerable difference in engine and transmission responsiveness between the three modes.
Day 3
Another commuting day, but it didn't start with the kids at school; it started with a drive in the country and on the highway. This car sounds tough when it's pushed but is smooth as silk around the corners and on the road. The worst part of the drive is when you finally hit the traffic and have to slow down.
Day 4
Another commuting day. Along the drives, though, I'm trying to force myself to use different features of the vehicle. I've tried relying more on the blind spot monitoring. Having never had a vehicle with such a system, I didn't want to purely trust it, but it is handy. The car has very few blind spots, but the sensors are a nice touch when you have a child in the car and you may be a little distracted.
Day 5
Got out for a drive on the weekend. Piled in as a family and took some country roads for a jaunt. I put the car into Sport Plus mode and dropped the throttle. My wife thought the engine was having issues, until I explained it was the turbo whine, waste gate, and a slight backfire on the shift points – this engine is tuned! After 20 minutes an amazing thing happened – my 6-year old fell asleep in his car seat. With the stiffest suspension and loudest engine setting, the car was still quiet enough for a child to get lulled to sleep.
Day 6
Today was a day that shows that the car, as sporty and luxurious it is, is still meant to be a family commuter car. The older boy and I went to his hockey practice, with his full gear in the trunk, and then to the mall to run errands. It easily manoeuvred through the parking lot, and there it stayed while we did some shopping. Reversing out of the spot was easy thanks to the multi angle back up camera, which shows both top and rear views in the center console screen.
Day 7
What a car. It's stylish, comfortable, and has ample power and precision behind the wheel. It's functional for the family, and fun for the driver. The immense number of features is overwhelming, but they are definitely handy in a pinch. And, in BMW style, the attention to detail is incredible.
2020 BMW M340i xDrive review

Mike Costello
Pros and Cons
Interior vastly superior to the old model
Fast, responsive drivetrain
AWD system doesn't kill BMW soul
Does the Jekyll/Hyde balance perfectly
The old BMW steering wheel was nicer
M40i xDrive wagon is not available here
Perhaps the exhaust could sound gruffer
I never really liked the previous-generation BMW 340i. It was hard to recommend over the 330i and didn't come close to the M3. Given the success of tier-two performance models such as the Mercedes-AMG C43 and Audi S4, this was a problem.
It seems like BMW's crack team of engineers agreed with me, because this new 2020 BMW M340i xDrive – that name is quite a mouthful – is simply brilliant. And if the delayed new, probably big-nosed M3 is going to top it, then it'll need to be an absolute belter.
For a quick background lesson, the G20 3 Series sits on the company's longitudinal CLAR platform sharing parts with the 5 Series and many others. It's 50 per cent stiffer than before, 55kg lighter, has a wider track, a 52:48 weight distribution, and a lower centre of gravity.
At its heart is a brand-signature aluminium 3.0-litre inline six with twin-scroll sequential turbocharging, a wider-opening electronically controlled wastegate, über-precise injectors, fully variable valve and camshaft controls, and reduced rotating assembly inertia.
Output peaks are 285kW and 500Nm, the latter on tap between 1550 and 5000rpm, bang-on with that C43 I mentioned earlier.
And lordy does it hammer. The zero to 100km/h sprint takes just 4.4 seconds, which is only a tenth of a second slower than the outgoing F80 Series M3 was. It's also three-tenths of a second more rapid than the Audi or Benz, giving you some bragging rights.
As my colleague Mike Duff said, peak power comes at 5800rpm, but the engine carries on with "no diminution of enthusiasm" to the 6500rpm limiter. Indeed.
Equally good is the fuel consumption, with BMW claiming a figure of 7.7L/100km in Eco Mode that can decouple the drivetrain down hills and recuperate braking energy. Over my long, mixed driving loop the trip computer returned use of 8.2L/100km.
You may also like
Taking a leaf from AMG in Affalterbach's book, BMW has also fitted an M Sport valve-controlled exhaust, which makes the noise emanating from the twin pipes gruffer, louder and more inclined to pop and burble on overrun when you're running in Sports mode.
So when you put your foot down, you can expect a nearly lag-free shove in the chest with a raspy accompaniment from outside, and an organic-sounding note inside. In reality, the engine could sound even meaner than it does, something AMG does better than this Munich mob lately.
Helping your forward progress is a version of ZF's eight-speed automatic transmission with torque converter that is never anything less than preternaturally intuitive and slick to grab the right cog. You can put it into manual and use paddles if you want, but honestly… Meh.
But perhaps the biggest news here is the configuration. That 'xDrive' badge denotes all-wheel drive (AWD), which this car has as standard. There's a rear-wheel-drive one in the US, but not here. The big benefit of AWD is all-weather stability, but there's also straight-line acceleration.
The system has the fig leaf of variable power distribution between the axles, and it won't easily lose its real-wheel bias in Sport and Sport+ modes, which also stiffen the ride and tie down the body against cornering loads.
Don't just thank the distribution of torque up the driveshaft – also thank the lockable rear diff that shuffles torque across the axle.
At this juncture, my mind is cast back to a prototype drive I did at Portimao, where the 348mm four-piston front/345mm single-piston rear brakes managed six hard laps with no noticeable fade, even after a few rounds of journos giving the test cars hell – between canapés.
Proper track junkies can option up the M Technology Package, with an upgraded drivetrain cooling system, and 25mm larger-diameter front discs.
Of course, hard driving isn't everything. In Comfort mode it rides well by letting some stiffness and control from the active dampers, eating up some shocking roads in regional Victoria with a calmness you don't expect.
While not exactly plush, the difference between track-ready Sport mode and this setting is pretty stark. Overseas media finding the ride too firm were likely driving cars with the lift-related passive dampers not offered on our versions.
If you want a daily commuting car with the ability to tear your head off from time to time, then this Bimmer does it so much more convincingly than the 340i ever did.
To the cabin. If you want a full breakdown of the specs across the 3 Series range then go here, but some key features unique to this grade include BMW Laserlight selective beam headlights, a tyre-repair kit rather than run-flats, a 464W Harman/Kardon audio system, Benz-style changeable ambient cabin light piping, heated seats, and a Sensatec fake leather dash panel.
Safety features include eight airbags, forward and reverse autonomous emergency braking, lane-departure warning, parking assist, a 360-degree camera view, an expanded parking assist system, active cruise control, and steering assist that keeps you between road lines.
The G20's cabin across the board is a big step up, more spacious and sporting a cleaner layout. The fascia is still driver-oriented, but there are higher-grade materials used. The standard contrast trim finish is called Aluminium Tetragon.
The new centre console and transmission tunnel section now houses the starter button, situated near the familiar iDrive rotary dial, and a wireless phone charging pad. Nearby is the gearstick, driving mode buttons, and the electric park brake switch (RIP mechanical parking brake). There's also now a decent centre console.
The Sensatec/Alcantara seats had good bolstering, the aluminium paddles are tactile, though the M Sport steering wheel's rim is so oversized that even LeBron James would struggle to grasp it properly.
The 10.25-inch centre screen's latest 7.0 operating system is super easy to operate and premieres BMW's new personal assistant activated by saying 'Hey BMW'. The instrument screen can be modified to show navigation, active safety programs, g-forces, or be minimised altogether. The head-up display jacked from a 7 Series is industry-leading for clarity and quality.
The trunk remains 480L, and the 40:20:40 folding back seats carry over. There's more head room and shoulder room, and bigger entry and exit spaces. I'm 194cm and can sit behind my own driving position, and had my own air vents and USB plugs back there.
But for the practicality minded, the M340i xDrive wagon offered in Europe isn't in Australia. BMW will instead offer you the X3 M40i derivative. Harrumph.
In terms of owning and operating the car, you get the standard (and short) three-year warranty, and can purchase a basic servicing package for four years and 80,000km for $1565, or pay an extra $2360 above this amount for the full Plus package that seems to cover nearly everything including pads, discs, wipers, and clutch plates.
The final key data is price. At $99,900 before on-road costs, it's $29,000 pricier than the great 330i. Read our range review of the G20 3 Series to learn more about that. But more relevant is that it's nearly $10,000 cheaper than a Mercedes-AMG C43, helping its value equation in context.
Which is why I have little but praise for the BMW M340i xDrive, a car that gives the company a much-needed tier-two 3 Series performance sedan with more daily driving prowess than an M3, and an appreciably superior dynamic experience to the big-selling 330i.
At this very moment it's a class leader, but the market moves quickly.