Chevrolet Tahoe RST 2018
2018 Chevrolet Tahoe RST Premier Review: The Best Tahoe, at the Worst Price
A bigger engine, better suspension, improved brakes, and a boss exhaust are all great. but at what cost?
Welcome to Critic's Notebook, a quick and off-the-cuff car review consisting of impressions, jottings, and marginalia regarding whatever The Drive writers happen to be driving. Today's edition: the 2018 Chevrolet Tahoe 4WD Premier RST.
It's hard not to be a a little taken with the Chevy Tahoe RST Performance Package, at first glance. It's a parts-bin special done right, as only General Motors could do it: a Tahoe outfitted with the bigger 6.2-liter V8, GM's trick Magnetic Ride Control shocks, the sweet new 10-speed automatic transmission, and an aggressive body kit, among a few other lower-key goodies. (Note: For the sake of brevity, the «RST Performance Package» will be referred to as just «RST» for the rest of this review, even though GM also offers a separate «RST Edition» that's basically just the cosmetic options on the SUV's Premier and LT variants.)
But that was until I saw the big, bold price in the last column of the window sticker: $78,450, as tested.
That's enough to buy a brand-new Chevy Camaro SS and a new Chevy Traverse, if you wanted to fill your garage with 6.2-liter V8 power and have an all-weather seven-passenger hauler. Or it's enough to take home a nearly-loaded Cadillac CT6—one with the twin-turbo 400-horsepower engine and AWD, the bougie Rear Seat Package, and the groundbreaking SuperCruise autonomous driving assist system. Or, for less than $2,000 more—just 2.5 percent more cash—you could drive off in a new Corvette Z06 capable of blasting from 0 to 60 in less than three seconds and topping out above 200 miles per hour. And that's all within the GM family.
More pointedly, however, $78,450 is also enough to take home a nicely equipped four-wheel-drive GMC Yukon Denali, or even a new 4WD Cadillac Escalade. (Granted, it'd be a stripper, but it's not hard to make the argument that stripper Cadillac > loaded Chevy.) Both of those, incidentally, also come standard with the 6.2-liter V8, the 10-speed automatic, and Magnetic Ride Control.
Go outside General Motors to cross-shop SUVs, and the choice becomes even more outlandish. If you're just looking for an ass-hauling seven-seat SUV with a mean V8 roar, you can grab a fully-loaded Dodge Durango SRT—a rig that runs a 12.9-second quarter-mile—for less than $75,000. If you want space, effortless power, and a nice interior above all else, the Lincoln Navigator's nicely-equipped Select trim starts at a hair over $78,000 in 4×4 form. Hell, you can drive home in a well-optioned Mercedes-Benz GLS450—one with massaging heated leather seats, no less—for almost the exact same price as the Tahoe RST.
At that price, making the case for a Chevy SUV—even one with all the best parts of the corporate parts bin aboard—requires some Cirque du Soleil-level acts of mental contortion. Well, we only have room to park one car in the driveway. and I really want the big engine and the cool exhaust. but I don't want Bob and Sally down the street to think we're were «too good» for them because we got a Cadillac, they're already pissed enough at us for not coming to Tommy's fourth-grade graduation party. but seriously, who has a party for a fourth-grade graduation, there's still another year of elementary school left, it's not even actually a graduation for chrissakes.
But that doesn't mean this Tahoe is a bad ride by any means. In fact, like the all-new Ford Expedition, it's a testament to just how well American carmakers have mastered the full-sized SUV.
The Pros:
Damn it, but the Tahoe RST does drive well. Even with the truck riding on 22-inch wheels, the MagneRide smooths over bumps with ease; likewise, the 6.2-liter ladles out the power with such fluidity, you'd never suspect it was pushing around close to three tons. Even half-throttle is enough to launch an aggressive passing maneuver on the highway.
The new 10-speed automatic is a marked improvement over the old eight-speed slushbox still found in the likes of slushbox-equipped Corvettes (and much of the rest of the Chevy lineup). Much like the closely-related gearbox found in the 2018 Ford Mustang, it flips through its gears crisply and efficiently, often skipping over intermediate cogs as needed.
General Motors dropped the Tahoe off the day after Winter ShitStorm Grayson, a day with temperatures down in the teens and the better part of a foot of crunchy, dirty snow clogging up the curbs and sidewalks of Brooklyn. I'd debated having them cancel the loan, on the grounds that I'd likely wind up stranded like an upside-down turtle if I tried to crawl over the crud and into a parking space. But that was the part of me not used to spending time with giant, four-wheel-drive SUVs. With the 4WD system set to Auto, the RST easily clambered over the icy debris time after time, even with all-season tires in place of the winter rubber that really ought to be standard this time of year.
Great controls—simple, intuitive, and ideal for use while driving. Most of the important things you'll adjust most often—volume, radio tuning, temperature—are controlled by big, rubbery dials whose location quickly becomes muscle memory.
Clad in black paint with matching black trim—the sort of look improperly-educated automotive journalists might have once described as «murdered out»—the Tahoe RST stood out in damned menacing fashion, even amongst the fleet of livery-driven TahoeBurbanScalades clogging up New York's streets. So equipped, it looks like The Ultimate Cop Truck—the sort of hero car Jack Bauer would spend much of his time racing across Los Angeles in during one of those bad days of his.
The Cons:
For a truck with a Borla exhaust connected to 6.2 liters of smallblock, it doesn't sound all that exciting. The noise that is there is pleasing to the ear—a seismic rumble that rips in pitch up every time the 10-speed shuffles down a few cogs to make a pass—but there's not nearly enough of it for a truck that purports to be a factory-made badass.
For such a giant truck, the interior seems a might cramped. Smaller adults—especially those who are short of limb—will likely be satisfied with the second row captain's chairs, and children young enough to still find the opposite sex icky will be fine in the third row's bench. But someone of my NBA-like size will likely want to call shotgun every chance he or she gets. (Or, y'know, drive the thing.)
The slightly-offset steering wheel will send anyone with O.C.D. into fits.
Again, not to harp on this, but it's a Chevy Tahoe that costs as much as Cadillac's flagship.
Then I spent 20 minutes drifting around this building in the empty parking lot.
The Chevrolet Tahoe RST, Ranked:
Performance: 3.5/5
Comfort: 4/5
Luxury: 3/5
Hauling people: 4/5
Hauling stuff: 5/5
Curb appeal: 4/5
"Wow" factor: 2/5
Overall: 3.5/5
The Bottom Line:
This may be a bit of stereotyping, but I wouldn't be shocked to see the Tahoe RST sitting in the driveway of every Chevy-sponsored NASCAR team driver by the end of this time next year. Its combination of an utter lack of pretension, high-performance features, dominating size, and legitimate four-wheel-drive capability seem perfect for folks with money who need a ride that can handle everything from towing to long road trips to shuttling people about town—yet wouldn't be caught dead in a Lexus or a Lincoln.
But unless you happen to occupy the middle ground of that very specific Venn diagram of «People who can afford an $80,000 car» and «People who are desperately worried about looking conceited,» there are plenty of other SUVs and crossovers out there that offer greater capability, luxury, size, or style for the cash—many of them located within GM's very lineup.
Now, if Chevy let us lob the $8,245 bundle of RST Performance Package parts onto the $47,000 Tahoe Custom. well, then we'd be talking.
Pressroom United States
Follow Us
Chevrolet Tahoe — 2018
Product Information
Specifications
Product Information
Chevrolet Tahoe was ranked most dependable large SUV in the J.D. Power 2017 Vehicle Dependability Study.
EPA VEHICLE CLASS
NEW FOR 2018
RST Edition available on LT and Premier models
RST 6.2L Performance Package available on RST Edition with Premier trim. Content includes 6.2L engine with 420 hp and 460 lb.-ft. torque, 10-speed automatic transmission and performance-calibrated Magnetic Ride Control
Custom Edition available on LS models
Exterior colors: Havana Metallic and Satin Steel Metallic
LED daytime driving lamps now standard on all models
Available Borla performance exhaust system (dealer-installed)
Available six-piston Brembo front brake package (dealer-installed)
VEHICLE HIGHLIGHTS
Offered in LS, LT and Premier models, in 2WD and 4WD configurations
Z71 Package – available on LT models
RST Edition – available on LT and Premier models
RST 6.2L Performance Package – available on RST Premier models
Midnight Edition – available on LT and Z71 models
Signature Package – available on LT models
All-Season Package – available on LS models
Max Trailering package available on all trims, available towing up to 8,600 lbs
A standard 5.3L V-8 engine with direct injection and Active Fuel Management provides 355 horsepower and segment-leading V8 fuel economy of: 23 mpg highway
Front active aero shutters enhance aerodynamics on the highway
Apple CarPlay and Android Auto capability through MyLink displays messages, music, maps and more on the multicolor screen
4G LTE connectivity with Wi-Fi hotspot (includes three-month/3G data trial)
Chevrolet MyLink offers in-vehicle shopping apps and Rear Seat Reminder Customization
Fold-flat second- and third-row seats that enhance cargo convenience – including an available power-folding feature
Available hands-free power liftgate
Available eight-inch color touchscreen radio with next-generation MyLink connectivity
Up to seven USB ports and six power outlets – including a 110-volt three-prong outlet – to support electronic devices of all kinds (up to 13 charging locations)
Available 8-inch diagonal reconfigurable cluster with Driver Information Center and available Head-Up Display
Conversation mirror in the overhead console that provides a panoramic view of the rear seats
Available rear seat entertainment system upgrades that include HDMI/MHL connector, additional USB port, digital headphones and device projection; new video voiceover feature benefits visually and hearing impaired
Keyless entry and push-button start are available
Standard remote start
Available wireless charging
Standard Teen Driver feature
Perforated, leather-trimmed heated and vented driver and passenger seats are standard on Premier
SAFETY FEATURES
Standard front and side-impact air bags for driver and front passenger with front-center air bag and head curtain side-impact air bags for all rows
Forward Collision Alert, Safety Alert Driver Seat, IntelliBeam headlamps with automatic high-beam control, Lane Keep Assist and Low Speed Forward Automatic Braking are standard on LT and Premier. They are included on LS with the available Enhanced Driver Alert Package
Side Blind Zone Alert with Lane Change Alert and Rear Cross-Traffic Alert are standard on Premier and available on LT
Standard rear-vision camera
Tire pressure monitor includes tire fill alert
Adaptive Cruise Control with Front Automatic Braking is available on Premier
Tested: 2018 Chevrolet Tahoe RST 6.2L 4WD
The quickest Tahoe, but not the Tahoe SS some people might be hoping for.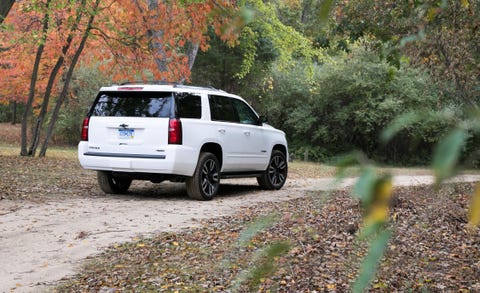 About a decade ago, Chevrolet got fast and frivolous with SS badges, gluing them on questionable machines like the Malibu Maxx SS, the Impala SS, and the naturally aspirated version of the Cobalt SS. Those cars weren't worthy of the legendary letters, which first appeared on a high-performance Chevy Impala back in 1961, and their existence only corroded the meaning of Super Sport. The 2018 Chevrolet Tahoe RST proves the gang at Chevrolet has learned from their mistakes. Although this is the quickest and most powerful Tahoe ever, with a strapping 6.2-liter V-8 similar to the one in the Camaro SS and Corvette Stingray, General Motors says the team didn't even consider slapping SS badges on this SUV. That is a good thing.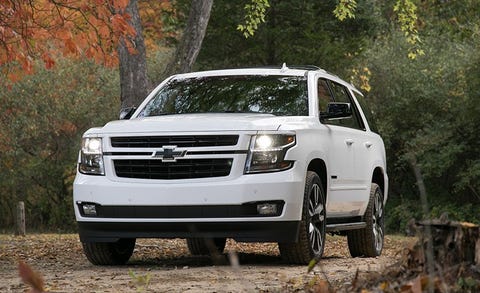 Not Every RST Gets the Good Stuff
RST stands for Rally Sport Truck, and it's an optional package available on the Tahoe's upper LT and Premier trim levels. The RST is essentially an appearance package that adds black bow-tie badges, gloss black 22-inch wheels (up from 20-inchers) with silver accents, a black grille, black mirrors, black roof rails, and black window trim. Chevy says the RST is inspired by aftermarket tuning trends and calls it a street performance look. The package costs $2630–$2640 (depending on trim level) and does nothing to improve the performance of the full-size SUV. Under the hood, the standard 355-hp 5.3-liter V-8 remains backed by a six-speed automatic transmission.
However, on Premier-level Tahoes like our test truck, buyers can also opt for the RST 6.2L Performance package for an additional $2720 (or $2820 on 4WD models), which is the only way to get GM's larger 6.2-liter V-8 with 420 horsepower and 460 lb-ft of torque in the Tahoe. The bundle is available on both rear- and all-wheel-drive models, with the latter carrying a $3000 premium. It also includes GM's new 10L80 10-speed automatic, a shorter 3.23:1 axle ratio (versus a 3.08:1), and adaptive Magnetic Ride Control dampers with a performance calibration. 4WD models also get a two-speed active transfer case. Chevy backs off on the suspension's spring rates, softening the fronts from 610 to 560 pounds and switching the rears from a variable-rate spring (250/445 pounds) to fixed 245-pound units.
Our example also was equipped with the dealer-installed $2795 Performance Front Brake Kit, which adds upgraded 16.1-inch front rotors (up from 13.0 inches) clamped by red-painted Brembo six-piston calipers. With a few other options, notably the $2435 Sun, Entertainment, and Destinations package (power sunroof and a rear-seat entertainment system), the price of our all-wheel-drive 2018 Tahoe Premier jumped from $66,495 to $79,789.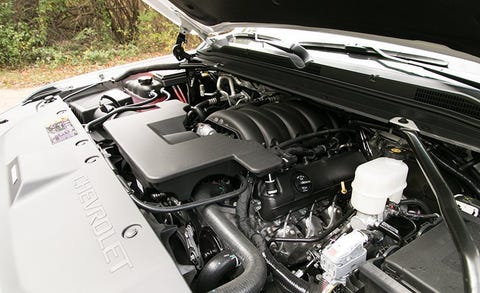 At the Test Track
With its 26-gallon fuel tank full of 91 octane, our test truck weighed 5782 pounds, which is 135 pounds less than the last Ford Expedition 4×4 we tested. The Tahoe's balance is impressive, with only 51.6 percent of its weight over its front tires. The big aluminum-block V-8 is set well back in the chassis, with the entire engine behind the SUV's front axle line. Chevy also uses an aluminum hood to shave weight, for whatever it's worth in a giant rig like this one.
At the test track, the Tahoe hustled from zero to 60 mph in 5.7 seconds. That's 1.5 seconds quicker than a Tahoe with the standard 5.3-liter V-8, and it's the same performance we recorded in the Ford Expedition Platinum 4×4 powered by a 400-hp 3.5-liter EcoBoost V-6. The last Cadillac Escalade we tested, a 2016 model, was 0.1 second slower, but its 6.2-liter was paired with an eight-speed automatic; for 2018 the Escalade gets the 10-speed, as does the GMC Yukon Denali. The Tahoe RST also was quick through the quarter-mile with a run of 14.1 seconds at 100 mph. That's 1.4 seconds better than the standard Tahoe and a few tenths quicker (and 3 mph faster) than the Expedition. Keep your foot down and the RST continues to pull away from the Ford, hitting 110 mph 1.9 seconds quicker. Remember, these two SUVs use the same 10-speed automatic that was co-developed by GM and Ford.
The Tahoe RST generated 0.75 g of grip around the skidpad and showed moderate understeer. That's exactly the same amount of grip available in a standard Tahoe, a disappointing performance considering the RST's massive P285/45R-22 Bridgestone Duelers and its performance-tuned dampers. The Ford Expedition generated 0.79 g. With its upgraded brakes, the Tahoe stopped from 70 mph in just 188 feet. That's eight feet shorter than the Ford, but only three feet shorter than a standard Tahoe on 20-inch wheels and tires. Despite the big Brembos, there's still a slight amount of fade, with six repeated hard stops from 70 mph stretching the stopping distance to 203 feet.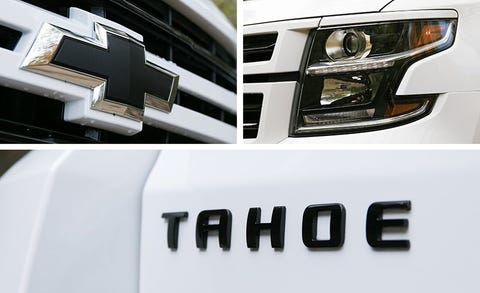 In the Real World
Despite the RST's softer springs, ride comfort is compromised by its larger, heavier wheels and low-profile tires. It isn't uncomfortable, but the ride can be busy. While body roll is well controlled, there's a fair amount of dive under braking, and the rear suspension squats under acceleration like an old-school muscle car.
However, nothing is more old school than the Tahoe's column shifter. You can shift the 10-speed automatic manually, but to do so you must feel around on the shift lever for a +/- toggle switch that manages the gear selection. Not the best when you're hustling the big SUV on a mountain road, although, to be fair, it's really just intended for managing rpm during towing and hauling. The transmission matches revs well on downshifts, but the gearchanges are slow to come. Also, the Tahoe's 6000-rpm tachometer does not show a redline (the engine hits a rev limiter at 5800 rpm), and the gear readout in the instrument cluster is minuscule. Ford offers a Sport setting for the transmission in the Expedition, but Chevy does not in the Tahoe.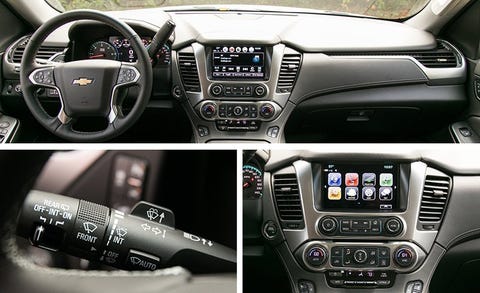 Wide and well bolstered, the Tahoe's seats feel comfortable both in the city and on the highway, where the big pushrod V-8 lumbers along at 1800 rpm at 80 mph. The steering has good feel, but it's a bit heavier than it needs to be and a little slow when you decide to exploit roadholding abilities.
While few people will ever push a Tahoe on a twisty road, it's our job, and this thing does have Sport in its name, doesn't it? In rear-wheel-drive mode, the Tahoe RST understeers at the limit, will spin its inside rear tire if you exit a tight bend hard on the gas, and gets thrown off line by midcorner bumps. But this big beast is well balanced and actually somewhat tossable; it turns in well under braking, it takes a nice set, and Chevy even allows you to shut off the stability control if you dare. It's surprisingly fun to drive the RST at seven-tenths, but push it harder and there just isn't much grip in reserve, and you're always aware of its sheer size and mass. Driving it hard is ultimately more work than fun, and it will understeer off the road if you charge into a corner with too much speed. It's a little easier to drive quickly in the 4WD Auto setting, understeering less and powering out of turns better. But if you're lunatic enough to drive close to three tons of truck this way, you're better off buying something German, maybe with an AMG badge.
And then there's the 6.2-liter V-8, which is arguably the only reason to pony up for the RST. The Tahoe is genuinely quick with this mill, and the rumble from our test truck's optional $1249 Borla exhaust system is inebriating, yet it doesn't drone on the highway. The EPA estimates the 6.2-liter RST's fuel economy at 14 mpg city and 22 mpg highway; we averaged 14 mpg overall and matched the truck's highway figure on our 75-mph highway fuel-economy test. Although we never hooked up a trailer, Chevy rates the all-wheel-drive Tahoe RST to tow 8100 pounds, which is 1100 pounds less than the Expedition 4×4.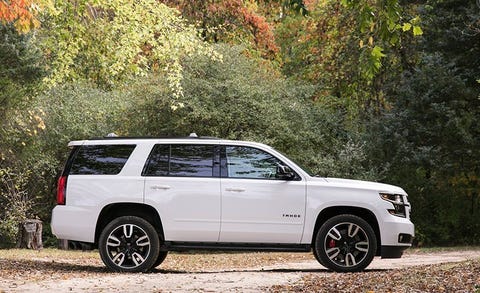 Bring On the Blower
If you're looking for a big-power, high-performance Tahoe to square off against your buddy's Jeep Grand Cherokee Trackhawk or Mercedes-AMG GLS63, the Tahoe RST isn't it. It isn't even close. To fight those battles you'll have to look to aftermarket tuners such as Callaway, Hennessey, and Specialty Vehicle Engineering, all of which will sell you a turbo- or supercharged Tahoe with absurd levels of horsepower.
Chevrolet, of course, could build its own using the supercharged LT4 V-8 from the Corvette Z06, Camaro ZL1, and Cadillac CTS-V. Dial in the suspension and put some serious tires on it, and Chevy could call it the Tahoe SS with a straight face. In the meantime, the 2018 Chevy Tahoe RST is a small step in the right direction.
Specifications
VEHICLE TYPE: front-engine, rear/all-wheel-drive, 7-passenger, 4-door hatchback
PRICE AS TESTED: $79,789 (base price: $71,945)
ENGINE TYPE: pushrod 16-valve V-8, aluminum block and heads, direct fuel injection
Displacement: 376 cu in, 6162 cc
Power: 420 hp @ 5600 rpm
Torque: 460 lb-ft @ 4100 rpm
TRANSMISSION: 10-speed automatic with manual shifting mode
CHASSIS:
Suspension (F/R): control arms/live axle
Brakes (F/R): 16.1-in vented disc/13.6-in vented disc
Tires: Bridgestone Dueler H/L Alenza, P285/45R-22 110H M+S TPC SPEC 1427
DIMENSIONS:
Wheelbase: 116.0 in
Length: 203.9 in
Width: 80.5 in Height: 74.4 in
Passenger volume: 162 cu ft
Cargo volume: 15 cu ft
Curb weight: 5782 lb
C/D TEST RESULTS:
Zero to 60 mph: 5.7 sec
Zero to 100 mph: 14.1 sec
Zero to 110 mph: 17.5 sec
Rolling start, 5-60 mph: 6.0 sec
Top gear, 30-50 mph: 3.0 sec
Top gear, 50-70 mph: 3.8 sec
Standing ¼-mile: 14.1 sec @ 100 mph
Top speed (governor limited): 113 mph
Braking, 70-0 mph: 188 ft
Roadholding, 300-ft-dia skidpad: 0.75 g
C/D FUEL ECONOMY:
Observed: 14 mpg
75-mph highway driving: 22 mpg
Highway range: 570 miles
EPA FUEL ECONOMY:
Combined/city/highway: 17/14/22 mpg
Обзор Chevrolet Tahoe RST 2018
Роскошный, спортивный внедорожник Chevrolet Tahoe RST, интересная информация
Автопроизводители за последние годы представили множество вместительных и мощных внедорожников. Но большинство из них не будоражили воображение автолюбителей, не кипятили их кровь. Chevrolet решил изменить эту тенденцию и представил нечто новое в классе 3-рядных внедорожников.
Tahoe Rally Sport Truck (RST) – это высокопроизводительная версия рамного внедорожника от Chevrolet. Он оснащен 6,2-литровым двигателем V8 мощностью 420 л.с. и крутящим моментом 623 Нм, который передает мощность в полноприводную систему через новую 10-ступенчатую автоматическую трансмиссию GM.
Также RST включает стандартные Magnetic Ride Control, выхлопную систему Borla, передние тормоза Brembo. 22-дюймовые колеса, которые являются эксклюзивными для внедорожника. Остальная часть RST – это стандартная комплектация Tahoe, которая должна рассказать владельцу, что это отличный автомобиль.
В рамках празднования 100-летнего юбилея Chevrolet в Техасе состоялся тест-драйв Tahoe RST по улицам Форт-Уорта, а сам грузовик построен в Арлингтоне. Появление Tahoe именно здесь вполне уместно, так как Техас – один из крупнейших рынков для больших внедорожников. Дороги тут широкие, а ограничения скорости высоки. Планируется, что стоимость автомобиля у себя на родине будет начинаться с 56 515 долларов, а за экспортные варианты придется выложить 68 835 долларов.
Впечатления от вождения…
Первое, что впечатляет в автомобиле – рев V8, который появляется сразу после нажатия кнопки запуска двигателя. Этот звуковой эффект усиливается благодаря выхлопной системе Borla, которая настроена с целью подчеркнуть мощь силового агрегата.
Отдельно стоит упомянуть новый 10-ступенчатый «автомат». Он отлично подходит для Tahoe RST 2018, обеспечивает плавное изменение режимов движения, быстро реагирует на команды. Основой для этой трансмиссии стала коробка, которой оснащается Camaro ZL1. Новый агрегат был фактически разработан совместно с Ford, но Chevrolet самостоятельно производит и настраивает его.
Трансмиссия предусматривает возможность выбора нужного режима с помощью тумблера на рычаге переключения. В целом, система отличается правильной и быстрой подстройкой под текущую ситуацию.
В сочетании с Magnetic Ride Control, Tahoe RST не чувствует себя столь же большим или тяжелым, каким он является на самом деле. Это хитроумная технология, позволяющая устанавливать любые настройки подвески, дает неограниченные возможности водителю. Магнитореологическая жидкость в каждой заслонке реагирует на магнитные поля, управляемые компьютером. Он может менять вязкость жидкости тысячи раз в секунду. В принципе, Chevrolet способен контролировать жесткость каждого амортизатора индивидуально и с большой гибкостью.
На большом транспортном средстве, таком как Тахо, при повороте влево инерция действует в противоположном направлении. У внедорожника демпферы увеличивают жесткость справа, чтобы уменьшить ее воздействие. В результате улучшается устойчивость при маневрировании даже на больших автомобилях. Это настолько эффективно, что Corvette использует подобную систему, ее нет даже на современных Ferrari.
К сожалению, физика превосходит технологию, поэтому Tahoe RST по-прежнему чувствует себя не полностью легким и маневренным, несмотря высокотехнологичную подвеску и легкое рулевое управление.
Двигатель 6.2L V8 оборудован турбиной, поэтому закономерно, что ее запаздывание не позволяет двигателю моментально реагировать на нажатие педали акселератора. Подача питания линейна, а двигателю очень нравится реверс – это его изюминка.
Внедорожник также оснащается 5,3-литровый мотором V8. Это хороший, надежный агрегат, который планируется как базовый. Но в реальности его будет недостаточно для автомобиля, предлагающего потребителю высокий уровень производительности.
Tahoe RST комплектуется затемненными чехлами Chevrolet Bowtie и темными деталями отделки. Интересно, что на внешней стороне транспортного средства нет значков RST. Если кто-то не знает, на что он смотрит, нет другого способа узнать, что этот автомобиль – нечто особенное.
Tahoe RST может использоваться в качестве буксировочного транспортного средства. Он способен тянуть до 3,7 тонны, что более чем достаточно для большинства легковых автомобилей и многих лодок. Но для буксировки Ford Pro Trailer Backup Assist, к сожалению, Tahoe не предназначен – трейлеры он не потянет.
Роскошный интерьер
Комплектация Premiere – топовая, она предусматривает наличие обогреваемых и вентилируемых кожаных сидений, трехрядный трехмерный климат-контроль. Одним из основных преимуществ Tahoe RST является вместимость. Если сложить сиденья, то станет доступно почти 2,7 м3 свободного пространства. К примеру, конкурент внедорожника Durango может похвастаться только 1,55 м3.
Цветной дисплей помогает отслеживать скорость, и развлекательная система MyLink от Chevrolet под рукой, чтобы всех развлекать в дороге. Это относительно простой сенсорный интерфейс, поддержка Apple CarPlay и Android Auto. Кроме того, OnStar может помочь при попадании в аварию, а также включает в себя 4G LTE-точку доступа для всех, чтобы обеспечить связь между пассажирами и водителем. Кроме того, развлекательная система заднего сиденья поддерживает диски Blu-Ray, а также оборудована различными входами для подключения игровых платформ, чтобы коротать время в длительных поездках.
Активные функции безопасности включают систему предупреждения о выезде из полосы движения и предупреждение об опасности столкновения. Эти предупреждения могут быть либо звуковыми, либо вибрацией, передаваемой через сиденье водителя. Мониторинг слепых пятен помогает избегать затруднительных и аварийных ситуаций.
Камера заднего обзора помогает с маневренностью, но не дает возможности совладать с размером линкора. Водитель получает высокой уровень обратной видимости, что делает парковку удобной.
Очевидные недостатки
Но у Tahoe RST есть несколько недостатков, о которых стоит упомянуть. Например, топовая комплектация не имеет адаптивного круиз-контроля. Хотя эту опцию трудно найти в автомобилях, находящихся в одном с Tahoe ценовом сегменте.
Сидения второго ряда складываются при нажатии кнопки, которая находится в грузовом отсеке, но они не полностью отвечают современным техническим требованиям третьего ряда. Это означает, что можно поднимать и опускать задний ряд при помощи кнопок, но перемещать сиденья второго ряда придется вручную. Если делать это регулярно, вероятно, владелец будет часто раздражаться.
Необходимо поговорить о расходе топлива. Никто не ожидает, что V8 мощностью 420 л.с. будет экономичным, особенно в транспортном средстве такого размера. Но даже с 10-ступенчатой автоматической коробкой передач лучшее, что можно показать внедорожник на шоссе – 11,3 литра на 100 км. Этот показатель возрастает до 16,2 литра на 100 км в городе, а комбинированный режим предполагает расход 13,6 литра.
Очевидным конкурентом Tahoe RST является трехрядный Dodge Durango SRT, который предлагает мощность в 475 л.с. и 637 Нм крутящего момента. Он также превосходит Tahoe по буксировочной способности на 0,18 тонны. Durango SRT стоит дешевле, но у него не так много места для хранения или посадки, как у Tahoe. Кроме того, «техасец» отличается лучшей проходимостью.
В качестве заключения
Несмотря на недостатки, Tahoe RST – прочный внедорожник, который по поведению близок к грузовику. У него достаточно места для хранения всего необходимого для далеких путешествий.
Соответствует ли это значку RST? Это веселый автомобиль для тех, кому нужно что-то размером с Техас. Грохот V8 опьяняет, а дизайн не будет привлекать к себе излишнее внимание правоохранительных органов. Это машина для фанатов производительных внедорожников.
Haulin' with the 2018 Chevrolet Tahoe RST
The 6.2-liter V-8 comes to the Bow Tie's big SUV
See all 8 photos
DALLAS, Texas — My 2017 holiday season couldn't have worked out better. Chevrolet trucks celebrated its centennial in Dallas with an extensive piecemeal program that incorporated classic drives, riding shotgun with law enforcement at a training center, and an early glimpse of the all-new 2019 Silverado. As part of the program, media were offered the opportunity to drive back to their respective cities in a 2018 Chevrolet Tahoe RST.
The sunny shores of Los Angeles may serve as my current stomping grounds, but this writer grew his roots in Texas. My parents and a large portion of my extended family call Dallas home, so this was the perfect opportunity to spend not only the holidays with loved ones, but allowed me to celebrate my dad and my grandmother's birthday.
See all 8 photos
There's something so satisfying about GM's full-size SUV family. From the Tahoe to the Escalade, there's a lot to love. With a customer loyalty rate of over 70 percent, these SUVs are four-wheeled multitools. It hauls everything from kids to boats, crosses muddy bogs while cosseting passengers, and remains an ideal road trip cruiser.
For 2018, the Tahoe/Suburban lineup diversifies even further with the introduction of the new RST package. You'll have to look quite hard to pick an RST out from the dealer lot, considering there isn't a single RST badge to be found on the entirety of the car. For the keen-eyed among you, keep an eye out for Tahoes that wearing darkened trim with black Bowtie badges instead of chrome.
See all 8 photos
There's also a set of more stylish wheels at all four corners, but the RST's real arsenal is underneath the skin. For the first time, the Tahoe is now available with the 6.2-liter L86 V-8 found in GMC Yukons, Cadillac Escalades, and Silverados. Power is managed by the new 10-speed automatic transmission co-developed with Ford. 420 hp and 460 lb-ft of torque sent through this quick-shifting box means the monstrously large Tahoe hustles to 60 mph in a shocking 5.7 seconds, enough to pick on those hooligans in VW Golf GTIs.
This means you're going to be scuttling a little faster than you would in a regular Tahoe, necessitating some extra hardware to make sure you don't hurl yourself off a cliff. To wit, the RST adds a new performance tune for the standard Magneride magnetic ride control. Unlike the system on the Camaro and Corvette, this is non-adjustable, at least by the driver. It's an adaptive system, stiffening or softening the ride depending on the situation.
See all 8 photos
As a final perk, buyers can opt for two dealer added extras that I believe should be mandatory. For extra stopping power, Chevy will slot in bigger front brakes from Brembo. Trust me, they make a large difference with that new 6.2-liter and the bright red calipers look excellent. They will also install a Borla exhaust system right out of the box. It's not as aggressive as a Camaro SS, but the buttery lublublub is a perfect middle ground.
Despite the working class badge up front, the Tahoe can still be priced out to eyewatering heights. My particular tester was part of the Premier option group, adding a healthy dollop of handy features including keyless access with remote start, power tilt wheel, and HID headlamps. Even so, the $78,000 price tag was a hard lump to swallow without a GMC or Cadillac badge in sight.
See all 8 photos
Following the Centennial festivities at the Texas Motor Speedway, I surprised my dad in the driveway of our house as he was packing up their RX 350 for a roadtrip to Bentonville, Arkansas for his birthday. The plan was to celebrate his (and my 92-year-old grandmother's) birthday with a trip to the fabulous Crystal Bridges art museum five hours away.
Unsurprisingly, with the third row folded down, the Tahoe swallowed four people's luggage with room to spare. My passengers in the second row enjoyed their captain's chairs, which provided them with plenty of legroom and a valuable dead space between the seats that served as snack central. If they were of the younger sort, an infotainment screen folds down from the headliner of the truck, complete with two pairs of accompanying headphones.
On the way up to Arkansas, it was as uneventful as we hoped. With the semi-sport-tuned Magneride suspension, it's admittedly stiffer than the regular suspension, but it's far from uncomfortable. Other unsurprising non-revelations — the fuel tank is sizable, compensating for the 6.2-liter thirst, and the extra power provides quick merging speeds.
See all 8 photos
Once in Bentonville, the RST continued to play the role of school bus effortlessly. The entire family was a big, big fan of the remote start function, keeping us toasty when temperatures dipped beneath the 30-degree mark.
Museum enjoyed and birthday steaks consumed, we saddled the Tahoe up again for a southbound journey to home. We took the scenic route this time, cutting through the breathtaking Ozark mountains. It was wet and misty most of the way up the snaking hill, eventually transitioning into a full-bore rainstorm by the time we began our descent. Through the drenched swtichbacks, the RST was as confident as a full-size, body-on-frame SUV can be. Cornering was indeed flatter than its model siblings, and the big brakes were a godsend as I hauled the truck down from speed. It's not as sharp as a Range Rover Sport SVR or a BMW X5M, but it's not meant to be.
See all 8 photos
Unfortunately, we overestimated how long the scenic route would take, so we ended up cutting the fun portion short and cutting through myriad tight two-lane highways in Oklahoma and Texas. it was pitch black in the boonies, so the narrow wet roads were treacherous to navigate. The RST was surefooted, and comfortable enough for my passengers, and we made it home safe, albeit a bit grumpy from the long drive.
The Tahoe remained in my control for the following two weeks. I gladly played the family chauffeur, shuttling close and extended family to meals, movies, and visits. It was comfortable, fast, and utilitarian, and most importantly, it made the holiday season perfect.
Chevrolet Suburban RST Performance Package 2019 – самый мощный Субурбан
Компания Шевроле анонсировала скорый выход на американский рынок «заряженной» версии внедорожника Suburban с пакетом RST Performance Package. Аббревиатура RST (расшифровывается как Rally Sport Truck) впервые появилась на слуху примерно год назад, когда подобной модификацией обзавелся Шевроле Тахо. Теперь же данный вариант исполнения доступен и для Субурбана, но представители GM решили не ограничиваться косметическими правками и провели основательную ревизию техники. По ее итогам гигант Chevrolet вместо 5.3-литрового мотора V8 с отдачей 360 л.с. получил более производительную бензиновую «восьмерку» объемом 6.2 литра, генерирующую мощность 426 л.с. и сочетающуюся с десятиступенчатой автоматической коробкой. Имели место и другие технические доработки, которые наряду с новым тандемом двигателя и КПП вошли в пакет Performance Package.
Продажи Chevrolet Suburban в новом исполнении стартуют на рынке Соединенных Штатов уже летом. Цена пока не называется, но, очевидно, что прибавка к базовой стоимости модели может быть весьма существенной. Например, у Тахо пакет RST Edition оценен в 2.6 тыс. долларов, а пакет Performance Package – в 2.7 тысячи. При этом оба набора опций полагаются только топовой комплектации Premier, имеющей начальный прайс в районе 63 000 долларов (около 4 млн. рублей). Цена Suburban с таким же уровнем оснащения составляет примерно 66 000 долларов.
Дизайн «горячей» версии внедорожника
Снаружи самая мощная и прыткая вариация Субурбана отличается от классических модификаций лишь несколькими не столь броскими деталями. В первую очередь новинка распознается по окрашенным в цвет кузова дверным ручкам и обрамлению решетки радиатора, а также черному или глянцево-черному декору отдельных элементов (планки фальшрадиатора, корпуса зеркал, рамки боковых окон, шильдики, рейлинги на крыше).

Фото Шевроле Субурбан RST Performance Package 2018-2019
Еще одна характерная примета Chevrolet Suburban RST Performance Package – это оригинальные 22-дюймовые колесные диски, обутые в резину Bridgestone размерностью 285/45 R22.

Задняя часть кузова внедорожника
Техника Шевроле Субурбан RST Performance Package
Новый Suburban RST с пакетом Performance интересен, прежде всего, тем, что под капотом у него прописался двигатель V8 6.2 EcoTec3, выдающий 426 л.с. и 624 Нм. Этот агрегат хорошо известен россиянам, так как им по умолчанию оснащается продающийся на нашем рынке Тахо. В США же базовым для семейства Tahoe/Suburban является мотор V8 5.3 (360 л.с., 519 Нм), а более мощная силовая установка предлагается за доплату. Коробка передач, к слову, у 6.2-литрового агрегата другая – вместо 6-ступенчатого «автомата» применяется новая 10-диапазонная АКПП Hydra-Matic 10L80, впервые опробованная на купе Chevrolet Camaro ZL1.

Опциональный выхлоп и суппорты
В стандартный набор Performance Package также входят задний редуктор с иным передаточным отношением и адаптивная подвеска Magnetic Ride Control с заполненными магнитореологической жидкостью амортизаторами, способными менять свои настройки каждые пять миллисекунд. Опционально можно установить прямоточную выхлопную систему Borla с двойными наконечниками Dual-Side Exit (снижает сопротивление потоку и добавляет дополнительно 7-10 л.с.) и передние шестипоршневые суппорты Brembo с увеличенными 410-миллиметровыми тормозными дисками Duralife, обладающими повышенной износостойкостью и стойкостью к коррозии (площадь дисков на 42% больше, чем у стандартных).
Динамические характеристики Suburban RST Performance Package пока не опубликованы, но у технически близкого Tahoe RST разгон до 97 км/ч занимает всего 5.7 секунды. Что касается тяговых возможностей, то мощнейшая версия Субурбана способна буксировать прицеп массой до 3.7 тонн.
2018 Chevrolet Tahoe RST Review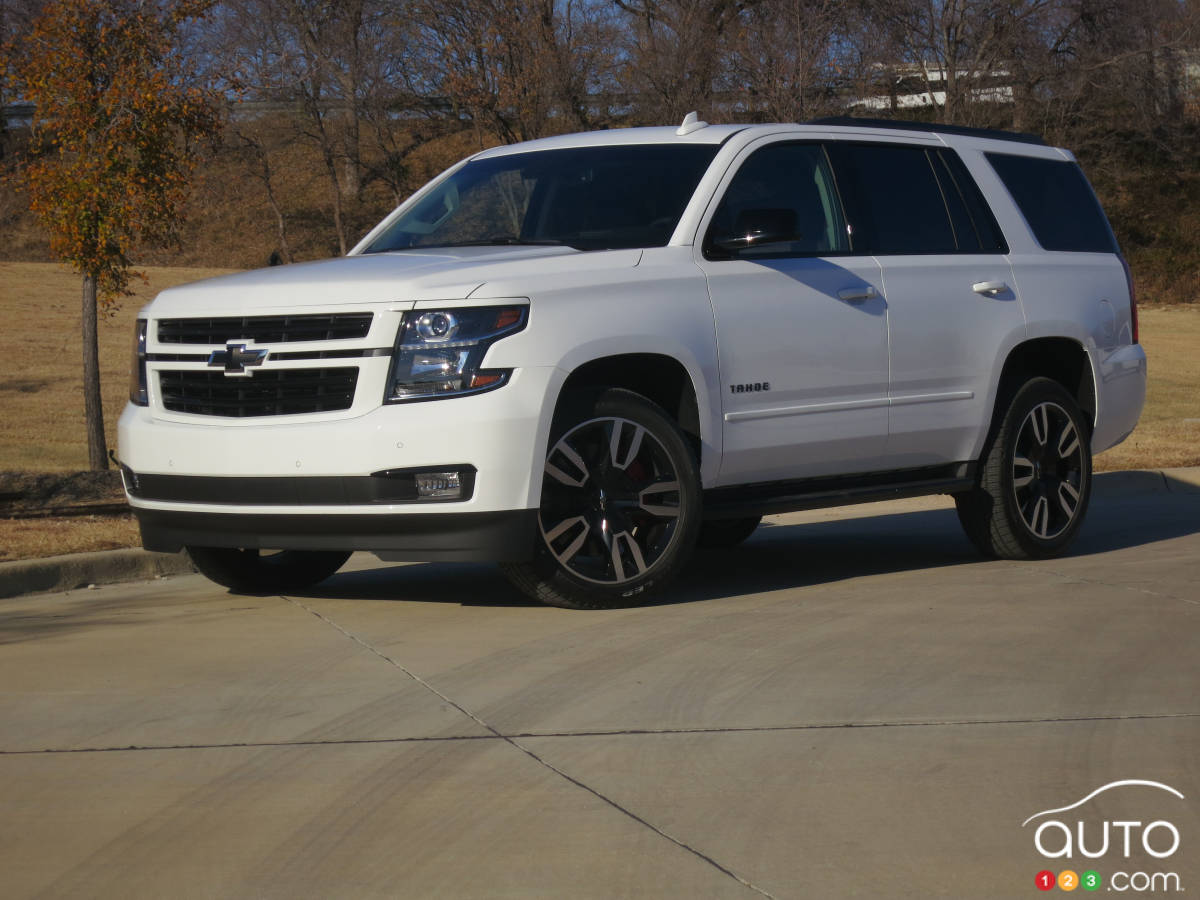 The Tahoe SUV from Chevrolet is definitely the most popular entrant in its segment in North America; combine it with its twin, the GMC Yukon, and no one comes close (except in Canada, where the Tahoe is outsold by the Ford Expedition).
The Tahoe, which we explored in depth on Auto123.com last year, is back in 2018 without any real changes, save for the addition of a more performance-oriented version called the Tahoe RST (Rally Sport Truck). This actually creates a bit of confusion because the Tahoe catalogue included an RST Edition, which borrows style and design elements of the sportier RST but retains the SUV model's standard powertrain, the only one offered by Chevrolet in recent years.
This powertrain consists of the venerable 5.3L V8, well-known for its reliability and good performance capabilities, along with a 6-speed automatic transmission and on-demand all-wheel drive (also including the automatic all-wheel-drive function). Its output is 335 hp, more than enough for camping fans who want to haul a trailer; towing capacity is 8,600 lbs.
For the past several months, Chevrolet has offered potential buyers the option of switching to another V8 bloc, a 6.2L version delivering 420 hp, wedded to a 10-speed automatic similar to what's found in the Silverado pickups (and developed conjointly with Ford). The rest of the mechanics are similar to what's included in the other Tahoes with the on-command all-wheel-drive function.
In addition to this engine, Chevrolet engineers revised several other technical elements of the Tahoe RST to improve road grip, braking and overall performance that should make it fit more with the image of the vehicle and the expectations of buyers. As a result, the "performance" RST version comes with a revised suspension, more-powerful Brembo brakes and even a Borla dual-exhaust system that produces a slightly sportier (as in, louder) sound, without going overboard with it. Unfortunately, the towing capacity of the Tahoe RST is no greater than that of the RST Edition. Clearly Chevrolet is aiming at performance lovers and not fans of camping and trailers.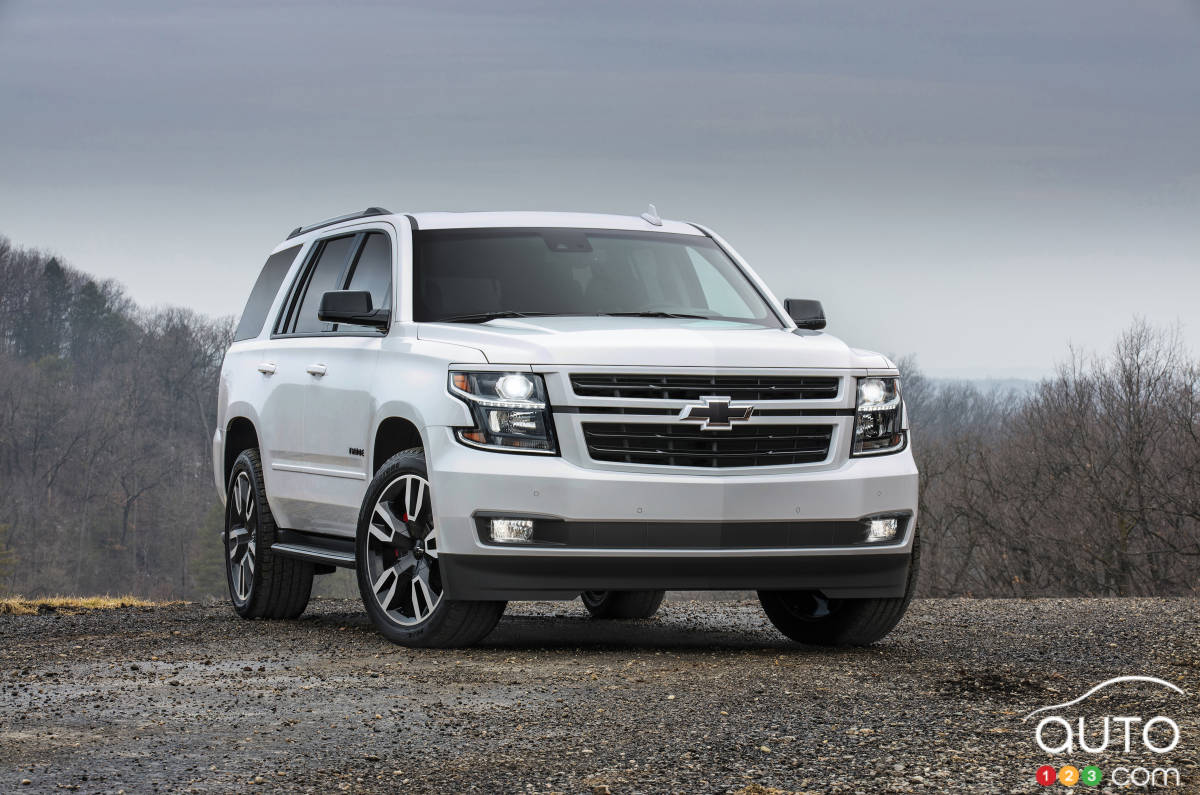 The Tahoe Premier Edition I drove for this test is relatively luxurious, whose primary quality is to be very quiet. When at cruising speed you can barely even make out the engine, though that V8 makes its presence known when accelerating sharply or passing on the highway. Still, though, nothing really dramatic happens on the sound front.
As we've written before this is a large truck that's easy to drive. Tobe sure, it's most at home on the highway, where its smooth ride is most apparent and its fuel consumption is pretty reasonable (around 12L/100 km). This, in other words, is a great vehicle for long road trips.
In urban situations, it's quite a different story. Its dimensions make it hard to park (especially as there are no front-end cameras – a feature we appreciated on its main rival, the new Ford Expedition). Obviously fuel consumption goes up, though not unduly. In general, though, driving this big SUV is child's play because everything is assisted. Plus, its big windows provide great visibility. Steering, while a little soft, is precise enough, and the braking is adequate. The same can be said for accelerations; it takes around 7 seconds to get from a stop to 100 km/h, and passing is done stress-free.
Get behind the wheel of the RST performance version, however, and you get more explosive acceleration and passing. Despite the nature of the Borla exhaust tips, the sound of the V8 is certainly audible but doesn't invade the cabin, except when you floor the accelerator. The firmer suspension allows the driver to do certain manoeuvres simply not possible with the RST Edition, especially since the manufacturer has equipped the RST with Bridgestone Dueler H/L performance tires better adapted to the character of the vehicle. These tires also ably complement the already impressive Brembo brakes.
A short drive on a small slalom course revealed to us the capabilities of this RST. Of course, this Tahoe is still a mighty big machine, with the limits that imposes. We would have liked to have an independent rear suspension like the Ford Expedition benefits from. This would not only help improve road grips but would free up some needed legroom for the third-row passengers (note: the base versions of the Tahoe don't come with this third row of seats as standard equipment).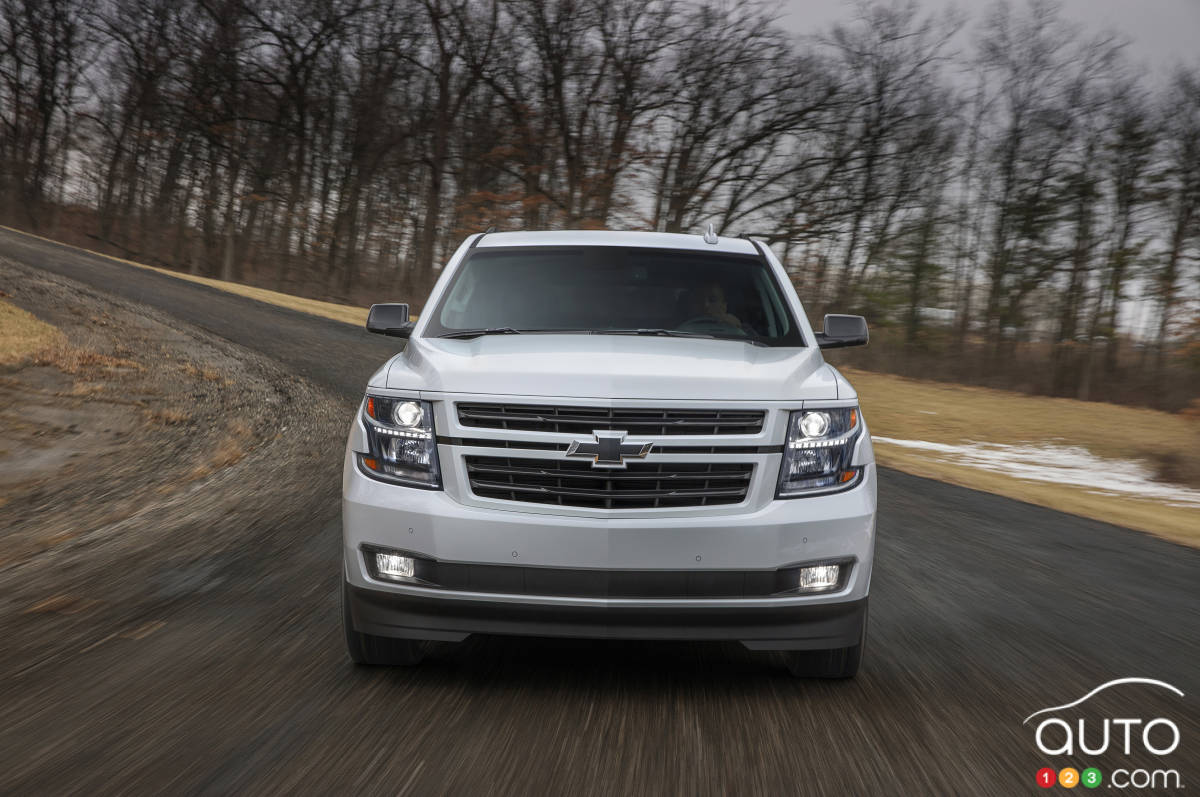 The interior, which we touched on earlier, is more or less the same as before, with comfortable bucket seats in front and middle, and that three-person bench in the back. When that bench is folded down, you get a cavernous rear cargo space, as expected from a large SUV like this. Note that GM's designers have included a small storage space with closing top all the way at the back (my son calls it the firearm compartment; this may well be the actual use made of it south of the border!).
The base price of the Tahoe Premier with all-wheel drive is $73,625. Factor in the A/c tax ($100), special tungsten metallic paint ($495), infotainment accessories ($3,595), the RST Edition dressing ($2,995), the driver's data centre ($995), transport and preparation ($1,795), and then deduct the discount for the MyLink radio, and you get a final tab of $82,805… before taxes.
It's possible to get a Tahoe with extended rear end to obtain more interior space, but then it becomes a Suburban. What's more, keep in mind that just about everything written about the Tahoe here can also apply to its near-twin, the GMC Yukon (and its extended Yukon XL version). There also exists, by the way, a police version of this Tahoe, very popular with law enforcement and the performance of which approaches that of the RST.
As mentioned, the most direct rival of the Tahoe is the Ford Expedition, but you could also count the Toyota Sequoia and Nissan Armada.
We'll wager that the Tahoe is not likely to change much in the next year or two. When it does, it's almost certain to adopt some of the characteristics of the 2019 Silverado, which we just previewed in a first test drive and is hitting the market this fall. We'll see which features it borrows, but we do hope it gets an independent rear suspension. As for the GMC Yukon, it should appear more or less at the same time as the Tahoe, and hopefully with the same new features on our wishlist!
2018 Chevrolet Tahoe RST essentials: May as well call it the SS

What is it: The 2018 Chevrolet Tahoe RST is a full-size, body-on-frame SUV with sporting intentions. The RST package adds the bigger 6.2-liter engine, 3.23 rear axle ratio, a high-capacity air cleaner, 10-speed automatic transmission and a few other performance bits. The Brembo brakes are a $2,795 option.
Base Price: $66,425 As-Tested: Price: $78,450
Highlights: The big V8 in the 2018 Tahoe RST brings 420 hp along with 460 lb-ft of torque. It can tow 8,400 pounds and fit seven passengers in relative comfort. Other changes include body-color grille surround and door handles; gloss-black grille and mirror caps; black roof rails, window trim, badging and Chevy bowties.
Our Opinion: I love this Tahoe, but to buy it, you have to hate gasoline. It's rated at 14 mpg in the city, but it's so damn fun to stomp the throttle that it was probably closer to 10 for my two-day combined average.
This V8 and 10-speed combo seem perfectly suited to each other. The 6.2 rumbles semi-quietly along, with a great exhaust burble, until you smash the right pedal. The new transmission, co-developed with Ford, drops three or four gears and roars like, well, a Corvette or Camaro or something. A bigger TrailBlazer SS if you will.
It's too big to use the words "nimble" or "sporty," but powerful? It'll do powerful all day. Even with the "exclusive 22-inch wheels wrapped in Bridgestone tires," it just blows over potholes and rutted roads without upsetting the passenger compartment. The tires are 45 profile, on the low side, but I never felt like I had to worry about what the road was doing under me with GM's Magnetic Ride Control. There was no weather during my three days with the car, but I'd guess it would be impervious.
I almost forgot the best part: six-piston Brembo brakes. Perfect pedal feel, almost no movement, and they made this huge utility feel lighter than it should. On the gas, on the steering, it feels like the 5,600 pounds that it is, but it'll stop on a dime. Maybe not a dime, but a silver dollar for sure. You can't confidently hustle a big car like this without them. Unfortunately, they're not included with the RST package; you'll have to shell out another $2,795.
The steering is just on the easy side of medium, effort-wise, but not full-luxury, one-finger control like the Cadillac Escalade or Lincoln Navigator. It felt spry for its size, I can say confidently.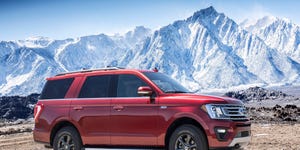 Inside there's plenty of space, the seats have a ton of adjustment and the infotainment works well. I put both a toddler seat and child seat in the second row and it left enough space for above-average first row passengers. That's not always the case (see Infiniti QX80 and Land Rover Discovery). Cargo space won't be a problem until you have a basketball team's worth of kids to contend with.
The top Tahoe trim straddles the luxury/near luxury line. At $78K it's almost as expensive as that aforementioned QX80, and that has every option in the book. On the other hand, so does this Tahoe. Heated and cooled leather seats, heated wheel, automatic start, all the goodies. And since I like my SUVs square, this one checks the boxes for me. I don't love the weirdly shaped headlights though.
—Jake Lingeman, road test editor
Options: RST performance edition including 3.23 rear axle ratio, trailer brake controller, high capacity air cleaner, 170-volt generator, 6.2-liter V8 EcoTec3, ten-speed automatic, active noise cancellation, two-speed transfer case ($5,450); Sun, Entertainment, Destination Package with a power sunroof, rear seat entertainment, additional nine months XM radio ($2,885), performance front brake kit ($2,795), 8″ diagonal reconfigurable cluster with head up display ($850), cocoa/mahogany interior ($295), all-weather floor liner ($250), sun, entertainment, destination discount (-$500)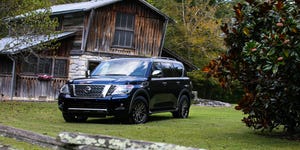 Vehicle Model Information
BASE PRICE: $66,425
AS TESTED PRICE: $78,450
POWERTRAIN: 6.2-liter V8, 4WD, ten-speed automatic
OUTPUT: 420 hp @ 5,600 rpm; 460 lb-ft @ 4,100 rpm
CURB WEIGHT: 5,631 lb
FUEL ECONOMY: 14/22/17 mpg
PROS: Stellar brakes, angry roar
CONS: Super thirsty for fuel, priced in the luxury-car range
Chevrolet Tahoe RST ( 2018 )
Chevrolet Tahoe RST
Chevy introduced a new special edition for the Tahoe and Suburban: the street-performance Rally Sport Truck, or RST. The Chevrolet Tahoe RST will also be available with a new Performance Package that includes a 420-hp, 6.2L V-8 engine; Magnetic Ride Control with performance calibration; and an all-new Hydra-Matic 10L80 10-speed automatic transmission.
«Chevrolet has continually invested in Tahoe and Suburban, developing models with varying combinations of capability, technology and performance to meet the needs of different customers,» said Sandor Piszar, Chevrolet Truck Marketing director. «The RST is designed for customers who want a street performance look without sacrificing capability or refinement, along with the option of increased performance as well.»
RST will be available on Tahoe and Suburban models in the fall of 2017. Inspired by aftermarket trends, virtually all chrome trim has been eliminated for a street performance appearance. Changes include body-color grille surround and door handles; gloss-black grille and mirror caps; black roof rails, window trim, badging and Chevy bowties. RST also includes exclusive 22-inch wheels wrapped in Bridgestone P285/45R 22 tires.
Available upgrades for Tahoe and Suburban RST include a Borla performance exhaust system that offers a 28 percent improvement in exhaust flow, for a 7-10-horsepower gain at the rear wheels. An available brake package features massive front red Brembo six-piston, fixed aluminum calipers with brake pads clamping on larger-than-stock 410 x 32mm (16.1 inch x 1.3 inch) Duralife rotors coupled with a 84 percent increase in brake pad area and a 42 percent increase in rotor area to increase system thermal capacity. Duralife™ rotors feature a hardened surface to reduce corrosion and provide quieter braking with less vibration.
2018 Chevrolet Tahoe RST
The Chevrolet Tahoe RST will also be offered with an exclusive Performance Package that includes Magnetic Ride Control with performance calibration, 6.2L V-8 and the new 10L80 10-speed automatic transmission.
This is the first time Tahoe will offer the 6.2L V-8, which delivers an estimated 420 horsepower and 460 lb-ft of torque. The engine features three state-of-the-art technologies — direct injection, Active Fuel Management and continuously variable valve timing — to make the most of power, torque and efficiency across a broad range of operating conditions.
The 6.2L V-8 will be paired with an all-new 10-speed automatic transmission. With smaller steps between each ratio, the transmission maximizes engine power under acceleration. With a wide 7.39 overall gear ratio spread and lower numerical top gear ratio, the transmission also improves efficiency by reducing engine revolutions at highway speeds.
Based on preliminary estimates, the Tahoe RST Performance Package will offer a towing capacity of 8,400 pounds and the truck will be cable of 0-60 mph acceleration in less than 6 seconds. Full performance metrics will be announced closer to launch.
Magnetic Ride Control is an active suspension that «reads» the road every millisecond, triggering damping changes in the electronically controlled shock absorbers in as few as 5 milliseconds. As a result, the suspension delivers both improved body-motion control during cornering and a more comfortable ride while cruising. The new performance calibration included in the Tahoe RST Performance Package increases body control for even higher levels of responsiveness and comfort.
«When you want to hustle, it is incredibly fast, with significantly higher levels of acceleration, braking and road-holding grip,» said Eric Stanczak, chief engineer for Chevrolet full-size trucks. «When you want to relax, it is very refined, with exceptional ride comfort and interior quietness.»