Fiat 124 Spider Abarth 2017
Родстер Abarth 124 Spider сделал акцент на управляемость
Важный элемент экстерьера — матово-чёрные капот и крышка багажника. А на слух машину можно выделить благодаря штатной выхлопной системе Record Monza, заставляющей «турбочетвёрку» звучать насыщеннее.
Ателье Abarth построило давно обещанную версию родстера Fiat 124 Spider. Турбомотор 1.75 от модели Alfa Romeo 4C, который пресса прочила данному автомобилю, фирма пожалела. Агрегат оказался идентичным исходному — 1.4 MultiAir Turbo, но здесь он форсирован до 170 л.с. и 250 Н•м. Для сравнения, на базовом Фиате 124 для Европы и Азии этот двигатель выдаёт 140 л.с. и 240 Н•м, а для рынка США — 162 л.с. и 249 Н•м. Наконец, у родственной Мазды MX-5 максимум отдачи пока 157 л.с. и 201 Н•м (на двухлитровой модификации).
Снаряжённая масса заднеприводной двухдверки — всего 1060 кг, причём в статике они распределены между осями в сотношении 50:50. Во многом благодаря таким параметрам автомобиль получился проворным при не особенно мощном двигателе.
Максималка Абарта составляет 230 км/ч, а с места до ста родстер ускоряется за 6,8 с. В базовое оснащение входят шестиступенчатая «механика» и дифференциал повышенного трения. В виде опции доступна спортивная «секвенталка» с подрулевыми лепестками. Конечно, чтобы поддержать эти изменения, родстер обзавёлся перенастроенной подвеской с амортизаторами Abarth by Bilstein и усиленными стабилизаторами поперечной устойчивости, а также тормозными механизмами Brembo с алюминиевыми передними суппортами.
Интерьер получил отделку Racing Alcantara. В центре приборки — крупный тахометр с красным фоном.
Автомобиль оборудован активным капотом, смягчающим последствия наезда для пешехода, системой стабилизации, функцией предотвращения опрокидывания (ERM), которую можно вручную отключить на треке, а также ремнями с ограничителем усилия. В виде опции доступны светодиодные фары, датчики дождя и света. В продажу Abarth 124 Spider поступит осенью нынешнего года по цене 40 000 евро (3,2 млн рублей).
Модель Abarth 124 Rally прошла омологацию по категории FIA R-GT. Разумеется, тут есть каркас безопасности и прочие положенные по законам жанра перемены вроде лёгких колёсных дисков от OZ.
А вот кому действительно достался мотор большего рабочего объёма, так это гоночному варианту родстера по имени Abarth 124 Rally, который тоже дебютировал в Женеве. Под его капот водружён агрегат объёмом 1800 «кубиков», с непосредственным впрыском и турбонаддувом. Заявлена мощность в 300 л.с. при 6500 об/мин. Двигатель дополнен гоночной «секвенталкой» и самоблокирующимся дифференциалом.
Ради снижения массы складной мягкий верх заменён на жёсткую композитную крышу. Так что де-факто это теперь купе.
Для специфических условий гонок изменена кинематика подвески, а рычаги получили металлические шарниры ради более отточенной управляемости. Компания открыла приём заказов на раллийную машину по цене 150 000 евро. Итальянцы рассчитывают, что дебют модели в соревнованиях состоится в 2017 году.
Fiat 124 Spider 2017-маленький родстер
Представлен новый итальянский родстер Fiat 124 Spider 2017, критики сразу полюбили его за небольшой расход топлива и спортивный характер.
Технические характеристики
У турбированного двигателя Спайдер мощностью 160 л.с. и 250 Нм крутящего момента есть небольшие турбо ямы, что делает его немного колеблющимся при разгоне с места, но это не мешает ему при обгоне автомобилей в городе или шоссе. Механическая 6-ти ступенчатая коробка передач входит в стандартную комплектацию. Автомат доступен, но критики говорят, что механическая коробка лучше позволит понять сущности этого автомобиля. Расход топлива составляет 9 литров в городе и 6.7 на шоссе. Истинная радость от вождения 124 Spider заключается в ее отличной управляемости и сцеплении с дорогой. Небольшой крен кузова в крутых поворотах не портит, а даже дарит удовольствие от вождения. Комплектация Abarth имеет спортивную подвеску, что делает ее еще маневренней. Езда на 124 Spider очень мягкая, и он хорошо обрабатывает все дорожные неровности, обеспечивая комфорт для водителя. Доступные Brembo тормоза улучшают тормозной путь машины.
Категория спортивных автомобилей включает в себя мускул кары, такие как Chevrolet Camaro и Dodge Challenger, с неповоротливой управляемостью, и немыслимой мощностью, а также не мускул кары, у которых маленькие двигатели, но зато с лучшей маневренностью и управляемостью. 124 Spider, с двигателем турбо с четырьмя цилиндрами, несомненно, в последней категории.
Интерьер
Качество материалов отличное, и кожаная обивка на высоких комплектациях является мягкой и эластичной. Сами сиденья удобны, и по-прежнему хорошо поддерживают даже в длинных поездках. Единственный недостаток возникает при регулировке сидений из-за малого пространства, поэтому у высоких пассажиров могут возникнуть проблемы, и не иметь достаточного места для ног.
Багажник один из самых маленьких в классе. Существует не так много места для хранения мелких предметов в салоне, нет даже бардачка, хотя есть отсек между двумя местами для некоторых мелких предметов. Наиболее примечательной стандартной особенностью 124 Spider является модель кабриолет с откидным верхом. Можно всего одной рукой сложить крышу сверху вниз за очень короткое время в хорошую погоду. Другие стандартные функции включают Bluetooth и два порта USB, аудио систему с девятью динамиками Bose и спутниковое радио что дает вам множество вариантов подключения смартфона.
Если Bluetooth не достаточно, вы можете заказать дополнительную информационно-развлекательная систему Fiat Connect. В дополнение к 7-дюймовому сенсорному экрану и навигации, он включает в себя интеграцию приложении смартфона. Имейте в виду, что сенсорный экран реагирует только в то время когда авто остановлено, так что вам придется использовать ручку управления, если нужно будет настроить параметры на ходу.
Комплектации и цены
Classica (базовая) начинается с $ 24995. Несмотря на то, что находится ниже средней начальной цены класса, он по-прежнему дороже, чем базовая цена конкурентов, таких как Ford Mustang. Lusso обеспечивает более комфортное ощущение и начинается с $ 27495, в то время как отделка Abarth является самым спортивным в линейке, и он начинается с $ 28195. После того как вы выбрали комплектацию, есть несколько пакетов опций на выбор. Premium пакет стоит $ 3795 и включает в себя:
навигацию;
аудиосистему Bose;
спутниковое радио;
задние датчики парковки;
мониторинг слепых зон.
Премиальный пакет доступен только на моделях Lusso. Пакет Luxury почти идентичен пакету Premium, но она стоит $ 200 и доступен только на моделях Abarth. Пакет удобства и безопасности стоит $ 1495 и включает в себя задние датчики парковки, контроль слепых зон и систему предупреждения об объектах, двигающихся в поперечном направлении сзади авто. Этот пакет доступен на Lusso и Abarth. За $ 1295, пакет Technology включает в себя камеру заднего вида и информационно-развлекательную систему Fiat Connect. Этот пакет доступен только на моделях Classica. В дополнение к упомянутым выше пакетам, вы можете добавить автоматическую коробку передач к любой модели за дополнительные $ 1,350. Brembo тормоза добавят $ 1495 к цене, но они доступны только в моделях Abarth. Пакет Abarth-only идет с Recaro спортивными кожаными сиденьями из алькантары за $ 1195.
Fiat 124 Spider Abarth 2017 – больше, чем просто автомобиль
Обзор Fiat 124 Spider Abarth 2017: внешний вид модели, интерьер, технические характеристики, системы безопасности, цены и комплектации. В конце статьи — видео обзор Фиат 124 Spider Abarth 2017 года!
Содержание обзора:
Внешний вид
Салон
Характеристики Fiat 124 Spider Abarth 2017
Системы безопасности
Стоимость и комплектации Фиат 124 Spider Abarth 2017
Видео
Не прошло и года с момента официального дебюта спортивного родстера Fiat 124 Spider, как компания продемонстрировала специальную версию модели Fiat 124 Spider Abarth, премьера которой состоялась в рамках Женевской автовыставки 2016 г.
В отличие от стандартной версии 124 «Спайдер», новинка получила ряд дизайнерских изменений внешнего и внутреннего оформления, а также полностью перенастроенную подвеску, призванную улучшить управляемость и поведение автомобиля на трассе или гоночном треке. Как отмечают представители Abarth, при создании «заряженной» модификации перед ними стояла задача сделать идеальный автомобиль, который бы отличался великолепной управляемостью и отменной динамикой и, забегая несколько вперёд, заметим, что они справились со своей задачей на пятёрку с плюсом.
Экстерьер Fiat 124 Spider Abarth 2017
Fiat 124 Spider — чрезвычайно привлекательный, стильный и, не побоимся этого слова, сексуальный автомобиль, моментально приковывающий взгляды окружающих, что не раз подтверждалось на разного рода мероприятиях, в рамках которых проводилась демонстрация новинки. Казалось бы, невозможно сделать идеальный внешне автомобиль ещё более идеальным, однако с этим утверждением не согласны дизайнеры из подразделения «Abarth», которые всего несколькими росчерками смогли придать новинке ещё более спортивный и агрессивный облик.
Так, в сравнении со стандартным Fiat 124 Spider, лицевая часть авто получила иной, более агрессивный дизайн переднего бампера, обновлённый рисунок фальшрадиаторной решётки и переднего воздухозаборника, а также новое оформление противотуманных огней и логотип «Abarth» на капоте.
Профиль автомобиля, как и прежде, обладает всеми атрибутами полноценного спорткара: заваленное назад ветровое стекло, длинный капот и смещённый к задним колёсам кокпит. Из нового – спортивные «юбки», эксклюзивный дизайн колёсных дисков, окрашенные в красный цвет боковые зеркала (версия Turini 1975 White) и шильдики «Abarth», обитающие за арками передних колёс.
Не обошлось без изменений и в кормовой части родстера, где появился более агрессивный задний бампер со стильным аэродинамичным диффузором и двумя парами патрубков системы выхлопа.
Специально для заряженной версии 124 Spider производитель подготовил несколько «исторических» вариантов окраса кузова: «Turini 1975 White», «Isola d'Elba 1974 Blue», «Costa Brava 1972 Red», «San Marino 1972 Black» и «Portogallo 1974 Grey».
Внешние габариты Fiat 124 Spider Abarth идентичны таковым в базовой версии родстера и составляют:
Длина – 4,054 м;
Ширина – 1,74 м;
Высота – 1,233 м;
Длина колёсной базы – 2,31 м.
Эксклюзивно машина комплектуется 18-дюймовыми легкосплавными дисками с уникальным дизайном. Для сравнения, обычному «Спайдеру» доступны «катки» исключительно на 16 либо 17-дюймов. Дорожный клиренс равен 13,5 см, чего откровенно мало для условий отечественных реалий.
Внутреннее оформление 124 Spider Abarth 2017
Архитектура передней панели, за исключением отдельных решений, полностью повторяет таковую в обычном 124 Spider и, соответственно, в Mazda MX-5. Перед водителем находится удобный и стильный мультируль на три спицы с эмблемой «Abarth» по центру и отметкой нулевого положения, а также трехсекционная приборная панель с окрашенным в красный цвет спидометром. Центральная часть передней панели отведена под 7-дюймовый сенсорный экран мультимедийной системы и лаконичный блок управления климатом, представленный тремя стильными крутилками. Отдельно выделим наличие металлических накладок на педалях и алькантары в оформлении, давно ставшей неизменным атрибутом большинства современных суперкаров.
Передние сидения максимально комфортны и имеют все необходимые регулировки, позволяющие усесться человеку любой комплекции и практически любого роста.
Между креслами располагается массивный центральный тоннель, на котором располагается рычаг КПП, крутилка системы Fiat Connect 7 и небольшой бокс. К слову, ниш и кармашков в салоне могло бы быть больше, особенно если вспомнить об отсутствии привычного всем бардачка. Качество применяемых материалов, как и подгонка элементов внутреннего оформления, находится на чрезвычайно высоком уровне, причём из материалов преобладают:мягкий пластик, алькантара, натуральная кожа и алюминий.
Сразу за креслами передних седоков спрятана механически складываемая мягкая крыша, практически не оказавшая никакого влияния на объем багажника, предлагающего владельцу 140 л полезного пространства, что для автомобилей этого класса давно стало негласной нормой.
Технические характеристики Fiat 124 Spider Abarth 2017
Вместо 1,4-литрового 140-сильного турбо-бензиновика, которым агрегатируется стандартная версия Fiat 124 Spider, заряженная модификация от тюнинг-ателье Abarth комплектуется 1,4-литровым MultiAir-турбодвигателем, генерирующим 170 «кобыл» и 250 Нм крутящей тяги. В результате разгон от 0 до 100 сократился до 6,8 сек. (минус 0,7 сек.), а максималка возросла с 215 до 230 км/час.
Удивительно, но прирост мощности практически не сказался на аппетите родстера, расход топлива которого в комбинированном режиме варьируется в пределах 6-6,5 л на каждые 100 км трассы. Пару новому турбомотору может составлять либо6-диапазонная механическая КПП либо 6-диапазонный «автомат» Sequenziale Sportivo с возможность переключения передач посредством подрулевых лепестков.
В основе «горячей» версии Abarth лежит хорошо знакомая по Mazda MX-5 заднеприводная тележка. Масса автомобиля составляет всего 1060 кг, причём благодаря продуманной компоновке производителю удалось добиться её развесовки по осям в соотношении 50:50. Согласно заявлениям производителя, ходовая Фиат 124 Spider Abarth 2017 была полностью перенастроена, что вместе с установкой специального комплекта подвески Bilstein позволило добиться эталонной управляемости. Помимо этого, заряженная модификация получила спортивную тормозную систему Brembo, самоблокирующийся дифференциал и спортивную систему выхлопа.
Рулевое управление дополнено электрическим усилителем, наделившим рулевое колесо большей тяжестью, чем это сделано в японском брате-близнеце Mazda MX-5. В результате на дороге спорт-родстер ведёт себя более собрано и предсказуемо, даря истинное наслаждение даже при езде по сложным горным серпантинам.
Безопасность 124 Spider Abarth 2017
В направлении безопасности каких-то значимых изменений не произошло. Тем не менее, благодаря наличию запрограммированных зон деформации, специальной защитной рамы и большому количеству современных помощников родстер обеспечивает высочайший уровень безопасности для водителя и находящегося рядом с ним пассажира. В числе доступных систем безопасности значатся:
Две пары подушек безопасности;
Продвинутая четырёхканальная система ABS и система стабилизации;
Круиз-контроль;
Система, отвечающая за контроль крутящего момента;
Высокоэффективные тормоза Brembo;
Датчики слежения за показателем давления в шинах;
Электронная система контроля и распределения тормозного усилия;
Противотуманные и ходовые LED-огни;
Парковочный «помощник»;
Помощник при начале движения под горку;
Камера задней обзорности;
Трёхточечные ремни безопасности и многое другое.
В результате компактных спорт-родстер обеспечивает практически аналогичный уровень безопасности, как и его более крупные соседи по цеху.
Комплектация и актуальный ценник Фиат 124 Spider Abarth 2017 года
На внутреннем рынке Европы цена специальной версии Fiat 124 Spider Abarth стартует с отметки в 40 000 евро (2,699 млн. руб.), в то время как для американского потребителя автомобиль доступен по цене от 28,2 тыс. долларов.
К сожалению, на текущий момент 124 Spider Abarth, как и обычный 124-й, официально не представлен в России. Впрочем, и в ближайшем будущем вероятность выхода моделей на отечественный рынок близка к нулю, что обусловлено не только высокой стоимостью, но и небольшой популярностью автомобилей Fiat среди российских автовладельцев.
Комплектация «заряженной» модификации включает в себя:
Легкосплавные «катки» R18 с эксклюзивным дизайном;
Специальный спортивный обвес;
Отделку салона натуральной кожей и алькантарой;
Окрашенный в красный цвет спидометр;
Подвеску от Bilstein;
Специальные спортивные накладки на педали из алюминия;
Спортивную выхлопную систему;
Тормозную систему от Брембо;
Адаптивную LED-оптику и ходовые огни;
Противотуманные огни;
Аудиосистему BOSE с 8 динамиками (два из которых расположены в подголовниках);
Мультимедийный центр Fiat Connect 7 с 7-дюймовым мультитач экраном;
Климатический контроль на 2 зоны;
Систему подогрева передних кресел и зеркал;
Парковочный «помощник»;
Две пары подушек безопасности;
Систему мониторинга за давлением в шинах;
Помощник при начале движения под горку;
Круиз-контроль;
4 –канальная ABS и система ESP;
Безключевой доступ в салон;
Фирменную навигационную систему и поддержку беспроводного протокола Bluetooth;
Ремни безопасности с 3-точечной фиксацией;
По-спортивному настроенную подвеску и многое другое.
Отдельно заметим, что специально для версии «Abarth» производитель предлагает 5 эксклюзивных расцветок кузова, а также ряд фирменных аксессуаров.
Заключение
Заряженная версия Fiat 124 Spider Abarth предназначена для истинных ценителей прекрасного, которые, помимо стильного внешнего облика, высококачественной технической начинки и эргономичного салона, желают получить максимальное удовольствие от управления автомобилем. Правда, чтобы стать обладателем этого шедевра, потенциальному покупателю придётся заметно раскошелится.
Видео обзор Fiat 124 Spider Abarth 2017:
Abarth 124 Spider 2017 Review
Can Abarth's Mazda-based roadster beat the MX-5 at its own game? The answer is yes.
What's it all about?
Take a look around in traffic, any day of the week, and I'm sure you'll spot a Mazda MX-5. In fact, I'm sure you'll spot a brand new MX-5. Maybe even two, or three! But just how many Abarth 124 Spiders have you seen in your travels? None? Me either.
That's the problem with the largely badge-engineered Italian remake of the world's most popular roadster. It isn't, at all, popular.
Granted it hasn't been on sale for as long as its arch nemesis, but I still reckon I saw more ND-series MX-5s in the first weeks of its local sale than I have of the 124 Spider since it was launched in October 2016. VFACTS says just 218 examples of the 124 Spider have been sold since its debut, against 548 MX-5s in the same period.
And there are other reasons the 124 Spider should sell better than it has. It's more powerful. It handles better. It stops better. And, it sounds better – a lot better!
It's also got a swag of sporty mechanical extras that can't be had at Camp Mazda – not even if you beg. Items like Brembo brakes, Bilstein shocks and stiffer springs, Recaro seats, strut brace, a proper mechanical limited-slip diff (okay, manual MX-5s get that too), and an exhaust system worthy of a sporty two-seat roadster are all standard.
Kinda makes you wonder why there isn't a queue at the Abarth dealership door…
How much will it cost?
Right, so it's more expensive than the MX-5. But it's also quicker – 0-100km/h in 6.8sec, 0.5sec faster than the Mazda – thanks to a more powerful engine and revised gear and final drive ratios. And it gets all that extra 'stuff' we just mentioned, and is more fuel efficient. Right there is reason enough to hand over your hard-earned.
The Abarth 124 Spider starts at $41,990 for the six-speed manual and $43,990 for the self-shifter. By comparison the MX-5 range starts at $33,340 for the 1.5-litre manual soft-top and tops out at $45,890 for the 2.0-litre automatic Retractable Fastback. Any way you look at it, the Abarth is a competitive option.
Abarth offers the 124 Spider with a three-year/150,000km warranty, three years' roadside assistance and 12-month/15,000km service intervals. Comparatively, the Mazda arrives with a three-year/unlimited kilometre warranty, no roadside assistance package and 12-month/10,000km service intervals.
Why should/shouldn't I buy it?
The 124 Spider's turbocharged 1.4-litre engine makes 125kW/250Nm – or 7kW/50Nm more than the normally-aspirated 2.0-litre MX-5. It's the torque rush that makes the difference here, giving the Abarth stronger drive from the bends and better in-gear acceleration.
Okay, there's a little turbo lag if you're lazy on the downshift, the MultiAir Turbo engine sleepy under 2500rpm. Keep the engine in its sweet-spot (say 2500-6000rpm), however, and it rewards with brisk acceleration, perfect for overtaking or a weekend gallop down your favourite winding back road.
It's also a sweet little corner carver. The electrically assisted steering is dutifully accurate and crisp in its communication to the driver. Turn-in is sharp, the double wishbone front/multi-link rear suspended chassis far quicker to tackle the body's weight as it transfers than the MX-5, giving greater reassurance to the driver and, in turn, faster cornering.
There's far less pitching under brakes, too, and the Brembos offer substantially stronger stopping power than provided by the Mazda. The 124 Spider feels sharper, more responsive and better equipped to handle higher tempo driving, even if it is a fraction stiffer over the rough stuff.
When is it available in Australia?
As we noted at the top of the yarn, the Abarth 124 Spider has been on sale since October 2016. Supply is strong, with dealers at the ready to put the wind in your hair.
We should point out that Mazda, too, has no issues with stock of its MX-5.
Who will it appeal to?
Anyone chasing a roadster with a little extra sporting character is bound to be enticed by the 124 Abarth. It's got the wind-in-your-hair thrills and the performance to match.
The extra space in the boot makes it a more realistic proposition for weekends away, though the cabin remains as tight as the MX-5's, along with the contortionist-only cup-holders and rear-centre storage box (there's no glove-box or door pockets).
The 124 Spider also comes as standard with a reversing camera, (over sensitive) blind-spot monitoring, heated seats and sat-nav, and a sportier-look steering wheel, dash-top pad, tachometer, pedals and seats.
On the downside it doesn't have the option of a folding hard-top a la MX-5 RF. Granted the manually operated soft-top is light and easy to use, but the added quiet and security of the electrically operated composite roof is a bargain for the money – and it looks pretty good too!
We also found the odd-numbered speedometer increments (0, 30, 60, 90, 120 etc.) hard to read at a glance.
Where does it fit?
It's really hard to discuss the 124 Spider without mentioning the MX-5.
Realistically, they're each other's own worst enemy.
They're also both terrific cars. But the Abarth does offer something else the Mazda doesn't. Measuring 4054mm long (+139mm), 1740mm wide (+5mm) and 1233mm high (+3mm), the 124 Spider looks and feels like a bigger car. The wheelbase is unchanged, of course (2310mm), but that extra body length does mean there's more cargo space to be had; the Abarth offers 140 litres against the Mazda's 130.
That does, however, make the Abarth a little heavier, but only just. According to the spec sheets there's just 95kg in it, the 124 Spider tipping the scale at 1100kg (tare, manual).
Otherwise, there's really little else at this price point the Abarth or the Mazda are up against. If you forego the folding roof there is the Toyota 86 and Subaru BRZ. But c'mon, the folding roof is half the fun!
So, what do we think?
As an MX-5 owner it kind of hurts to admit the Abarth is a better convertible sportscar.
From the dealership floor it's a car that's far better equipped for sporty driving, the engine, brakes and chassis all delivering substantially stronger performance for not a lot more coin.
If Mazda moved to offer the Brembo brakes and Bilstein shocks it sells in other markets locally the MX-5 might stand a chance – but that still leaves the engine, and the 124 Spider has it on this front, too.
Abarth has a winner on its hands here. It's taken the MX-5 formula and, for sporty drivers, made it what it should have been all along – and for $42k I can't think of another car that's as engaging, or as much fun to drive, as this one. Winner!
2017 Abarth 124 Spider pricing and specifications:
Price: $41,990 (plus on-road costs)
Engine: 1.4-litre four-cylinder turbo-petrol
Output: 125kW/250Nm
Transmission: Six-speed manual
Fuel: 6.5L/100km (ADR Combined) / 8.6L/100km (as tested)
CO2: 150g/km (ADR Combined)
Safety Rating: N/A
2017 Fiat 124 Spider Abarth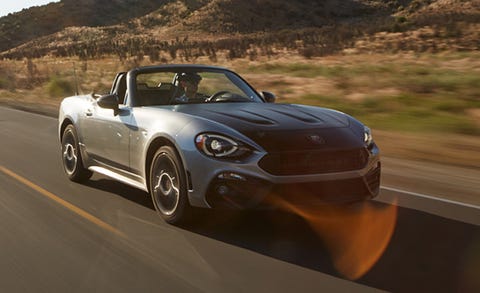 Go ahead, write off the new 2017 Fiat 124 Spider two-seat roadster as a Mazda Miata wearing Italian rally drag. After all, this revivified 124 Spider is made in Japan, by Mazda, alongside the MX-5 Miata, and it shares with it most every structural and general mechanical design. That this Abarth version has a limited-slip differential and four more horsepower than a regular 124 Spider squeezes out of its Fiat-made, 1.4-liter turbocharged four-cylinder doesn't change the fact that there's a lot of Miata substance here.
But then there's the Aurelio Lampredi factor. It's Lampredi's 22-year-long legend as chief engineer at Fiat that the 2017 124 Spider Abarth must contend with. Lampredi, who drew up Ferrari racing engines in the early 1950s and joined Fiat in 1955, designed the Fiat Twincam four-cylinder engine that powered all the original 124 Sport Spiders from the first 1967 model until the last one left production in 1985 as the Pininfarina Spider. And Lampredi was running the Abarth racing division when it campaigned the original 124 Spider Abarth Rally in competition between 1972 and 1975.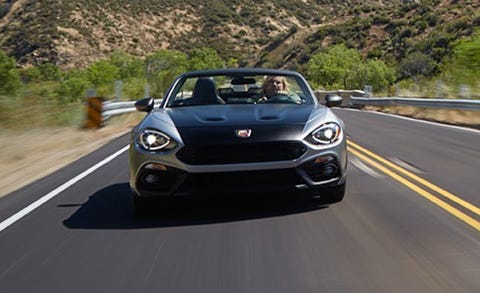 Lampredi's spirit inhabited the original 124 Spider, from the way that Twincam engine revved to how the five-speed transmission shifted—and that the four-wheel disc brakes almost nearly always stopped the car. It had a distinct character that could practically be seen in how the Veglia gauge needles danced, and the raw 90 horsepower (in '67) snort of its exhaust. And the Abarth version was good enough to win the 1975 European Rally Championship.
Italian-Adjacent Tailoring
The new 124 Spider Abarth's appearance has a swagger to it that's missing from lesser 124 Spiders. Most of that machismo stems from its more open, darker-colored lower grille opening and the "gunmetal" finish on the side mirrors and roll bar. The test car featured the optional ($1995), hand-painted (!) matte black hood and trunklid to give it more of a competition vibe, though it does inspire questions about how to wax the car.
A big fail are the ridiculously large, cheap-looking "Abarth" scorpion badges on the nose and trunklid. They've got all the subtlety of plastic WWE championship belts from the bargain bin at Toys 'R' Us. It's a design misstep that borders on inexplicable.
With better-padded door panels and more shiny bits on the dash (such as the vent rings), the 124 Spider Abarth's interior looks a bit nicer than the Mazda's cockpit. Beyond that, the Abarth was equipped with $1195 worth of Recaro seats covered in a faux sort-of suede that Mazda doesn't offer. For the narrow of butt, these Recaros are fantastic. For those with wider tails, however, well, at least the standard seat upholstery has horizontal ribs in the traditional Italian style.
Starting at $29,190 including a $995 destination charge, the tested 124 Spider Abarth had every option except an automatic transmission ladled onto it. That brought the total price to $37,870.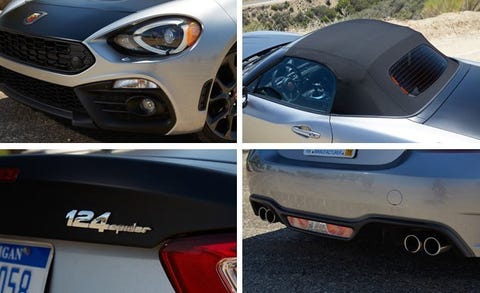 Fiat's old Twincam four was a rev-happy little thing that made a wonderful sound and produced practically no torque. It bore more resemblance to the original Miata's 1.6-liter engine than it does to Fiat's new MultiAir turbocharged four, which revs only reluctantly, makes practically no sound at all, but produces gobs of torque from off-idle to the 6500-rpm redline. The original's European 1.4-liter Twincam made 90 horsepower while the new 1.4-liter MultiAir turbo engine is rated at 164 horsepower.
Actually, there is a nice resonant noise coming out of the four exhaust outlets. But it's still impossible to drive any car while standing behind it, so this bit of aural theater is lost on the driver.
Mangia Torque
Because the Abarth's turbo engine rates at 184 lb-ft of peak torque compared with the Miata's naturally aspirated 2.0-liter four's measly 148 lb-ft, the 124 Spider uses the six-speed manual transmission from the previous-generation Miata to handle the load. It's still good in the Fiat—short, quick throws, precise gating, and the subtle feel of gears meshing that rises up through the boot around the awkwardly blocky knob. But the current Miata gearbox feels better still.
It takes a slight moment for the turbo to spool up, and then it tips in rather than hitting hard. There may be four more horsepower in the Abarth than the regular 124s, but that quartet of ponies, product of the "sport-tuned exhaust," can't really be felt.
By historic small-roadster standards, the 124 Spider Abarth's swift 6.7-second zero-to-60-mph time and 15.1-second tarantella through the quarter-mile at 91 mph is admirable. Back in 1979, C/D included a Fiat Spider 2000 in a six-way sports-car blowout comparison test. By then, the Lampredi Twincam engine had grown to 2.0 liters in displacement and shrunk to 80 emissions-strangled horses. That car took an agonizing 11.2 seconds to reach 60 mph and oozed through the quarter-mile in 18.4 seconds at an awful 76 mph. The Fiat finished that test ranked sixth out of six.
Today's stronger Fiat would've run a close second to the '79 Corvette in acceleration, but it couldn't match the current Miata's performance. In C/D's first test of the 2016 MX-5 Miata, it sped to 60 mph in 5.9 seconds and ran the quarter-mile in 14.6 seconds at 95 mph—0.8 and 0.5 seconds quicker, traveling 4 mph faster than the Fiat at the end of a drag strip. The most frustrating thing about the Fiat MultiAir engine is how unforgiving it can be when hustled. Screw up a shift or bog down in the wrong gear, and the engine loses its turbo edge and goes limp. Our top-gear 30-to-50-mph test found the engine in a hole–it took many long seconds more than the Miata did to complete that task, after which it was fully on-boost and handily outran the Mazda from 50 to 70 mph. In reality, both cars would need a downshift to zip around even the slowest traffic, but this nobody-home sensation is an aggravation that the Miata engine better resists. Atop that, the Mazda makes a more engaging, and louder, sound. This adds a little more fun when you're flinging it, although it can be tiring on extended cruises.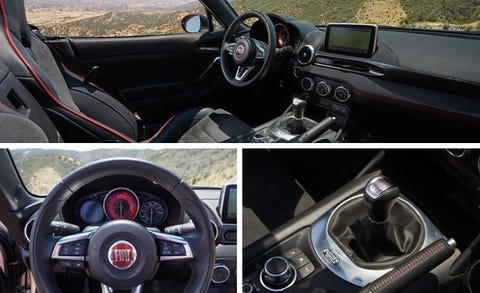 Fiat tunes the 124 Spider Abarth's chassis with a touch of entertaining oversteer. With the driver sitting only barely forward of the rear axle, it's a sweet sensation that makes diving into corners that much more delicious. In contrast, the Miata is a bit more neutral and seems to stick more tenaciously, even as its body leans over more.
Most Miatas and 124 Spiders ride on 17-inch wheels with a fairly narrow 205/45R-17 Bridgestone Potenza S001 summer tire at all four corners, so the differences in feel are attributable to the tuning of the dampers, springs, and anti-roll bars. But the Abarth uses the Potenza RE050A of identical size, a tire Fiat says it chose for better grip and to complement the suspension tuning. The 124 Spider Abarth circled the skidpad at 0.87 g while the Mazda stuck all the way to 0.90 g, which leads us to believe the S001 is actually the grippier tire. Put it all together, and the Mazda has an eager, antsy, on-its-toes readiness, while the Fiat is more settled but ready to romp.
Both cars can be had with sweet Brembo front disc brakes – Fiat charges $1495 for them (Mazda includes the brake upgrade in a $3400 package that also brings BBS wheels, a proximity key, and assorted body add-ons on the Club trim level). The Fiat's 171-foot stops from 70 mph feel great, even as it took 13 feet longer than the Mazda, but it's the fade-free performance while barreling down mountain roads that's most reassuring. Option money well spent, we'd say.
By now, where a car is assembled is almost beside the point. That this is a Fiat made by Mazda in Japan doesn't mean it can't carry forward both the original 124 Sport Spider's styling and its spirit. Italy isn't missing from this Abarth, but Aurelio Lampredi is. The current MultiAir engine simply doesn't have the dramatic, mechanical flair that Lampredi built into his Fiats.
Our ideal 21st-century 124 Spider Abarth would have a naturally aspirated four that spun up aggressively and sang out with a vibrant growl. You know, something like the 2.0-liter four in the Miata, but with lighter rotating and reciprocating internals. Somewhere inside Fiat—er, FCA—there must be an engineer ready to follow Lampredi's example and build that. So get to it.
Specifications
VEHICLE TYPE: front-engine, rear-wheel-drive, 2-passenger, 2-door convertible
PRICE AS TESTED: $37,870 (base price: $29,190)
ENGINE TYPE: turbocharged and intercooled SOHC 16-valve inline-4, iron block and aluminum head, port fuel injection
Displacement: 83 cu in, 1368 cc
Power: 164 hp @ 5500 rpm
Torque: 184 lb-ft @ 3200 rpm
TRANSMISSION: 6-speed manual
DIMENSIONS:
Wheelbase: 90.9 in
Length: 159.6 in
Width: 68.5 in Height: 48.5 in
Passenger volume: 49 cu ft
Cargo volume: 5 cu ft
Curb weight: 2509 lb
C/D TEST RESULTS:
Zero to 60 mph: 6.7 sec
Zero to 100 mph: 18.8 sec
Zero to 120 mph: 31.9 sec
Rolling start, 5-60 mph: 7.6 sec
Top gear, 30-50 mph: 13.6 sec
Top gear, 50-70 mph: 8.1 sec
Standing ¼-mile: 15.1 sec @ 91 mph
Top speed (drag limited): 136 mph
Braking, 70-0 mph: 171 ft
Roadholding, 300-ft-dia skidpad: 0.87 g
FUEL ECONOMY:
EPA city/highway driving: 26/35 mpg
C/D observed: 24 mpg
Used 2017 FIAT 124 Spider
Overview
Reviews
Cars For Sale
Photos
Specs & Features
Safety
Styles
If you're charmed by the romance of the open road as well as open skies, you'll like the 2017 Fiat 124 Spider. Its distinct Italian style, turbocharged engine, slightly softer demeanor, and competitive pricing make it a compelling alternative to the Mazda Miata from which it spawned.
The 124 Spider convertible is undoubtedly fun but for absolutely uncompromised driving thrills, the lighter-weight Mazda MX-5 Miata endures as the gold standard. The 124's limited leg room may be a sore point for those who stand taller than six feet.
What's New for 2017
The Fiat 124 Spider is an all-new model for 2017.
2017 FIAT 124 Spider Expert Review
Derived from Mazda's splendid MX-5 Miata roadster, the Fiat 124 Spider exudes Italian panache thanks to a Fiat-designed turbocharged engine and a conspicuously reworked exterior. Shaped to recall the classic 124 Spider of the 1960s, the modern Spider has a friendlier aura than the hard-edged Miata. That friendliness permeates all aspects of the 124 convertible, including ride comfort, interior quality and cabin noise. The result is a joyful sports car well-suited for the kind of adventures that inspire otherwise practical car buyers to choose convertibles. Yet in the right hands Fiat's drop-top ably out-handles much pricier cars. The Mazda MX-5 Miata, Mini Cooper Convertible and Volkswagen Beetle convertible have their strengths but for value-priced, sun-drenched Italian charism, the Fiat 124 Spider is unrivaled.
Among cars, weight is the enemy of performance and fun; and yet, despite weighing roughly 100 pounds more than the svelte Mazda Miata on which it's based, the Fiat 124 Spider remains utterly fulfilling to drive. Light steering efforts give the Fiat Spider a relaxed feel well-suited for enchanting jaunts over the hills and past the sea. Quicken the pace and Fiat's roadster reveals itself as a playful dance partner. Integral to the Spider's distinctive character is a 1.4-liter turbocharged engine that produces more power than the Mazda Miata's naturally aspirated engine. Extra power is great but the turbo's lag-and-surge power delivery makes us pine for the precise throttle of the Miata. With the Spider's top down, airflow around the cabin is well-controlled, ever so slightly tousling the driver's hair. Raise the top and interior noise is hushed enough for comfortable conversations and commutes.
CONVERTIBLE TOP
The manually operated soft-top can easily be dropped or raised with one hand in a matter of seconds. With such simple operation, there are zero reasons not to let the sun irradiate you if you're in the mood.
SOUND DEADENING
All true driving fans love the Mazda MX-5 Miata but long drives can be fatiguing due to its loud cabin. The Fiat 124 Spider addresses those concerns with an acoustic windshield, thicker rear glass and extensive sound insulation making it the smart choice for protracted road trips.
Board the 2017 Fiat 124 Spider and you're greeted by piano-black accents, Leatherette trim and inviting leather seats…assuming you've selected the luxurious Lusso trim. The cloth-seat-equipped Classica trim is less lush but still a fine perch to enjoy the world as it passes by. Sporty yet tasteful the Spider's cabin is sized like a fitted shirt, with just enough room to breathe and stretch. Top-up headroom is actually quite good, even for taller passengers, but limited legroom is a legitimate concern. And boy, it'd be lovely if the steering wheel telescoped to accommodate more varied driving positions.
The 2017 Fiat 124 Spider has been meticulously sculpted to recall the classic 124 Spider of the 1960s. To achieve that look Fiat's design team overlaid thoroughly massaged bodywork, square taillights and round headlights onto the Spider's Mazda-derived platform, culminating in a 4-inch-longer roadster. Helping drive home the Spider's Italian heritage are outrageously Italian paint names including Bianco Gelato (white) and Rosso Passione (red). Drivers who relish visual aggression will find plenty of it in the 124 Spider Abarth, whose unique fascias, 17-inch gunmetal wheels, and optional $1,995 black-painted hood and trunk make it look positively furious.
Nab a basic 124 Spider Classica and you'll enjoy push-button engine start, cloth seats, 16-inch wheels, air conditioning, a 4-speaker audio system with Bluetooth, and four airbags. The Lusso trim adds 17-inch wheels, heated leather-trimmed seats, Leatherette dash trim, automatic climate control and keyless vehicle access. Despite being the raciest Spider in the lineup the Abarth trim only produces four horsepower more than the Classica and Lusso but it does include a sport suspension, limited-slip differential and charmingly aggressive exterior tweaks. Missing from all trims is a spare tire. The included tire-repair kit helps maximize trunk space.
Optional on the least expensive Classica trim is a $1,295 "Technology Collection" that adds the 7-inch infotainment screen, rearview camera and keyless vehicle access included as standard equipment on higher Spider trims. Go with the more expensive Lusso or Abarth trims and you're free to select handy add-ons like rear parking sensors, navigation, adaptive headlights, rear cross-path detection, blind-spot warning, and a 9-speaker Bose audio system with a sub-woofer and speakers in the headrests. Reserved for Abarth buyers are optional Recaro seats shod in leather and Alcantara or high-performance Brembo brakes.
Helping differentiate the Fiat 124 Spider from its Mazda Miata sibling is its engine, a Fiat-built 1.4-liter turbocharged MultiAir 4-cylinder. Famous for making the Fiat 500 Abarth sound so darn angry, this is the engine's first rear-wheel-drive application. In this context the 1.4-liter gives the Fiat a slight horsepower advantage versus the Miata but a major advantage where torque is concerned. Ushering power from the engine to the rear wheels in all trims is a standard 6-speed manual transmission or an optional $1,350 6-speed automatic. With a wonderfully short shifter and the ability to slip the clutch, enabling much quicker off-the-line acceleration than the automatic, we definitely prefer the manual gearbox.

1.4-liter turbocharged inline-4
160 horsepower @ 5,500 rpm (164 horsepower @ 5,500 rpm in Abarth)
184 lb-ft of torque @ 3,200 rpm
EPA city/highway fuel economy: 26/35 mpg (manual), 25/36 mpg (automatic)
View the Fiat 124 Spider as a fancied-up Mazda Miata and you might expect a premium price but that's not the case. A manual-equipped Spider Classica glides in at $25,990 including destination; just $290 higher than a base Miata. Meanwhile, the $2,500-pricier Lusso trim offers leather seating at a much lower price than the Miata Grand Touring, while the performance-focused Spider Abarth slightly undercuts the similar Miata Club trim. If seating for more than two sounds like a good idea, both the Mini Cooper Convertible and Volkswagen Beetle Convertible can be had for less than $27,000. Before you buy, be sure to check the KBB Fair Purchase Price to see what others are paying for the Fiat 124 Spider in your area. It's also worth noting that resale values for the Fiat brand have historically skewed lower than average, which could affect the 124 Spider's long-term cost to own.
Car Review: 2017 Fiat 124 Spider Abarth
Pasta and sushi don't usually go together, but that's not the case with the Fiat 124 Spider Abarth
OVERVIEW
From a culinary standpoint, the pairing of a pasta dish with sushi doesn't, gastroenteritis-ly speaking, appear all that appetizing. And, from an automotive standpoint, an Italian/Japanese mash-up has the potential to go sideways very quickly.
Occasionally, however, such a seemingly disparate coupling ends well, as is the case with the Fiat 124 Spider. Though some wags have labelled the two-seat roadster with the "Fiata" moniker, such condescension is too harsh by half. Yes, there is much fourth-generation Mazda MX-5 throughout the 124, but Fiat certainly contributed more to the sports car than the badges — the turbocharged engine primarily, but also some suspension bits. Plus the styling, which pays homage to the original Pininfarina-designed 124 Sport Spider — produced from 1966 to 1985 — while also providing the car with a little more length and cargo room than its Mazda sibling.
And, oh joy, oh bliss, what a lovely stretch of weather in which to test the droptop, as fall takes over from summer; ball cap, sunglasses and sunscreen a must. Furthermore, the roadster is the Abarth edition ($37,995 to start), a performance-oriented version that purports to continue the legacy of Carlo Abarth — the Austrian/Italian version of Carroll Shelby — who steroided Fiats with all sorts of go-fast bits, giving them giant-killer status on race tracks and hillclimbs during the 1950s and 1960s. His company was sold to Fiat in 1971.
2017 Fiat 124 Spider Abarth
2017 Fiat 124 Spider Abarth
2017 Fiat 124 Spider Abarth
2017 Fiat 124 Spider Abarth
2017 Fiat 124 Spider Abarth
2017 Fiat 124 Spider Abarth
2017 Fiat 124 Spider Abarth
2017 Fiat 124 Spider Abarth
2017 Fiat 124 Spider Abarth
2017 Fiat 124 Spider Abarth
2017 Fiat 124 Spider Abarth
2017 Fiat 124 Spider Abarth
2017 Fiat 124 Spider Abarth
2017 Fiat 124 Spider Abarth
2017 Fiat 124 Spider Abarth
2017 Fiat 124 Spider Abarth
At first blush, the Abarth version appears to be a lot of hype with little reward. The MultiAir 1.4-litre turbocharged four-cylinder, residing under the hood of all 124s, sees a mere four horsepower increase to 164, thanks to the Abarth's freer-flowing sport exhaust. It matters not a whit; the 124, like the Miata on which it's based, is about intimate driver/car interaction, the kind only a lightweight (1,124 kilograms, in the case of the Abarth) sports car provides.
Though the regular 124 is slightly more relaxed than the MX-5, the Abarth's performance suspension — with sport mode selector — evens things out. So this car knows how to rock and roll — zippy rather than fast, yet cornering with gleeful abandon thanks to the front strut tower bar and Bilstein shocks keeping body roll under control. It's also an absolute joy to shift, the 124 using the six-speed manual not from the current MX-5, but from its predecessor, the third-generation NC. Apparently, the NC's box is more robust and better suited to handle the extra torque supplied by the turbocharged engine – 184 lb.-ft. for the 124, versus the Miata skinny 148 lb.-ft. As an owner of an NC Miata, I can say the manual is simply one of the best in the business, maybe second-only to that of the late and lamented Honda S2000.
More importantly, since I lack much objectivity when it comes to the Miata, the 124 Abarth is a better driving sports car. The turbo-four is the answer to what the MX-5 faithful have been clamouring for years since the demise of the NB-series Mazdaspeed Miata — more power courtesy of a turbocharged engine. Sure, the 1.4 could use a little more displacement — with a consequent bump in ponies to, say, around 180 horsepower. Maybe the MX-5 would prove superior on a racetrack, but on the road, the Abarth is so damned easy to drive smoothly. Power comes on much quicker — credit the turbo four reaching peak torque at 3,200 rpm versus 4,600 rpm for the Miata's naturally aspirated 2.0-litre engine. The sport-tuned exhaust system has a rich tonal quality to it, though I'd prefer a little more rasp; a ballsier auditory accompaniment to enhance the visceral driving experience.
Despite the firmer suspension (double-wishbone layout in front and a multi-link in the rear), the Abarth's ride seems to be little easier on the spine as well, though neither it nor the Miata provide anything approaching pillowy. Grip from the speed-rated Bridgestone Potenzas is quite good, especially considering the P205/45VR17 rubber would be considered under-tired by the more hardcore sporty types out there. The standard limited slip differential also helps in getting power to the pavement.
The Abarth's cabin reflects form following sports car fashion. There is the black leather-wrapped steering wheel, wrapped instrument cluster hood, lower instrument panel and parking brake —all with contrasting red stitiching. A matte black instrument panel bezel, unique gauges, aluminum-accented sport pedals and a unique shift knob help to differentiate the Abarth model. Unique leather/microfibre seats are standard; as someone who is 6-foot-2, I fit comfortably behind the steering wheel — just! Another inch longer in leg and it would be a different proposition. Also, legroom is considerably less generous for the passenger due to transmission tunnel intrusion into the footwell.
My biggest complaint with the tester was the number of options that jacked the price to $47,585, almost all of them superfluous and adding nothing to driving enjoyment. The most egregious example is the $2,995 wanted for the "hand-painted" matte-black, heritage racing stripe — a nod to the Abarth 124 Rally of the early 1970s — that covers the hood and rear decklid. Cool as it is, you could probably get a body shop to paint the hood and lid for far less. Then there's the $5,000 Luxury Collection that upgrades the interior with sport bucket seats, GPS navigation, a better audio system, rear park assist, blind-spot monitoring and a bunch of other stuff. Fine if you want it, but I'd give it a pass.
2017 Fiat 124 Spider Abarth
Ultimately, there are two questions at play here. The first is whether the 124 is just an MX-5 in a classier, low-slung body. The second is whether there's enough to the Abarth to justify a price $4,500 more than the regular 124.
The first is easy. The Abarth was the recipient of more positive reactions from passersby, whether thumbs up or shout outs, than any other car I've driven all year. Simply, it is one good-looking convertible, a unique presence on the streets.
The second is tougher. If you are big on a car's heritage, then the added cachet of the Abarth's scorpion badges might be worth the extra coin. If not, there's little wrong with the regular 124. Both are toys — as is the Miata — that do one thing best; make you feel as though there's not a care in the world. And you can't put a price on that.
2017 FIAT 124 Spider
#1 in 2017 Affordable Sports Cars
Search Used Listings
Enter your zip code to search used 124 Spider listings in your area.
$18,212 — $21,468 Avg Price Paid
$24,995 — $28,195 Original MSRP
2017 FIAT 124 Spider Review
Other Years:
2020
|
2019
|
2018
|
2017
With agile handling, supportive seats, and a good predicted reliability rating, the 2017 Fiat 124 Spider sits near the top half of our sports car rankings. However, this two-seater will leave tall folks feeling cramped.
Pros & Cons
Athletic handling
Good fuel economy
Above-average predicted reliability rating
Tight seats for tall people
New for 2017
See all New for 2017
Features & Specs
Rankings & Awards
The 2017 FIAT 124 Spider's #1 ranking is based on its score within the 2017 Affordable Sports Cars category. It was the winner of our 2017 Best Sports Car for the Money award. Currently the FIAT 124 Spider has a score of 8.4 out of 10, which is based on our evaluation of 12 pieces of research and data elements using various sources.
Scorecard
2017 124 Spider Photos

2017 FIAT 124 Spider Overview
Is the 2017 Fiat 124 Spider a Good Used Car?
The 2017 Fiat 124 Spider is definitely a good choice if you're in the market for a sports car. In fact, we named this drop-top roadster our 2017 Best Sports Car for the Money for its combination of value and quality.
As one of the most fun-to-drive vehicles in the class, the 124 Spider boasts sporty handling and precise steering. It also has good gas mileage estimates and an above-average predicted reliability rating. That said, tall passengers might feel cramped in this roadster.
Why You Can Trust Us
To give you a complete overview of the 2017 124 Spider – and make your car-shopping experience easier – we analyzed 12 Fiat 124 Spider reviews alongside reliability ratings, safety scores, and more.
U.S. News Best Cars has been ranking and reviewing vehicles since 2007, and our crew has more than 75 years of combined experience in the auto industry. To ensure our objectivity, we do not accept expensive gifts from carmakers, and an external company manages the ads on our site.
How Much Is the 2017 Fiat 124 Spider?
Based on over 150 listings on our site for the 2017 Fiat 124 Spider, prices range from $18,800 to $26,400. The average list price is $23,000. Prices vary depending on the vehicle's condition, mileage, features, and location.
How Much Does the 2017 Fiat 124 Spider Cost to Own?
The 2017 Fiat 124 Spider's estimated five-year costs for fuel, insurance, maintenance, and repairs are about $25,720. By comparison, five-year cost estimates for the 2017 Mazda MX-5 Miata are roughly $23,140, and 2017 Ford Mustang's are $27,750.
Is It Better to Buy a Used or New 124 Spider?
Fiat made no major changes to the 2018 124 Spider, so we recommend opting for the practically identical and cheaper 2017 model.
The 2018 Subaru BRZ's starting price is almost $2,600 higher than the 2017 Fiat 124 Spider's average price. The base BRZ has a naturally aspirated four-cylinder engine, responsive handling, seating for up to four, and a little more trunk space.
Which Model Year of the Fiat 124 Spider Is Best?
After a hiatus of over three decades, the Fiat 124 made its return for the 2017 model year.
How Reliable Is the 2017 Fiat 124 Spider?
The 2017 Fiat 124 Spider has an above-average predicted reliability rating of 3.5 out of five from J.D. Power.
2017 Fiat 124 Spider Recalls
At the time of this writing, the 2017 Fiat 124 Spider has no safety recalls.
Which Used Fiat 124 Spider Model Is Right for Me?
The 2017 Fiat 124 Spider comes in three trims: Classica, Lusso, and Abarth. In terms of features, the base Classica trim is pretty limited with a four-speaker audio system, a 3-inch display, Bluetooth, a manual soft top, a leather-wrapped shift knob, and remote keyless entry.
Consider the Spider Lusso trim if your budget allows. It comes with a 7-inch touch-screen display, HD Radio, a control knob for the infotainment system, heated leather-trimmed seats, a rearview camera, automatic climate control, rain-sensing windshield wipers, automatic headlights, and fog lights.
The Abarth trim offers the most athletic performance of the 124 Spider lineup. It produces a little more horsepower, and it has a performance suspension system for a more engaging ride and improved handling. Inside, the Abarth features a sport steering wheel and leather-trimmed sport seats.
What Does Fiat's Certified Pre-Owned Warranty Cover?
Fiat offers a certified pre-owned program for vehicles five years old or less and with fewer than 75,000 miles. Eligibility is determined by the vehicle's initial sale date. For its certified pre-owned vehicles, Fiat extends the original new-car powertrain warranty to seven years from the original sale date or 100,000 miles. CPO vehicles also get a three-month/3,000-mile Maximum Coverage Care warranty. Additional benefits are available, including a 90-day SiriusXM satellite radio trial subscription, a CarFax vehicle history report, 24-hour towing and roadside assistance, and a car rental allowance. There are mileage and model restrictions, so read the Fiat warranty page carefully.
Fiat has one of the worst CPO programs among affordable carmakers, according to our analysis. Kia, Hyundai, Chevy, Ford, Honda, and Mazda are all better.
How Safe Is the 124 Spider?
The Insurance Institute for Highway Safety and the National Highway Traffic Safety Administration did not perform crash safety tests on the 2017 Fiat 124 Spider. Available safety features include a rearview camera, rear parking sensors, rear cross traffic alert, and blind spot monitoring.
2017 Fiat 124 Spider Versus the Competition
Which Is Better: 2017 Fiat 124 Spider or 2017 Mazda MX-5 Miata?
The 2017 Mazda MX-5 Miata and the 124 Spider share the same platform. Although these two-seaters offer similar space and fuel economy, they have different engines, suspensions, and styling. The Miata feels more engaging around turns, and the 124 Spider's smoother ride makes it more of a touring sports car. Test drive both to see which one matches your driving style.
Which Is Better: 2017 Fiat 124 Spider or 2017 Ford Mustang?
The 2017 Ford Mustang is another highly ranked sports car. Its potent engines all produce much more power than the 124 Spider's lone power plant. Ford's pony car also offers more passenger and cargo space than the Fiat. That said, the 124 Spider is a better option if you're looking for adept handling, a lower average list price, and good fuel economy. These two are pretty close in our rankings, so pick the one that matches your priorities.
2017 124 Spider Performance
How Does the 2017 Fiat 124 Spider Drive?
A 160-horsepower, turbocharged four-cylinder engine powers the 2017 Fiat 124 Spider. Despite some turbo lag, this little Italian two-seater scoots around with ease. Abarth models are equipped with the same engine, but they squeeze out an additional 4 horsepower. All models come standard with rear-wheel drive. A six-speed manual transmission delivers precise shifts, and the available six-speed automatic transmission helps reduce turbo lag.
Does the 2017 Fiat 124 Spider Get Good Gas Mileage?
The 2017 Fiat 124 Spider delivers 26 mpg in the city and 35 mpg on the highway with the manual transmission and 25/36 mpg city/highway with the automatic transmission. These are great ratings in the class.
2017 124 Spider Interior
How Many People Does the 2017 124 Spider Seat?
The 124 Spider's stylish cabin has seating for two. The seats are comfortable, but taller passengers may wish for more room. Cloth upholstery is standard. Leather upholstery, a leather-wrapped steering wheel, and heated leather-trimmed sport seats are available.
2017 Fiat 124 Spider Features
Standard features include a 3-inch display, a four-speaker audio system, and Bluetooth. The top trims offer features like push-button start and an infotainment system with a control knob, a 7-inch touch screen, a nine-speaker premium audio system, HD Radio, and satellite radio. The 124's available infotainment system is essentially the same as the one in the Mazda Miata.
2017 Fiat 124 Spider Dimensions
Fiat 124 Spider Cargo Space
There's 4.9 cubic feet of trunk space in the 124 Spider. That's enough space for a few grocery bags, and it's a little more room than the Mazda Miata offers.
2017 124 Spider Length and Weight
The 2017 Fiat 124 Spider is approximately 13.3 feet long. Its curb weight ranges from 2,430 to 2,520 pounds.
Where Was the 2017 Fiat 124 Spider Built?
The 2017 Fiat 124 Spider was built in Japan.
2017 Fiat 124 Spider Abarth Review – A Tale of Two Drivers
2017 Fiat 124 Spider Abarth
1.4-liter turbocharged inline-four, SOHC (164 horsepower @ 5,500 rpm; 184 lb-ft @ 2,500 rpm)
Six-speed manual transmission, rear-wheel drive
26 city / 35 highway / 30 combined (EPA Rating, MPG)
9.0 city / 6.7 highway / 7.0 combined (NRCan Rating, L/100km)
27.4 mpg [8.6 L/100 km] (Observed)
Base Price:$29,190 (U.S) / $39,890 (Canada)
As Tested: $30,685 (U.S) / $41,985 (Canada)
U.S. prices include $995 freight charge. Canadian prices include $1795 freight and $100 A/C charge.
I suppose it's a bit like buying a car, but at once more limiting and liberating. Anytime I take the keys of a press vehicle, I must sign a long legal form agreeing, basically, not to be too stupid while driving someone else's car. Invariably, near the top of the form is a serious restriction – that no one other than the person who signs the form is to drive the car.
I find this somewhat limiting. I understand the reasons, but occasionally some input from others can help evaluate the car. Thankfully, I found a loophole while driving the 2017 Fiat 124 Spider Abarth – I asked my 23-year-old self to drive the turbocharged roadster, alongside the current 38-year-old edition.
At twenty-three, I didn't have kids. I had a mortgage on a starter condo with my eventual wife, but the full weight of life's burdens were not yet bearing down upon me. So Young Chris decided not to wait until middle age, and he bought a sports car.
That's why this discussion between Young Chris and Old Chris is an enlightening look at the modern Italian sports car, by way of Hiroshima.
Young Chris: Those patches of gray in your beard seem to perfectly match the Grigio Argento paint on the 124 Spider Abarth, old man. It's an interesting choice for a mid-life crisis. Most guys go for bright red on their last grasp at their youth.
Old Chris: Kid, a mid-life crisis sports-car purchase is limited to those who are trying to capture a youth that they never had – the guy who immediately bought something sensible to drive right out of college. You bought an old Miata at 23.
OC: Indeed, I got plenty of seemingly-knowing looks from other, ahem, mature gentlemen during the week behind the wheel of the Fiat. An older neighbor walked across the street and chatted about the Spider he restored decades ago. A young neighbor similarly wandered by and drooled over the droptop.
YC: All guys, you say. How about the ladies?
OC: The wife (she was your fiancée, you should know her) enjoyed a brief ride. The daughters each rode with me for a long early morning cruise on the twisty backroads of eastern Ohio. Otherwise, no attention from the fairer sex was paid to either myself or the Fiat.
YC: You talk about the drive as if it was torture. I loved rowing through the gears when carving corners in the Hocking Hills. I found that the Fiat 124 Spider Abarth was well balanced at the limit, only transitioning to mild oversteer on corner exit.
OC: "..at the limit?" You didn't take it on the track, you imbecile. I know you're trying to sound like some hack journalist, but you have no idea what the limit is. Except for one corner, you kept the traction control on – mercifully. Your old Miata has but 116 horsepower – 164 in the Fiat, combined with 184 lb-ft of torque and a bit of turbo lag can get your inexperienced ass in serious trouble if you were truly "at the limit."
And, no, driving the Spider wasn't an ordeal. However, on the longish freeway drive to and from the excellent forest roads, the car does show its true nature as a sports car in the wrong way. A short wheelbase makes the typical awful Ohio freeway less than pleasant.
I did note that the air conditioning struggled to keep the interior cool with the top up on very hot days. Once over 90° Farenheit, the black soft top soaked up the heat, and the HVAC couldn't keep up. It's an easy fix, however – drop top, and drive quickly.
The seats are quite comfortable, but have just a bit too much padding, putting my head right into the soft top when it's raised.
YC: Just do what I did on our old Miata – carve foam out of the seat bottom to lower your butt.
OC: Can't do that on a press car, kid. Not something you should do on a new car that's still under warranty, especially when the car is fitted with heated seats. Speaking of which, you should add heating coils to those old chairs in your old Miata.
YC: Never! I'm a hardcore, old-school roadster enthusiast. I've driven it top down in rainstorms. I even researched putting carburetors on the Miata for a better sounding engine.
OC: I stand by my earlier imbecile comment.
YC: I do enjoy the modern stereo, though the click/tilt/turn knob for control wasn't the most intuitive. The interior is small enough that a touchscreen on the dash would never be out of reach. As it sits, it looks like Mazda stuck an older iPad above the HVAC controls.
Oh, and those cupholders are a joke. Either in the passenger's knee, or in the driver's elbow. Neither locations are acceptable.
OC: Strangely, that infotainment system had a funky glitch during my drive. Once, while cruising on the interstate, the entire stereo shut down – the screen went blank, and everything turned off. The car was running fine. After a few minutes of confusion, the system restarted as if the ignition had restarted. It only happened once, but it was disconcerting.
YC: Yeah, that's odd. When the stereo was silent, did you notice a buzzing noise in the car? I know I did.
OC: Yeah, anytime I was driving with the top down over 65 mph, there was a flapping noise stemming from the area immediately behind the passenger headrest. I couldn't tell if it was a seatbelt – though it happened whether the seat was occupied or empty – or if something was loose.
YC: What about the styling? It's basically a Miata with a new nose and tail, right?
OC: Certainly, that's true – but Fiat has done a masterful job of distinguishing the 124 Spider with traditional Fiat styling cues, including the double hump on the hood, and the headlamps that resemble the old sugar scoop with a touch of modernity. While the Miata looks cheerful, the 124's face is a bit more menacing.
YC: Mercifully, one thing not carried over from the original Fiat Spider is the propensity to rust.
OC: Another major difference – this turbocharged four-cylinder engine makes this Italo-Japanese hybrid feel much more like an old British roadster.
YC: Hand me the keys, old man. I'm not sure it's safe for you to drive any longer.
OC: Bear with me. The original Fiat Spider, as well as the modern Miata both have engines that perform best at higher RPMs. The turbo engine in the new 124 Spider, much like the low-revving, long-stroke engines in those MGs and Triumphs, have plenty of low-end torque, but run out of breath at the top end. While the new Fiat has a redline of 6,500 rpm, I found that shifting around 5,500 was plenty.
YC: So, how did the Fiat 124 Spider Abarth perform? You got 0-60 times, right?
OC: Eventually, I did. Getting power to the Racelogic Driftbox was a mystery at first, until I queried the internet. While a pair of USB outlets were fitted below the HVAC panel, the traditional 12v power outlet was nowhere to be found. Turns out it's located in the passenger footwell. I had to feel around, poking fingers in dark places (quiet, kid) until I found the power port. I suppose that Fiat doesn't want anyone lighting cigarettes (or using a radar detector) in their roadster.
After all that, the best time I was able to record was 7.2 seconds to sixty.
YC: Wow, that's not at all quick.
OC: To be fair, I'm no professional driver. Getting clean launches is difficult (and not advised) on public roads. I hate to break it to you, kid, but you won't earn enough to buy your own private test track by the time you're my age.
So, I must ask, Young Chris – would you buy a new 2017 Fiat 124 Spider Abarth?
YC: If I had the money, hell yeah. Too bad I'm like most internet enthusiasts – I'm the guy who swears he will buy a car, but only 10 years later when it's depreciated. Mostly because I have college loans to pay.
What about you, Old Chris?
OC: Honestly, I'm not sure I could live with all of the compromises required by the Spider. The serious lack of interior storage for person and stuff alike is a major turnoff. If my commute were all third-gear backroads in a sunny Southern climate, I'd be all over this – but here in the snowy North, I can't justify it.
It's a brilliant drivers' car, but it's hard to picture this as a daily driver. As a second car, absolutely. Especially as one approaches middle age, this is a superb weekend car.
[Images: © Chris Tonn/The Truth About Cars]