Ford Fusion V6 Sport 2017
2017 Ford Fusion Sport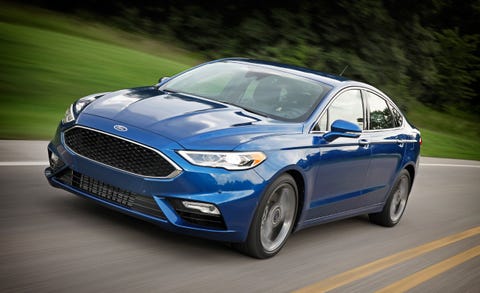 How does any automaker claw its way up the tortuous mid-size family-sedan staircase? Besides getting the basics right—like packaging and technology—power, performance, and driving poise are three P's that most tickle our fancy. Realizing this, Ford aspires to move its Fusion up from the bottom half of the pack with a new Sport package for the otherwise mildly revised 2017 model. Having now driven the Sport, we can say that those who own our favorite mid-sizers—the Mazda 6, Chevrolet Malibu, and Honda Accord—had better watch their mirrors for a black mesh grille closing fast in the passing lane.
Dropping in a 2.7-liter twin-turbo V-6 borrowed from the F-150 and the Edge Sport between the Fusion's front fenders vaults this sedan to 325 horsepower and a husky 380 lb-ft of torque, making it the first modern mid-size family sedan to snap the 300-hp leash. That's an excellent start—but the Fusion development team kept their heads down to deliver a well-rounded package to support the newfound horsepower. The six-speed automatic is a heavier-duty unit controlled by paddles attached to the leather-wrapped steering wheel. Behind that, there's computer-controlled all-wheel drive consisting of the usual front-drive transaxle plus a longitudinal driveshaft and a rear differential engaged on demand by a clutch. The crowning touch is what Ford calls continuously controlled damping. Borrowed from the Lincoln camp, these computer-controlled dampers give the Fusion the legs it needs to run competitively in the sport league.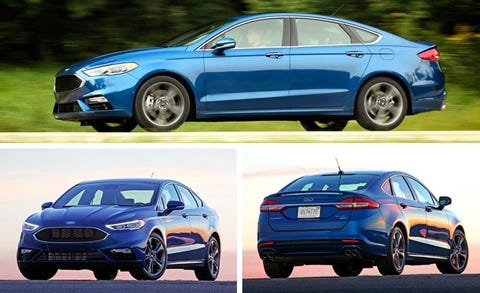 The surge when you indulge the throttle would tax the front tires so much that they'd dissolve in smoke and torque steer if not for the rear rubber pitching in during maximum-demand situations. You can feel this happen and see the torque delivery shift rearward via a handy live pictogram in the instrument cluster. The only downside is that you must relinquish the too-small tachometer gauge to watch the captivating all-wheel-drive plot. We're predicting a 5.3-second zero-to-60-mph run, which would be 0.5 second quicker than our tests of the current-generation Honda Accord V-6 sedan, which packs 278 horsepower.
Smack in the middle of the console-mounted rotary shifter is a magic S button that must be punched for any driving exercise more strenuous than crawling through commuter traffic. When this mode is engaged, half a dozen good things happen. Throttle response sharpens. The soundtrack is artificially enhanced with deeper bass-sax solos. Steering effort rises and the adaptive dampers tighten their control of wheel and body motion. A more aggressive shift program for the transmission is selected and the paddle shifters are given additional authority, though not enough to avoid automatic upshifts at 6000 rpm. The powertrain software does, at least, hold gears through corners and match revs during braking for a tight turn.
The car we drove rode on gray-painted aluminum wheels wrapped with 235/40R-19 Goodyear all-season tires. Their grip was adequate, but we're looking forward to trying the optional summer tires. The electrically assisted steering is nicely calibrated for effort but could be a touch quicker to deal better with the inevitable understeer at the adhesion limit. Ford engineers agreed with us that there's too little feedback from the road to charm serious driving enthusiasts and promised to dial in more feel as soon as they find some means of accomplishing that noble aim.
What impressed us most is how shrewdly the dampers behave to support flat-out driving without wounding the ride a whit. Amazingly, tread-impact noise was noticeably lower with the S mode engaged during our attack of some of our favorite test roads near our Ann Arbor headquarters. While Tokico supplies this hardware, Ford engineers are proud of the software calibrations developed in-house just for this application.
Aside from better steering feel, our wish list includes higher-capability brakes with less pedal travel, some feedback, and more fade resistance. Add to that stiffer seat bolsters so there's something beyond the perforated suede trim to hold you in place when your mood turns sporty.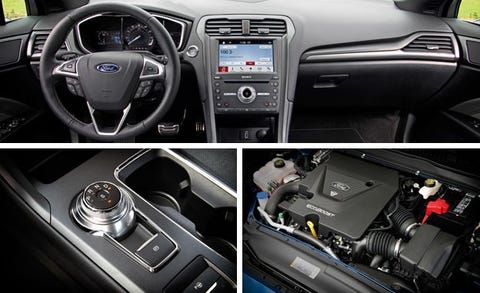 The interior trim is available only in charcoal gray. The Sport décor provides something for everybody—leather, suede, contrast stitching, hard and soft plastics, matte-finished metal, a few chrome touches, and the requisite faux-carbon-fiber accents. One lapse is that there's been no apparent attempt to align the dash-to-door-panel gaps, something we've noticed in a few other Fords we've tested recently. We have no such gripes about the back seat. The cushions are chairlike, you can slide big feet past the rear of the center console, and the center seating position is useful for actual adults.
The Fusion Sport starts at $34,350 and heads expeditiously for $40,000 with navigation, various driver assists, and sparkly paint options. We expect it to succeed in large part because of the upgrades that Ford invested in this mainstream model for the 2017 facelift. In addition to a few discreet exterior touches and LED lighting upgrades, the optional Sync 3 and Sync Connect infotainment systems are smarter than previous iterations and offer both Android Auto and Apple CarPlay connectivity. Buyers new to this category will be impressed by Ford's extensive suite of driving assists, which include pre-collision pedestrian detection, automatic emergency braking, adaptive cruise control, a rearview-mirror camera, blind-spot warning, and automatic guidance into both parallel and perpendicular parking slots.
We applaud Ford for proclaiming the Fusion Sport's elevated performance with quiet touches such as the black mesh grille and four exhaust tips instead of shouting it with RS or ST badges. This is a commendable step in the driving-enjoyment direction that we're confident will lead to even more go in the next-generation Fusion due for the 2019 model year. Now that the 300-horsepower ceiling has been breached, 400 must certainly be within reach.
Specifications
VEHICLE TYPE: front-engine, 4-wheel-drive, 5-passenger, 4-door sedan
BASE PRICE: $34,350
ENGINE TYPE: twin-turbocharged and intercooled DOHC 24-valve V-6, iron and aluminum block and aluminum heads, direct fuel injection
Displacement: 164 cu in, 2694 cc
Power: 325 hp @ 5500 rpm
Torque: 380 lb-ft @ 3500 rpm
TRANSMISSION: 6-speed automatic with manual shifting mode
DIMENSIONS:
Wheelbase: 112.2 in
Length: 191.8 in
Width: 75.2 in Height: 58.2 in
Passenger volume: 106 cu ft
Cargo volume: 16 cu ft
Curb weight (C/D est): 4000 lb
PERFORMANCE (C/D EST):
Zero to 60 mph: 5.3 sec
Zero to 100 mph: 14.6 sec
Standing ¼-mile: 14.3 sec
Top speed: 125 mph
FUEL ECONOMY:
EPA city/highway: 17/26 mpg
Ford Fusion рестайлинг 2016, седан, 2 поколение (01.2016 — 12.2017) — технические характеристики и комплектации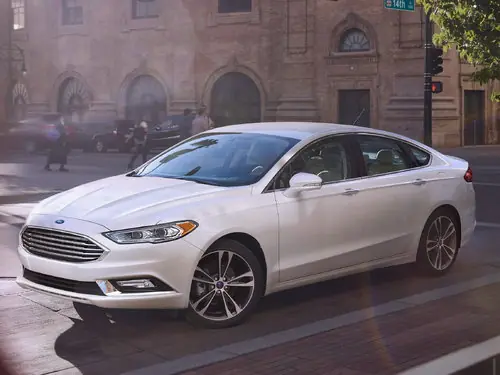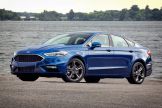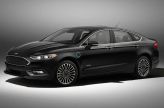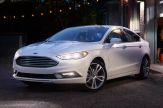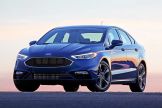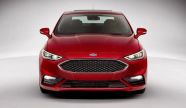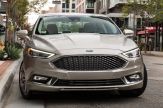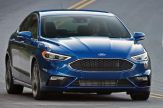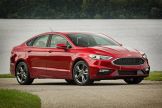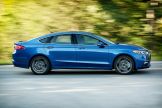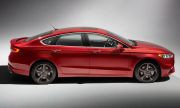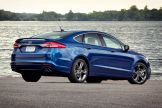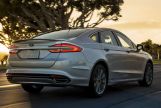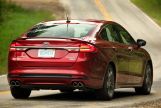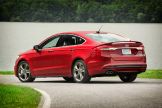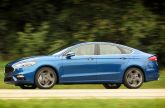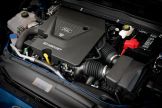 Главное новшество в модельном ряду Fusion после рестайлинга — появление новой комплектации Sport. Эта версия с 2,7-литровым двигателем V6 с турбонаддувом включает специальную решетку радиатора, 19-дюймовые легкосплавные диски, пару двойных выхлопных насадок, обивку сидений из кожи и замши, стандартную аудиосистему с девятью динамиками. На вершине модельного ряда как обычно расположена версия Platinum, в которой автомобиль оборудован электроприводом рулевой колонки (сам руль с подогревом), сиденья обшиты премиальной кожей, передние — с электроприводом регулировок и памятью, подогревом и вентиляцией. Если же говорить о простой базовой комплектации, то версия S включает 16-дюймовые литые диски, кондиционер, регулируемое по высоте сиденье водителя, складывающиеся задние сиденья (60/40), интерфейс Bluetooth и аудиосистему с четырьмя динамиками, дополнительный аудиоразъем и USB.
Под капотом Ford Fusion 2016-2017 можно встретить несколько вариантов силовых агрегатов. Базовая модель оснащена 2,5-литровой «четверкой» мощностью 175 л.с. Еще один недорогой вариант — 1,5-литровый турбированный Ecoboost производительностью в 181 л.с. Модель Fusion Hybrid с 2,0-литровой комбинированной установкой Duratec 20 располагает пиковой мощностью в 188 л.с., при том что сам ДВС выдает 141 лошадиную силу. Вариация Fusion Energi — это подключаемый гибрид, с запасом хода в чисто электрическом режиме на 33 километра, а средний расход составляет 2,7 литра бензина на 100 км. Двухлитровый мотор серии Ecoboost позволяет рассчитывать на приличные 245 л.с. В этой модификации Fusion может быть полноприводным. Самый же мощный турбомотор 2.7 Ecoboost V6 выдает внушительные 325 «сил». В этой версии полный привод AWD ставится по умолчанию.
Седан Fusion построен на платформе Ford CD4. Он имеет полностью независимую архитектуру подвесок: МакФерсон спереди и многорычажка сзади. Ходовая часть отличается большим комфортом, чем у европейского собрата Mondeo. Адаптивный электроусилитель рулевого управления создает необходимое усилие на руль в зависимости от скорости движения. Большое внимание к звуковому комфорту позволило снизить уровень шумов на 8% по сравнению с предыдущим поколением. Габариты седана соответствуют среднему классу: длина кузова 4871 мм, ширина 1851 мм, высота 1478 мм. Колесная база — 2850 мм. Вопреки ожиданию, багажник у Fusion не самых больших размеров — стандартный объем 453 литра (это даже чуть меньше, чем у прошлого поколения), а у гибридных версий — 232-340 литров.
Обширный перечень технологий безопасности Ford Fusion позволяет отнести автомобиль к лучшим моделям класса. В стандартную комплектацию включены ABS, системы контроля тяги и устойчивости, восемь подушек безопасности, система автоматического уведомления об аварии, функция ограничения некоторых возможностей автомобиля, например, для водителей-подростков. Дополнительное оборудование включает надувные задние ремни безопасности, систему параллельной и перпендикулярной парковки без помощи рук, систему автоматического торможения с обнаружением пешеходов, ассистент удержания полосы движения, систему контроля слепых зон, ассистент при маневрировании задним ходом и многое другое.
При разработке второго поколения одной из главных задач для инженеров было повышение топливной экономичности. Но на деле оказалось, что покупателей больше привлекает производительность моделей с турбонаддувом по сравнению с некоторыми конкурентами. Именно для таких ценителей предназначена новая версия Sport. После рестайлинга автомобиль оснащен еще большим числом помощников в различных критических ситуациях. Седан отлично оборудован в дорогих комплектациях, которые вплотную приближаются к уровню премиум-класса. Если говорить о минусах, то это, главным образом, скромный по размеру багажник, не самый лучший по качеству интерьер, высокая цена гибридных моделей. Кроме того, седану приходится бороться за покупателей в условиях растущей популярности кроссоверов.
2017 Ford Fusion V6 Sport revealed with all-wheel drive, twin-turbo power
2017 Ford Fusion V6 Sport revealed with all-wheel drive, twin-turbo power
The Ford Motor Company [NYSE:F] Fusion was already one of the most handsome offerings in its class, but for the 2017 model year the car gets a fresh new look as well as a performance version that boasts an all-wheel-drive system and a twin-turbocharged V-6. That performance version is the Fusion V6 Sport, and it debuted alongside the rest of the 2017 Fusion lineup at this week's 2016 Detroit Auto Show.
The current generation of the Fusion has been on sale since the 2013 model year. Key rivals like the Chevrolet Malibu, Kia Optima, Hyundai Sonata and Toyota Camry have all been either updated or renewed in the past 12 months, and now it's the Ford's turn.
We're glad to report that the Aston Martin-inspired grille has finally gone away, replaced with a similar, albeit wider and more aggressive looking design. The lights have also been tweaked at both ends and now feature LEDs. The Fusion V6 Sport is further differentiated by its more aggressive front bumper with deeper air intakes and glossy black grille insert.
Under the hood of the Fusion V6 Sport is one of Ford's EcoBoost engines. It's a 2.7-liter unit which thanks to direct fuel injection, twin-turbocharging and variable valve timing has an impressive output of 325 horsepower and 350 pound-feet of torque plus standard all-wheel drive. Regular Fusions come with front-wheel drive though some of these have the option for all-wheel drive.
2017 Ford Fusion
Other performance upgrades include 19-inch wheels, a rear spoiler, twin-exhaust tips and adaptive damping. The latter comes with a new pothole detection technology that, in less than the blink of an eye, adjusts the shock absorbers to greatly reduce the severity of impact transmitted to occupants. Incredibly, all of this can be yours for just $34,350, including an $875 destination charge.
The 2017 Fusion's base powertrain remains an anemic 2.5-liter four-cylinder. Next up the range is a turbocharged 1.5-liter four-cylinder EcoBoost, followed by a turbocharged 2.0-liter four-cylinder EcoBoost. Most models feature a six-speed auto, which is controlled via a new rotary dial gear shifter.
Hybrid fans are catered to with the Fusion Hybrid and Fusion Energi plug-in hybrid. These hybrids use the same 2.0-liter four-cylinder engine, mated to a two-motor hybrid system that substitutes for a transmission and operates like an electrified version of a continuously variable transmission (CVT). The plug-in hybrid has a 7.6-kilowatt-hour lithium-ion battery for an expected range of 19 miles using electric power only. The car automatically switches to the gasoline mill when the battery is depleted, allowing you to drive more than 500 miles when you also have a full tank of gas.
Finally, it's worth mentioning Ford has also added range-topping Platinum to the Fusion lineup. The trim adds niceties such as hand-wrapped leather for the steering wheel, instrument panel, and door trim. It also adds a unique grille, as well as special 19-inch alloy wheels.
The 2017 Ford Fusion lineup goes on sale this summer. Prices, including an $875 destination charge, are listed below:
2017 Fusion S: $22,995
2017 Fusion Hybrid: $26,060
2017 Fusion Energi: $33,995
2017 Fusion V6 Sport: $34,350
2017 Fusion Platinum: $37,495
2017 Fusion Platinum Hybrid: $37,895
2017 Fusion Platinum Energi: $41,995
More details on the 2017 Ford Fusion will be announced closer to the market launch. In the meantime, see what else is happening at the Detroit Auto Show by visiting our dedicated hub.
2017 Ford Fusion Sport first drive: A fitting name

Manufacturers love to throw around the word "sport." They attach it to trim names, package names and special-edition names, but it usually doesn't mean much. Ford—a company on a roll right now as far as building sporty cars: GT, GT350, RS—just added the word to its midsize Fusion sedan, and God bless 'em, it's actually sporty. Stick with us here, but when you add 85 hp and 110 lb-ft of torque, albeit with a bigger, turbocharged engine, it's going to make the car sportier.
The only available powertrain in the 2017 Fusion Sport is a 2.7-liter twin-turbo V6 making 325 hp and 380 lb-ft of torque matched with a new six-speed automatic and all-wheel drive. You may be familiar with that EcoBoost, it's been known to pull around an F-150 or two. The Fusion Sport comes in at a porky 3,982 pounds, that's 377 pounds heavier than the Honda Accord, its main rival along with the Toyota Camry. Both of those sedans also offer overpowered V6s, making this a sweet time to get into midsize sedan ownership.
Some of the extra heft comes from the new-for-2017 tech including pre-collision warning, pedestrian detection, park assist ($995), auto emergency braking, adaptive cruise control with stop and go ($1,195), Sync 3 and Android Auto/Apple Carplay. That's in addition to the returning stuff like lane-departure and blind-spot warnings, lane keeping and the rear-view camera. Ford says that a company's midsize sedan "is the number one influencer of brand opinion." This is obviously false, as Autoweek is the number one influencer of brand opinion.
The Sport gets bigger wheels than the rest of the lineup, 19s as opposed to 17s, a dark grille, a sharper front clip and twin dual exhaust. Dark rims with Goodyear Eagle F1 tires are standard, summer Continentals are optional, as is a sunroof. It certainly looks the sport part and it has the numbers to back it up. Could we possibly have an American version of an German autobahn burner?
Not quite. The Fusion Sport is fast, and feels lighter than its 2-ton mass, but it's no S4 replacement. It is, however, a genuinely fun-to-drive midsize sedan. In this segment, that's a statement. The V6 is quiet on startup, but when prodded it growls. Only some of that is "enhanced" (played over the stereo). We put the pedal to the floor and the jelly bean-shaped Ford squirts off the starting line like the Roadrunner, sans a cloud of smoke, thanks to the all-wheel drive.
It's fast, with no qualifiers. And the new six-speed, more robust to handle the extra power, just cranks through the gears without a hiccup. Ford doesn't release 0-60 times for its more pedestrian cars but we were pointed to a YouTube video of a guy clocking 5.6 seconds on his no-prep first try. That was Corvette territory not too long ago. After stomping the lightweight gas pedal, thrust builds to about 3,000 rpm and then stays smooth to the redline. The Sport comes standard with paddle shifters on the wheel, though the six-speed will shift automatically at the top of the range and won't really downshift until the revs drop down significantly.
The Sport's sport mode is new for 2017. It changes seven characteristics, including the "powertrain" sound, steering feel, throttle response, transmission shift points, the tuning of the continuously controlled damping — we'll get to that in a second — it adds a sport icon in the cluster and doesn't allow the trans to go back to automatic mode after it's put in manual.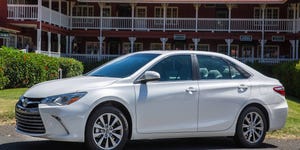 Overall, the sport button livens everything up a notch. All of the responses from the controls are faster and the whole package makes the Fusion feel like something sportier than a standard grocery getter. But it isn't night and day, so don't expect that. The steering is a bit quicker, the throttle response and shift points are a bit more high strung and the damping is a little firmer. We switched to that mode early in our drive and find all of those changes perfectly suited to everyday driving.
About those continuously controlled dampers, they're from Tokico and use the Fusion's onboard computers to analyze signals collected from 12 sensors. But it's not just for spirited driving. When the system "sees" a pothole, it adjusts the shocks to their stiffest setting, so the wheel doesn't drop all the way in. When it doesn't fall in, the back edge of pothole is hit less harshly easing the audible and physical pain. The front wheels then tell the back wheels what's coming, and they can pre-adjust for the impending strike. Even at their stiff setting, the shocks on the Fusion never provide an overly hard ride. They do decrease body roll in more aggressive corners, but we'd only rank the Fusion Sport as a 6 on the stiffness scale, not nearly up to an enthusiast's needs. Steering is quick and easy, but without a lot of feel.
The Sport comes standard with leather seats and suede inserts, they're soft and comfortable, and there's enough suede in the bottom to make them hold well in corners. The throttle and brake pedals are dressed in aluminum and a big dead pedal sticks out like brick in the footwell. Push-button start and leather wheel are both standard. Ford somehow resisted the urge to go suede or square-shaped. The styling is subdued inside, especially for a sport model, with mostly black rubberized plastic and a few shiny parts. There's a touch of faux carbon fiber that runs from door to door. Visibility and back-seat space are both good. The A-pillar was thinned for 2017, making it easier to see around corners.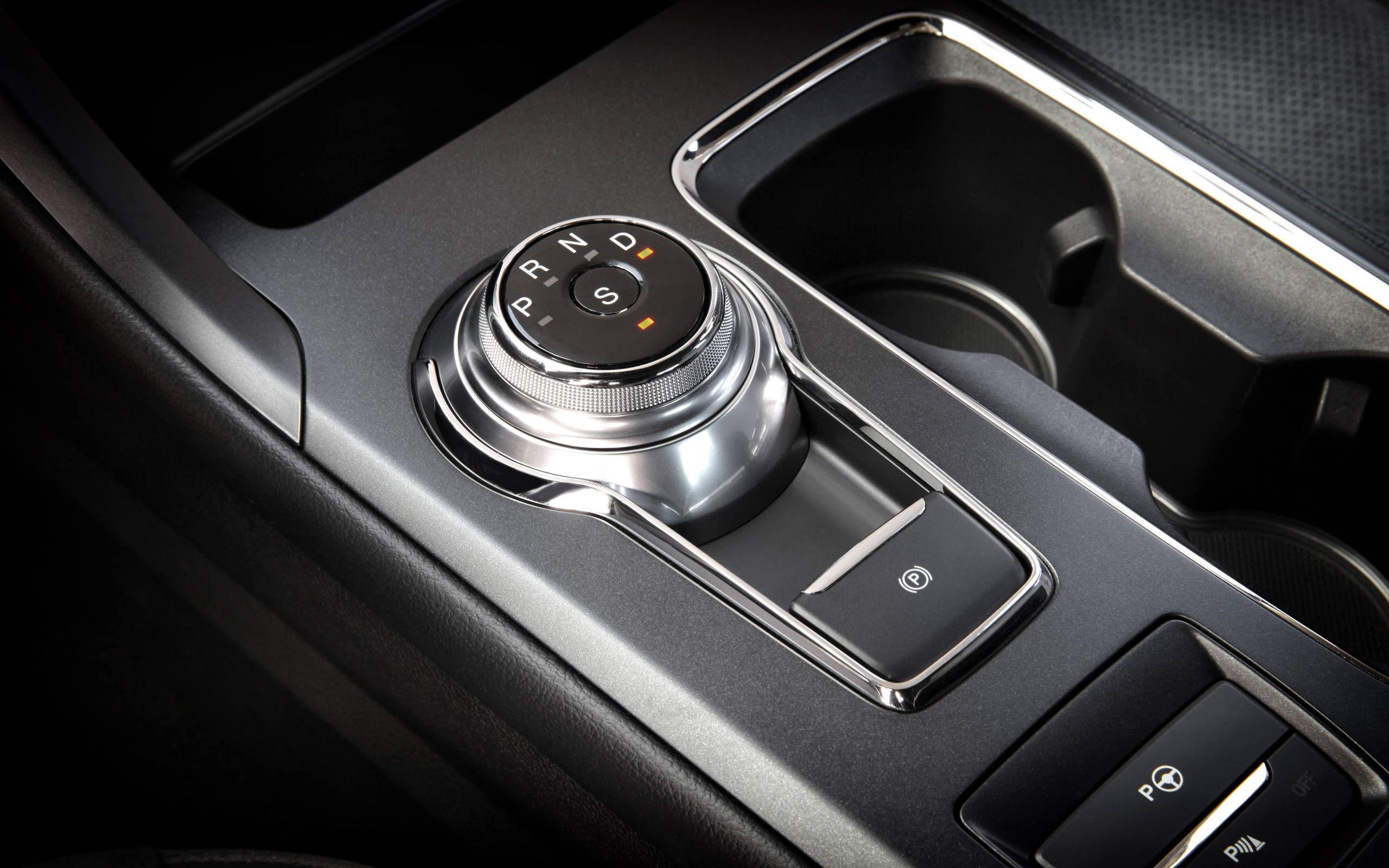 The fastest Fusion doesn't come cheap. It starts at $34,350 and the ones we tested were in the 40K range. The V6 Camry starts at about $32,000 and the Honda Accord is about the same. We suppose if you optioned out either of those, you'd get to 40K, too. So the price is fair, if seemingly expensive, for a Fusion.
If you want something that's fun to drive with space for the kids, this is it. The all-wheel-drive system and the V6 do push combined mileage down to 20 mpg, so don't expect too much cred from your eco-conscious friends. It won't fill the enthusiast space in your heart either, even though it is undeniably "sporty." We'd actually say it's more sport touring or maybe ST, but the Focus already has that trim name locked down, so here we are with Sport. And finally, it is.
Vehicle Model Information
BASE PRICE: $34,350
AS TESTED PRICE: $41,350
POWERTRAIN: 2.7-liter twin-turbochaged V6; AWD, six-speed automatic
OUTPUT: 325 hp @ 5,500 rpm; 380 lb-ft @ 3,500 rpm
CURB WEIGHT: 3,982
FUEL ECONOMY: 17/26/20 mpg
OPTIONS: Rapid Spec Group 401A; ruby red metallic paint; park assist; adaptive cruise with stop and go; navigation; driver assist pacakge
PROS: By definition, it's sporty
CONS: Not aggressive enough for the true enthusiast
2017-02-18 Новые автомобили: 2017 Ford Fusion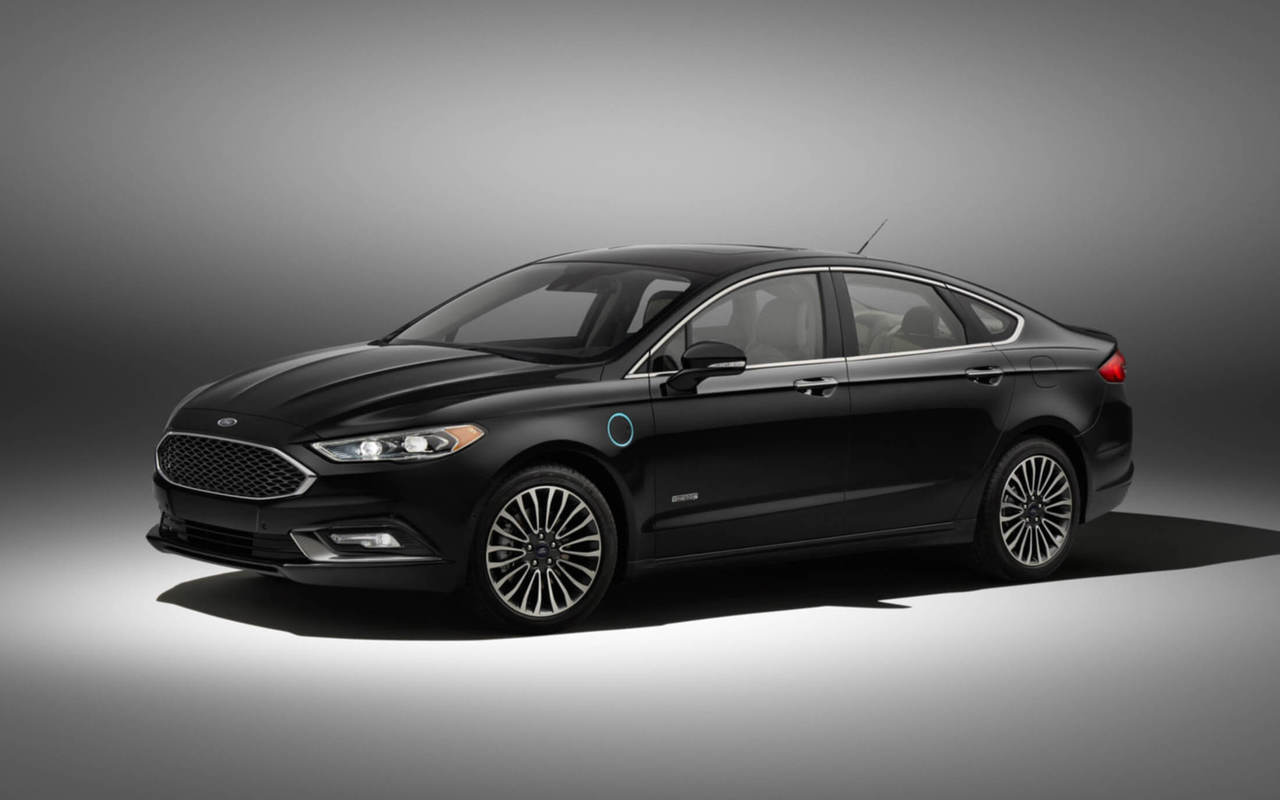 В течение последних двух лет было продано более 300 000 единиц текущей версии Ford Fusion USA . Автомобиль пользуется популярностью, потому что предлагает прекрасный дерзкий дизайн, простое управление и, конечно же, высокие технологии. Наверное, никакой другой представитель класса седанов среднего размера не может похвастаться более широким спектром спецификаций, чем Fusion. Это единственный среднеразмерный седан, предлагающий гибридные и обычные передне- и полноприводные варианты. Так что когда Форд обновлял свой арсенал для 2017-го модельного года, компания провела тщательные, умные усовершенствования, которые на первый взгляд могут показаться незначительными, но сделают общение с автомобилем гораздо более приятным. Обновления улучшают его производительность, стиль, эффективность и электронику.
Американская компания пытается привнести в модель некоторые черты, доказывающие, что машина подходит и для роскошного, и для спортивного сегментов, добавив два уровня комплектации — Fusion Sport и Fusion Platinum. Слухи оказались верными: Ford Motor Company действительно запускает Fusion с двигателем V6, призванным, по словам разработчиков, «оставить другие семейные седаны, включая Honda Accord и Toyota Camry , в пыли».
Кроме сильного двигателя Fusion Sport также получает настроенную шестиступенчатую автоматическую коробку передач и непрерывно контролируемое демпфирование подвески. Автомобиль подвергся серьезным косметическим изменениям, повышающим его визуальную привлекательность, таким как большие 19-дюймовые колеса, затемненная решетка и четырёхъядерные наконечники выхлопных труб.
Fusion Platinum получил черную сетку передней решетки в хромированной отделке, полированные колеса размером 19 дюймов, натуральную кожу на руле, приборной панели, сиденьях и дверях, украшенную узорами стежков, а также подогрев и охлаждение передних сидений.
В салоне стало гораздо тише благодаря использованию акустического лобового стекла, дополненного такими же боковыми стеклами в Hybrid, Energi и Sport, а также в версиях с кожаной отделкой салона (поверхности из кожи, как правило, отражают больше звука, чем тканевые). Для этой же цели было установлено оборудование активного шумоподавления Active Noise Control, которое сначала испытали в Fusion Hybrid.
В прошлом году Ford получил массу критических замечаний по поводу коммутационных устройств. Как бы там ни было, нельзя не признать, что с каждым поколением они улучшаются. Сегодняшний Fusion использует новейшую версию Sync 3 с интуитивно понятным интерфейсом и чётким, легко читаемым экраном. Sync 3 также позволяет использовать функцию Siri Eyes Free, чтобы безопасно управлять телефоном во время вождения. Ниже экрана навигации, климат — контроля и стереосистемы появилась новая область, в центре которой находится USB — порт для интеграции с Apple CarPlay и Android Auto. Другие замечательные дополнительные функции включают в себя мониторинг слепого пятна, новую версию «парковщика», помогающего при параллельной и перпендикулярной парковках, а также удержание полосы и адаптивный круиз — контроль.
В автомобиле предусмотрена система Sync Connect, это элемент Sync 3, он даст вам возможность использовать свой смартфон, чтобы блокировать и разблокировать машину, запустить двигатель удаленно или настроить расписание, по которому ваш автомобиль будет заводиться. Он также позволит вам всегда знать, где находится автомобиль, подыщет удобную стоянку, покажет текущую статистику транспортного средства, такую как давление воздуха в шинах, сколько топлива осталось в баке и многое другое.
Силовые агрегаты
Для 2017 года список двигателей вырос до шести:
2,5-литровый четырёхрядный мотор, производящий скромные 170 лошадиных сил и 230 Нм;
1,5-литровый 4-цилиндровый EcoBoost, имеющий более приличную мощность в 181 лошадиную силу и 250 Нм;
турбированный 2,0-литровый 4-цилиндровый EcoBoost, выдающий 245 лошадиных сил и 373 Нм крутящего момента;
гибридные электродвигатели для моделей Fusion Hybrid и Fusion Energi, которые претерпели некоторые изменения для увеличения «электрической дистанции» и повышения экономии топлива;
и 2,7-литровый Twin Turbo EcoBoost с прямым впрыском топлива в Fusion Sport, проецирующий 325 лошадиных сил и 474 Нм крутящего момента на систему полного привода.
Компания подчеркивает тот факт, что это на 135 Нм и почти на 50 л. с. больше, чем имеют основные соперники нового Форда — Camry и Accord. Гибриды поставляются с передним приводом, хотя имеют возможность для подключения привода на все колёса. Автомобили будут комплектоваться бесступенчатой передачей или автоматической шестиступенчатой коробкой.
1,5-литровый EcoBoost не будет выигрывать гонки, но предлагает много мощности для ежедневных поездок, а также впечатляющую экономию топлива — 10,2 л/100 км по городу и 6,9 л по трассе. Он использует автоматический «стоп — старт», отключаемый и довольно гладкий в работе. 2,0-литровый EcoBoost имеет отклик и тягу качественного V6. Экономия топлива этого двигателя не так хороша, как у 1,5-литрового (11,2/7,6 л), но он обеспечивает превосходный баланс мощности и эффективности.
Электродвигатели гибридных моделей работают с 2,0-литровыми 4-цилиндровыми двигателями и были обновлены для большей эффективности. Energi теперь имеет режимы Auto и EV, последний позволяет автомобилю проходить на чистой электроэнергии до 40 км. В то время как у Fusion Hybrid расход топлива остается по существу прежним (5,4 л в городе, 5,7 л по шоссе), Ford ожидает, что экономия топлива в версии Energi улучшится на пару литров по сравнению с прошлогодней моделью.
Высокопроизводительный Fusion Sport, безусловно, станет звездой линейки. С такими лошадиными силами (по сути лучшими в своем классе), стандартным приводом на все колеса, большими тормозами, подкачкой в режиме реального времени и спортивным режимом с подрулевыми лепестками эту модель захотят попробовать многие покупатели.
Ценообразование
Fusion поступит в продажу этим летом, а версия Sport только осенью. Обычные модели придут в уровнях комплектации S, SE, Titanium, Sport и Platinum. Цены начинаются от $ 22 995 за S, от $ 34 350 для Спорта и от $ 37 495 за новую топовую Платину. Fusion Hybrid с уровнями S, SE и Titanium получит ценовой диапазон $ 26 060 до $ 31 395; а стоимость Fusion Energi в версиях SE, Titanium и Platinum будет в пределах от $ 31 995 до $ 41 995 (без учёта дорожных расходов)
Американский Ford Fusion предвестил обновление Mondeo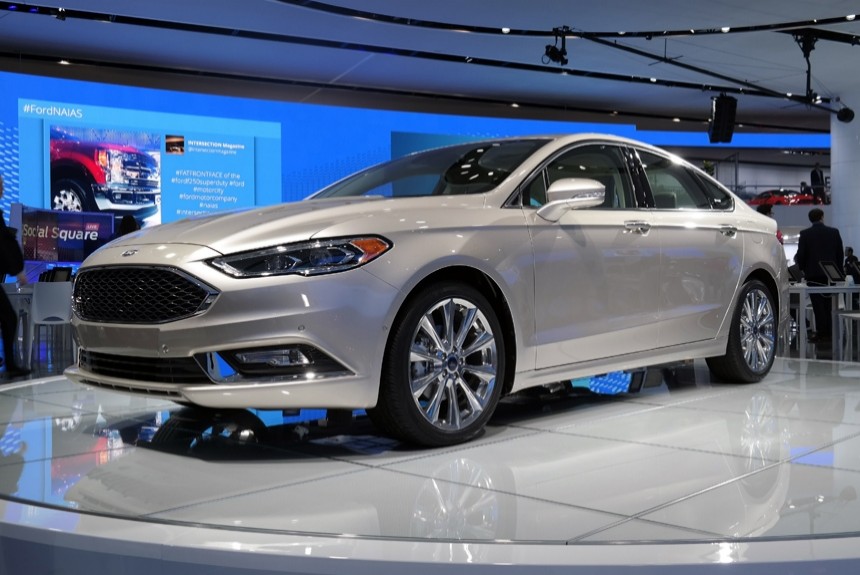 Это у нас в России новый Ford Mondeo продается меньше года, а на американский рынок почти такой же автомобиль под названием Ford Fusion вышел еще в 2012 году, поэтому сейчас пришло время плановой модернизации.
Хищный взгляд фар американского седана подчеркнут уголками светодиодных ходовых огней. Как водится, изменились бамперы и решетка радиатора, хотя с лица это по-прежнему «народный Aston Martin». Главное изменение в салоне — поворотная шайба-селектор «автомата» вместо традиционного рычага. Из-за этого перекомпонован центральный тоннель, подстаканники расположены удобнее, а подлокотник и бокс под ним стали больше. Еще одна обновка — мультимедиасистема Sync 3 с расширенными возможностями. Для нее можно заказать надстройку Sync Connect, которая позволяет управлять некоторыми функциями со смартфона: можно, например, дистанционно запрограммировать запуск двигателя, разблокировать замки дверей, узнать уровень топлива или давление в шинах.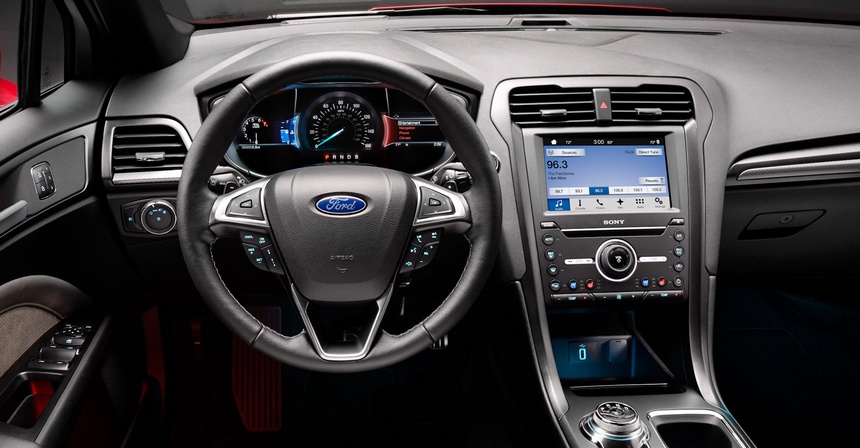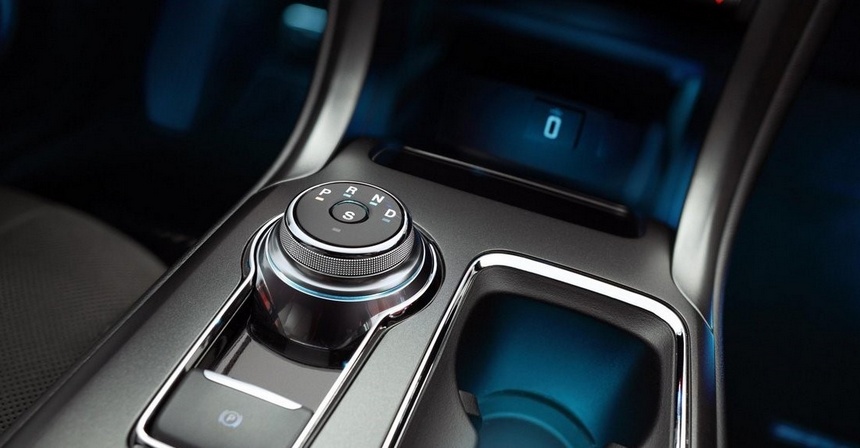 Из гаммы исключен базовый атмосферник 2.5 (177 л.с., но на российском Mondeo он дефорсирован до 149 л.с.), хотя выбор модификаций и без него неплох: это машины с турбомоторами EcoBoost 1.5 (184 л.с.) и 2.0 (243 л.с.), а также бензоэлектрические версии Hybrid и Energi — обе с двухлитровым атмосферником и электромотором суммарной мощностью (143 л.с.), но у Energi более емкая батарея с возможностью подзарядки от розетки. Появилась богатая комплектация Platinum с особой отделкой салона — эдакий аналог европейских версий под суббрендом Vignale.
А еще с рестайлингом на Fusion вернулся двигатель V6! Топ-версия Sport оснащается битурбомотором 2.7 EcoBoost мощностью 330 л.с., полным приводом и адаптивной подвеской. Снаружи такой седан можно опознать по увеличенным воздухозаборниками, четырехстволке выхлопной системы, иной решетке радиатора и 19-дюймовым колесам.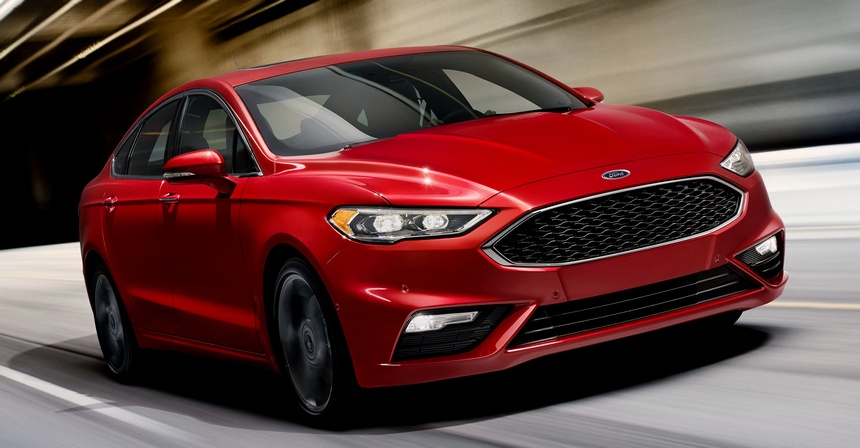 Ford Fusion V6 Sport
Фордовцы особо подчеркивают, что подобных версий нет у освновных конкурентов вроде Тойоты Camry и Хонды Accord, но едва ли она поможет в рыночной борьбе с этими машинами. По итогам 2015 года Ford Fusion нашел в США 300 тысяч покупателей — впереди и Camry (429 тысяч), и Accord (356 тысяч), и Nissan Altima (он же Teana, 333 тысячи машин).
Европейское семейство Ford Mondeo наверняка переживет похожие метаморфозы, но не раньше 2017 года, хотя мотор V6 на европейских машин едва ли появится. А следом обновится и российский Mondeo — запасемся терпением.
2017 Ford Fusion V6 Sport Quick Review – Command Performance With a Twin-Turbo Boost
By Steve & Tamami Laser
Midsize performance sedans are available with all sorts of fancy labels and price tags to match. When Ford decided to add some serious muscle to its popular midsize Fusion for 2017, it took aim at Euro luxury brands and launched the new Fusion V6 Sport.
The result is what Ford calls a "class-demolishing" 380 lb.-ft. of torque from the 2.7-liter twin-turbocharged EcoBoost® V6 that also puts out 325 horses when running on premium fuel. It's teamed with a heavy-duty 6-speed automatic transmission and standard all-wheel drive.
We had the chance to test-drive the new Fusion V6 Sport on city streets during a Ford press event in Southern California. While our time behind the wheel was brief, it was more than enough to convince us that this is a serious performance machine.
The EcoBoost twin-turbo V6 with direct injection has a compacted graphite iron engine block, cast aluminum heads, 10.0:1 compression ratio and exhales through quad exhaust tips. With all that power and torque, it's rated at a respectable 17 mpg city, 26 mpg highway and 20 mpg combined.
Antiroll bars, spring rates and wider tires are tuned to deliver a sporty ride along with continuously controlled damping for real-time suspension tuning. Our test car was also fitted with optional summer-compound tires for increased grip.
We've always had a soft spot for stealthy go-fast machines that we used to call "sleepers." Subtle styling mods for the Fusion Sport include a slightly more aggressive front end with deeper air intakes, gloss black mesh grille, 19-inch dark alloy wheels, a rear spoiler and quad exhaust outlets.
As we mentioned (several times) in our video, the Fusion Sport is incredibly fun to drive. Effortless acceleration is available at the driver's command whenever the urge strikes. We also liked the convenient paddle shifters mounted on the steering wheel.
All Fusions for 2017 receive a new rotary gearshift selector. The compact design opens up space on the floor console for easy access to new storage bins, an illuminated USB charge port and cupholders.
The Fusion Sport's shifter replaces the regular "L" low range on other models with an "S" for Sport Mode. Pressing the button sets up the car for maximum performance, activating the paddle shifters, reprogramming the shift points, improving throttle response, stiffening up the steering and tuning the suspension for a more aggressive profile.
Inside the cabin, the Fusion Sport receives standard power heated leather-trimmed seats with grippy Miko suede inserts, a black headliner, carbon-fiber look trim and aluminum pedals.
The rear seat is comfortable for two, a bit tight for three, and features a 60/40-split folding design that makes it easy to carry long cargo inside the car.
As a modern performance sedan, Ford loaded our Fusion Sport tester with an array of optional high-tech features that we'll highlight below.
The optional audio system from Sony® includes 12 speakers and HD Radio™, two 4.2-inch driver configurable LCD displays in the instrument cluster, ambient lighting, dual-zone automatic climate control and 911 Assist®.
The optional voice-activated navigation system included SiriusXM® Traffic and Travel Link that combines GPS technology with 3D mapping and provides voice-guided turn-by-turn directions. Sirius features provide detailed traffic information on accidents, construction, road closures, national weather forecasts and fuel prices.
The SYNC® 3 system includes Siri EyesFree® capability to help drivers connect and control their iPhone on the road. SYNC Connect is available with features including remote start, remote lock and unlock, vehicle location, plus tire pressure, battery and fuel levels.
The instrument cluster is easy to read and can be modified by the driver to show different information. A Driver Assist Package added auto high beams, BLIS® Blind Spot Information System with cross-traffic alert, a heated steering wheel, Lane Keeping System, rain sensing wipers, and SYNC® Connect.
Our tester started out with a very reasonable base MSRP of $33,475. Equipment Group 401A added a Sport Upgrade Package and Reverse Sensing System. Stand-alone options included Ruby Red paint, Enhanced Active Park Assist, Adaptive Cruise Control with Stop & Go, the navigation system with voice recognition, a Driver Assist Package and the summer tires. This brought the bottom line with destination to $41,545.
Fusion prices start at $22,120 for the base S model. Other models for 2017 include the SE, Titanium, Platinum, plus four trim levels of the Fusion Hybrid and three trims for the plug-in Fusion Energi.
If we were in the market for an affordable midsize performance sedan, we'd put the new Ford Fusion V6 Sport at the top of our shopping list.
Punching above one's weight: the 2017 Ford Fusion V6 Sport
Automakers tend to include at least one "sports sedan" in their lineups. Handsome, practical four-door-plus-trunk models that deliver extra performance never seem to go out of fashion.
Into this category comes a worthwhile challenger: Ford's 2017 Fusion V6 Sport.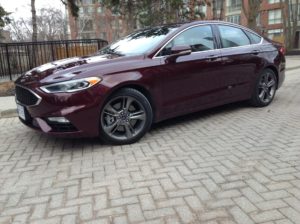 First impressions
If it weren't for the Fusion's perceptibly higher stance, onlookers could easily mistake it for a German tourer. That's not a bad thing. Handsome from any angle, the Fusion isn't a standout looker, but the car's muscular elegance ought to prove as timeless as that of decades-old European sedans.
Interior
The Sport is so named because of the V6 Sport upgrade package. Heated and cooled front sport seats in Dark Earth Grey Miko Suede ought to prove comfortable for most people. I found the seat just slightly off, maybe because my head lightly brushed the ceiling at the lowest seating position. Leaving the moonroof out of this package might have made a difference.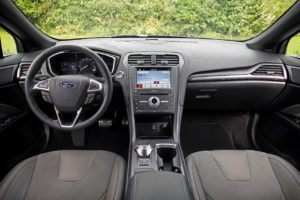 image courtesy Ford
Back seat headroom suffers from the raked roofline that gives the Fusion its sporty stance.
Hockey bag test
Two bags could fit longitudinally in the capacious trunk (that I neglected to photograph for this review). The only reason I had for lowering the "40" part of the 60-40 split-folding rear seat was to get my sticks in the trunk diagonally. Note: I put six-inch extensions on my sticks. Regular-length sticks ought to easily fit inside the trunk.
In-cabin electronics
If there's one thing to praise on Ford's Sync Connect touchscreen, it's that the buttons and sliders are larger and well-spaced. That makes them easier to use when the car is in motion and less likely to result in unwanted changes.
There's actually more than one thing to praise on Sync. Regardless of the feature I used, it seemed like I took fewer steps to do things than I did in the previous version of Sync. Whether it was tuning the radio, entering an address in the navigation system or setting climate controls, the systems just made sense at first glance. Direct tune ought to be on every touchscreen-based radio.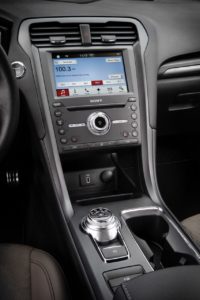 image courtesy Ford
This isn't a small feat, at least not to me. Removing steps and making things simpler to do takes significant amounts of user experience testing and design expertise. As a technical writer, I've documented unnecessarily long processes. I could do little to relieve the burden of those processes on end users. (I used to deliver technology training on various systems too, so I could see and hear feedback on unwanted complexity.) That's why Ford's achievement here strikes a chord with me.
Thankfully, Ford kept physical controls for common functions. An array of buttons under the touchscreen let the driver quickly set climate control features, including seat heating and cooling. Changes in climate control temperature and fan settings appear on screen. Radio controls, from volume to track seek and even a huge on-off button, greatly reduce the need to use the touch screen while driving.
Speaking of the radio, this Fusion ships with an audiophile-pleasing standard 12-speaker, 390-watt Audio System from Sony. The system also includes iTunes® Tagging. If you touch the "Tag" button when you hear a song you like on an FM HD radio station, song information will be saved for later preview and purchase or direct buy if your device is connected to the Internet.
Ford, like most automakers, scrimps on in-cabin USB ports. I'd like to see a minimum of two, and really three, in all new vehicles.
Driving
A 2.7L twin-turbo V6 EcoBoost engine provides 325 horsepower and 380 lb-ft of torque to an intelligent all-wheel drive system.
Even when I stepped on it, the Fusion felt well-anchored. That's saying something. Having the twin turbos kick in made more than one passenger feel gently pressed back into the seat. Put the Fusion in Sport mode, and you can expect even more pep.
Drivers can shift the 6-speed automatic themselves using paddle shifters. I chose to stick to the rotary gear shift dial that sits next to the cupholders. The file-like sides reminded me of the studded edges of a Dual turntable I used to have.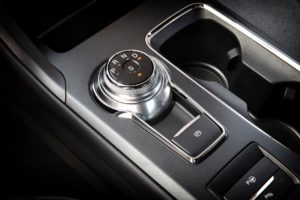 image courtesy Ford
The parking brake sits adjacent to the gear shift dial. It's a small lever that controls the brake electronically.
There's some worthwhile intelligence under this dial. If you turn off the engine and leave the car in Drive, the transmission shifts itself into Park. There are several other conditions where the Fusion will do this, and in each case it helps prevent headaches for the driver.
My frugal nature makes me wonder whether Ford might consider removing the paddle shifters. There's so little incentive to use them when the automatic is fully capable of handling shifts, and removing the cost of this gadget could help Ford make this great car a little more cost-competitive.
Personal preference makes me wonder whether Ford might let me control this engine using the six-speed manual it provides with Mustangs. (Yes, I embrace irony, even in myself.)
Using a combination of adaptive cruise control and the lane keeping system, I managed to safely travel several highway kilometres. Granted, the Ford's instrument cluster insisted I place my hands on the steering wheel the whole way.
This wasn't the smoothest implementation I've seen of lane keep assist. The car swerves gently from one side of a lane to the other. Few drivers will want to rely on the system during a long drive, but if they get tired behind the wheel, lane keep assist will likely keep them out of trouble.
Commuters who regularly get stuck in stop-and-go traffic will appreciate the adaptive cruise control. It doesn't cut out below a minimum speed. It will stop when the car in front stops and start when it gets going again. Ford isn't the only manufacturer that configures the system this way, but I'm puzzled why any automaker would not offer this convenience.
Also standard on the Sport, Pre-Collision Assist with Pedestrian Detection uses radar and camera technology to scan the roadway ahead. If another vehicle or pedestrian is detected, the system provides a warning to the driver. This warning is a combination of noise, a message on the instrument cluster and red lights on the dash that reflect urgently off the windshield. If the driver does not respond in time, the system can automatically apply up to full braking force to help reduce the severity of or even eliminate some frontal collisions.
Needless to say, I didn't test the "full braking" feature on the Fusion. I did test this four years ago on another carmaker's flagship sedan, and if the results are as impressive on the Fusion, this technology ought to save a few lives and prevent lots of injury and property damage.
The blind spot information system ought to keep drivers out of trouble when they back out of parking spots when their views are blocked.
Driver conveniences are interesting to try. Future drivers might expect them as standard. For instance, a pothole detection system coordinates dampers based on input from 12 high-resolution sensors. The rear suspension responds faster than the front since it gets a heads-up from front wheels once they encounter a pothole. Ford means to significantly reduce the bumpiness of pothole-riddled roads using this system to make the suspension provide the steadiest ride possible.
It went against my instincts to steer at potholes. Normally I avoid them when I can. But I made myself aim the Fusion at a few. I felt the bumps, though none of them proved bone-jarring.
Active park assist uses even more sensors (by now I've lost count of how many sensors the Fusion has, something I commonly do in vehicles I review) to identify suitable parking spots (parallel or angle) and steer the car into them. It's up to the driver to work the pedals as the car steers itself. Park Out Assist can help if your parallel parking spot becomes overly tight in your absence.
Parking sensors all around the car audibly and visually inform you of everything nearby that you might hit.
I left the sensitivity of this system on fairly high, even though it proved a little too paranoid at times. Better safe than sorry. I figured.
Fuel economy
The Fusion's economy indicator readout told me I averaged 10.9 L-100km. That might have been better if I had driven more on the highway. It's a little high for miserly drivers, but it's the price to be paid for the power the Fusion Sport offers.
Pricing
The base Fusion lists for $23,688 MSRP plus various taxes and fees. The Fusion Sport lists for $42,288. Add the Ruby Red colour, taxes and other charges and the model I drove tops out at $44,488.
Ford isn't exactly known for competing with luxury automakers. Some people would say that's Lincoln's job. Thankfully, nobody told designers of the 2017 Fusion Sport. This package of performance, technology, styling, creature comforts and price rivals offerings from higher-end brands. This Fusion ought to steal a few of their customers.
First Drive: 2017 Ford Fusion V6 Sport
Share on Facebook
Share on Twitter
Share on LinkedIn
Share on Flipboard
Share on Reddit
Share on WhatsApp
Send to email
Oh, it's a lot of fun. If you like that sort of thing.
The Ford Fusion V6 Sport has more horsepower and more torque than the Mustang EcoBoost. How you feel about that fact will pretty much determine whether or not you're interested in the Fusion V6 Sport: Do you want way more performance than necessary in your midsize family sedan? This isn't a full-fledged Fusion ST, but it's got far more Sport in its blood than some rival 'sport' models that simply tack on fancy wheels and a spoiler.
"It's not a performance monster, it's not a car you're going to take to a racetrack," admits Ford Fusion chief program engineer Todd Soderquist. "But you're going to have fun on backroads."
To that end, Ford engineers stuffed in the 2.7-liter biturbo V6 from the Edge Sport, along with bits like Continuously Controlled Damping suspension, all-wheel drive, 19-inch wheels, a new front fascia with extra cooling vents for the intercooler, and four shiny exhaust tips. The result is a car that truly is fun to drive. But is this really the sort of family sedan buyers want?
The biturbo engine cranks out 325 horsepower and 380 pound-feet of torque, and there's really nothing in the class that comes close.
As soon as I mat the throttle on an empty two-lane road, it's clear the Fusion V6 Sport offers far more straight-line performance than any of its competition. The biturbo engine cranks out 325 horsepower and 380 pound-feet of torque, and there's really nothing in the class that comes close. That power is delivered smoothly and consistently; the Sport hustles and easily feels like one of the quickest midsize sedans around. Though Ford won't quote a 0-to-60 time, I'd expect it to just slip below the six-second mark.
When the road starts to squiggle, the upgraded suspension makes the Fusion even more fun to drive than normal. Switching the car to Sport mode firms up the dampers, sharpens the throttle response, and forces the six-speed automatic to hold lower gears for longer. It's easy to keep a brisk pace on the rollercoaster-like rural roads near Pinckney, Michigan. The Fusion is grippy, precise, and easy to place through turns. It's the sort of car that easily traces your line and flows from one corner to the next.
The Fusion is grippy, precise, and easy to place through turns. It's the sort of car that easily traces your line and flows from one corner to the next.
This added pace has not come at the expense of everyday usability. To make the Fusion V6 Sport feel extra plush and luxurious, engineers equipped it with acoustic glass for the windshield and front windows, extra hood insulation, and an active noise-cancellation system. Yet sporty cars are supposed to sound sporty; what's the point of that quad-tip exhaust if you never hear it? So in Sport mode, the car's computers turn down the noise cancellation, and pump a little extra engine noise to the cabin. It's the best of both worlds: a quiet freeway cruiser and a growling backroad machine, even if the noise is hardly realistic.
Ford also paid attention to keeping the ride comfortable with anti-pothole technology. Sticking 19-inch wheels with low-profile rubber on a car like this is typically a recipe for jarring impact harshness and frequent flat tires or bent rims; it's hard to soak up road imperfections with this type of rolling stock. But the clever dampers can avoid that by "holding" a wheel above a big pothole, preventing both shock to passengers and wheel damage.
It sounds like a gimmick, so I aimed the Fusion's front-left corner at a massive crater near the Motor1 office to test it out. The Fusion's wheel simply hopped over the hole that sends shockwaves through other cars' chassis. That it might prevent you being stranded with a flat is an even bigger bonus.
At just 20 miles per gallon combined in EPA testing, this is the least-efficient Fusion by a big margin.
As Ford's Soderquist warned, the Fusion V6 Sport isn't a full-on ST variant; there's only so much handling magic to be found toward the limit. There's a real heaviness from the nose that produces a lazy turn-in In fact, the car is heavy in general: it scales at 3,982 pounds, only 4 fewer than Ford quotes for the battery- and motor-laden Energi plug-in hybrid model, not to mention a whopping 510 more than a base Fusion.
Other signs that the V6 Sport isn't one of Ford's most hardcore performance cars emerge as you continue to hustle the car. Even in Sport mode, the rear dampers allow a lot of rebound that unsettles the car over quick crests and transitions. Plus, this tester's all-season tires skitter and skate easily. Were it my car, I'd pay the $195 extra for the factory-installed summer tires.
I'd also pay dearly at the pump, as this Fusion sucks down premium fuel. At just 20 miles per gallon combined in EPA testing, this is the least-efficient Fusion by a big margin. That's a big demerit for a car that still has to appeal to everyday buyers.
Ford says there's a small but vocal subset of customers who wanted this exact car, for whatever reason, so the company obliged.
For all the fun I had tossing this car around like it had a Focus ST badge on the trunk, I still have existential questions about why someone would buy it. The Fusion's existing 2.0-liter turbo engine is pretty gutsy as-is (245 hp, 275 lb-ft), and even non-Sport versions are more engaging to drive than rivals like the Altima, Camry, and Accord. And going for this 2.7-liter engine means big trade-offs in terms of price and fuel economy.
Ford's answer, however, is that there's a small but vocal subset of customers who wanted this exact car, for whatever reason, so the company obliged. "The number one unmet customer need … was that of a performance vehicle," says Ford Fusion marketing manager Wade Jackson.
If you're looking for this sort of car, there's really nothing else like it on the market. Swift, stylish, and yet still remarkably quiet and comfortable, the Ford Fusion V6 Sport is an outlier of the best sort.
Photos: Jake Holmes / Motor1.com