Toyota Camry TRD 2020
Toyota Camry TRD 2020

Главная
Каталоги

Онлайн каталоги
Шины
Диски
АКБ
Лампы
Моторные масла
Трансмиссионные масла
Жидкости тормозные
Охлаждающие жидкости
Жидкости стеклоомывателя
Щётки стеклоочистителя
Химия
Щетки, скребки, водосгоны
Ароматизаторы
Наборы инструментов

Мои заказы
Мои VIN-запросы
Корзина
Гараж
Главная
Новости
Обзор Toyota Camry TRD 2020 года: жестче и спортивнее, но лучше ли?
За последние 40 лет Toyota Racing Development прошла большой путь. Хотя начинали они, как собственное ателье и поставщик запчастей для Toyota, теперь они отвечает за разработку некоторых самых популярных грузовиков и внедорожников Toyota: Toyota Tacoma TRD Pro, Tundra TRD Pro и 4Runner TRD Pro. Благодаря этим тачкам, поступающие как дилерские партии, и автомобилей, таких как почтенный Camry, которые сидят там намного дольше, команда разработчиков TRD получила задание наложить немного своего волшебства на семейный седан компании. Результатом является Toyota Camry TRD 2020 года, и после вождения кажется, что TRD не позволили зайти достаточно далеко.
Было бы слишком просто дать оценку внешнему виду Camry TRD с ее колоритным задним спойлером, передним сплиттером, боковыми юбками и красными тормозными суппортами, торчащими из под его новых черных колес в стиле DTM, но это было бы не честно, т.к. значительные изменения получила подвеска и шасси, также сделанная командой TRD. Используя спортивную Camry XSE в качестве базовой линии, инженеры TRD начали именно с подвески. Автомобиль был опущен примерно на полдюйма и оснащен более жесткими амортизаторами с клапанами TRD, более жесткими пружинами и еще более жесткими передними и задними стабилизаторами поперечной устойчивости. Решив не останавливаться на подвеске, люди из команды TRD также обратили внимание на шасси Camry. Исключение люка из опционального листа Camry TRD принесло им в своем роде некоторую дополнительную жесткость, но еще большей жесткости, принесло добавление трех дополнительных скоб кузова под автомобиль. Как Вы можете видеть, ребята из TRD любят пожестче =)
Завершили свою работу перенастроенной рулевой рейкой, более громким выхлопом, увеличенными передними тормозами с двухпоршневыми суппортами, более широкими, но более легкими колесами (легче, чем у колес XSE примерно на 1 кг), которые, предположительно, помогают охлаждать тормоза.
Несмотря на то, что специалисты по планированию продукции Toyota были фанатичны, чтобы команда TRD работала над Camry, они были менее готовы финансировать любые изменения двигателя или трансмиссии. Таким образом, Camry TRD останется с 3,5-литровым V-6 мощностью 301 л.с. и восьмиступенчатой ​​автоматической коробкой передач. Стоимость этой Тойоты 31,999 долларов, говорят, что это самый дешевый способ получить Camry с V-6.
Итак, как все это работает в реальном мире. Красные кожаные сиденья Camry, красные ремни безопасности и красная отделка, безусловно, производят хорошее первое впечатление, но, если вы ожидаете чего-то большего, чем немного более спортивная Camry – или ее настоящий конкурент Honda Accord Sport – вполне вероятно, что Вы останетесь разочарованны.
Проблема не столько в том, что команда TRD сделала с Camry, сколько в том, что ей не разрешили и, следовательно, команда не сделала. И это не вина двигателя. V-6 развивает мощность 301 л.с. в автомобиле, который весит около полутора тонн, поэтому имеет приличное соотношение мощности и веса. Скорее, это настройка трансмиссии, которая высосет весь потенциал этой машинки.
Спортивный режим на трансмиссии или переключатели должны помочь в теории, но вместо этого они больше работают как ограничитель передачи, так как трансмиссия продолжает переключаться на повышенную и понижающую передачу, как пожелает. Рулевое управление все еще расплывчато и ему не хватает деликатности, которую вы получаете от таких моделей Toyota, как новые Supra или 86.
Единственная область, где усовершенствования TRD ощутимы и имеют самое большое значение, находится на трассе автокросса. При движении спиной к спине с базовым Camry XSE, превосходный контроль кузова Camry TRD впечатляет. TRD более посажен, стабилен и проворен. Также чувствуется большая разница в торможении.
Camry TRD во многих отношениях является чудом в линейке TRD. В то время как модели 4Runner, Tacoma и Tundra TRD ориентированы исключительно на внедорожные характеристики, Camry TRD — не та дорожная модель, которой она могла бы и должна быть. В лучшем случае это более жесткая, спортивная Camry. Toyota планирует создать 6000 образцов в 2020 модельном году. Camry TRD является примером инженерной команды, работающей со связанными за спиной руками. Надеемся, что в следующий раз Toyota позволит им сделать большее.
Toyota Camry в новой специальной версии S-Edition
4 февраля начинается прием заказов на ограниченную серию Toyota Camry S-Edition — самую дерзкую версию модели за всю историю в России.
Восьмое поколение Toyota Camry, построенное на базе TNGA, получило лучший набор потребительских качеств в сегменте: превосходную управляемость, высочайший уровень комфорта и оснащения, бескомпромиссную надежность и безопасность. Новая версия S-Edition добавляет бестселлеру уникальный дерзкий стиль, который позволит покупателю подчеркнуть индивидуальность и выделиться в потоке. Специальная серия модели нацелена на современных покупателей, которые выбирают автомобили под стать их динамичному образу жизни, включающему не только деловые поездки, но и активный спортивный досуг.
Toyota Camry S-Edition доступна в двух вариантах исполнения кузова — полностью черном и двухцветном. В двухцветной версии основным цветом является «белый перламутр», а стойки и крыша автомобиля окрашены в «черный металлик». Дополнительно в черный цвет окрашены боковые молдинги на дверях, корпуса боковых зеркал заднего вида, нижняя решетка радиатора и аэродинамичный спойлер на крышке багажника.
Специальные накладки на передний и задний бампер с красными акцентами придают облику спортивный вид, а завершает динамичный образ полностью светодиодная передняя и задняя оптика в сочетании с черной окантовкой задних фонарей. Еще одной отличительной особенностью являются 18-дюймовые двухцветные легкосплавные колесные диски специального дизайна и логотип S-Edition на кузове.
В интерьере Camry S-Edition спортивный характер подчеркивает особый дизайн сидений с красными вставками и прострочкой того же оттенка. Также прострочка обрамляет передний подлокотник и центральную панель.
Модель в версии S-Edition оснащена экономичным и надежным двигателем 2,5 литра, пользующимся заслуженной популярностью на российском рынке. В 2019 году на комплектации Toyota Camry с двигателем 2,5 литра пришлось 37% совокупных продаж Toyota Camry (25 421 автомобиль).
Новая версия Toyota Camry получила широкий спектр современных опций в оснащении. Для комфорта в повседневной эксплуатации Camry S-Edition комплектуется электрорегулировками водительского сиденья в 8 направлениях, функцией бесключевого доступа Smart Entry, камерой заднего вида с динамической разметкой, полным «зимним пакетом», включающим в себя подогревы рулевого колеса, лобового стекла и всех сидений.
За активную безопасность модели отвечает комплекс систем Toyota Safety Sense 2.0. В состав комплекса входят системы предупреждения об угрозе фронтального столкновения с функцией автоматического торможения и распознаванием пешеходов, система оповещения о смене полосы движения, система автоматического переключения дальнего света на ближний и система распознавания и информирования водителя о дорожных знаках.
Впервые в оснащение Camry в версии S-Edition входит уникальный противоугонный идентификатор T-Mark. Начиная с января 2020 года, данное решение применяется на всех комплектациях Toyota Camry и RAV4, а в будущем появится и на других моделях Toyota в России. Идентификатор T-Mark представляет собой специальную маркировку множества элементов кузова незаметными микроточками с PIN-номером, который виден только при 60-кратном увеличении, защищен от подделки и удаления и соответствует VIN-номеру конкретного автомобиля.
Проверить соответствие номеров PIN и VIN можно на специальном сайте www.toyota.ru/security. T-Mark позволяет идентифицировать автомобиль и его законного владельца даже при подделке VIN-номера, что радикально снижает интерес угонщиков к модели. Благодаря внедрению этой опции при оформлении страхового полиса КАСКО в компании «Ингосстрах» покупателям Toyota Camry S-Edition будет доступна скидка до 10% по риску «Угон».
Стоимость Toyota Camry в специальной серии S-Edition начинается от 2 104 000 рублей.
2020 Toyota Camry TRD Test Drive
Introduction
Photo: Ron Sessions
Even though race cars that look like the Toyota Camry have been the face of the brand's successful NASCAR Cup Series effort in recent years, it's not likely many Camry buyers selected the practical midsize family sedan for its performance chops. The lack of a performance "halo" model for the street among its broad spectrum of trims apparently hasn't hurt Camry sales as the midsize Toyota has been the best-selling sedan in the U.S. for the last 17 years.
That situation changes for 2020. With the return of the Supra 2-seat sports car to the Toyota showroom and the motorsports-loving CEO, Akio Toyoda, guiding the company, there is newfound interest in performance. This year, the lineup of Toyota Racing Development (TRD) models has been expanded beyond pickup trucks and SUVs to include a pair of unlikely sedans, the Camry and Avalon.
The 2020 Toyota Camry TRD model is the first-ever in the midsize sedan's lineup. More than just an appearance upgrade, the 2020 Camry TRD gets suspension and chassis mods that transform it into a sports sedan. Including the $955 destination charge, the new Camry TRD is priced at $32,125. It's the least-expensive Camry equipped with the 3.5-liter V6.
Styling and Design
Photo: Ron Sessions
Subtlety, usually a Camry design given, is not in evidence here. The 2020 Camry TRD rolls with a provocative pedestal-mounted rear wing that wouldn't have looked out of place on a Honda Civic Type R or Subaru WRX STi. The transformation from sober sedan to road rocket continues with a full aerodynamic body kit with ground-effect rockers, little airfoils in front and behind each wheel opening, aggressive-looking front and rear fascias, a large-bore cat-back dual exhaust with polished stainless-steel outlets and TRD-exclusive flat-black 19-inch alloy wheels. There's more street savvy in evidence with a black-out grille, black badging and red-painted brake calipers. A striking $500 two-tone paint option as seen here on the Barcelona Red Metallic test car adds a gloss-black roof, mirror caps and black-out window trim.
The tuner-car sedan look is enhanced by the TRD Camry's lower, road-hugging stance, reduced 0.6 inch by the use of shorter coil springs.
Inside, TRD touches include aluminum foot pedals, sport fabric Softex-covered seats with red and gray striped inserts, red stitching, red seatbelts and TRD logos on the seatbacks, floor mats and shifter.
For sure, the TRD is not your parent's (or grandparent's) Camry, even if they might have been huge NASCAR fans. The car is not a sleeper.
Comfort and Cargo
Photo: Ron Sessions
Meanwhile, all the thoughtfulness, accommodations and accouterments buyers have come to expect in mainstream Camry models carry over to the TRD version. Despite the sporty cues, there are no rock-hard thigh bolsters or front seatback wings to contend with on the firm but comfortable medium-density foam-padded seats. No sacrifices to make on the altar of performance.
The Camry TRD combines a driver-focused cockpit with upscale, soft-touch materials that deliver premium sedan plushness at a mainstream sedan price. As with other Camry models, a dramatic horizontal dash design sweeps into the doors and features a diagonally cut center stack and asymmetrical floor console design. Standard fare includes a power driver's seat with adjustable lumbar, a leather-wrapped tilt/telescoping steering wheel with paddle shifters and both conventional cruise control and adaptive cruise control buttons, remote keyless entry, pushbutton start, power windows with auto up and down, plus dual sun visors with sliding extensions.
Interior storage is generous with a covered center console bin under the center armrest, a generous-sized glovebox, an open bin for small items ahead of the shifter, an overhead sunglass holder, a pair of front cup holders, a dash-mounted coin bin to the left of the steering wheel and ample space in the doors for bottles, maps, umbrellas and such.
The Camry TRD has a midsize sedan-appropriate trunk measuring 15.1 cubic feet. Need more cargo space? The back seat is a 60/40 split fold-down design for carrying longer items in the trunk. A flip-down center armrest and another pair of cup holders add comfort and convenience to an already roomy back seat.
Safety and Technology
Photo: Ron Sessions
As with all 2020 Camry models, the new TRD version finally brings Android Auto cellphone mirroring to the car's long and impressive list of standard equipment, joining Apple CarPlay and Amazon Alexa compatibility added previously. As the TRD Camry is based on SE trim, it has to make do with the smaller 7-inch touchscreen, plus a 6-speaker AM/FM stereo with SiriusXM. Hands-free phone connectivity and Bluetooth music streaming as well as in-car Wi-Fi are also included.
Not available in the TRD Camry is the larger 8-inch touchscreen with HD Radio and a CD player or the 9-speaker JBL premium audio system, which are exclusive to XLE and XSE trims. Navigation isn't a TRD option either.
That said, the base Camry system with the 7-inch screen is a breeze to use. There are no remote control touchpads or control wheels to distract you from what the TRD Camry is good at—sporty driving. The touchscreen is within easy reach of both driver and front passenger with large analog knobs for volume and tuning and easy-to-access hard shortcut buttons flanking the screen, plus steering-wheel and voice command controls.
To keep the price of the Camry TRD model down, Toyota based it on the SE model. This means the TRD version gets a fairly generous suite of standard safety technology, including lane departure alert with mild steering assist, a backup camera with trajectory lines, adaptive cruise control, automatic high-beam control, and a pre-collision system with pedestrian detection, automatic emergency braking plus a 3-year subscription to Toyota Safety Connect which gives owners emergency roadside assistance, automatic collision notification and a stolen vehicle locator.
Unfortunately, because the TRD model is based on the SE, blind-spot and rear cross-traffic monitoring are not available, even at extra cost. Also unavailable is the optional driver's assistance package which includes a head-up display, intelligent clearance sonar parking assistance with rear cross-traffic braking and a backup camera with a 360-degree overhead view of the car and its immediate surroundings.
Driving Impressions
Photo: Ron Sessions
Toyota says the TRD Camry's chassis dynamics were honed with track input. While the traditional family sedan goodness is still in evidence, the TRD model's precise steering, excellent body control and road-hugging stance gives the car a European sport sedan ambiance.
It starts with additional underbody bracing to boost the Camry's already ample torsional rigidity of the TNGA-K platform the Camry is based on. From there, the TRD folks fitted shorter, stiffer coil springs, thicker anti-roll bars, larger front brakes and TRD-tuned gas shocks. Ride height is reduced 0.6 inch for a lower center of gravity and available 19-inch summer performance tires deliver increased stick and satisfyingly quick turn-in. The ride is firm but not jouncy and never harsh, even over rutted pavement.
Adding some scoot is the TRD Camry's standard 3.5-liter V6. The direct-injected, 301-hp 3.5-liter V6, also shared with the Lexus ES 350 and RX 350, sports Toyota's D-4S dual fuel-injection that utilizes both multiport and direct injectors. It is paired with a wide-ratio Direct Shift 8-speed step-shift automatic with paddle shifters.
The TRD Camry can scamper to 60 mph from rest in just under 6 seconds flat, with good throttle response for overtaking on 2-lane highways and merging onto high-speed freeways and has a velvety exhaust note to boot.
EPA estimates for the TRD Camry are 22 mpg city/31 mpg highway/25 mpg combined. The V6 runs on regular unleaded.
As with more pedestrian Camry models, the TRD offers three driver-selectable drive modes via a row of buttons on the center console. Selecting Eco gives more gradual throttle response under most driving situations and upshifts to higher gears earlier to keep engine revs lower, saving fuel in the process, but takes the fun out of staying ahead of traffic. Sport delivers crisper throttle response, later transmission upshifts with easier downshifts and higher steering effort at highway speeds, but makes the steering too stiff and takes a big bite out of fuel economy. The default Normal mode is the best, resulting in lively steering, crisp acceleration and a not-too-shabby observed average fuel economy in the high 20 mpg range.
Conclusion
Photo: Ron Sessions
While there may not have been a tremendous grass-roots demand for a Camry performance halo model, now that it's here, the TRD version is worth a look. The boy-racer wing may not be for everyone, but Toyota is expanding its roster of offerings under the Camry tent to include everything from thrifty base models and hybrids to Lexus-like leather-lined premium trims, all-wheel-drive models and now a credible sports sedan. The beauty of the TRD Camry is its ability to engage the driver in a sporty, fun-to-drive way while giving up none of the traditional Toyota qualities of practicality, roominess and value.
Reader Review: 2020 Toyota Camry TRD
First-ever 'race-tuned' Camry impressed Calgarian with its style and handling
Incredulity was par for the course as Brian Smith spent a week testing the new Toyota Camry TRD.
'THAT's a Toyota Camry!?' people queried the Calgarian as he took his kids to one of their first basketball practices in the cautiously re-opening city during this new pandemic-era. They weren't the only ones to respond in such a manner.
And yes, it's a Camry. It's actually the first TRD-tuned – for Toyota Racing Development – Camry that Toyota has ever produced. Based on the eighth-generation Camry, a five-passenger sedan that was redesigned and launched for the 2018 model year, this TRD version adds to the XSE V6 model some unique and aggressive styling with an aerodynamic body kit. Included in that kit is a front splitter, side skirts, a trunk lid spoiler and rear diffuser. The TRD package also adds chassis stiffening braces and suspension upgrades with stronger coil springs, revised shock absorbers, front and rear sway bars and larger brakes.
"It looks like a NASCAR pace car," Smith says of his first impression. "The black roof gives it a 'race car' feel, and the red brake calipers behind the jet black 19-inch rims wrapped in Bridgestone Potenza tires with TRD logos are spot on.
"The trim, ground effects and grille give the car a very aggressive stance, and although the car looks like it has been lowered (it has, by 0.6-inches) and the ground effects accentuate that, it's not so much that I'd worry about bottoming out. The tail on the trunk – well that was over the top."
Smith learned to drive in Edmonton, and initially, his cars tended to be economical four-cylinder vehicles equipped with manual transmissions. His first new car was a 2004 Acura TSX, and as his family grew an SUV was added to the stable. Currently, he drives a 2018 Audi S4 and his wife maintains a 2009 Acura MDX. While Smith is now working from home, he did at one time commute five days a week in the Audi. Often, the family heads to the mountains or to Edmonton for the kids to participate in tournaments – in those instances, they'd drive that distance in the MDX.
When shopping for a new car, Smith likes to consider, "Performance, and not the zero-to-sixty kind, but good feel, good cornering and good control. I like a car to have a bit of luxury, so sunroof, GPS/navigation, good sound system, USB ports – things that make a car function these days. Finally, price – there has to be good value for the money."
When asked about his thoughts regarding Toyota, Smith says he's always considered the automaker as one that consistently builds good-quality, reliable cars that might be middle-of-the-road when it comes to performance. But the Toyota Supras of his youth? Those were aspirational vehicles.
"This really is a good-looking car," Smith says of the Camry TRD. "And until you go around and see the Camry badge on the back you really wouldn't know that you were looking at a mid-range mid-size family sedan. The additional TRD logo on the back helps explain what happened."
Brian with the 2020 Toyota Camry XSE V6 TRD.
2020 Toyota Camry XSE V6 TRD
2020 Toyota Camry XSE V6 TRD
2020 Toyota Camry XSE V6 TRD
2020 Toyota Camry XSE V6 TRD
2020 Toyota Camry XSE V6 TRD
2020 Toyota Camry XSE V6 TRD
2020 Toyota Camry XSE V6 TRD
2020 Toyota Camry XSE V6 TRD
2020 Toyota Camry XSE V6 TRD
2020 Toyota Camry XSE V6 TRD
2020 Toyota Camry XSE V6 TRD
Finished in Supersonic Red, Smith's Camry TRD rang in at just a bit less than $39,000, including freight and PDI but before taxes. Because the TRD is based on the XSE V6 Camry, a number of amenities actually get removed, including a power moonroof, head-up display and blind spot monitoring system. Also, because there's a strengthening V-brace located behind the rear seats, the 60/40 folding seat backs are deleted.
Smith, who is 6-feet 2-inches tall, didn't have any issues getting into the cabin. Initial adjustments of the eight-way power driver's seat and exterior mirrors was intuitive, and he says there was plenty of room for him to get comfortable.
"I was happy to see an actual gearshift lever, instead of buttons as some manufacturers have done," Smith says. "Buttons just aren't as tactile as a lever, and having grown up driving standards, my hand just naturally falls to where the shift lever is in the console."
As for the actual driving experience, Smith says, "The engine felt just a little flat. If somebody had simply said, 'Here's a Camry with a V6,', I'd say it's great. But if you make it look like a race car, with super handling characteristics but the engine is the same – well, I guess I'd have to say it's not as fast as it looks."
That's because the TRD employs the same 301-horsepower, 3.5-litre V6 engine and eight-speed automatic transmission found in two other Camrys, the XSE V6 and XLE V6 models. It won't sound the same, though, thanks to its TRD-specific cat-back exhaust system that produces a not-unpleasant rumble. The other Camry trims, the LE, SE XSE and XLE, are equipped with a 2.5L inline-four that makes 203 hp, or 206 in the case of the XSE.
"The engine itself is really good, but in this car, it seems a little out of place," Smith explains. "The overall connection to the road in the Camry TRD was just fantastic, Toyota picked the right balance in the suspension and handling. It's a great ride."
While the family had the Camry TRD, Smith drove to Big Hill Springs park just north of the city. The kids, he says, liked the car and enjoyed the 'racer' appearance of the exterior. His wife also appreciated the TRD and enjoyed the ride but wasn't sure she liked all of the extra attention it garnered.
"I don't know what demographic will be looking at this car," Smith says, and concludes, "But for that little less than $39,000 price tag there's a lot of car for the money."
Meet the 2020 Toyota Camry TRD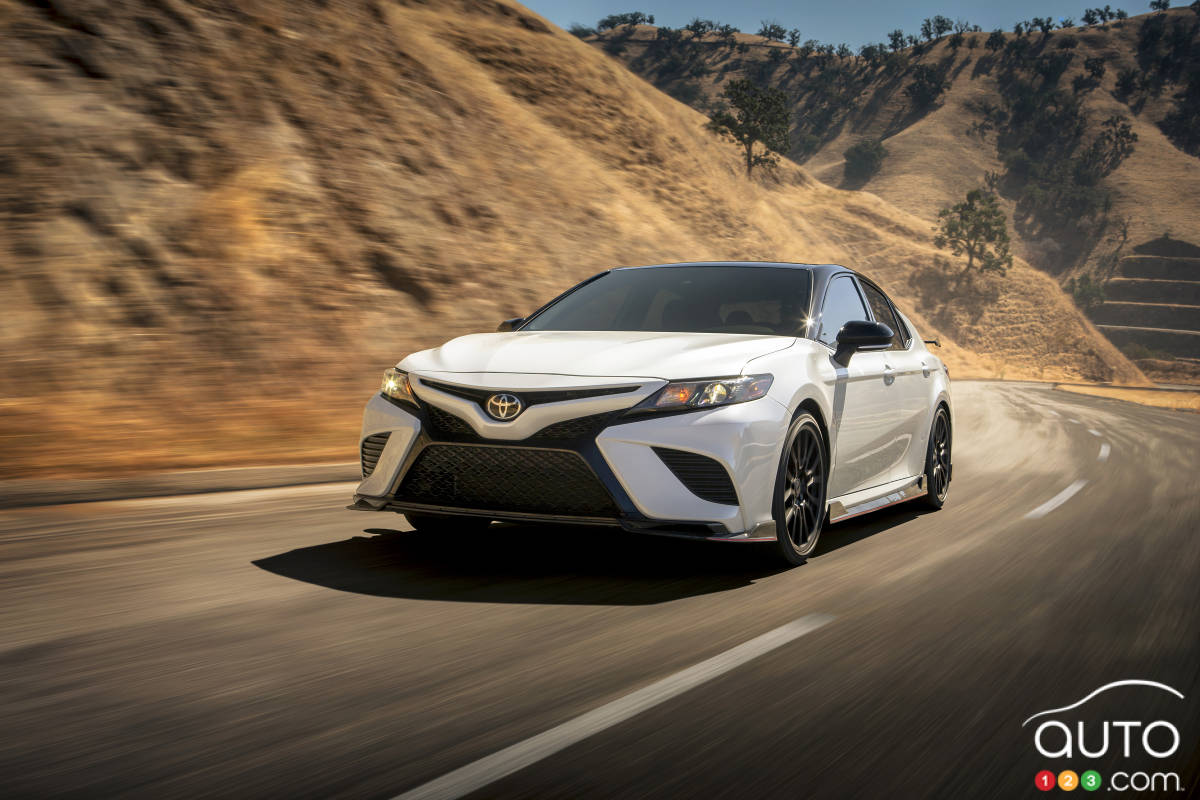 Toyota has just lifted the veil on the Camry TRD, the first time its venerable sedan has gotten the special treatment from the Toyota Racing Development division. The limited-edition 2020 Camry TRD is more sporty and aerodynamic, with its special styling created by Calty, Toyota's North American design studio. The performance capabilities are intended to make of the family sedan an entirely track-ready creature.
The TRD recipe as used here actually involves recalibrating a number of mechanical components in Toyota's popular models to allow for aggressive on-track driving, without compromising their qualities in terms of comfort and daily-use practicality.
The mechanics
The new Camry TRD is powered by a DOHC 3.5L V6 engine delivering 301 hp and wedded to an 8-speed automatic transmission, and featuring a Sport mode and paddle shifters on the steering wheel. Also present is a specially-tuned cat-back dual exhaust.
The model also benefits from exclusive aerodynamic elements that complement the racier silhouette of the next-generation Camry; the TRD-modified chassis has a more dynamic posture as well. The aerodynamic body kit includes a front splitter, side aero skirts, trunk lid spoiler and rear diffuser. All of this, Toyota promises, results in better stability at higher speeds. Also included are red pinstriping, red painted brake calipers and red TRD badging.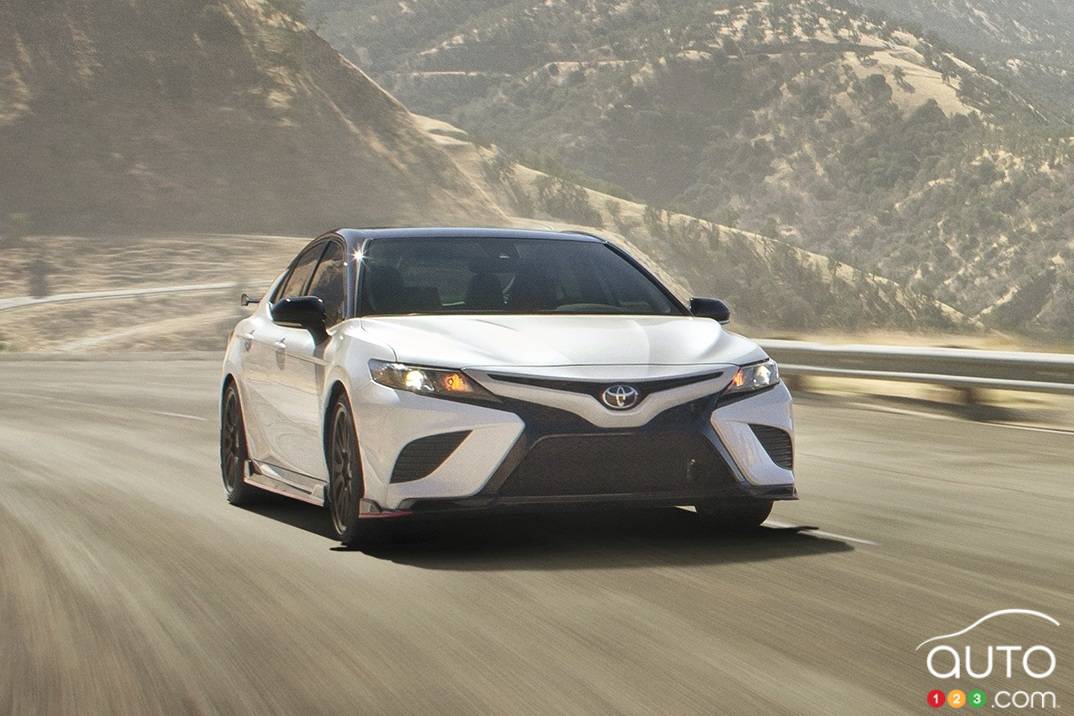 Thicker underbody braces increase torsional rigidity and unique coil springs lower the vehicle by 0.6 inches for a reduced centre of gravity.
The matte-black 19 x 8.5-inch alloy wheels are a half-inch wider, yet 3.1 pounds lighter (each) than the 19 x 8.0-inch alloy wheels on the XSE trim of the regular Camry. The specially calibrated front brakes are larger and feature dual-piston calipers.
The Camry TRD will come standard with Toyota Safety Sense-P, a suite of advanced drive-assist technologies, among these Pre-Collision Braking.
To further help it stand apart, the TRD version of the Camry a unique gloss-black front grille with sport mesh insert and black exterior badging. Available colours include the appropriately dramatic Supersonic Red, Windchill Pearl, Celestial Silver Metallic — all three of which are two-toned — and Midnight Black Metallic.
The interior
The TRD division has fitted the Camry TRD with black sport front seats, red accents and red-stitched TRD embroidered headrests. The leather-wrapped steering wheel also has red stitching, and even the seatbelts are red. A shift knob with an embossed TRD logo, unique TRD floor and trunk mats and a TRD information display complete the cabin upgrades.
If you're interested in acquiring a Camry TRD, you'll have to be both patient and ready to jump: The 2020 Toyota Camry TRD will be a limited edition, and is not expected to hit the market before fall 2019.
2020 Toyota Camry TRD Review: Bombastic, Iconoclastic, Fantastic
Share on Facebook
Share on Twitter
Share on LinkedIn
Share on Flipboard
Share on Reddit
Share on WhatsApp
Send to email
The automotive equivalent of the color beige gets a spicy and sporty injection of personality.
Verdict
We enthusiast types don't typically love writing about the Toyota Camry. Even after migrating to the TNGA platform for the 2018 model year, it still remained a fairly uninteresting sedan to drive. Sure, that stiff modular chassis now gives the Camry some semblance of handling verve, but for pure midsize driving enjoyment, our basement-dwelling drivel usually sings the Mazda6's praises, particularly in its newly turbocharged Grand Touring trim.
Toyota, evidently, is no longer content to get a patronizing, "most improved" pat on the head from die-hard driving devotees, and it's thrown a whole lot of aggression at its popular midsize sedan. Enter the first-ever 2020 Camry TRD, which gets a standard V6, trim-specific suspension tuning, larger brakes, and a conspicuous aero kit. Unusually for a performance-oriented model, the TRD is also the cheapest way to get into a six-cylinder Camry, with a base price of $31,170. And you know what? The TRD is silly, overwrought, and unnecessarily aggressive, but we can't help but like it.
For more on how Motor1.com rates cars, click here.
Design
The base Toyota Camry gets a wing-shaped schnoz and narrow headlights with some upmarket style that wouldn't look out of place on a Lexus. On the TRD, however, the designers threw any semblance of grace out the window in the name of harsh and unyielding sportiness, styling-wise at least.
Borrowed from the Camry SE and XSE, a blacked-out, X-shaped front end graphic separates the hood and headlights from the bumper, and the lower air intake looks more authentic than before (although the core bumper support still closes off some of the grille openings). The lower side "air intakes" are likewise blocked off, but they still look appropriately sporty. Unique to the TRD is a surprisingly aggressive front splitter.
Painted gloss black with red pinstriping, the front splitter, side skirts, and rear bumper diffuser collaborate to give the exuberant Camry some added visual flash. That new rear bumper also houses twin exhaust outlets that could double as rocket-propelled grenade launchers. And the biplane-style wing on the decklid isn't just unusual for a Camry, it's surprising to see on any vehicle short of a Chevy Camaro ZL1.
Two-tone paint is a mandatory $500 option with Supersonic Red or Celestial Silver and a $950 option on Wind Chill Pearl – our tester featured the mach-plus shade, and it looks great contrasted with the Midnight Black Metallic roof and spoiler.
Inside, the TRD gets extensive contrasting accents, including red stitching and embroidery on the black Softex seat faces, red and black cloth seating inserts, red carpet bands on the TRD-embroidered floor mats, and red stitching on the dashboard. And then there are those blazing red seat belts. Together with the aluminum pedals, the interior wastes no time informing drivers that this Camry is here to party.
Comfort
Like other Toyota sedans, this Camry is a mostly comfortable place to spend time. But in its transition from mild-mannered midsizer to superhero imitator, the TRD has picked up a few bad habits. The aero aids, for example, generate a rather uncomfortable whistling sound when driving down the highway with anything more than a mild crosswind. Adding more audial discomfort is the TRD-specific cat-back exhaust system – at full chat, the pipes sing a lovely song, but there's a lot of uncomfortable boominess that penetrates the cabin when cruising under light engine load.
However, we must give snaps to TRD engineers for tuning the sedan's custom dampers for performance without ruining ride comfort. Even on 19-inch wheels with rubber-band tire sidewalls, the Camry offers a firm, planted ride that still absorbs bumps rather well. Partial credit goes to TRD-specific underbody bracing for the TNGA-platform sedan. Offering a palpable increase in body rigidity relative to the still-impressive Camry, the stiffer chassis means the suspension can work effectively across a broader set of uses.
Since Toyota merely reupholstered the standard Camry's chairs, they still offer good support for daily use, and there's reasonable room front and back. All TRD models are slicktops, so there's no room lost to a sunroof – four adult passengers would have no trouble fitting, thanks to 38.3 inches of front and 38.0 inches of rear headroom, as well as 42.1 inches of front and 38.0 inches of rear legroom.
Honda's rival Accord Sport offers less front and rear headroom (37.5 and 37.2 inches, respectively), though more legroom (42.3 and 40.4 inches). The same can be said of the Mazda6's front and rear headroom (37.4 and 37.1 inches) and legroom (42.2 and 38.7 inches). The Kia K5 GT offers universally more space up front and less in back, making interior comparisons a bit of a wash in the midsize class. At 15.1 cubic feet, however, the Camry's trunk capacity beats out only the 14.7-cube Mazda6 – the Accord offers 16.7, while the K5 boasts 16.0.
Technology & Connectivity
The Camry TRD can blame its impressive $31,170 starting price on a relative lack of interior features, unfortunately. The 7.0-inch infotainment display in the center stack is the same as one would find in a base Camry L and smaller than the 8.0-inch touchscreen found in the similarly priced Accord Sport or the 10.3-inch unit found in the Kia K5 GT. And while the TRD's 4.2-inch info display in the gauge cluster – bookended by analog gauges – would have been adequate five years ago, it looks outdated today.
Ditto the Camry's infotainment system graphics. The interface is reasonably easy to use, though saddled with visuals that haven't been updated since Toyotas of the last decade. Apple CarPlay and Android Auto come standard on the TRD (as on all Camrys), which is a good thing since the performance-tuned sedan doesn't offer embedded navigation. Also notably absent is an upgraded audio system. The base sound package isn't terrible, but it doesn't stand up against the JBL system on other Camry trims.
And while other cars in its class (and in the Camry family) get sophisticated 360-degree cameras and parking sensors with reverse auto-brake to prevent low-speed crashes, the Camry TRD receives a rear camera only. What's more, the display's grid lines are fixed, so drivers can't even predict their trajectory when reversing with the wheel turned.
Performance & Handling
We can't decide if the Camry TRD's impressive performance is predictable or surprising – the former because of its shouty body modifications and bold 19-inch alloy wheels or the latter because, well, it's a Camry. But whatever the case may be, the sport-tuned midsize sedan serves up a heaping helping of control and power belying its humble family-car bones.
Those big wheels come wrapped in all-season tires that offer impressive grip for four-season rubber. But it's easy to slap some huge meats on a car and call it traction. What's far more difficult is giving that same car finesse. That's where the specially tuned dampers and lowering springs come into play. Riding 0.6-inch lower than the Camry XSE, the TRD offers genuinely impressive balance through high-speed sweepers and freeway onramps, with the tires coming into play to provide grip in tighter turns.
Brakes are similarly faultless. Two-piston front calipers bite down on 12.9-inch front rotors (compared to one-piston calipers and 12.0-inch rotors on lesser Camry trims), with special brake booster tuning to improve feel under that left pedal. Although the brakes produce a fair amount of dust, they work very well, providing good fade resistance and gut-wrenching response in sporty driving.
Accompanied by a satisfying growl from the Camry's 3.5-liter V6 – making 301 best-in-class horsepower and 267 pound-feet – the TRD attacks corners with more ferocity than could be reasonably expected of this or any other midsize, front-drive sedan. However, Toyota limits all-wheel drive to the Camry's standard 2.5-liter inline-four (owing to the V6's absurdly low 6-percent take rate), and that's about the only reasonable way we could think to improve the TRD – short of offering a SEMA-chic turbocharger kit or manual transmission or something.
The standard eight-speed automatic transmission seems more responsive than in other trim levels, though that could be due to our perpetual use of its sport mode and paddle shifters. The rare moments we used the car's Eco throttle and transmission tuning elicited neutered responses and frustratingly early upshifts; the payoff is noticeably better fuel economy in normal commuting.
2020 Toyota Camry TRD Review & Test Drive
The Toyota Camry remains an American staple for the mainstream sedan go-to when it comes to reliable transportation. While sales numbers have only given way to crossover utility vehicles. The Camry continues to be a force to reckon with and with a new TRD trim Toyota attempts to captivate some lighthearted enthusiasts, and I can say after a week with the Camry TRD they have done such tastefully.
TRD, or technically known as Toyota Racing Development, has been a long-known outfit for injecting a sporty side of many Toyota vehicles. When it comes to the conservative side of Toyota's lineup, which is the majority of their vehicles, the Camry is an unsuspecting contestant to get the TRD treatment. Surprisingly, the TRD treatment for the Camry, as a new trim level for the 2020 model year, covers many aspects of the Camry and not just in the looks department. The Camry TRD also gets a reworked suspension setup that's firmer, larger 19-wheels, upgraded brakes, and a delightfully sounding TRD catback exhaust system.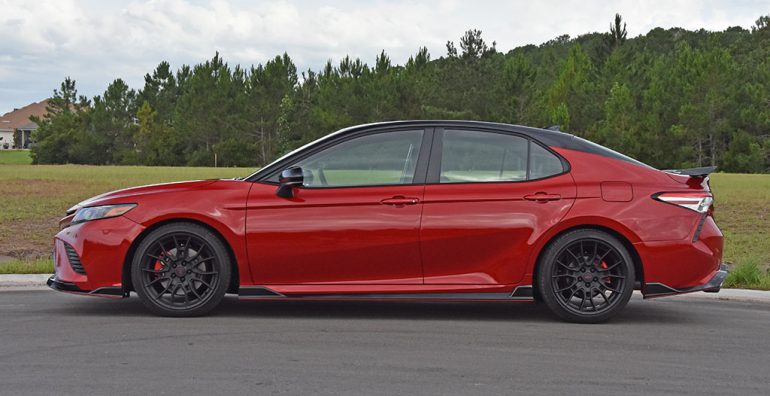 In working over the Camry for the TRD treatment, Toyota fundamentally selects the SE trim and adds in the workhorse 3.5-liter V6 engine with 301 horsepower and 267 lb-ft of torque. The engine choice is the right one considering how well the 3.5-liter V6 does in other Camry trims, but with the TRD add-ons it elevates the Camry's literal standing on the road with a better driving character that feels more planted but isn't overly firm to the point to turn off potential buyers. Zero to 60 mph comes in at a respected 5.8 seconds, and braking is improved thanks to upgraded brakes featuring two-piston front calipers that are painted red to further the aggressive and sporty-looking theme of the Camry TRD.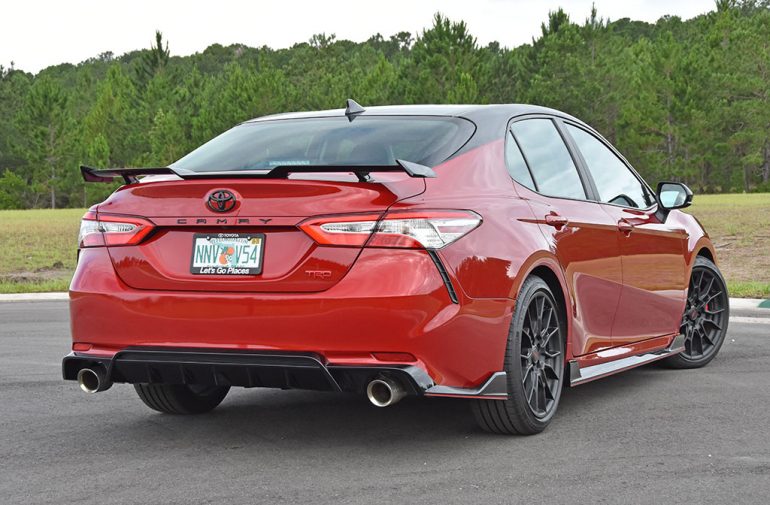 Most of what I enjoyed in the latest Toyota Camry in my 2018 Camry XSE V6 review remains in the Camry TRD minus a few amenities, which are more cost-saving choices that Toyota makes in the TRD trim coming from a Camry SE trim but with the more powerful V6 engine. Some of the features that are missing from the TRD Camry are heated and ventilated seats, dual-zone climate control, rear center armrest and cupholders, and even a blind spot monitoring system is missing. Despite the missing equipment, the Camry TRD still gets some essentials, such as the LED automatic headlights with auto highbeam, lane departure warning and mitigation, forward collision warning and mitigation, adaptive cruise control, and Apple CarPlay and Android Auto integration through the smaller 7-inch infotainment touchscreen. A larger 8-inch screen is offered on upper-level trims for the Camry.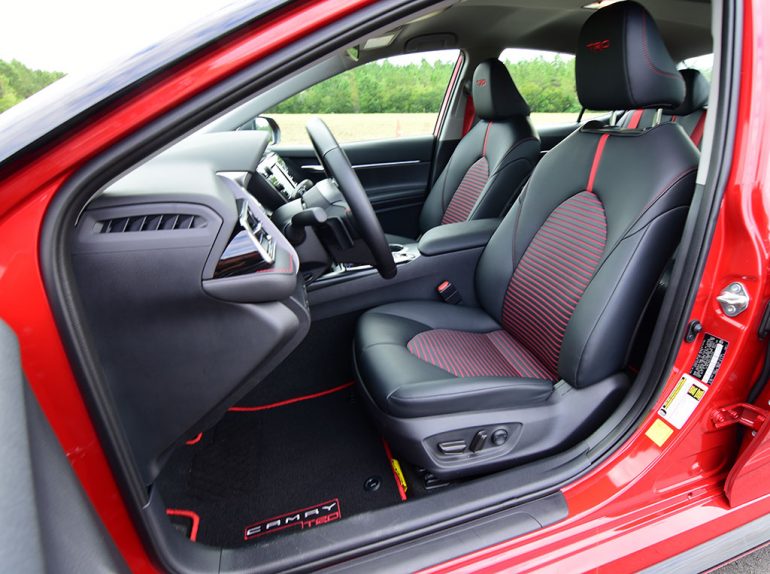 I understand what Toyota has done with the Camry TRD by not offering some of the additional equipment, they have paved a way to add on the TRD bits without raising the price much. At the end of the day, the 2020 Toyota Camry TRD will only set you back $32,900, which is several thousand less than the XSE trim with the V6 engine, even though you give up some of the loaded-up XSE V6's premium features. Still, for a nicely appointed vehicle that spices up things in the sound, looks, and handling department, the Camry TRD is a good buy and may actually win over some lighthearted enthusiasts who don't mind piloting a conservative front-wheel-drive sedan, which is still one of the best-selling sedans around.
Review update: The 2020 Toyota Camry TRD passes dad test, kid approved
Review update: The 2020 Toyota Camry TRD passes dad test, kid approved
Funny thing about kids: They are a blank slate without preconceived notions of the reputations of models and brands. They also have no filter and an uncanny ability to be blunt. In the eyes of a child, the 2020 Toyota Camry TRD "looks like a race car."
My 4-year-old boy and 6-year old girl are as impressionable as any kid, but they're exposed to more than 50 new vehicles each year, watch the 24 Hours of Le Mans (they cheer for the Pink Pig as of late), and enjoy the Goodwood Hill Climb. Toyota, you struck a chord.
The 2020 Toyota Camry TRD is not a race car or a sports car; it's a sporty Camry. In addition to that rear wing, the 2020 Toyota Camry TRD features a sport suspension, 19-inch TRD matte-black alloy wheels, a cat-back exhaust system, a body kit, adaptive cruise control, a 7.0-inch touchscreen infotainment system with Apple CarPlay and Android Auto, automatic climate control, and red seat belts.
It doesn't matter that it starts as a Camry in the eyes of a child. To them, it's cool.
Parents, it takes $31,995 to make your kids think you daily drive a race car. It's not a race car, but Toyota got some things right and some wrong with the 2020 Camry TRD.
2020 Toyota Camry TRD
Hit: "Super speedy"
The Toyota Camry TRD's 3.5-liter V-6 sends its 301 horsepower and 267 pound-feet of torque to the front wheels through an 8-speed automatic transmission. Oddly, the TRD model is the least-expensive way to get the V-6 under the hood of a Camry at $3,410 less than a V-6-powered XLE. The engine is smooth as butter and the power builds through the rev range. The 8-speed looks for the earliest opportunity to upshift in the name of fuel economy, but in Sport mode the transmission will wring out the engine higher into the rev range, which makes its plentiful power easier to access.
2020 Toyota Camry TRD
Miss: Missing features
The XLE model costs about $1,500 less than the TRD (though with the standard 2.5-liter 4-cylinder) and features more equipment. It has dual-zone automatic climate control, wireless smartphone charging, a 7.0-inch driver information display, leather-trimmed heated seats, adjustable rear headrests, an auto-dimming rearview mirror, and an 8.0-inch touchscreen infotainment system. The more expensive TRD has none of this as standard, isn't available with any of it, and makes do with a 7.0-inch touchscreen infotainment system. You're paying for the V-6, lowered sport suspension, body kit, wheels, and tires, not the features.
2020 Toyota Camry TRD
Hit: Red seat belts
"Look at the seat belts, they are red!" exclaimed my son. It doesn't take much to impress a kid. Apparently, colored seat belts move the needle. My test car was painted in the $425 optional Supersonic Red with two-tone Midnight Black metallic roof and rear spoiler. The red seat belts went well with the color combo.
2020 Toyota Camry TRD
2020 Toyota Camry TRD
2020 Toyota Camry TRD
Miss: It's busy
The first thing both kids noticed when they saw the Camry TRD was the wing, and that's what likely made them think it's a race car. To me, the bolted-on side sill extensions, front splitter, rear diffuser, and rear wing make this Camry look like an extra from "2 Fast 2 Furious." There's a lot going on. It doesn't look completely cohesive, though it gets the point across loud and clear: this isn't a standard Camry.
2020 Toyota Camry TRD
Hit: Supra, is that you?
It took days for me to pinpoint why the sound from the cat-back exhaust was so familiar. It sounds like a muted Supra. While the 2020 Supra uses a BMW turbocharged inline-6, Toyota tuned both cars' exhaust systems. From inside the cabin, the the howl of the Camry TRD's cat-back exhaust system is very similar to the Supra's, both under full acceleration and at low RPMs. It's never obnoxious and doesn't drone on the highway.
2020 Toyota Camry TRD
Miss: Potenzas
My Camry TRD tester rode on the optional Bridgestone Potenza RE050A 235/40R19 summer tires. They were loud with an annoying howl on cement highways, and their sticky compound kicked up pebbles into the wheel wells with a familiar "ting ting ting." Continental DWs or Michelin Pilot Sport 4Ss would provide the desired grip without the highway howl. TRD badge, sport suspension, performance exhaust, and body kit or not, this is still a Camry. The standard all-season tires make more sense for most people because they work in more weather conditions and have a longer tread life.
All things considered, the Camry TRD nails the sporty Camry mission with a smooth, strong V-6 engine, a distinct look, and a great exhaust note inside the cabin. It's a value for those looking to get into a V-6-powered Camry, but anyone considering it should pause to ensure the firm suspension is tolerable for local roads on a day-to-day basis. For most buyers, an XSE model may be more appropriate.
______________________________________
2020 Toyota Camry TRD
Base price: $31,995
Price as tested: $32,920
EPA fuel economy: 22 mpg city, 31 highway, 25 combined
The good: Cheapest V-6-powered Camry, cat-back exhaust sound, red seat belts
The bad: Loud summer tires, firm ride, lacks expected features
2020 Toyota Camry TRD Drivers' Notes | A polarizing sedan
Toyota injects the Camry with a shot of TRD
2020 Toyota Camry TRD
Image Credit: Toyota
2020 Toyota Camry TRD
Image Credit: Toyota
2020 Toyota Camry TRD
Image Credit: Toyota
2020 Toyota Camry TRD
Image Credit: Toyota
2020 Toyota Camry TRD
Image Credit: Toyota
2020 Toyota Camry TRD
Image Credit: Toyota
2020 Toyota Camry TRD
Image Credit: Toyota
2020 Toyota Camry TRD
Image Credit: Toyota
2020 Toyota Camry TRD
Image Credit: Toyota
2020 Toyota Camry TRD
Image Credit: Toyota
2020 Toyota Camry TRD
Image Credit: Toyota
2020 Toyota Camry TRD
Image Credit: Toyota
2020 Toyota Camry TRD
Image Credit: Toyota
2020 Toyota Camry TRD
Image Credit: Toyota
2020 Toyota Camry TRD
Image Credit: Toyota
2020 Toyota Camry TRD
Image Credit: Toyota
2020 Toyota Camry TRD
Image Credit: Toyota
More Photos
Vehicles most likely to hit 300,000 miles
Cars most likely to have major powertrain problems
Top 10 brands with the lowest average repair cost to fix a check engine light
Top 10 brands least likely to flash a check engine light
The least reliable cars in America
The Best New Car Deals: October 2020
Autoblog Rating
The best Camry in years. The excellent V6 is matched by solid handling for the class. The hybrid is a winner, too, if you value economy over power. A handsome interior is let down by a disappointing infotainment system and middling trim. Scores high on safety tests.
Industry
Nobody expected a 2020 Toyota Camry TRD model before Toyota announced both this sporty sedan and the Avalon TRD at the same time. And even after that, we had a hard time believing that the Camry and Avalon TRD versions would be legitimately compelling drivers. However, the Avalon TRD managed to win some of us over with its surprisingly agile driving dynamics and aggressive design. We were hoping for the same to happen in our week with the smaller and inherently sportier Camry TRD.
The formula for the Camry is similar to the Avalon. Add suspension, sound and styling; keep the powertrain. Toyota calls the Camry TRD's chassis "track tuned." New, stiffer coil springs lower the ride height by 0.6 inch. Combined with more aggressive sway bars and TRD-specific shocks, Toyota says the roll stiffness is increased by 44 percent in front and 67 percent in the rear. Our tester didn't have the Bridgestone Potenza summer tires that come as standard equipment, due to it being cold and snowy in Michigan right now, but the all-season Michelins it did have were mounted to the special 19-inch matte black TRD wheels. Toyota also mounts larger front brakes on the TRD, moving from 12-inch front rotors to 12.9-inch discs, and two-piston calipers as opposed to single-piston clampers. As we foreshadowed before, the Camry keeps its 3.5-liter V6 that makes 301 horsepower and 267 pound-feet of torque. Even the eight-speed automatic's transmission tuning carries over to the TRD.
There's no mistaking the TRD for other versions of the Camry, either. Toyota mounts a large trunk lid wing, along with a front splitter, rear diffuser and aggressive side skirts. A stainless steel dual exhaust pokes out the back — it's a TRD unit, and it makes a whole lot more noise than your average Camry does. On the inside, you get black seats with grippy fabric inserts and red stitching throughout. Other red accents on the steering wheel, floor mats, gauges, shift knob and full-red seatbelts remind you that you're in the TRD. All this extra equipment amounts to a base price of $31,995 for the TRD. With a couple of paint and trim options, our specific tester rang up at $32,920. That makes it the cheapest way to get into a V6 Camry.
Assistant Editor Zac Palmer: I was pleasantly surprised by how well the Avalon TRD drove when we had that large performance sedan in our office not too long ago. Same goes for the Camry TRD. It's no track car, but the stiffer suspension and extra bracing makes the Camry into an eager corner carver. There's still a touch of noticeable body roll, but any undue swaying or sloppiness has been tuned out of the suspension. It takes a set, holds the line and doesn't ever get out of sorts transitioning from corner to corner.
It's easy to tell the TRD apart from other Camrys in daily driving along Michigan's miserable highways, too. The suspension is firmer than even the sport-tuned XSE, but there's still enough cushion to make it livable. I wouldn't worry about making this sedan my daily if I lived somewhere with slightly better roads. As it is, frost heaves cause a bit of a jolt to go through my body, and the ride is just a bit too crisp for your average Camry buyer.
Its biggest flaw is being front-wheel drive only. If you live in a state that constantly throws snow or rain on you, this car will likely become frustrating. Traction control is constantly intervening to keep the front wheels from being overwhelmed by the V6, even when trying to apply power in sweepers. A limited-slip differential would help translate the 301 horsepower into more effective forward motion, but what it really needs is a good all-wheel drive system. It's going to be offered with the four-cylinder, and it would make the TRD even more compelling than it already is.
Associate Editor Byron Hurd: I can't get my head around this one. I wanted to like it, especially given the praise the Avalon TRD received, but the Camry TRD just isn't clicking for me. There's a touch of afterthought to its execution, as if Toyota suddenly decided that sedans need more flash if they're going to sell, and set out to add that flash without first deciding how to define it. It's as if Toyota's product planners got the engineers and designers together and said, «Just make it . more.» Insert jazz hands here.
I can't point to any one thing that really bothers me — OK, except for the spoiler; I can definitely point to that. The TRD formula looks decent on paper. It solves the Camry's soft-edged issues and emboldens the styling, but sportier for the sake of being sportier doesn't seem to be enough to elevate the TRD for me. Plus, a stiff suspension and heavier steering won't solve some of the Camry's inherent issues, like its GeoCities-era infotainment system.
I think my issue with the Camry TRD is that it is trying to be something it's not. At least Mazda's old front-wheel drive, V6-powered family cars felt coherent. They didn't need a sporty trim to be sporty; they just were. There's nothing wrong with the TRD's fundamental formula. I can forgive a little (OK, a lot of) axle hop in slick conditions and the transmission's get-to-top-gear-now shift logic trying its best to preserve fuel economy, but the payoff in this instance just doesn't seem worthwhile. To each their own, though.
Senior Editor, Green, John Beltz Snyder: I was excited to get into this car, but I was yawning after a few miles in it. To me, it didn't feel nearly as sporty as that boy racer wing on the back suggests. It felt like just a slightly less comfortable Camry.
In terms of styling, I'm most of the way there with this. I'm not a fan of the wing, but the rest of the car is palatable. I enjoy the rest of the aero work. It's like it took some cues from the Civic Type R and simplified. The blacked out badges are slick. Inside, it's sort of dark and brooding. I like the Knight Rider look of the red gauges, even if they're a little tougher to see than if they were illuminated in white.
I just don't feel like the rest of the TRD experience lives up to the styling here. This needs more power or, at the very least, some special throttle and transmission mapping to give it the illusion of performance. I also like Zac's suggestions of a limited-slip diff or all-wheel drive.
Associate Editor Joel Stocksdale: So I came away really enjoying the Camry TRD, but I do concede it has some issues. First off, I love the styling, even the silly wing on the back. It's not subtle or elegant, but there's plenty of that elsewhere in the midsize sedan class, so it's nice to have an outrageous option. The styling inside is great, too, especially the red and black striped seats.
The @Toyota Camry TRD is a lot of fun, and I love the looks. Yes, even the sorta silly wing. @therealautoblog pic.twitter.com/S3Ws48ZdIO
The engine is excellent with its deep intake growl and healthy horsepower. The steering is quick, the car has loads of grip, and the chassis is impressively stable and solid. I even found the suspension tuning to be quite comfortable considering the sporty pretensions. It was far better than the harsh Avalon TRD.
As for the issues, I agree with my colleagues that Toyota needs to go a bit farther with the package. Those lovely looking seats have a terrible shape, lacking critical bolstering for a corner carver. The transmission doesn't have a true manual mode. You can only select what the highest gear it can shift to is, and whether it holds gears longer. And even then, the transmission doesn't shift as quickly or as smoothly as it should. A limited-slip differential would be enormously helpful for getting the power down, too.
On the whole, I still had fun with it, and would seriously consider it as an alternative to a Mazda6 turbo or Honda Accord 2.0-liter if I wanted something that stands out more. It's also the cheapest way to get a V6 Toyota Camry, and a couple hundred less than the Accord Sport 2.0-liter, with a base price of $32,125, making it a decent value.